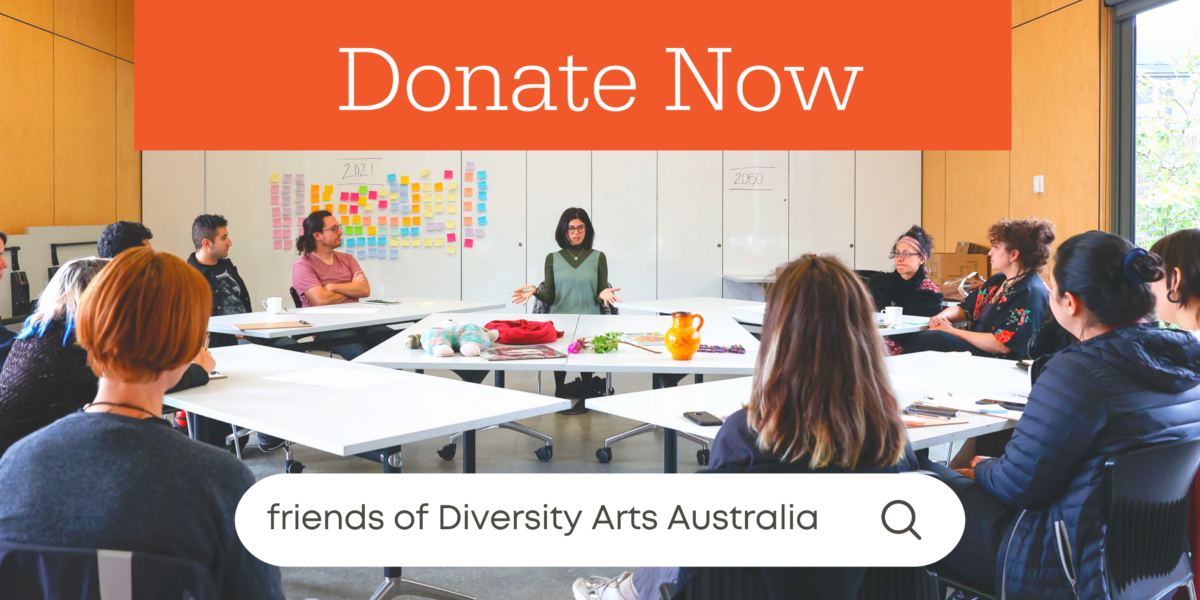 Help Build Diversity Arts Australia
As Australia's leading national voice for advancing cultural diversity and racial equity in the arts and screen sectors, Diversity Arts Australia's work is critical and urgent. But we cannot do it alone.
Donate now and help us continue to support and amplify the diverse voices in our community. Your tax-deductible donation support will help us continue to advocate for equity and inclusion.
Good news: donations to DARTS are 100% tax deductible
Support Diversity Arts Australia
Make a tax-deductible donation by credit card or PayPal.
Become a patron
Donate and follow us on Patreon to unlock bonus content coming soon!
Donate now
Culturally diverse Australians make up 38% of the population, however, this figure is not reflected in Australia's mainstream arts and screen sectors. Systemic discrimination, tokenism and misrepresentation continue to create barriers within the arts and cultural sectors.
Only 10% of professional artists are from a non-English speaking background, according to the Australia Council. And in our TV drama, Screen Australia found that 82% of characters are Anglo Celtic, when they make up only 68% of the real Australian community. Over half of Australian arts and screen organisations have no culturally diverse people in leadership roles as revealed by our Shifting the Balance report.
Clearly, things are out of kilter. Diversity Arts Australia is working to build an arts and screen sector that truly reflects our community. We believe increasing diversity in our creative sphere will strengthen our society and build understanding and connections within our community at a time in history when it feels like many forces are trying to pull us apart.
We do this through professional development, mentorships, symposia, consultancy, knowledge-sharing, policy advice, blueprints and leadership initiatives.
Why help increase cultural diversity in the arts? Your donation will help us keep doing the important work of:
Building a robust arts and creative sector that truly reflects our lived experiences as Australians, enriching and helping us to interpret our contemporary lives. We work towards an arts and cultural sector that has greater diversity in storytelling, programming, leadership, audiences and participation.

Sharing knowledge and leading practice
Through our Creative Equity Toolkit, our Colour Cycle Podcast, and our training, symposia and programs, we provide spaces for learning, connection, dialogue and reflection. We support organisations to grow and thrive by working with them to build capacity and understanding.

Supporting culturally diverse artists
Support diverse artists, specifically those who are underrepresented, to access opportunities, employment and new audiences for their art through our strategic initiatives like Storycasters, Stories from the Future and Pacesetters.

Research and Development
We undertakes research, benchmarking and knowledge-sharing to track, measure and identify barriers, systemic discrimination, leading practice and trends.