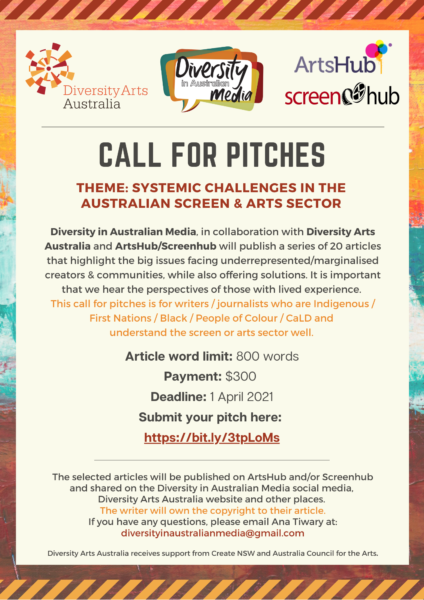 CALL FOR PITCHES FROM EMERGING WRITERS
Theme: Systemic CHALLENGES in the Australian Screen & ARTS sector
We're excited to announce that Diversity in Australian Media, in collaboration with Diversity Arts Australia and ArtsHub/Screenhub will publish a series of 20 articles that highlight the big issues facing underrepresented/marginalised creators and communities, while also offering strategies for change. It is important that we hear the perspectives of those with lived experience.
This call for pitches is for emerging writers/journalists who are Indigenous / First Nations / Black / People of Colour / CaLD and understand the screen or arts sector well.
Call for pitches!
Article word limit: 800 words
Payment: $300
Deadline: 1 April 2021
Submit your pitch
The selected articles will be published on ArtsHub and/or Screenhub and shared on the Diversity in Australian Media social media, Diversity Arts Australia website and other places. The writer will own the copyright to their article.
Contact: If you have any questions, please email Ana Tiwary at: diversityinaustralianmedia@gmail.com
Diversity Arts Australia receives support from Create NSW and Australia Council for the Arts.
---
Collaboration:
"We're proud to be able to support this extension of the program into more art forms and publish even more writers of colour,"
– George Dunford, Content Director at ArtsHub and Screenhub
"A lack of opportunities for culturally diverse reviewers and journalists in the Australian arts and screen sectors impacts the articles that are written, ultimately affecting the lens through which the works of creatives of colour are reviewed. We're committed to supporting these kinds of projects, which pay writers to create new work on their own terms. This also complements Diversity Arts' vital work of advocating for racial equity in the arts and screen sector.
Thank you to Ana Tiwary and Diversity in Australian Media for spearheading this initiative and to Artshub/Screenhub for their commitment to supporting this project."
– Lena Nahlous, Executive Director, Diversity Arts Australia
– Ana Tiwary who created this initiative last year, is thrilled by the funding provided by Diversity Arts Australia:
"I am so grateful to Lena Nahlous and the entire DARTS team for their wonderful support. This collaboration will not only bring more underrepresented perspectives to one of the most popular arts publications in Australia, it will also provide a career pathway to diverse writers/journalists. If you are interested in writing opinion pieces on the arts sector or reviews, please look out for the call for pitches on the Diversity in Australian Media Facebook group here."