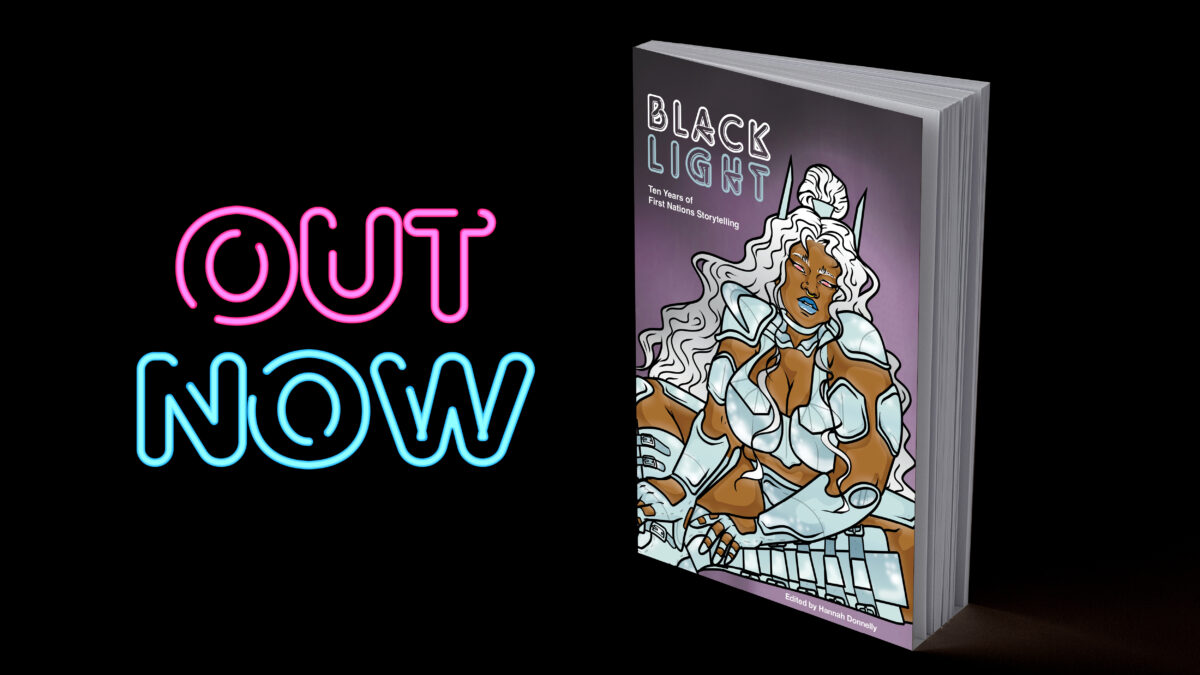 FIRST NATIONS STORIES IN THE LIMELIGHT
Diversity Arts is proud to support our colleagues at Sweatshop: Western Sydney Literacy Movement on the release of their new publication, which showcases forty-eight short stories, vignettes, poems, essays and artworks which have been developed over the past ten years.
On Saturday 21 May, Blacklight: Ten Years of First Nations Storytelling will be officially launched for the 2022 Sydney Writers' Festival. The anthology has been edited by award winning Wiradjuri writer and cultural producer, Hannah Donnelly, and brings together the entire collection of writing and art produced by Aboriginal and Torres Strait Islander creatives from Western Sydney throughout Sweatshop's publishing history.
Blacklight also features nine original pieces from First Nations writers which were commissioned by Donnelly.
The new artists appearing in Blacklight include: Aunty Julie Bukari Webb (Dharug Knowledge Holder and cultural practitioner), Jasmine Seymour (award-winning Dharug writer and member of the Dharug Custodian Aboriginal Corporation), Steven Lindsay Ross (Wemba Wemba, Muthi Muthi and Wiradjuri consultant, cultural producer and writer), Jazz Money (award-winning Wiradjuri poet, filmmaker and educator), Ali Murphy-Oates (Wailwan woman living in Sydney; arts worker and emerging writer), Travis De Vries (Gamilaroi and Dharug podcaster and multi-disciplinary artist), Dr Jo Anne Rey (Dharug poet and Research Fellow with Macquarie University's Indigenous and Geography Departments), Yuin Mumbulla (Macquarie Fields High School student of Yaegl and Yuin ancestry), and Maxine Edwards (Wiradjuri writer and community arts worker).
In addition to this incredible list of writers, the powerful cover of Blacklight features the artwork of Barkindji, Wakka Wakka, Latjilatji and Biri Gubba visual artist, Emily Johnson.
Blacklight: Ten Years of First Nations Storytelling has been developed by Sweatshop Literacy Movement in partnership with Campbelltown City Library as part of the Campbelltown Youth Literacy Initiative for Diverse Writers. Proudly supported by the Crown Resorts Foundation & Packer Family Foundation.
The project has also been supported by the Australia Council for the Arts, Diversity Arts
Australia and ACE (Arts & Cultural Exchange).
Order the book
Blacklight: Ten Years of First Nations Storytelling is out now!
Order now