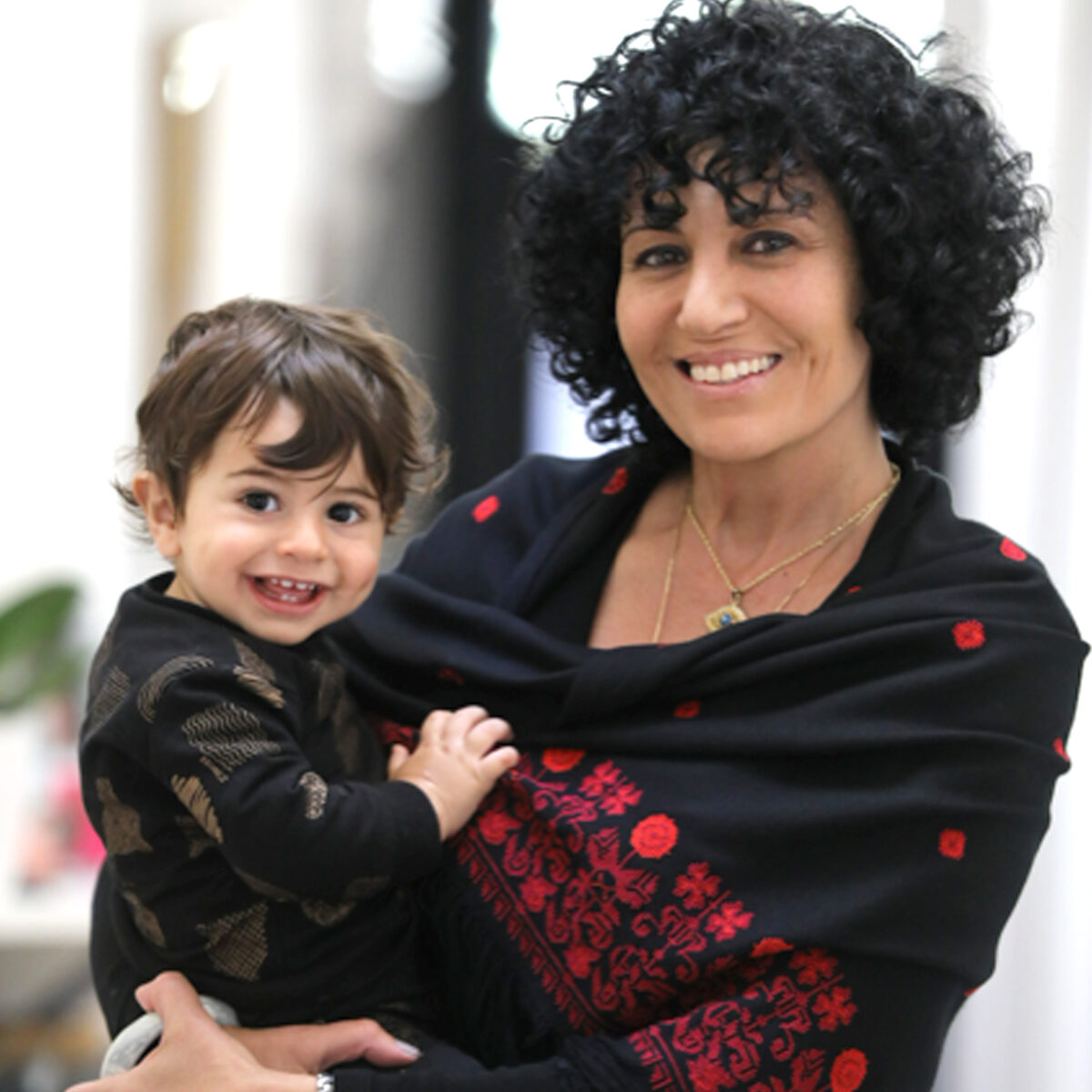 An interview with Fadia Abboud by James Elazzi
Before our interview takes place, I am greeted by Fadia herself and her angelic baby boy, Zayd. There is a scent that instantly takes me back to my own home; as I steer my gaze to the left, I see Daro stirring the red sauce for Koussa Hashwei, an old Lebanese dish, which can take up to a couple of hours to make. Hugs and kisses are exchanged and I am instantly at ease. There is a warmth in this home, an unspoken language of care and affection that lingers in every corner. Made all that exciting because Koussa Hashwei will be awaiting us at the conclusion of the interview. 
As we make our way into Fadia's office, at first glance, I see children's birthday party décor strewn around the room. Fadia gushes that its preparation for Zayd's first birthday (Zayd being a clear focus in Fadia's life currently). As we shift around a couple of chairs and turn on the mic for our interview, I am excited to get straight into the interview.
As my first question enters the room, I sense that Fadia is about to give me free rein with the openness of her answers, a willingness to share her lessons, thoughts and perspectives over the years. It is clear this incredible artist has fought many obstacles yet through these, has used these tribulations as energy to keep soaring through. Here, today, I am given a personal insight into her professional career. An artist, I have absolute admiration for. 
JAMES: Hi Fadia, it's so lovely being here and I'm grateful for your time. You must know, I am a huge fan of your work. So…to start us off, give me a brief history of your artistic career in the last 20-30 years?
FADIA: Last twenty years…ok. 
Fadia smiles then laughs to herself for a moment. There are clearly many defining moments, many situations that she could start with, and I feel her mind is trying to find that one exact moment, where she could launch from. 
FADIA: I decided to go to uni, which wasn't immediately after school, and I ended up studying a BA in Communications. I stayed there for a year and during this time, I made a short film and it screened at the very first Arab Film Festival. Which was put on with a bunch of Western Sydney organizations, with one of them being Information and Cultural Exchange (ICE). It took place at the old Roxy in Parramatta.  It was an exciting time. Lena Nahlous who managed ICE at the time asked me to come work for ICE, Uni wasn't really connecting with me, and I just bought a ridiculous carpet on my credit card which I had paid off and really needed a job.  So that started a journey for me.  I ended up finishing my degree 8 years later.  I've still got that carpet and I always say it was my magic carpet that took me for an amazing ride because working at ICE and in Community Arts was one of the best things I'd done.  
JAMES: When did this take place?
FADIA: Around 2005. ICE has just moved to Granville, it was bustling with activities and creative people. We did workshops with people from all over Western Sydney – young people, migrants, older people.  At that time we used to make Digital Stories in groups which were 2 minute personal stories made by the person narrating them.  The other big thing we did was facilitate music making workshops.  We also worked with the Sydney Festival on a project called  East London/ West Sydney, where they brought out artists from London and they collaborated with artists here and developed a performance – hip hop theatre. I did the visuals for the event. I did a range of things – it was a really fun time. And of course, ICE put on the Arab Film Festival and I started working on that while I was there.   I was passionate about this and it took me to so many different places, including Lebanon and Dubai. But I had found myself on the other side of filmmaking, where I would be presenting films, rather than actually making films. So I made sure there was always a personal project to feed that (filmmaker) side of me. 
At this point, Fadia looks out slightly and smiles to herself, clearly, these fond memories begin to flood her mind.
FADIA: There were so many forums, so many activities. It was all new to me, the idea of fighting for your voice…We wanted to facilitate other peoples voices, you know, it was new, and the wider community weren't really listening, but you had organisations (like ICE) that really charged through and knew how to communicate with the right government bodies to urge them to look at Western Sydney and take notice. 
JAMES: So this diversity understanding, you started this way before.
Fadia quickly stops me and states that she wasn't the first, but then pauses and realises that actually, she was a big part of the early diversity voices coming through in the early 2000s. She was intrinsic to this movement, even if she hasn't come to that realization herself. 
FADIA: What we were doing back then, I think we are seeing the fruits of that now…funding applications now have to have proper representation from any community they may be telling a story about. These things weren't important 20 years ago.  It was just good enough they were telling a story from a different background.  Those conversations and activism back then have broken barriers. 
There was a real camaraderie within these organisations, and what was going on at the time.
She smiles again, and without words, I can see how these memories shift the tone in her voice, lending to a slightly more tender tone.
FADIA: I felt alive, it was a really special time. 
JAMES: After ICE, what was next?
FADIA: So at some point, I did say to myself, I've just got to be a filmmaker. I focused on the Arab Film Festival, which would take five to six months a year to organize. (I would also be working on my own projects on the side)
I always thought about making a feature but distribution is difficult. You may not even see it in a cinema, (in your city). So then my focus shifted to T.V. There was an opportunity at Screen Australia, which was a paid attachment, on a show, 'Here Come The Habibs'. Because it was about an Arab family, it turned out to be much more than an attachment for me. I ended up shooting a little scene. I worked really hard and watched quite attentively and learnt so much about how TV works and about directing in general from Darren Ashton the director of the show.  And from there, Chloe Rickard at Jungle offered me to co-direct an episode with Darren for the second series. 
Just before this, I also directed a documentary which was about the Palestinians right to exist which was funded by NSW Film and Television Office (Screen NSW now). This was bought and screened on SBS.  So then I had a couple of T.V credits – 'Here Come The Habibs' and 'I remember 1948'.  Then I made a web series and then a short film 'Concern for Welfare' for SBS and Screen NSW.   Finally I got a break to Direct a full episode of TV Drama from Producers John and Dan Edwards.  It was a mini-series (Australian Gangster) for Channel 7 which should air this year…The show was written and also directed by Gregor Jordan. This was a big boost of confidence for me.  Working on my own episode was another one of those huge learnings.  Deciding what are the most important things you need to make a scene and tell a story, making that happen in the time you have allowed and with the resources you are given while also being creative – that is the job.  After Australian Gangster I got an agent and kept working in TV (Hard Ball, Les Norton, Five Bedrooms and a feature film 'Here Out West') 
JAMES: Out of all the projects that you've mentioned, what has been the most significant for you here, in the cultural arts space in Australia, and even overseas.
At this point, Fadia shines a gorgeous smile, as it resonates at the thought of answering the question. She exhales gleefully. 
FADIA: It has to be, 'ILUVUBUT'. It was my own web series (At the time, a web series was an entirely new medium to share work) something I made to keep honing my skills. To grow, that's how you learn, you keep making work. So I developed this story (close to my heart) about a Lebanese man and woman, who are both gay/lesbian and they enter into a marriage of convenience because there was no way they could be out to their parents. It was a comedy, shot over one weekend with George and Abbey in my house. 6 short episodes, it was fun. 
It was groundbreaking in a way, it was based on Arab queers in Sydney…I didn't even do it for a wider audience, I just did it for us. I knew there was a group of people that would really appreciate it. That's who I cared to cater for with this work. The final episode was shot at Club Arak. I loved it. It broke through to Lebanon. I got many messages from the queers in Lebanon …it really spoke to them. One man (in Sydney) showed it to his mother as a way of coming out. After that, I received money from Screen Australia to make the next series. I would've loved to make it into a TV series, but there was no interest at the time. I'd love to do a third series. 
JAMES: What changes have you seen over 20 years of being a person of colour / culturally diverse person in your industry in Australia?
FADIA: There are more opportunities, your stories are valued more, the wider community are understanding that our stories are valid and they want to hear them. They want them to be authentic. Acknowledging that key creatives need to be authentic.   
JAMES: What are some common themes in your work?
FADIA: Well, my personal work is always bout Arabs (identity politics mainly) Usually about Arab women. But not always. One of my shorts was about the Cronulla Race riots. I was working with young Arab boys at ICE when the riots took place.  One of those boys was a big burly Lebanese guy, a security guard in Westfield and he told me, he isn't scared of anything, besides his girlfriend's mother.
We both laugh out loud. 
FADIA: And that was the start of the story. Most of my stories don't have to be about responding to marginalisation or racism, we just tell our stories. 
James: Who were your mentors and what learnings and influences informed the way you practised?
FADIA: Lena Nahlous, was my first mentor at (ICE). I learnt about Community Cultural Development on the job. Alissar Gazal, Alissar Chidiac and Paula Abood, these three women (I learned a lot from). Alissar Chidiac gave me my first job as a video artist when she managed a project for the Powerhouse Museum called Jirrin Journey.  A Jirrin was a massive Lebanese stone vessel-like bowl that Arabs bought with them when migrating to Australia. We had an exhibition and other surrounding events and it was one of my favourite projects. Then there was Mouna, from the Arab Film Festival, we worked together but I also learnt so much from her.  One of my teachers at UTS, (a mentor) Martha Ansara, an Arab also, one of the first female cinematographers in Australia, an activist also. She mentored me through my first documentary 'I Remember 1948'..
JAMES: What is your advice for younger artists, producers and singers, especially those from non-Anglo backgrounds.
FADIA: Don't give up. It took me a long time to get here, to work on commercial TV.  It's still a hard area to break into but things are different now, don't give up. Keep making work. Get a camera, get like-minded people, an actor, write a story and shoot it. Just make it. The internet is still the best place to load up your work. Go to events and meet people, watch and learn from the people you respect. Try to have an attachment to their work and learn from them. Don't give up on film either, feature films will have a resurgence…l hope to make my first film soon. It feels sometimes, it could be like a competition out there, but there is enough room for all of us. It's hard for a project to get up and if it does, well done to them. They should be congratulated. 
JAMES: What are your hopes for the arts/creative industry in Australia?
FADIA: That we aren't viewed as the 'Other', we are not a spectacle…we want that equality, (however that is measured) I don't think we are there yet. Not ticking boxes.  We need more diverse producers. There are diverse writers, actors etc, but it's the producers that are the ones that make decisions in TV, of what is seen and what projects they want to make. There are many producers that embrace diversity, but we need culturally diverse producers as well.
JAMES: If you could give your younger self a piece of advice, what would it be?
Fadia's eyes light up and she laughs out loud, again exhaling and thinking about the question carefully. 
FADIA: (After a moment's pause) Don't be scared to tell a story. Just tell it. Don't be scared about what people will think of your work.
JAMES: Lastly, what could your legacy be?
FADIA: Ummm…
I interrupt to establish the fact that Fadia will indeed leave a long, respected legacy behind her.
FADIA: I would love to see the Arab Festival back up. The Festival bought such joy to so many people. A film fund set up for short Arab films. I think that's how people learn, by making. People just need that little bit of support to tell their story. 
This interview was written on the unceded lands of the Gadigal and Wangal peoples of the Eora Nation. The interview with Fadia Abboud was conducted on the unceded lands of the Cabrogal peoples of the Darug Nation, which was also accessed by peoples of the Dhurawal and Darug Nations.
Article commissioned by Diversity Arts Australia for the Pacesetters Creative Archives project, which was funded through Create NSW.