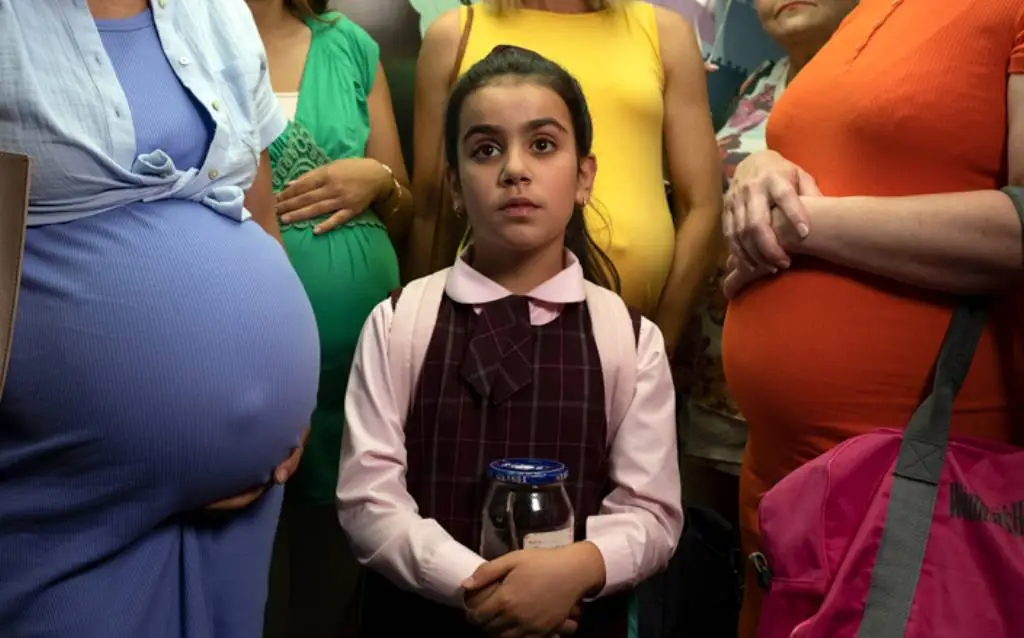 The anthology film by CALD writers and directors, offers Sydney characters that are grounded and real.
Sometimes the obviousness of a subject makes it difficult to talk about its complexities. One of the best examples of this is Robert Frost's poem, 'The Road Not Taken'. It's often read as a paean to self-assertion, but its true meaning is a lot more nuanced.
And this is also the case with Here Out West, the anthology film that played at Opening Night of the 2021 Sydney Film Festival and is in general release in Australia from 3 February 2022. The film is shot exclusively in Sydney's suburb of Blacktown, with contributions from eight CALD (culturally and linguistically diverse) writers (Nisrine Amine, Bina Bhattacharya, Matias Bolla, Claire Cao, Arka Das, Dee Dogan, Vonne Patiag and Tien Tran) teaming up with five female directors (Fadia Abboud, Lucy Gaffy, Julie Kalceff, Ana Kokkinos and Leah Purcell) to tell stories in nine different languages (English, Arabic, Bengali, Cantonese, Kurdish, Tagalog, Turkish, Vietnamese and Spanish).
The 'west' in the title of course, refers to the area of Western Sydney, which gives one the proclivity to apply descriptors such as a 'film about Western Sydney' or worse, a 'Western Sydney film'.
Don't get me wrong, Here Out West is that. But also, it isn't. Yes, the film is a wonderful example of how CALD representation both in front and behind the camera can help bring to the fore stories that haven't as yet been told on screen. But seeing the film as a mere diversity and inclusion experiment would be an extremely narrow and cynical reading of what the film is trying to achieve.
The Hollywood approach towards greater representation on screen has amounted to little more than handing out what I like to call 'diversity trinkets' – forced scenes or throwaway lines that aren't directly woven into a story and are inserted to earn brownie points from audiences. Yes Marvel, one pandering 'girl power' scene in Avengers Endgame has most definitely solved institutional and systemic underrepresentation of women in the industry. Go you!
But Here Out West is not that. From the very first scene – a sweeping top-shot of the labyrinth of roads that meander, weave and intersect with each other – the world of fictional town Sunnyholt that this film creates and the characters inhabit, feels authentic and lived in. And that's precisely the point. There is no point in championing diversity if it's eventually going to be reduced to tokenism and screenshot-worthy aha! moments. That kind of approach is not only insulting, it fuels more cynicism in audiences who are turned off by the prospect of yet another 'diversity vehicle'.
The film opens with a newborn baby being kidnapped by a nanny (Genevieve Lemon), but that incident acts as a MacGuffin and a connecting tissue that serves to thread together the other stories in this anthology. With eight stories to cover in 101 minutes, the film does feel overstuffed. There isn't much room for some of the emotional moments to properly breathe on screen. For example, the story written by Bina Bhattacharya about an ailing Bengali father on his deathbed, trying to reconnect with his daughter who doesn't speak Bengali, needed more room to sink in.
Some of the writers involved with the film have drawn from their personal experiences to tell these stories. Vonne Patiag, the writer of the segment 'The Long Shift' calls it his 'love letter' to his mother who, like the character in the film, was also a Filipino nurse. And that's one of the reasons why, despite the limitations of the anthology format, where you feel some of these stories were abruptly cut short, the characters come across as real and grounded. As someone who has grown up and lived in Western Sydney, I could sense that these were people I have met at some point in my life: on the street, in the supermarket, in parks and playgrounds.
As someone who has grown up and lived in Western Sydney, I could sense that these were people I have met at some point in my life: on the street, in the supermarket, in parks and playgrounds.
Anthologies are tricky beasts. There is the danger of falling into a pattern of sameness – where you're unable to differentiate from one segment to the next because they all blend into each other without having their respective identities. On the other hand, you don't want completely disparate pieces that have been stuck together on a wall without any semblance of a connective tissue. It's a difficult tightrope to walk at the best of times.
That's where I feel Here Out West succeeds more often than not. There's enough variety on offer. I loved the dream-like and surreal segment 'Everything Changes', about a divorced security guard struggling to establish a meaningful relationship with his son. So, he channels his inner pathos into his poems. The segment takes you out of the world-at-large and instead transports you into this character's head. It might divide audiences as the 'odd one out' segment – much like the 'Beard After Hours' episode from Season 2 of Ted Lasso – but I really appreciated that the film took that risk and tried something different.
This approach of trying different things to break the monotony of the anthology format is evident throughout. Where 'Everything Changes' can be seen as a standalone segment, 'Brotherhood' written by Arka Das (who also plays Robi in the film) blends into Bina Bhattacharya's story about the Bengali father on his deathbed. Not all of these approaches work, but the film tries things structurally to keep things interesting and engaging, and that's important to acknowledge as much as giving a verdict of whether it was ultimately successful.
In terms of performances, the standout was De Lovan Zandy as the titular musician in his segment as a Kurdish refugee who wants to open a music school and teach the bağlama musical instrument to his students. His ability to communicate through his eyes and silent pauses is exceptional and he can convey so much about his character's state of mind purely via body language and with minimal dialogue.
I wish the film wasn't so packed. Eight stories is a lot, and I would've preferred to stay with some of these characters and in their worlds, before being transported to the next one. Still, there is enough here for avid cinema-goers to sink their teeth in. A word of caution: don't go in expecting a film about Western Sydney. That is unfair and really sells the film short. There's a lot more happening in there if you give it a chance.
3.5 stars

HERE OUT WEST
AU 2021
Unclassified 15+, 101 minutes
Language: Arabic, Bengali, Cantonese, Kurdish, Spanish, Tagalog, Turkish and Vietnamese  (with English subtitles) 
Directors: Fadia Abboud, Lucy Gaffy, Julie Kalceff, Ana Kokkinos, Leah Purcell
Writers: Nisrine Amine, Bina Bhattacharya, Matias Bolla, Claire Cao, Arka Das, Dee Dogan, Vonne Patiag, Tien Tran
Starring: Genevieve Lemon, Mia-Lore Bayeh, Christian Ravello, Arka Das, Rahel Romahn, Thuso Lekwape, Leah Vandenberg, De Lovan Zandy, Khoi Trinh, Brandon Nguyen, Christine Milo, Jing-Xuan Chan, Gabrielle Chan
Producers: Annabel Davis, Sheila Jayadev, Bree-Anne Sykes
Distributor: Mind Blowing World
First Published on ArtsHub on 11 November 2021.