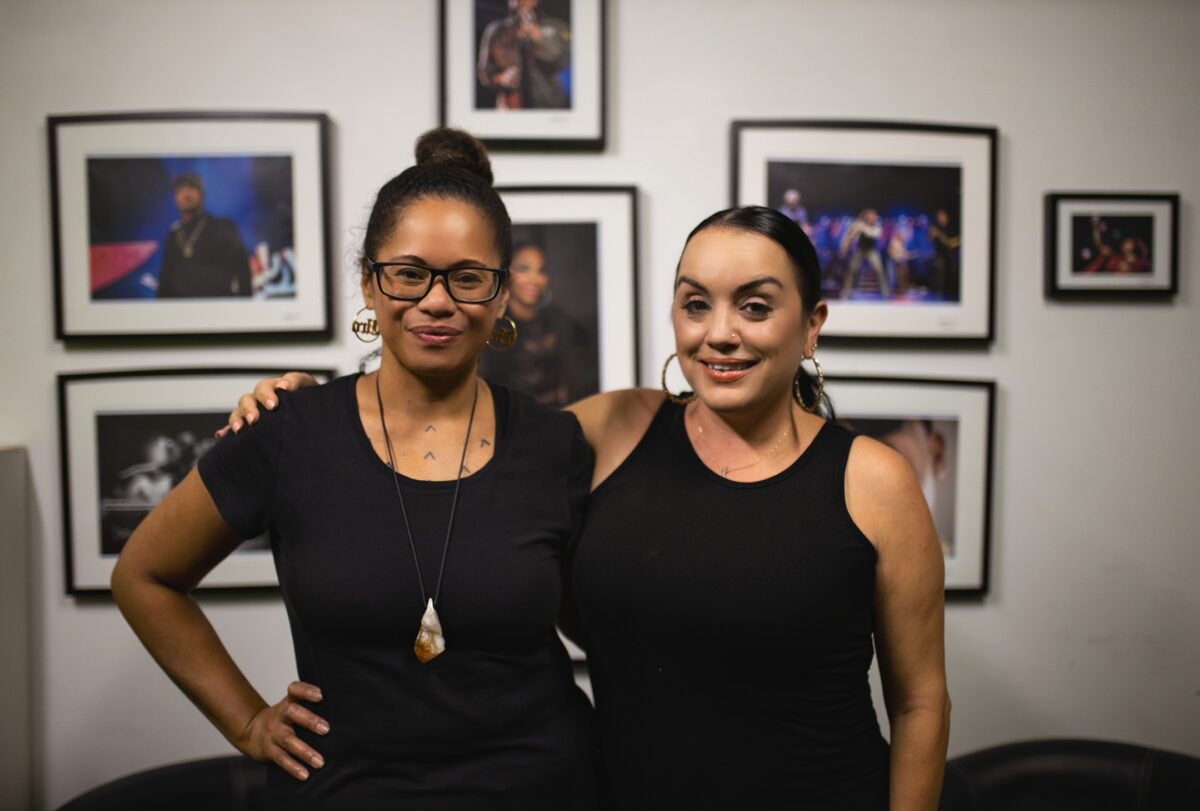 Interview by Simone Amelia Jordan
ACT I
"You love to hear the story, again and again, of how it all got started, way back when." ~ "The Bridge", MC Shan, 1986. 
Hyperbole is an unmistakable characteristic of Hip-Hop however when its adherents declare the music and culture saved their life, they mean it. And so it goes for Thelma Thomas a.k.a. MC Trey, revered in Australia as one of the genre's first female acts. 
Trey's love affair with rap began as a child in Suva, Fji. She was raised in a musical household by parents who adopted her from birth; Abraham sang gospel, Fanny enjoyed listening to everything from country to disco. Her mother held onto cassette tapes brought over by cousins visiting from New Zealand, where instructional dance songs like 1988's "The Cabbage Patch" from Miami bass act Gucci Crew II left young Thelma enthralled. 
"I memorised everything on the radio, and mum had tapes of early rap crews," Trey recalls. "We had cassettes, but it was the movies where we really found out what was going on around the world: Fast Forward, Krush Groove, Beat Street and Breakdance. They gave me insight into Hip-Hop, people who looked like us."
The Thomas' migrated from their idyllic archipelago to the world's largest island, Australia, on the eve of Trey's adolescent years. She experienced the culture shock of trading Suva for Sydney around the same time her parents decided to separate, becoming the lone female presence in the house with her father and younger brothers, one of the first Fijian families to settle in the Parramatta area in the late 1980s. Hip-Hop would provide her with a much-needed "haven away from the chaos".
"When navigating life as a teen, you're trying to find your way," Trey says. "We find a community that's speaking a language we understand, music we're drawn to, and it feels like home. A lot of us that didn't find home elsewhere, found it in Hip-Hop back then.
"Hip-Hop saved a lot of us," she continues. "Back then, there were so many [negative] pathways for young people trying to find their way. Luckily, we had music."
ACT II
"I'll grab the mic and I'll damage ya, cut your whole stamina." ~ "Damage", Ol' Dirty Bastard featuring GZA, 1995.
Abraham Thomas was not only one of the most beloved members at Suva's main Methodist church, he was also choir director. His daughter would accompany him to weekly practice sessions, defying her bashfulness to hone her musical skills. 
"[My father] would give the choir their parts, and I'd pick that up," Trey recalls. "My first performance was in church, five or six years old. Him playing the ukulele, and me singing out the front of church on a Sunday."
She began writing songs but wouldn't perform again until the mid-1990s, in her late teens. One evening Trey found herself at a house party with some of seminal Western Sydney rap crew, Def Wish Cast and other hip-hop heads ((insider term for Hip-Hop aficionado). Working up the courage to join them as they freestyle rapped in the kitchen, she remembers being well-received and encouraged to continue.
"After that I went to an open mic event at a Surry Hills bar, and started doing the [same] verse over a beat. I thought, I can actually do this," she recalls, before pausing to laugh. "Actually, I got forced to do it: I was walking past, and someone pushed me on stage!"
Pictures of Trey from the beginning of her career show a tomboy rapper conservatively dressed, with her hat down low and dark shades. Transforming from soft-spoken Thelma to MC Trey in a predominantly male Hip-Hop space — at the same time as coming of age as a brown woman from a working class, single parent family — was, she reflects, "challenging". 
"I'd always wanted to get into music, but I was dealing with trying to survive everyday. [Later] I would tell my daughter, I used to have to try and get food sometimes, you know? Literally, go to Woolies to get food. Know what I mean?" She adds, "There were many of us [like that] at that time, around the Parramatta and Merrylands area. We were just trying to eat. The struggle was real for us. My dad and extended families were there to help, but I was going through stuff and didn't listen."
Fortunately for Trey, she was a gifted lyricist. Things took off quickly: within one week of performing at her first open mic gig, she started booking shows. She hired turntable maestro DJ Bonez as part of her act ("he went to school with my cousin in Parramatta") and appeared on national TV shows like Soul Kitchen.
"It all happened instantly," she says. "Everything started lining up. I thought, I'm being diverted from this life to that life and being shown straight away, you've got to take this path."
In 1998, Trey appeared in the ABC rap documentary Basic Equipment, directed by Paul Fenech (Fat Pizza, Housos). The sole female MC profiled, her rarefied inclusion was vital; not only did she enforce how multicultural Hip-Hop in Australia had always been — till then, heavily spotlighted under a white gaze — she challenged Queensland politician (and serial racist) Pauline Hanson to come to one of her shows for a battle rap showdown.
One year later, she would be a standout on the First Words compilation from groundbreaking all-women record company, Mother Tongues. Established by Heidi Pascal of Creative Vibes (1994 – 2009), the Sydney-based label became Trey's first recording home and Pascal, one of her first female mentors. Trey also licenced her music through her own imprint, Tapastry Toons. 
"I had so many [women] brought into my life to guide me: Heidi from Creative Vibes, Lena Nahlous from Diversity Arts Australia. They would take me under their wing, without even realising my story. So it's like, you're always protected. No matter what you go through. It's that mother energy, that feline force."
That precise track, "Feline Forces", propelled Trey to global recognition. Featured on her 2000 debut album Daily Affirmations plus Universal Music's Best of International Hip-Hop album, the song is a tribute to the influential women in her life, local and abroad. The buzz single caught the attention of esteemed music critics like The Village Voice's Robert Christgau, who referenced the rapper's 'modest boasts that'll perk you up' and 'dulcet female tones'.
"That track is about paying respect to the women that have come before me," Trey says. "I shout out a lot of rappers but also, females in my family and our ancestors. We all come from very strong lines of women that have made things possible for us and continue to walk with us."
Opportunities to tour the world then came knocking, including a trip to New York City in the early 2000s that included a performance at the fabled Nuyorican Poets Cafe on the Lower East Side, and the chance to freestyle at open mic sessions alongside Hip-Hop greats like Questlove of The Roots and Mos Def (now Yasiin Bey). "I was always shy but I would put my hand up and say, 'Can I have a go?' " she laughs. Home in Sydney, she kept up a rigorous schedule for the better part of a decade: hosting music programs on cable television, acting in community theatre shows, scoring an ARIA Award nomination in 2007 for the "Get Yours (Remix)" by Foreign Heights, her group with fellow rapper Maya Jupiter and DJ Nick Toth. Undeniably one of Australian Hip-Hop's most recognisable faces, reality would tell a different story.
"I was living in two different worlds: going on tour and being treated like a VIP, but then coming back to the 'hood," she recalls. "I'd still be going back to Granville, back to 'the area', dealing with crap. Peers I was hanging out with, stuff going on, still living in one of the old houses down the street."
ACT III 
"Keep on giving, but you're broke / Keep on pushing, but you hope / Keep on climbing to the top / For that view, you won't stop." ~ "Daily", MC Trey, 2017.
The same week her critically-acclaimed sophomore set Tapastry Tunes dropped in 2003, Trey gave birth to daughter Lyric. They left the maternity ward in the middle of the rapper's rigorous album promo schedule, and she nursed the newborn between media interviews.
Prior to that, Trey remembers "being on stage eight months pregnant, supporting [rapper] Xzibit. I was thinking, I'm not going to stop doing this. I'm going to do it, and stay healthy. 
"After Lyric's birth, I was still able to go on tour with bub, but as she got older, it was very hard to leave her. Thinking back now, I made the decision to be there more for my child rather than continue with the music."
Spurred on by earlier visits to juvenile justice centres as a special guest, Trey decided to dive into community work. "I would tell the young people about the possibilities; I come from the same area as you, but I just got off a plane last week! You too can do that."
In a natural fit, her first efforts were running Hip-Hop workshops across Sydney, from Marrickville to Granville. She serviced marginalised youth from Pacific, First Nations, Arab and African communities, noticing a recurring theme.
"All young people need time invested in them. Kids that are raised well — and this is not a dig at families, it's the environment they're raised in — won't go out looking for things that aren't healthy for them. If they're provided with what they need to become healthy children, they'll stay on that path."
Regarded as somewhat of an elder after two decades of work in the field, Trey now sits on advisory boards informing the NSW state government on liaising with multicultural and migrant communities. She has worked with the Department of Community Justice on improving services for young people, collaborated with NSW Health in regards to mental health in Pacific communities, and been a bridge between NSW Police and today's biggest rap acts from 'the area'. Like every goal she's achieved, this work comes straight from Trey's heart.
"A lot of it is voluntary," she says. "When I get called to give advice, I step up because it's going to make things better for my daughter, her peers, her children, my grandchildren, and our communities. How could I not assist?"
It's in this spirit that Trey acts as mentor for today's exciting generation of Australian Pacific rap talent and creatives. Hip-Hop saved her life, and she's determined to help others. "My legacy will be assisting people to find their superpower, so they can pass it onto the next."
This profile was written on the unceded lands of the Gadigal and Wangal peoples of the Eora Nation. The interview with MC Trey was conducted on the unceded lands of the Cabrogal peoples of the Darug Nation, which was also accessed by peoples of the Dhurawal and Darug Nations.
First published in RollingStone Magazine on 19 November, 2021. Article commissioned by Diversity Arts Australia for the Pacesetters Creative Archives project, which was funded through Create NSW.