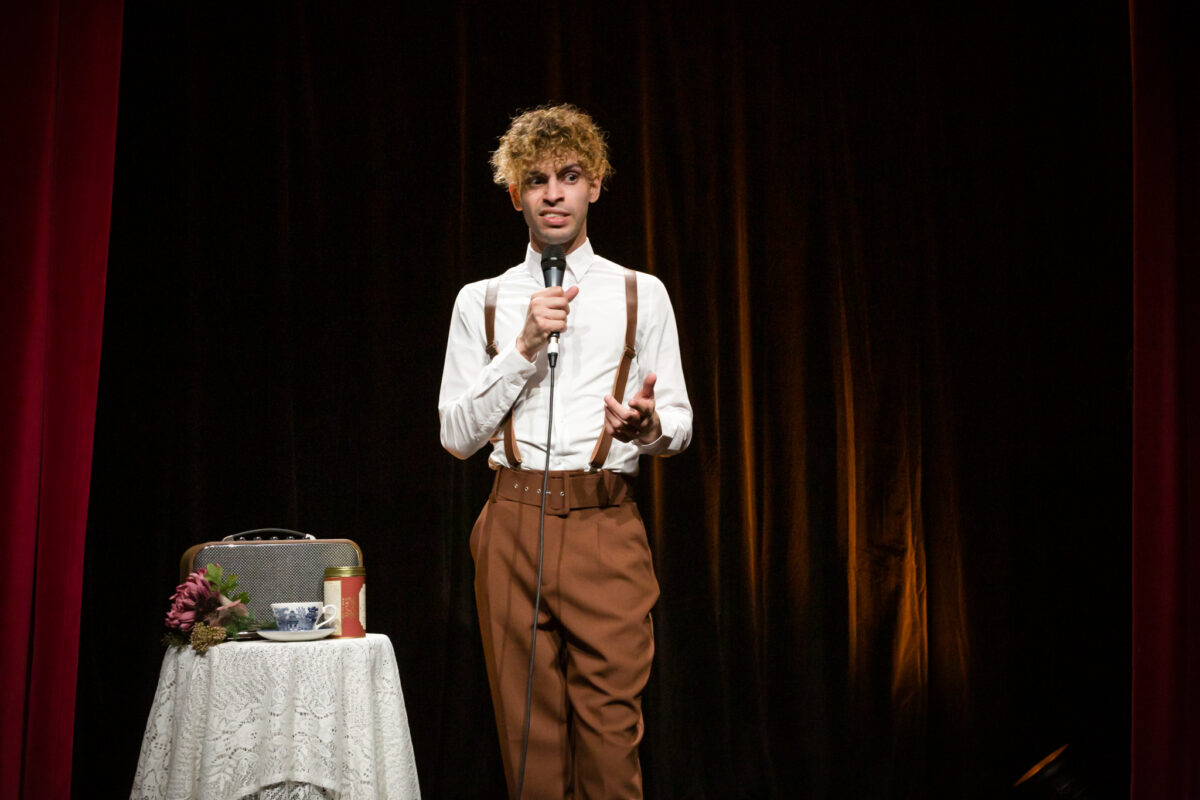 Pour Me Another One: A Review of AJ Lamarque's English Breakfast by Adrian Mouhajer
Factory Theatre
29 April – 1 May 2022
The Matchbox room of the Factory Theatre sets the perfect tone for AJ Lamarque's solo comedy show, English Breakfast. The seating is cosy. Chairs lined up in front of a small stage where a small table has been laid out with a white doily and topped with British teatime essentials (marmalade and fine china included). The chairs are quite close together and has me brushing shoulders with the crowd; it really does feel like we're all here for a shared evening tea time but with some of us sporting IPAs instead of Earl Greys.
When the show starts, the room goes dark and there is a crackling of radio interference before the voice of a British elderly woman (Lamarque putting on a falsetto) begins to describe what makes the perfect cup of tea. Starting with the right brew of leaves is integral, and the spotlight shines brightly through the dark as AJ Lamarque makes his grand appearance, diving right into what makes his particular blend of "leaves" so unique.
Lamarque is a self-declared Mixed-Race Queen, hailing from London originally. The comedian is indeed akin to the cup of English Breakfast that he makes the focal point of his show– engaging, made with a bit of everything and surprisingly comforting.
The show centres on Lamarque nearing 30 or "50 in queer years", which spurs his self-reflection upon his formative years. He takes his audience on the journey with him as he considers his experiences. First, as a young mixed-race child in a predominantly white suburban countryside town in the UK, and later as a queer mixed race drag queen trying to find connection with the queer community of Australia.
There are periods of complete silence in the audience as they sit in rapt attention as Lamarque takes poignant moments to impart serious wisdom in between the laughter. His displays of emotional intimacy make the show feel more like a real conversation as he nurtures a sense of community within the room. English Breakfast touches on important themes that impact our communities, including intersectionality, internalised racism, discrimination, imposter syndrome and the overwhelming human need to "make the perfect cup of tea" a metaphor on how to be our "perfect" selves. He doesn't shy away from showing true vulnerability on stage, prompting audience members to really consider what they are looking to take away from the show.
Throughout the show, I related to Lamarque quite strongly as a POC queer nearing 30 myself, especially when he mentioned his MySpace account. I was close to tears at some points, especially when he touched on the difficulty in engaging with the queer community as someone who came out later in life. He comments on the superficial nature of it all and how queer folk really must dive deeper to be able to find the groups that we can foster true connection with. He also highlights the importance of not losing ourselves in the journey of finding community by asking a crucial but much neglected question: "What do I want?"
Yet, Lamarque is able to maintain his role of sassy comic as he disperses these serious notes with cheeky banter for the crowd, ever-leaning on his theatrical background to entertain the masses with his over-the-top British accent. A master at improvisation, he refers to the annoying intermittent microphone feedback that threatens to take attention away from his show as Linda from the North Shore. Linda, Lamarque explains with a wide smile, is only comfortable with certain kinds of POCs and won't stand for him stepping out of his model minority box! The crowd roars with laughter and I'm one of the loudest because I have known more than my fair share of Lindas in my lifetime.
English Breakfast as a comedy show is new and original in the way it effortlessly spins together anecdotes with well-placed witticisms and criticisms. Lamarque will definitely have everyone laughing while instilling every individual with a reminder to be kinder and truer to oneself in the face of a society that is not always as warm and welcoming as a cup of tea.
Buy tickets to AJ Lamarque – English Breakfast here.
FACTORY THEATRE
Friday, 29 April 2022 07:00 PM
Saturday, 30 April 2022 07:00 PM
Sunday, 01 May 2022 06:00 PM