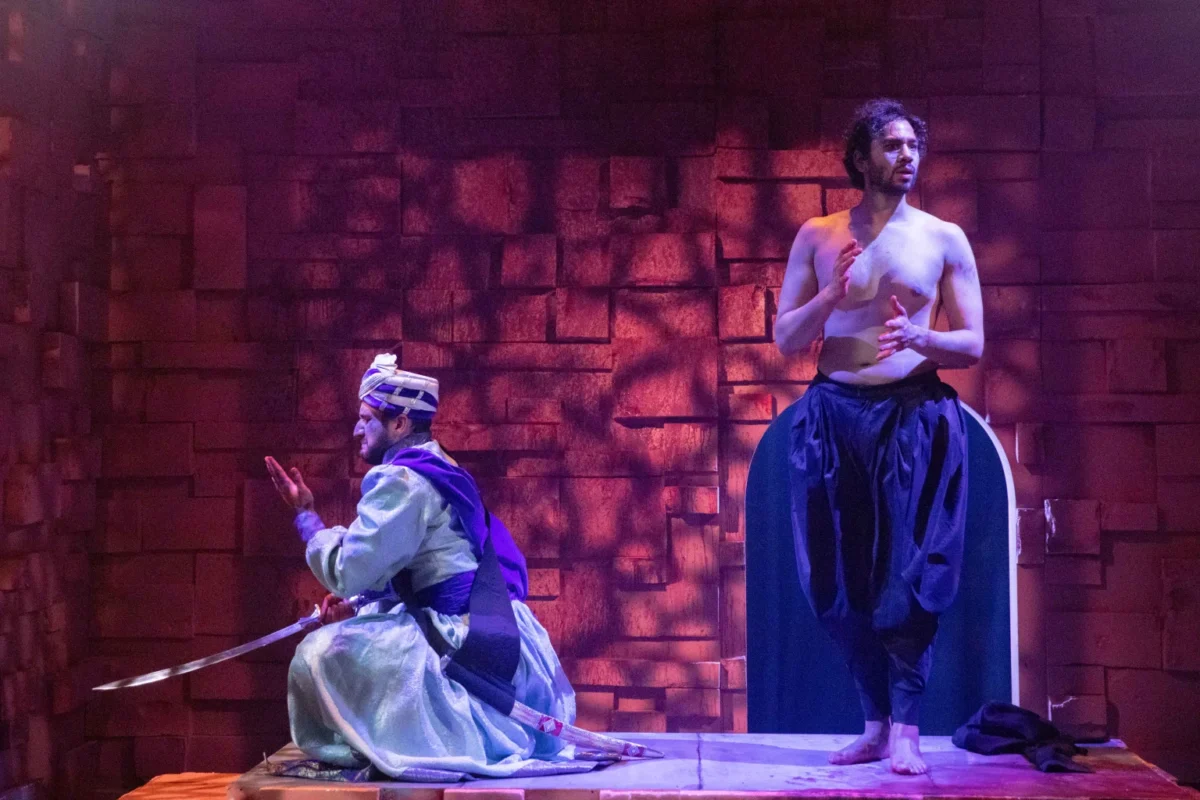 A tale of conflicted loyalties against a monumental testament to beauty.
It's the mid-1600s, and after 16 years, the Taj Mahal is almost complete. The architectural marvel, whose name translates to 'Crown of the Palace', was commissioned by Mughal Emperor Shah Jahan as a tomb for Mumtaz Mahal, one of his six wives. Costing around 32 million rupees – in modern currency that's one billion US dollars – and with 20,000 artisans contributing to its construction, only the finest guards could be trusted to protect it.
And, well, Humayun (Idam Sondhi) and Babur (Akkshey Caplash).
Guards at the Taj, written in 2015 by Rajiv Joseph and playing at Parramatta's Riverside Theatres, is an exploration of authority, duty, brotherhood, and the conflict between the three. The directorial debut of Bali Padda, its 90-minute run time is comprised of four two-person scenes. These scenes, featuring the uptight, rule-following guard Humayun (Sondhi) and his relaxed, naïve partner Babur (Caplash), span the night preceding the Taj Mahal's opening and the days immediately following it. Focusing more on the emotional turmoil Humayun and Babur endure than the historical moment they are contributing to, a combination of powerful acting performances, subtly impactful production elements, and cohesive artistic direction make for a gripping and well-told story.
Starting with the performances, there is so much to like. Sondhi and Caplash imbue their odd couple-esque characters with the perfect amount of individual likeability and collective chemistry, meaning that they can dominate the stage together and on their own. Though each individual audience member will have their own favourite between the two, the fact that they both can keep viewers engaged is a testament to their respective acting abilities. This achievement is particularly notable given the different demands on each character – Joseph's script gives Humayun more monologues and emotional range than Babur, who is resultingly tasked with doing the same work with less aid.
On the production end, there is also a lot to celebrate. Even though Guards at the Taj is a character-driven play, Me-Lee Hay's composition and sound design providing the requisite atmosphere to the overall storytelling, with brooding synths contributing well to the on stage tension. Kate Baldwin's lighting design, primarily striking blues and darker reds, jumps between washing over and piercing the stage, giving this production an unexpectedly stunning visual dimension. Finally, though set and costume designer James Browne appears to have devoted most of his energy to one item, a Gothic-inspired architecture set piece that Humayun and Babur regularly stand in front of, he has nonetheless also done a commendable job in aiding the show's aesthetics.
However, behind all these strengths, the main issue seems to be with the story. Bali Padda's directorial decisions regularly make Joseph's script stronger; his choice to let Sondhi and Caplash speak in their natural accents, emphasise the Hindi words that occasionally pop up, and give each character their powerful individual moments are all wise decisions. But Joseph's script has two weaknesses that he could have picked up on; it is just a touch too long, and its ending is too flat.
A scene 2 discussion between Humayun and Babur about a transportable hole can easily be cut down, for example, as can much of the scene following the plot's climax. It's those moments where Sondi and Caplash lose the audience's attention, unfortunately through no fault of their own. Additionally, a pre-show warning for blood and gore is probably necessary; though audiences are warned of this on Riverside's website, and a sign outside the theatre includes contact details for Lifeline, an on-site verbal or written warning to once more remind audiences of the show's coarse language, violence and blood is definitely needed.
But, putting those issues aside, Padda should be pleased with his directorial debut.
Ultimately, Guards at the Taj is an extremely well-produced show. Though it drags on at times, its acting, aesthetic and direction offers a lot to audiences no matter their historical knowledge. It's uncertain whether Humayun and Babur should be trusted to provide good security, but they can certainly be trusted to provide good entertainment.
Guards at the Taj
Riverside National Theatre of Parramatta
Written by Rajiv Joseph
Director: Bali Padda
Mentor: Darren Yap
Set and Costume Design: James Browne
Sound Design: Me-Lee Hay
Lighting Design:  Kate Baldwin
Stage Manager: Daniel Cottier
Creative Futures: Rita Naidu
Cast: Akkshey Caplash and Idam Sondhi
First Published on ArtsHub on 28 February 2022.