This event ended on 8 October, 2021.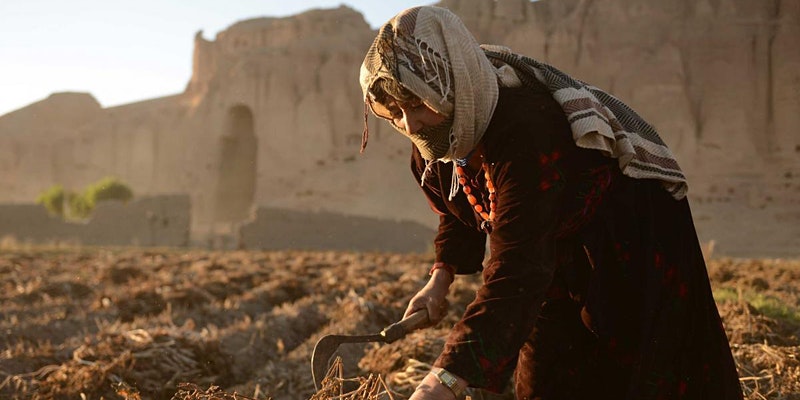 About the event

What's the real legacy of the Afghan war? What's the future of Afghanistan with the Taliban in control? What's the role of Afghans in Australia and the Diaspora including artists and journalists?
"Twenty Years" is a timely, collaborative project with leading Afghan and Australian artists that will assess the legacy of the Afghan war for both Australia and Afghanistan through a range of contemporary art forms and multidisciplinary events.
Held across 2021-22, the first two online events take place on the 7 and 8 October 2021 with MC Diana Sayed, spotlighting Afghan musicians, spoken word poets, journalists and activists in Australia and around the world. These events over two nights have different speakers so please come to both!
Current speakers/performers include (with more to come):
MC Afghan-Australian Diana Sayed
Afghan-Australian journalist Mahmood Fazal
London-based Afghan artist Orna Kazimi
Paris-based Afghan artist Najiba Noori
Afghan-Australian spoken word artist and artist Elyas Alavi
Newly commissioned short film by three female Afghan-Australians on the legacy of the Afghan war
Project coordinator, journalist, author and film-maker Antony Loewenstein
Afghan musician Taqi Khan 
Any questions, please email: communications@diversityarts.org.au
Organisers

Antony Loewenstein is an independent journalist who has written for The New York Times, The Guardian, the BBC, The Washington Post, The Nation, Huffington Post, Haaretz, and many others. His latest book is Pills, Powder and Smoke: Inside the Bloody War on Drugs. He's the author of Disaster Capitalism: Making a Killing Out of Catastrophe; the writer/co-producer of the associated documentary, Disaster Capitalism; and co-creator of Al Jazeera English films on the opioid drug tramadol, West Africa's Opioid Crisis, and threats to free speech and liberty during the pandemic, Under the Cover of Covid. His other best-selling books include My Israel Question, The Blogging Revolution, and Profits of Doom, and he's the co-editor of the books Left Turn and After Zionism, and is a contributor to For God's Sake. His next book, out in 2023, is on how Israel's occupation has gone global and he's currently developing a number of documentary films.
Loewenstein has visited Afghanistan twice, in 2012 and 2015, to investigate the impact of the war on Afghan civilians, war profiteers and the country's fledging mining industry. During his visits, he researched disaster capitalism for a book and film.
Tia Kass is an artist and illustrator working out of Victoria Trades Hall Art Studio, NAARM (Melbourne) and is a member of the Workers Art Collective, A group of left wing artists creating art and writings for the workers movement. He's published work in The Saturday Paper, SBS, Overland Journal, The Lifted Brow and for the Asylum Seeker Resource Centre. His SBS series on the Rohingya community in Melbourne was nominated for a 2018 Walkley award and his collaborative story on migrant workers in the food industry, published in The Saturday Paper, won two Quill awards in 2021.
This event is presented by Diversity Arts Australia and supported by Australia Council for the Arts, Blacktown Arts and Create NSW.
Register
Limited spots so registration is essential.
For this event, unwaged and unemployed people can select a free ticket option.
For those that are able, please select ticket options to donate $10 or $20.
100% of money raised will be donated to the Afghan Australian Development Organisation, an NGO with years of experience educating Afghan youth. We've confirmed that their work will continue after the Taliban takeover to support programs to teach science and life skills for Afghan women. The proceeds will be donated after the events have been concluded.
BOOK NOW