This event ended on 14 September, 2023.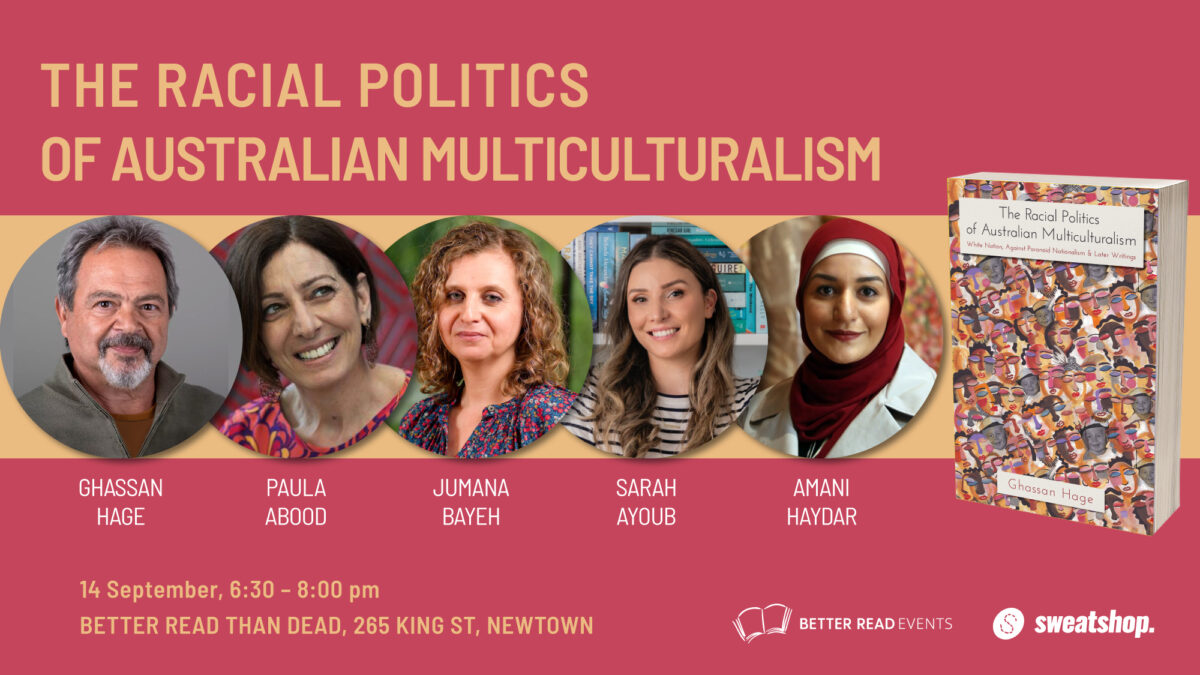 On 14 September at Better Read Than Dead, join Ghassan Hage, alongside Sarah Ayoub, Jumana Bayeh, Paula Abood and Amani Haydar, for a special panel to celebrate the release of The Racial Politics of Australian Multiculturalism.
Proudly presented by Better Read Than Dead in partnership with Sweatshop Literacy Movement.
The anniversary edition is published by Sweatshop Literacy Movement with support from Diversity Arts Australia.
Register now
Visit the Better Read Than Dead website
Book now
Time & Location
14 September, 6:30 pm – 7:50 pm
Better Read Than Dead, 265 King St, Newtown, NSW 2042
About the event
Ghassan Hage is professor of anthropology and social theory at the University of Melbourne, Australia and a senior research fellow at the Max Planck Institute of Social Anthropology in Halle, Germany. He is internationally renowned for his research on migration, on the intersection of racism, nationalism and colonialism, and for his development of critical anthropological theory. Along with the works re-published in The Racial Politics of Australian Multiculturalism (2023), Hage's sole-authored books include: Alter-Politics: Critical Anthropology and the Radical Imagination (2015), Is Racism an Environmental Threat? (2017) and The Diasporic Condition: Ethnographic Explorations of the Lebanese in the World (2021).
Sarah Ayoub is a journalist, bestselling author and academic with a PhD in migrant Australian YA literature. Her work has been published in The Guardian, The Sydney Morning Herald, Sydney Review of Books, Meanjin and more. Sarah is a Stella Schools Program ambassador, has mentored the youth curators of The Sydney Writers' Festival YA program, contributed to the anthology Arab, Australian, Other: Stories on Race and Identity and most recently been a judge for the NSW Premier's Literary Awards. Sarah was elected to the board of the Australian Society of Authors in 2021 and is currently working on her first novel for adults as the writer-in-residence of Sweatshop Literacy Movement. Sarah is an advocate for education and Australian stories, appearing at schools and festivals where she promotes her YA novels Hate is Such a Strong Word,The Yearbook Committee and The Cult of Romance as well as her debut picture book, The Love that Grew.
Jumana Bayeh is Senior Lecturer at Macquarie University, and the author of The Literature of the Lebanese Diaspora (2015). Her current projects include an examination of the nation-state in Arab diaspora writing over the last century, and a collaborative project that investigates riots and literature.
Paula Abood is a cultural worker, writer and educator. She has engaged communities for over three decades, receiving the Australia Council's Ros Bower Award for lifetime achievement in community cultural practice (2013). Paula has been published in Australian Poetry Journal (2020), Arab Australian Other: Stories on Race and Identity (2019), and Sydney Review of Books (2016). She has written and directed plays (The Cartographer's Curse, 2016) and blogs (Race and the City, 2010), and is Chair of Arab Theatre Studio.
Amani Haydar is an esteemed author, visual artist and advocate for women based in Western Sydney. Amani's debut memoir The Mother Wound was awarded the 2022 Victorian Premier's Literary Award for Non-Fiction and the Matt Richell Award for New Writer of the Year. She was also the recipient of a NSW Premier's Woman of the Year Award (local) and is a former Archibald Prize finalist. Amani's work is featured in Another Australia (Affirm Press), Arab Australian Other (Picador) and Admissions: Voices Within Mental Health (Upswell).