This event ended on 11 November, 2021.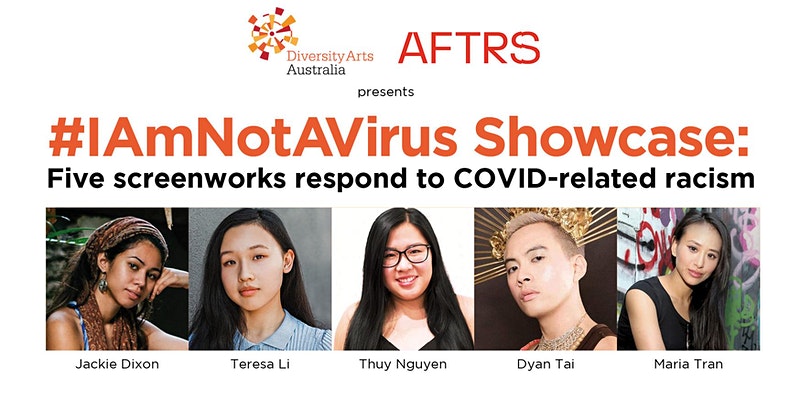 About this event
Join us for a conversation with Jackie Dixon, Thuy Nguyen, Teresa Li, Dyan Tai and Maria Tran from the #IAmNotAVirus project to uncover their reflexive, playful, imaginative and powerful works on their own terms.
The COVID-19 pandemic has seen an intensification of xenophobia and scapegoating of Asians and Asian Australians. In this time of heightened racism, there is a critical place for artists to disrupt and intervene in these harmful and dominant narratives.
In 2020, Diversity Arts developed the artist-led project #IAmNotAVirus as a critical step in providing a platform for artists from communities affected by COVID-related Racism.
Sixty-eight Asian Creatives from all States and Territories in Australia have been commissioned to create new works in development, across a range of practice areas from visual arts, writing, poetry, performance, screen, audio-visual, music, comedy, and more.
Anti-Asian racism in Australia is not new, and this project marks this period of Australia's history, refusing to allow deep-rooted racism to remain buried and erased.
Online via Zoom
Please take note that this event will be a conversation between these filmmakers and creators of these screenworks. We encourage you to register early as we will be sending a private link of the six screenworks a week before the actual event.
Warning: May contain some nudity, mild coarse language, potentially triggering content or themes, including Violence, Sexual Assault or Abuse, Violence Against Women, Mental Health, COVID-19/Coronavirus
About the speakers
Jackie Dixon uses the medium of film and photography to capture emotion and connection in her work. Living in Melbourne with Cambodian heritage, Jackie's work is influenced heavily by ideas of identity and belonging. Striving to reach an empathetic parallel with her subjects, Jackie aims to immerse audiences in stories of cultural heritage, multiculturalism and social cohesion.
Teresa Li is a 20-year-old, Australian-born Chinese female who delvedinto short films in highschool where she made films for her multimediaclasses. From there she went into her first university film competitionwhere she won first place within her first semester of university. Notonly did she win the grand prize, she was also granted the opportunityto speak in front of hundreds of incoming students about her film andwhat it meant to her. She hopes to use the mode of film making toeducate and create insights into the increase of anti-Asian hate crimeswithin the COVID pandemic in an engaging way.
Thuy Nguyen is a developing filmmaker from Western Sydney knownfor producing documentaries about social justice, diversity andinclusion issues. Her documentary works include Ankara Pride (2019),produced for Blacktown Shorts as part of the Blacktown Arts MagnifyFestival and Against The Grain (2017), produced for Diversity ArtsAustralia as part of the Diverse Screens Project. Films by Thuy Nguyenhave been featured in VAMFF's (Melbourne Fashion Festival) FashionFilm Festival, Adelaide Fringe Festival, Miami Fashion Film Festival,Milan Fashion Film Festival, and nominated for best director, besteditor, winning best student film at the Made In The West Film Festival.
Self-described as the Asian empress of the gay streets of Sydney, Dyan Tai has emerged from the stages of the local cabaret scene and now evolved into a pop artist. Dyan's dedication to his music and activism saw him handpicked for the prestigious 2021 Generations Fellowship by Create NSW, Powerhouse Museum and Astral People. He was also featured on the "Chinese-Australian" episode of the ABC iView's award-winning series "You Can't Ask That" but his major strength has been his dedication to using his platform to raise visibility for the QTPOC community as the creator of Worship Queer Collective. Dyan's work and performances continue to centre around his upbringing in conservative Malaysia and his quest to find freedom wherever we find ourselves.
Maria Tran is an actor, filmmaker and martial artist working acrossvideo, performance and action choreography. Her international filmcredits include Roger Corman's Hollywood movie 'Fist of the Dragon',Chinese mixed martial arts movie 'Death Mist' and Vietnameseblockbuster 'Tracer'. Maria won the 2013 Breakout Female Performerat the International Action on Film Festival and 2016 Female ActionPerformer of the Year, MartialCon for her role as director/ producer onfemale-led action comedy 'Hit Girls'. Her recent theatre work includesthe development of 'Action Star' with PYT Fairfield. In 2018, Mariabecame the recipient of the Create NSW Western Sydney ArtsFellowship award and established a female led film and art collectivePhoenix Eye, based in Western Sydney. She is currently in productionfor her action film "Echo 8".
Register
RSVPs to this FREE event are essential. We encourage you to register early as we will be sending a private Zoom link of the six screenworks a week before the actual event. Don't miss out!
BOOK HERE