This event ended on 17 December, 2019.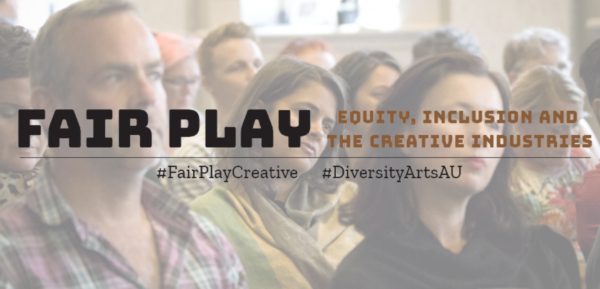 Intersectionality has recently become a buzzword in organisations seeking to promote diversity and inclusion, but it is often misunderstood
In this masterclass, 3 experts on identity and intersectionality will guide participants through where the concept comes from and how it can be effectively used to address barriers to participation and equity in the creative industries.
Where: Kathleen Symes Library, 251 Faraday Street, Carlton, VIC 3053
The workshop will consist of talks and breakout sessions to cover the following areas:
Identity and difference: how identity is produced and reinforced by social structures
Identity and experience: how identities are experienced through multiple barriers
Addressing exclusion intersectionality: what organisations can do
Places are strictly limited to a maximum of 40 participants, and priority will be given to the 2019 Fair Play cohort. Please register your interest, food restrictions and additional access requirements here. If you have any questions, please direct them to: fairplay@diversityarts.org.au
The masterclass will be facilitated by:
Dr Paula Abood Writer, CCD practitioner, creative producer and educator
Artistic Director/ Editor/Facilitator/Trainer Paula Abood is a writer, community cultural development practitioner, creative producer and educator. She was the 2013 recipient of the Australia Council's Ros Bower Award for lifetime achievement in community arts and cultural development practice and is a director of the newly-established organisation The Third Space. She has worked with diverse communities in capacity building projects for 30 years. Her productions include The Cartographer's  Curse (2016), Auburn Cartographies of Diversity (2016),  Sacred Women's Voices (2013 / 2011), Parenting Stories (2010), Hurriya and her Sisters (2009), The Book of African Australian Stories (2006), Poetry on Rooftops (2006), and Of Middle Eastern Appearance (2001). Paula was awarded the 2007 Western Sydney Artists' Fellowship for the blogging project Race and the City and was the 2013 recipient of the Australia Council's Ros Bower Award for lifetime achievement in community cultural development practice.  She has developed resources and taught widely on subjects including cultural diversity, advocacy, and community development at TAFE and in community education settings. Paula co-developed the Certificate IV in Community Arts and Cultural Development that runs out of St George TAFE in Sydney, and is a leading trainer and educator on human rights approaches across the community, arts and education sectors. Paula was awarded a Doctor of Philosophy from UNSW in 2007 in the area of cultural studies.
Dr. Carolyn D'Cruz
Dr. Carolyn D'Cruz is senior lecturer in department of politics, media and philosophy at La Trobe University. She developed a groundbreaking intersectional Gender, Sexuality and Diversity Studies program, which she coordinated from 2007-2017. She is author of Identity Politics in Deconstruction: Calculating with the incalculable and co-editor of the anthology: After homosexual: The legacies of Gay Liberation. Carol regularly speaks on identity, identity politics and the intersections of power and the lived experiences of multiple identity categories.
Dr. Shakira Hussein
Shakira Hussein is a writer and academic in multiculturalism and Muslim studies at the National Centre for Excellence in Islamic Studies, University of Melbourne. She is author of: From Victims to Suspects: Muslim Women since 9/11 and contributed a chapter for the #MeToo anthology. She publishes widely and has spoken internationally on a disability, Islam, gender, feminism, multiculturalism, racism and radicalised political discourse. Her contribution to disability advocacy was recently recognised with a Brenda Gabe Leadership Award from Women With Disabilities Victoria.