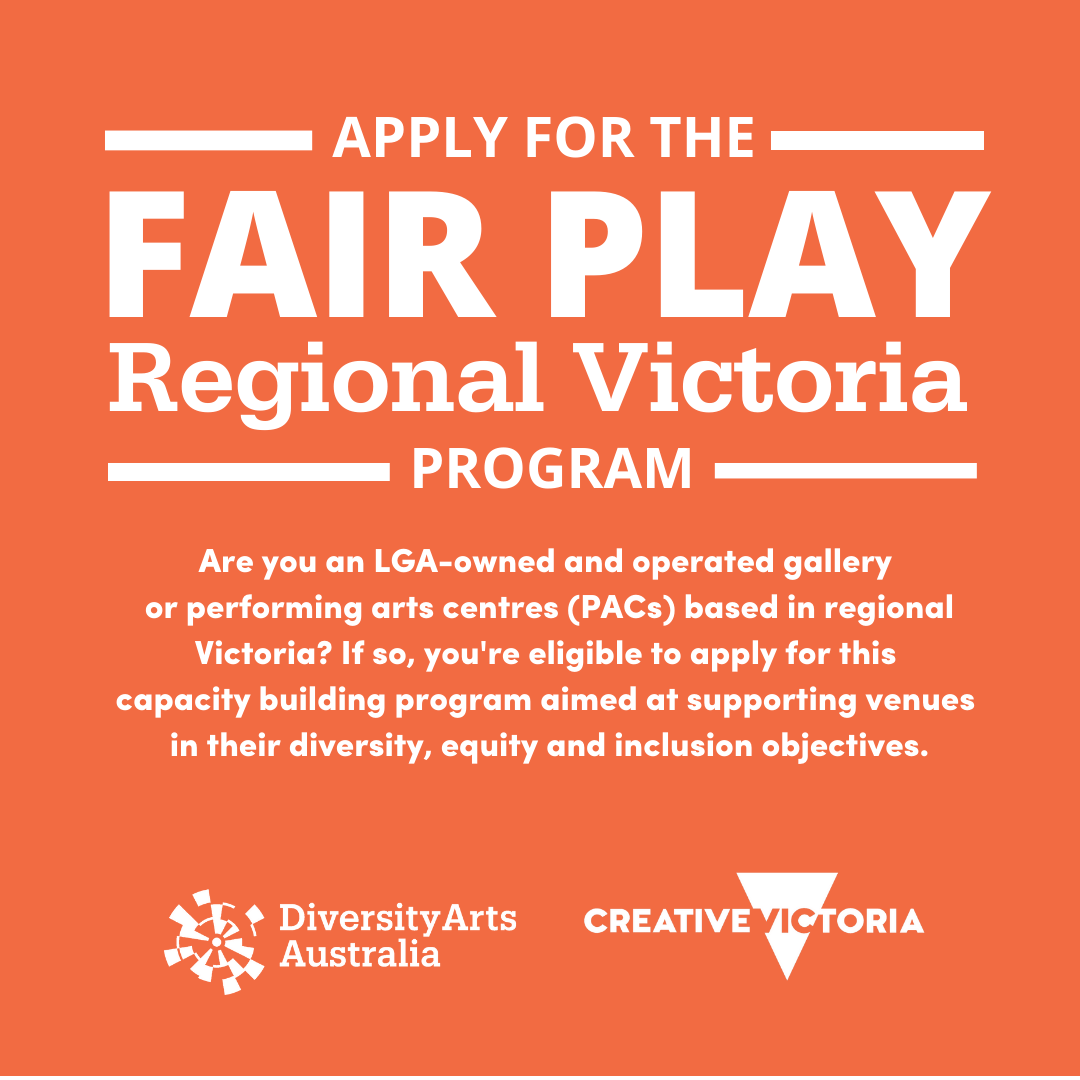 Apply for the Fair Play Regional Victoria Program
Join our capacity-building program to promote greater equity and inclusion for arts and cultural organisations in regional Victoria
Apply Now!
Media Release
Share the media release for the 2023 Program
Download Now!
APPLY FOR 2023 PROGRAM
Diversity Arts Australia, in partnership with Creative Victoria, is offering a 5 month tailored training program to promote greater equity and inclusion in Regional Victorian arts organisations. 
The program is open to 15 regional LGA owned/operated galleries and performing arts centres. There will be two intakes in the program and most of the sessions will be held online via Zoom with an optional in-person event at the conclusion of the program.
The program will focus on developing each venue's skills and capacity in working with First Nations people, people from underrepresented cultural and linguistic backgrounds and people with Disability.
This program is not about box ticking, but systemic change within this sector. In Fair Play, museums, galleries and performing arts venues will learn how to change their structures and practices to genuinely improve accessibility, respect and inclusion of marginalised communities.
Participants will undertake both educational and practical workshops across the program. With the support of expert trainers and a mentor, businesses will be given the tools and support to critically assess and dismantle existing barriers to participation in their workplaces. Participants will work to set realistic goals for creating organisational change and will complete the program with an Equity Action Plan tailored to their venue.
While some venues may be situated within a local government that has an existing Equity Action Plan or similar, this program will generate a venue specific on-the-ground action plan that will complement any existing council plans.
PROGRAM DATES
The program runs for 20 weeks but the training component runs for 12 weeks.
FIRST INTAKE: February to June 2023
SECOND INTAKE: July to October 2023
WHO CAN APPLY
LGA owned and operated galleries and performing arts centres
ADMINISTRATION COST
Refer to our EOI form for cost
OUTLINE OF TIME COMMITMENT
Key staff from your organisation are strongly encouraged to attend all group training and individual mentor sessions, however we do understand if your time is limited. Please get in touch if time is an issue.
ACTIVITY SCHEDULE
Please note that dates and times have been confirmed for the combined training sessions. Key staff in your organisation are strongly encouraged to attend all of these sessions which will include participants from all of the participating organisations involved in the program.
Each organisation will be given 6 options of dates and times for their individual organisation mentor sessions. Organisations will be asked to nominate their preferences most preferred to least preferred times. These will be allocated once participating organisations have been selected. All key staff in your organisation are strongly encouraged to attend all of the mentor sessions.
Prior to most sessions, individuals will be sent preparatory information to read, listen to and/ or watch. This is optional but strongly encouraged. Most sessions also include links to these resources.
For smaller organisations, we understand that this is sometimes very difficult to attend each week, so training sessions will be recorded and available for a limited time after each session to watch in your own time.
Where do I find more information?
Please email carielyn.tunion@diversityarts.org.au
OVERALL PROGRAM COORDINATOR/MENTOR:
Dr Görkem Acaroğlu is a Creative Director, Mentor and Educator with over 20 years experience in programming, producing, teaching and artistic practice. Görkem has specialist expertise in cross-cultural engagement and working with diverse stakeholders. She provides vision and practical expertise to the realisation of multiple projects from the ground up and has worked in a range of arts and creative roles, including currently as Creative Director, Metanoia Theatre, as Arts Participation Manager at the City of Melbourne, and Program Producer at Federation Square. Görkem was an inaugural Sidney Myer Creative Fellow and was awarded a PhD in 2015 for examining the capacity for technological actors to perform competently with human actors on stage.
This program is funded by Creative Victoria

Diversity Arts is supported by the Australia Council for the Arts and Create NSW