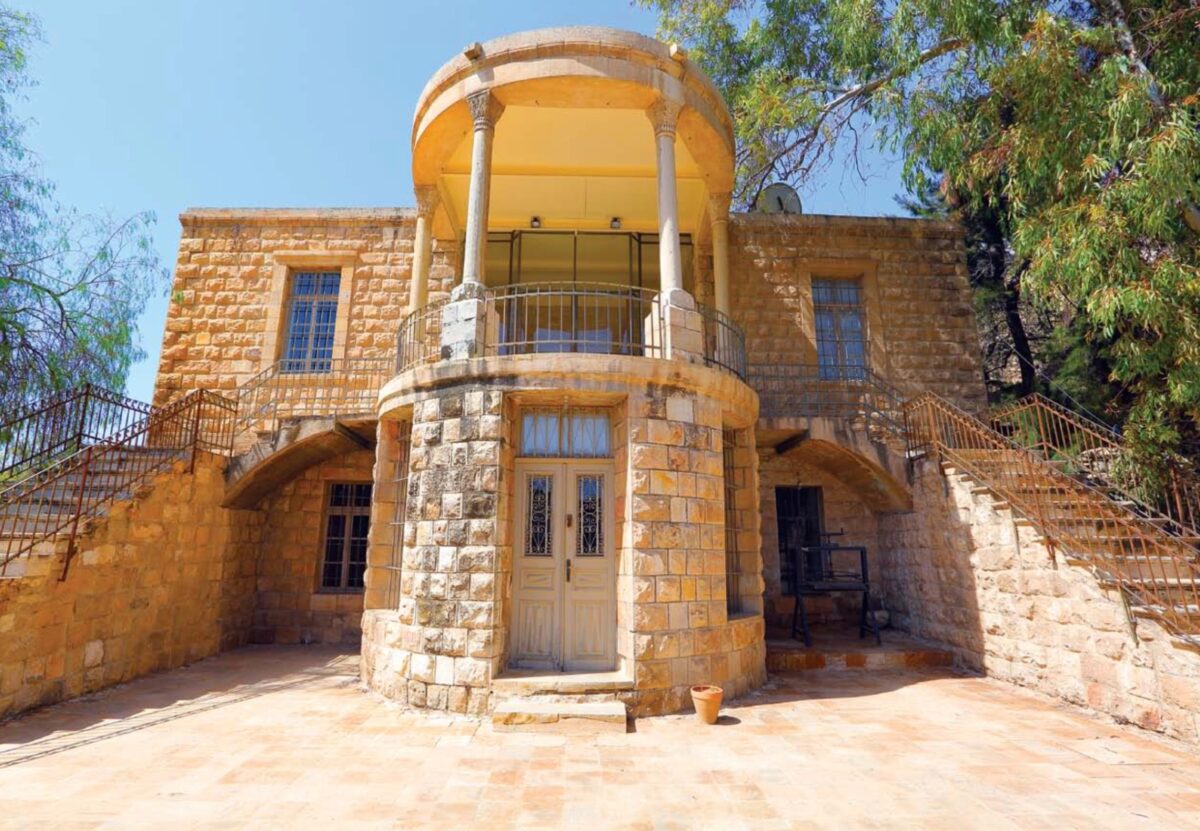 "Since the beginning, our spaces have been an oasis for the arts, open to the public to explore and appreciate various forms of contemporary Arab art. Our renovations preserved Jordan's architectural and cultural heritage and gave us a wide opportunity to show art and for hosting artists and researchers."
Darat al Funun – The Khalid Shoman Foundation is a home for the arts, dedicated to promoting art and artists from the Arab world by providing a platform for contemporary Arab artists, and by supporting art practices and artistic exchange. A pioneering private initiative launched in Amman, Jordan, in 1988, Darat al Funun opened in 1993. It is today housed in six renovated historical buildings from the 1920s and 30s and a restored archaeological site in the garden. Darat al Funun's wide range of activities include organising exhibitions, hosting artists in residence and artist talks, initiating workshops and a summer academy, supporting emerging artists' projects at The Lab, screening films and hosting performances. Darat al Funun houses an art library and an extensive digital archive of video and photographic documentation of Darat al Funun's 34 years of activities. Darat al Funun also displays artworks from the Khalid Shoman private collection.
This is all made possible by
Darat al Funun
following these core strategies: 
Providing an oasis for all artists

Darat al Funun hosts artists from all over the world to learn about the art 

scene in the country

, engage in dialogue and learn from each other's experiences.

Darat al Funun hosts different activities and events, reaching out to diverse groups in Jordan

Darat al Funun provides workshops and programs for the public and aspiring artists in the country.

Representing Arab artists via the Khalid Shoman Collection
This private collection casts a spotlight on the contemporary art scene in the Arab world and remains one of the most important Arab art collections.
Tucked in the hilly embrace of Amman's Jabal Al Luweibdah, Darat al Funun came about in a particularly turbulent time in the region and provided a much-needed reprieve to Arab artists, especially from Jordan, Palestine, Syria, Lebanon and Iraq to engage in dialogue and share experiences. "Darat al Funun is an artist-led initiative. It is the first of its kind non-profit private initiative in the region. It came at a time in 1988 when there was a need for a meeting space for Arab artists to work and produce," says Luma Hamdan, the current director of Darat al Funun. "Our first five years of experience were crucial in formulating its concept. Since then, we have grown organically with the needs of the artists and the evolving art scene of the Arab world."
The architecture of the space seems to reflect the combination of this unique and diverse identity, with the founders Suha Shoman and her late husband Khalid Shoman gradually renovating houses and transforming them into art spaces where each expansion catered to the needs of artists and the local art scene, which became a place where various activities and programs found a natural home.
The six buildings now housing Darat al Funun are a testimony to the nuanced history of the city of Amman. Darat al Funun takes a great deal of pride in the origin stories of each house. Built by Jordanian, Palestinian, Syrian and Lebanese families in the different periods of the early-to-mid 20th century, the houses as well as their coexistent archaeological site were renovated by Jordanian architect Ammar Khammash.

Darat al Funun's main building overlooking downtown Amman in the 1920s. Photo credit: Library of Congress, Prints and Photographs Division, Washington, D.C., USA.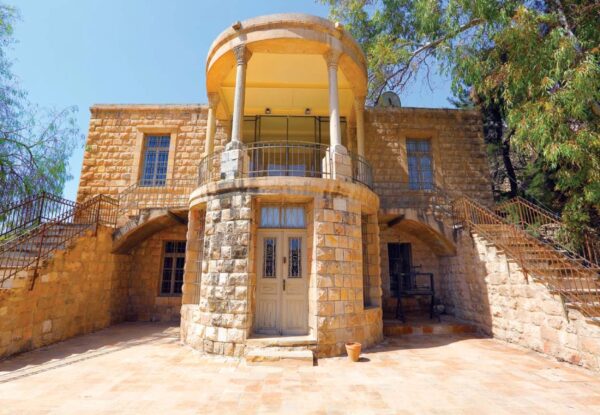 The main building after restoration (1993). Photo credit: Darat al Funun – The Khalid Shoman Foundation.
Providing an oasis for all artists
The kind of open exchange encouraged by Darat al Funun effectively transforms it into a hivemind of artists. The safe space also offers a sense of clarity otherwise lacking in some of the unstable social and national situations allowing artists to bond, create and transform.
Darat al Funun also offers a residency exchange program in collaboration with international foundations to exchange artists from Darat al Funun to the foundations and vice versa. Participating foundations include, but are not limited to UNESCO, Pro-Helvetia in Switzerland, Nuova Icona in Venice (Italy) and Fondazione Fotografia in Modena (Italy). In the early 2000s, Darat al Funun offered established Jordanian artist Raed Ibrahim a working space while he was applying for the Pro-Helvetia exchange program. Ibrahim had first visited Darat al Funun in 1997 to use its extensive reference libraryand formed a lasting relationship with the space. Later, Ibrahim set off to Switzerland to pursue the residency and created his exhibition, The State of Ishmael, which he presented in Darat al Funun upon his return to Jordan. "I was exposed to new forms of art in Switzerland. It was very insightful," said Ibrahim.
Jehad Al-Ameri is another prominent artist who has been supported by Darat al Funun. In 2006, he had his first public solo exhibition, The Field. As a result, Darat al Funun nominated Al-Ameri to participate in a two-month art residency in Aarau, Switzerland. This integral step in Al-Ameri's career gave him an opportunity to become one of the most creative and distinguished artists and academics in Jordan. He is now the Head of the Visual Arts Department in the Faculty of Fine Arts at the University of Jordan.
Outreach art activities
Darat al Funun regularly hosts a variety of different activities and events at its premises. "We always try to be relevant and highlight important issues that speak to the public through our wide range of activities, exhibitions, artist talks, film screenings and concerts that are accessible, free of charge to everyone," says Luma Hamdan of the outreach activities they run to engage the diverse public in Jordan.
Activities include exhibitions which present the artworks and new media of various local, regional and international artists; varying forms of performing arts such as theatrical performances and musical concerts for the public to enjoy; and there are opportunities for the public to discuss topical issues with featured artists and researchers at talks and panel discussions, which helps to facilitate a bridge of mutual learning and exchange between them.
Art education
Darat al Funun provides accessible art education programs and activities including:
Guided tours: Darat al Funun offers guided tours of the premises and the exhibitions on show to students from different age groups and backgrounds.
Workshops: Children and teenagers can attend workshops to learn about arts, new media, video art, photography and music. The last open call was 'Nahnou Together' ('We Are Together 2022'), a children's workshop.
The Lab: In 2011, The Lab was renovated and opened. It is an experimental space for young artists, who are selected to complete innovative projects. These artists use the space to create artwork and eventually exhibit their work.
The Summer Academy: In 1999, a young and emerging Raed Ibrahim was one of the first participants of the academy. He said it was a turning point in his artistic career. The Summer Academy is one of Darat al Funun's exclusive programs. It provides a chance for emerging artists, curators and academics to learn and work. The Summer Academy strives to be a major factor in shaping one's career, just as it had for Ibrahim who had said that "It was a beautiful, beautiful experience."
Residency Program: The artists-in-residence program, launched in 1995, offers a space for artists to live and work on their projects and conduct workshops in their area of expertise. They welcome artists locally, regionally and internationally, acquainting them with the city and its people and guiding them to produce works on site. The awarding-winning Emily Jacir had been one of the previous artists-in-residence at Darat al Funun.
Fellowship: The Dissertation Fellowship for Modern and Contemporary Arab Art program was launched in 2011. It provides residency office space and financial support for PhD students to pursue their research in contemporary Arab art. "We are very proud of this fellowship because we are one of the first art foundations to support such a program in the Arab region," explains Luma Hamdan.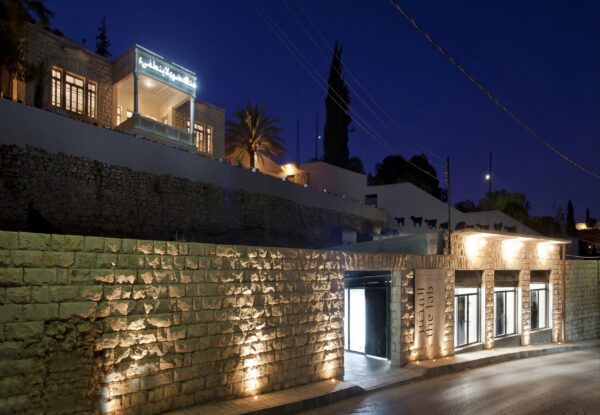 The Darat al Funun headquarters overlooking The Lab after restoration in 2011. Photo credit: Darat al Funun – The Khalid Shoman Foundation.
Representing Arab artists via the Khalid Shoman Collection
The Khalid Shoman Collection at Darat al Funun began in the 1980s and is dedicated exclusively to contemporary artworks by numerous Arab artists, casting a spotlight on art in the Arab world. To date, the private collection houses the artworks of over 140 artists ranging from paintings, photography, books, sculptures, video and installations. It was formed over the years to support emerging artists financially.
Darat al Funun has continued to flourish even during the pandemic, taking all its activities and programs virtual. This inadvertently gave Darat al Funun more accessibility to a larger global audience, creating greater awareness of contemporary art of the Arab world.
Hamdan sums up Darat al Funun's mission perfectly, "Since the beginning, our spaces have been an oasis for the arts, open to the public to explore and appreciate various forms of contemporary Arab art. Our renovations preserved Jordan's architectural and cultural heritage and gave us a wide opportunity to show art and for hosting artists and researchers." Darat al Funun never stops working on exhibitions and performances in their beautiful historic spaces and produces a large number for the public to enjoy. Their representation of a variety of artists from different backgrounds and expertise is one of the elements of its uniqueness and success. Darat al Funun has been dedicated to supporting young, emerging and established artists since its inception. It is without a doubt that Darat al Funun will eminently leave a big impact and contribution in the arts and culture scene in Jordan for many more years to come.
Shereen Zoumot (she/her)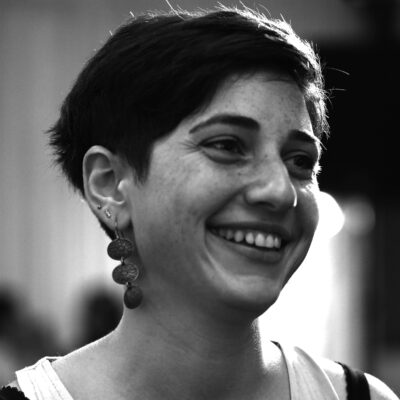 Read More
Shereen Zoumot (she/her) is a Jordanian theatre-maker, performer, facilitator, and researcher. Shereen is a Chevening Scholar and obtained her MA in Performance Making at Goldsmiths University of London. Shereen has worked on international and regional projects, as a performer, director, and facilitator. Such as Egypt, Lebanon, UK, and Denmark. Her career took a big shift when she was the associate director for the international performance, "Queens of Syria," which toured the UK in many cities. Her recent work revolves around queer, refugees, and women's rights themes. She creates private performances in Jordan covering some of the taboos and sensitive themes in the MENA region.

 
What is the Imagine Around the World Project?
A partnership with the British Council Australia, the Imagine Around The World Project aims to document case studies from numerous countries outside of US, UK, Canada, Australia and New Zealand to share best practice and leadership in cultural diversity, cultural equity and inclusion in the arts, screen and creative sectors. This project is managed by Diversity Arts Australia and supported by Creative Equity Toolkit partner, British Council Australia. To find out more click below – or read the other case studies as they go live here.
Find out more