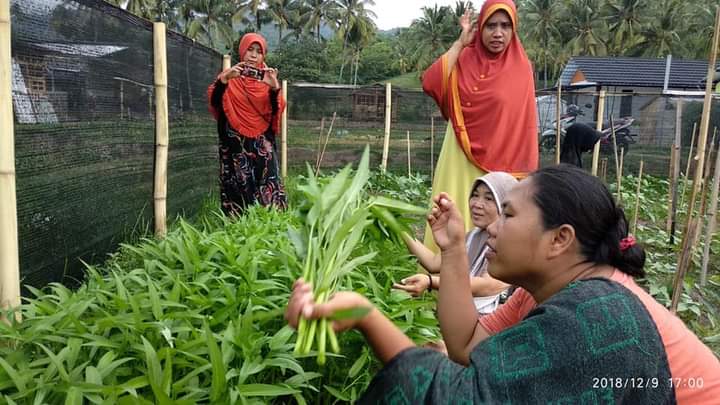 "One of Aksara Tani's goals is to regain the sovereignty of the people and their land; they are not averse to business from tourism but are more about creating a counter-narrative to restore some bargaining power to the locals to make the tourism landscape more competitive on a more equal basis."
Aksara Tani is an agricultural literacy movement which collaborates with locals in various sustainable community activities to support the farming culture and traditional practices of Gili Meno. The invaluable knowledge and skills gained by these collaborations are shared via different forms of media with those in the community.
Strategies include:
Interdisciplinary

 

collaboration

Aksara Tani partners with agricultural researchers, media and arts specialists, activists from different egalitarian organisations and small business owners to share best practices for each sector and transfer 

knowledge to empower their beneficiaries. 

Aksara Tani focuses solely on the people of Gili Meno, with the team interviewing the residents to evoke knowledge and wisdom from their practices and traditions.

Besides making its public presentation on Gili Meno visually appealing, Aksara Tani brings screen culture and visual arts to Gili Meno's residents so that they can find new ways to learn and express themselves.

Activism archive


Aksara Tani diligently documents their ongoing processes and initiatives on their website to make the gathered knowledge and research more accessible to a wider audience. 
The Aksara Tani agricultural literacy movement began in 2017 in Gili Meno Island, North Lombok, West Nusa Tenggara; aksara meaning 'letters' in Sanskrit and tani meaning 'farming' in Indonesian. Gili Meno is one of the three Gilis, along with Gili Trawang and Gili Air, which were all made famous by Lonely Planet in 1985. Since then, Lombok has become one of the most favorite tourism destinations in the country.
While tourism contributes significantly to the regional income and national gross domestic product (GDP), it has often marginalised the locals—socially and economically. As a result of increased tourism trade, the locals who used to work in farming and fishing gave up their land and access to water for faster income. Moreover, about 70% of the three Gilis' residents are settlers who continue to reap the benefits from tourism through their ownership of financial capital, their educational backgrounds and skilled occupations. In contrast, the local people remain lower paid workers with little to zero capital and no land to farm on since many public lands have been privatised. All they have is their house yard and this is where Aksara Tani can help them to make a start.
Based on agricultural science, art and media literacy, Aksara Tani collaborates with the locals to transform their house yard into a home-scale garden to be utilised as a means of food security for the neighborhood. In the process of this transformation, Aksara Tani generates invaluable knowledge about the farming culture by interviewing the locals, then documenting their knowledge and sharing the tacit knowledge within the communities. One of Aksara Tani's goals is to regain the sovereignty of the people and their land; they are not averse to business from tourism but are more aboutcreating a counter-narrative to restore some bargaining power to the locals to make the tourism landscape more competitive on a more equal basis.
In August 2018, when a large earthquake hit Lombok, the tourism sector was affected significantly. As it started to recover, the pandemic hit in early 2020, causing a lockdown and minimal visitors. It was during these challenging times that more people turned to embrace agricultural activities to survive, with support from Aksara Tani for some of these activities.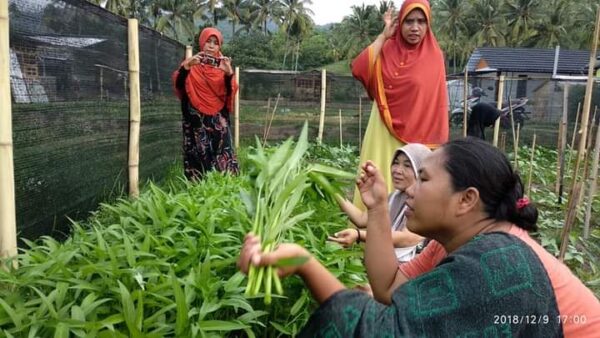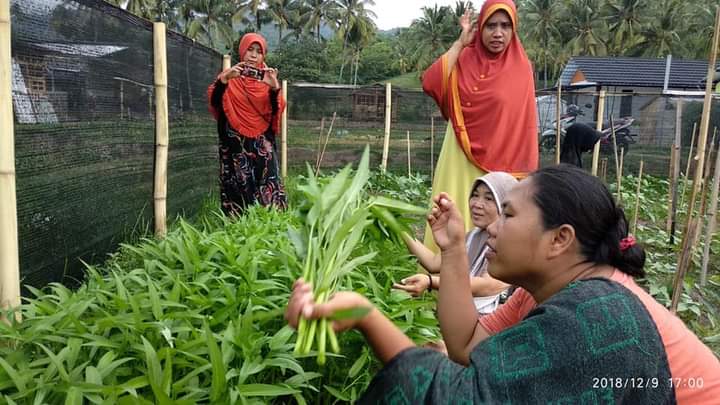 Gili Meno residents gathering crops from their house yard. Photo credit: Aksara Tani.
Interdisciplinary collaboration
Aksara Tani partners with other egalitarian organisations and small businesses (Sayuran Kita, Pasirputih, Forum Lenteng, The This-Kon) which share its vision of empowering and improving the livelihoods of the Gili Meno residents. It's a synergy between agricultural researchers, media and arts specialists, social and cultural studies researchers, activists and small business owners which bring to the table their knowledge, skills and expertise in these sectors to share best practices and transfer this collective knowledge to the residents.
With a master's degree in agriculture, Afifah Faridah Jufri started Sayuran Kita ('Our Vegetable') in 2016 in Pekanbaru, Sumatera, as an agricultural business platform. She discussed her platform thoroughly with her relatives, Hafiz Rancajale and his wife, Otty Widiasari, both visual artists and founders of Forum Lenteng (Jakarta), an organisation built in 2003 which focuses on art, cultural and media studies. Forum Lenteng contributed to the birth of Pasirputih (Pemenang District, North Lombok) in 2010, which is a collective consisting of artists, students and writers with Muhammad Sibawaihi, a writer and media activist, as the program director.
Pasirputih focuses on media literacy and the negative impact of the tourism industry has long been its concern. As more hotels, restaurants and villas were built, more public lands were privatised. The construction of buildings and tourism activities continue to cause environmental depletion and increase salinity, making it difficult to farm.
Founded in 2016, Gili Meno's The This-Kon is a two-room guesthouse with a backyard run a husband-and-wife team, Imran and Sri Nurhayati, who have worked in the tourism industry for years. Although they are largely concerned with the negative impacts of tourism, they run the business at the heart of the tourism area to keep abreast of the industry. Besides running it commercially, The This-Kon is used as a hub for activists and residents who gather, exchange ideas and hold educational events there regularly.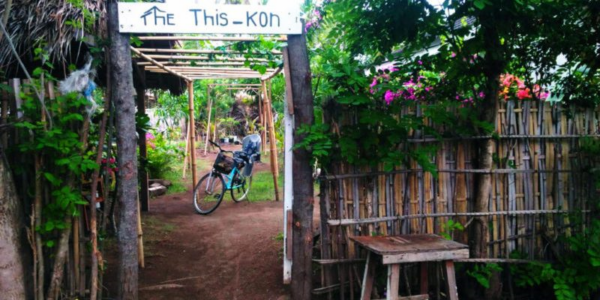 This-Kon in Gili Meno, Lombok. Photo credit: Aksara Tani.
It is these partnerships with Sayuran Kita, Pasirputih, Forum Lenteng and The This-Kon which had enabled Aksara Tani to begin its journey and continue as it is to present day.
People first
Agriculture is not something new for Gili Meno people. They have had the knowledge and local wisdom from farming practices to cooking recipes that have been inherited over generations. But it is by documenting and creating videos of the community's collective knowledge, traditions and history which has brought their skills and experiences alive. In doing this, Aksara Tani has introduced new ways for the residents to learn and share their knowledge and practices via the screen, focusing solely on the residents and making them the stars in their own show. In turn, watching the video featuring this content has helped residents to recognise their potential, that there are indeed alternative income streams available to them other than tourism in Gili Meno. This insightful video was further shared to others via social media to reach a bigger audience and create awareness about the island's farming culture. This was demonstrated by the agricultural workshops that focused on farming culture and traditional practices hosted at The This-Kon which have become popular with both locals and tourists. Aksara Tani also organises creative activities packed with cultural insights, such as art and craft workshops or cooking workshops with the locals and guest chefs, the latter of which not only produced delicious food for tourists to enjoy but reinforced the residents as food culture experts on the island.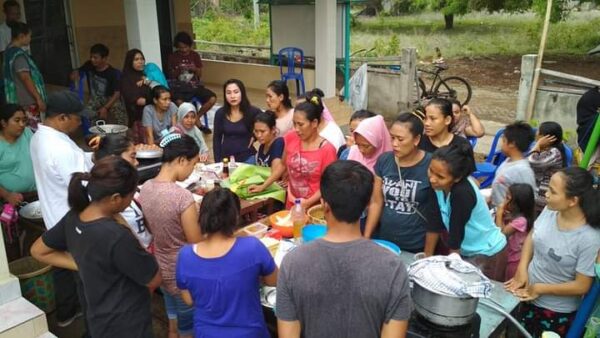 Aksara Tani often held cooking workshops for locals and tourists as a way to socialise, share recipes and various ways to cook. Photo credit: Aksara Tani.
Introducing new media
As technological advancements make practices such as farming less attractive to younger workers, Aksara Tani has responded to this by using art installations, pictures and videos to communicate their messages in their public presentations and exhibitions. For example, they have created various art mediums, such as beautiful herbarium artwork representative of the island's many plant species, and planting programs to encourage residents (both young and old) to view the farming culture in a new light. It is an exciting way to engage residents to learn about their local plants, with additional agricultural information easily accessible via the Aksara Tani website.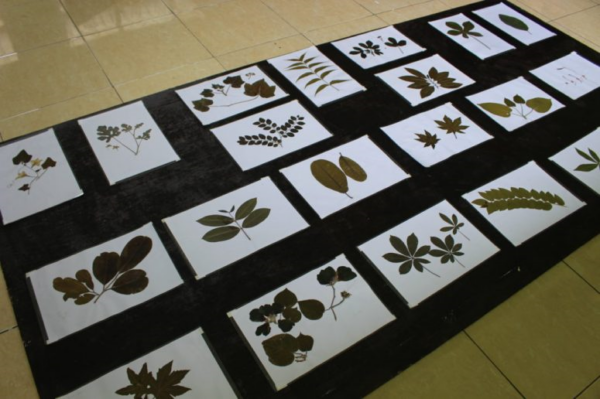 Aksara Tani's herbarium artwork. Photo credit: Aksara Tani.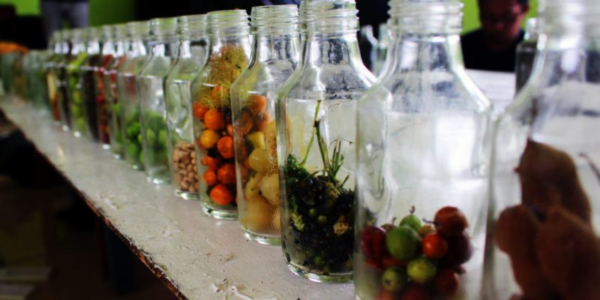 An art installation featuring Gili Meno's local fruits and plants. Photo credit: Aksara Tani.
Activism archive
Local initiatives and campaigns to bring about political or social change are often not well-documented. To make their initiatives, gathered knowledge and research more accessible to others, Aksara Tani diligently documents all of their processes and activities via the written form, photographs, audio-visual presentations and videos which can be found on their website, sayurankita.com. They also have a printed book which documents the rationale and details of their initiatives, the profiles of the organisations involved and their experiences along the way. It is essential to ensure the distribution of knowledge to their beneficiaries and other organisations in different parts of Indonesia. This way, the gathered knowledge and best practices in agricultural science, art and media literacy can be distributed not only to Gili Meno's communities but to different parts of Indonesia and beyond.
Feby Indirani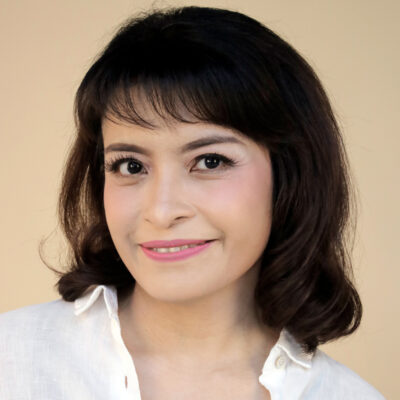 Read More
Feby Indirani is an author and a content writer. Her works mainly focus on women and other minority groups. Her fiction stories have been translated into English, Italy, Germany and Japan and were appreciated by international media and academics. She initiated a campaign, Relax, It's Just Religion to promote freedom of religion in Indonesia through arts and activism. She was a fellow of the Australia-Indonesia Muslim Exchange Program in 2006 and got her MA in Digital Media from University College London in 2019, sponsored by the Chevening scholarship.

 
What is the Imagine Around the World Project?
A partnership with the British Council Australia, the Imagine Around The World Project aims to document case studies from numerous countries outside of US, UK, Canada, Australia and New Zealand to share best practice and leadership in cultural diversity, cultural equity and inclusion in the arts, screen and creative sectors. This project is managed by Diversity Arts Australia and supported by Creative Equity Toolkit partner, British Council Australia. To find out more click below – or read the other case studies as they go live here.
Find out more