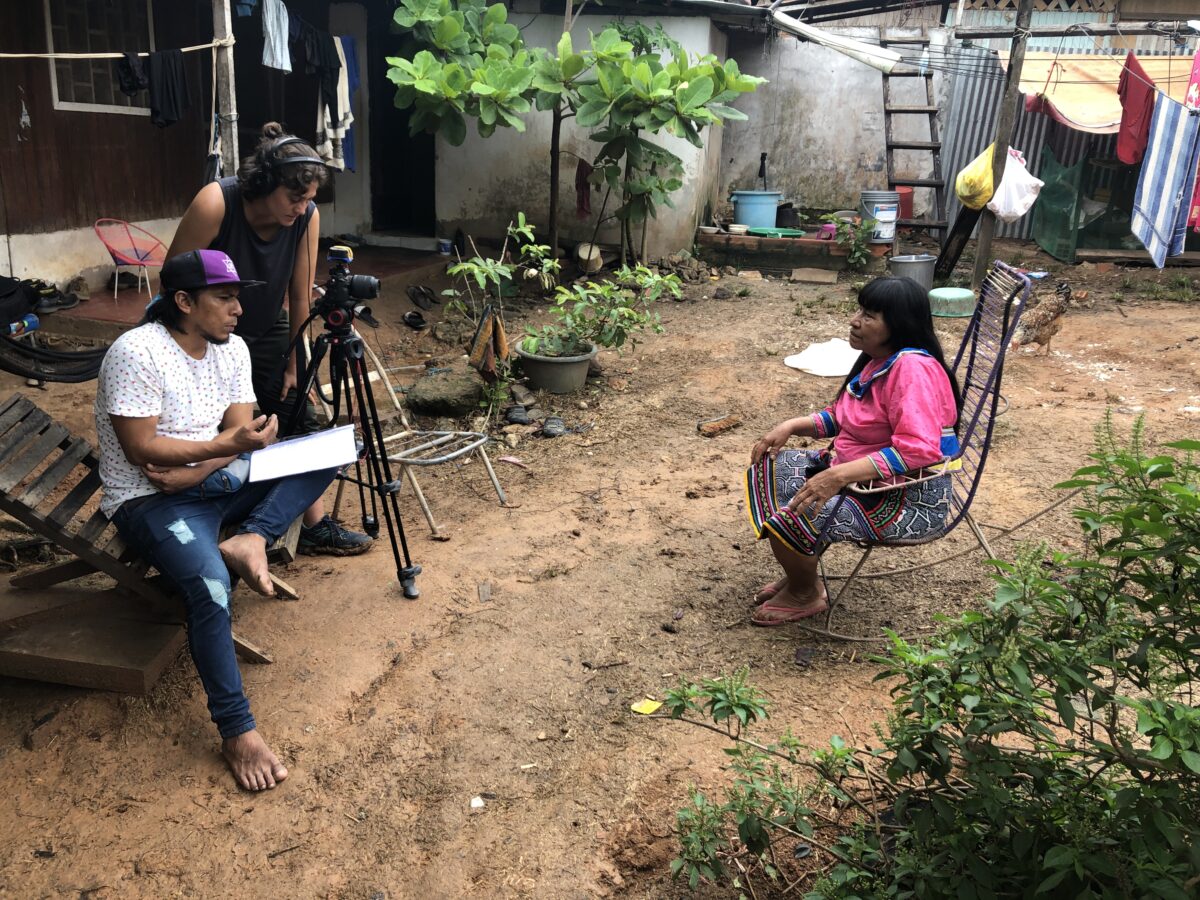 "Dinamo always works in a participatory manner, consulting and exchanging knowledge in a non-hierarchical or imposed way, and keeping the community at the centre of every decision."
Many artists aim to collaborate and consult with communities in their practices, yet few have any training in engaging human societies and cultures. This is the territory of anthropology and ethnography. Peru's Dinamo, is working to bring these skills to artists and communities.
The other side of the lens
By teaching communities skills in filmmaking and recording, the project gives the power often held by anthropologists back to communities.
Anthropological methods applied to art
Artists are taught the skills and techniques of ethnography to deepen their community engagement practices.
Archiving and dissemination
All project are archived online to share the skills and techniques widely.
In a country like Peru, arts research is often undervalued and under-funded. It's not as visible as other cultural activities. However, research is fundamental to defining tools for marginalised communities to take charge of their own narratives, and ultimately advocate for themselves from a critical point of view.
Dinamo is a platform for the creation and exchange of knowledge. It promotes research on Peruvian art and culture as a tool for social transformation and inclusive cultural action. Dinamo designs, produces and advises on projects that link multidisciplinary research with cultural action, and the exploration of multimedia technologies.
Projects usually run for two or three years. In the past they've included documentary films about the lives of underprivileged students, compilations of historical footage taken in the Peruvian Amazon by religious groups in the 20th century, and recordings of the knowledge and sound traditions of Amantaní island in Lake Titicaca. The team works with various media such as videos, interviews, photographs, sound landscapes and music.
Established in 2016, Dinamo is funded by five young Peruvian cultural managers and anthropologists who specialise in visual arts, cinema and archiving. It prioritises inclusive and artistic methodologies aimed at generating knowledge collaboratively.
The way Dinamo works varies from project to project. Sometimes the core team collaborates with a funding body (public or private) or a renowned institution (educational, cultural or even scientifical). Typically projects work on the ground in a particular community to rethink, consult and produce a work that will benefit that community, drawing on the anthropological and artistic expertise of the team.
Dinamo always works in a participatory manner, consulting and exchanging knowledge in a non-hierarchical or imposed way, and keeping the community at the centre of every decision. Essentially, it has two different methodologies: KulturLab and Colaboratorio.
KulturLab: An interdisciplinary encounter
Described as a space where art, communication and cultural ethnography meet, KulturLab is an innovative way to work that takes into account new interactive and multidisciplinary forms of knowledge. It produces and experiments with either contemporary or traditional cultural narratives in a collaborative manner.
For instance, Vine Vision, one of Dinamo's first initiatives, engaged the Yine-Yami indigenous community in the jungle of La Convención de Cusco in Peru. The main objective was to learn about and celebrate the cultural identity of this ethnic group.
By consulting and working in collaboration, Dinamo carried out a series of participatory video workshops with teachers, high-school students and young people from the Yine-Yami community. They produced short documentary films about their identity, the history of the community and their customs. From this experience, five documentary short films and a music album were produced and later published and publicly shared.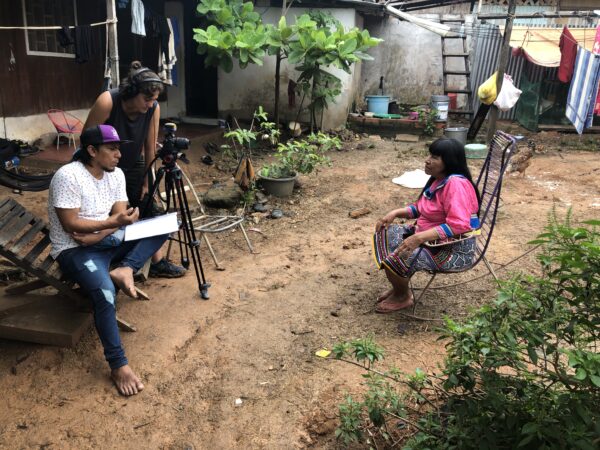 Yine-Yami indigenous community during the making of a participatory video. Photo credit: Dinamo
The project provided an unprecedented window into Yine-Yami culture as well as an intergenerational bridge in the community between their younger and older members.
Colaboratorio: Cultural education
Colaboratorio offers cultural and multidisciplinary education through workshops, laboratories, seminars, talks and other resources. The main goal is to promote research, disseminate theoretical perspectives and provide practical tools that contribute to local art production.
For example, 'The artist as an ethnographer' project consisted of a series of workshops led by professional multidisciplinary artists and the Dinamo team. It explored the spaces between art and anthropology, to show how anthropological practice and ethnographic methods can, and should, contribute to artistic processes.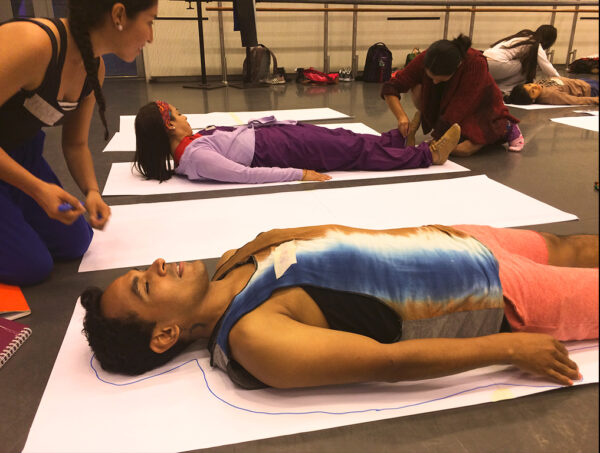 The artist as an ethnographer. Photo credit: Dinamo
'What led us to organise this workshop was to see that many artists do not have major tools to deepen their themes, and end up working only by intuition,' says Veronica Boggio, one of the founders of the project.
The workshops aimed to integrate contemporary or traditional art creation and new anthropology paradigms. The sessions introduced local artists to participatory and sensory ethnography methodologies. The young artists were encouraged to consider Peruvian social reality, and provided them with the tools to do so. This is crucial in constructing a critically aware artistic ecosystem.
The project has been repeated three times over a number of years in collaboration with important cultural and artistic institutions due to its success.
A methodology that belongs to everyone
Another amazing trait of Dinamo is the way it has managed to keep a public archive of its work. The projects, including their process, collaborators and results are documented and uploaded to a user-friendly digital platform.
In www.dinamocultura.com, you can download and watch the short films made with the Yine-Yami community, or find the project's soundcloud profile where you can hear the sounds of Lake Titicaca recorded at Amanti Island.
By archiving and disseminating their work, Dinamo makes sure the initiative does not stay clustered in a single experience that may later be forgotten, but rather promotes the free use of its know-how to inspire more ethnography and artistic integration for social transformation.
Jana Ugaz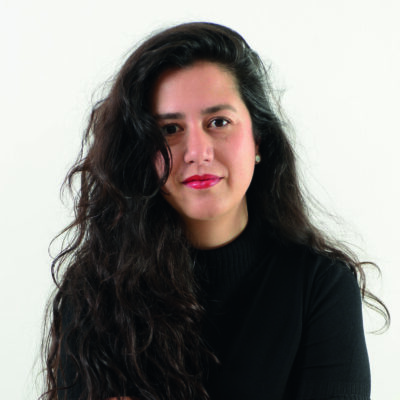 Read More
Jana Ugaz is an artist, curator, teacher and cultural manager, with over 10 years of experience in the production and curatorship of art exhibitions, festivals, literary meetings and other cultural events, both in Peru and abroad. Trained in visual arts at PUCP, with a master's degree in Cultural Management from the Universitat Internacional de Catalunya (Barcelona) and extension courses in international relations at the European Network on Cultural Management and Policy (Brussels), she has worked independently as cultural manager and producer in numerous projects with a particular focus on community, migration and feminism. She is currently the director and founder of "Maria", a cultural project aimed to visibilize peruvian women in the art field.

 
What is the Imagine Around the World Project?
A partnership with the British Council Australia, the Imagine Around The World Project aims to document case studies from numerous countries outside of US, UK, Canada, Australia and New Zealand to share best practice and leadership in cultural diversity, cultural equity and inclusion in the arts, screen and creative sectors. This project is managed by Diversity Arts Australia and supported by Creative Equity Toolkit partner, British Council Australia. To find out more click below – or read the other case studies as they go live here.
Find out more