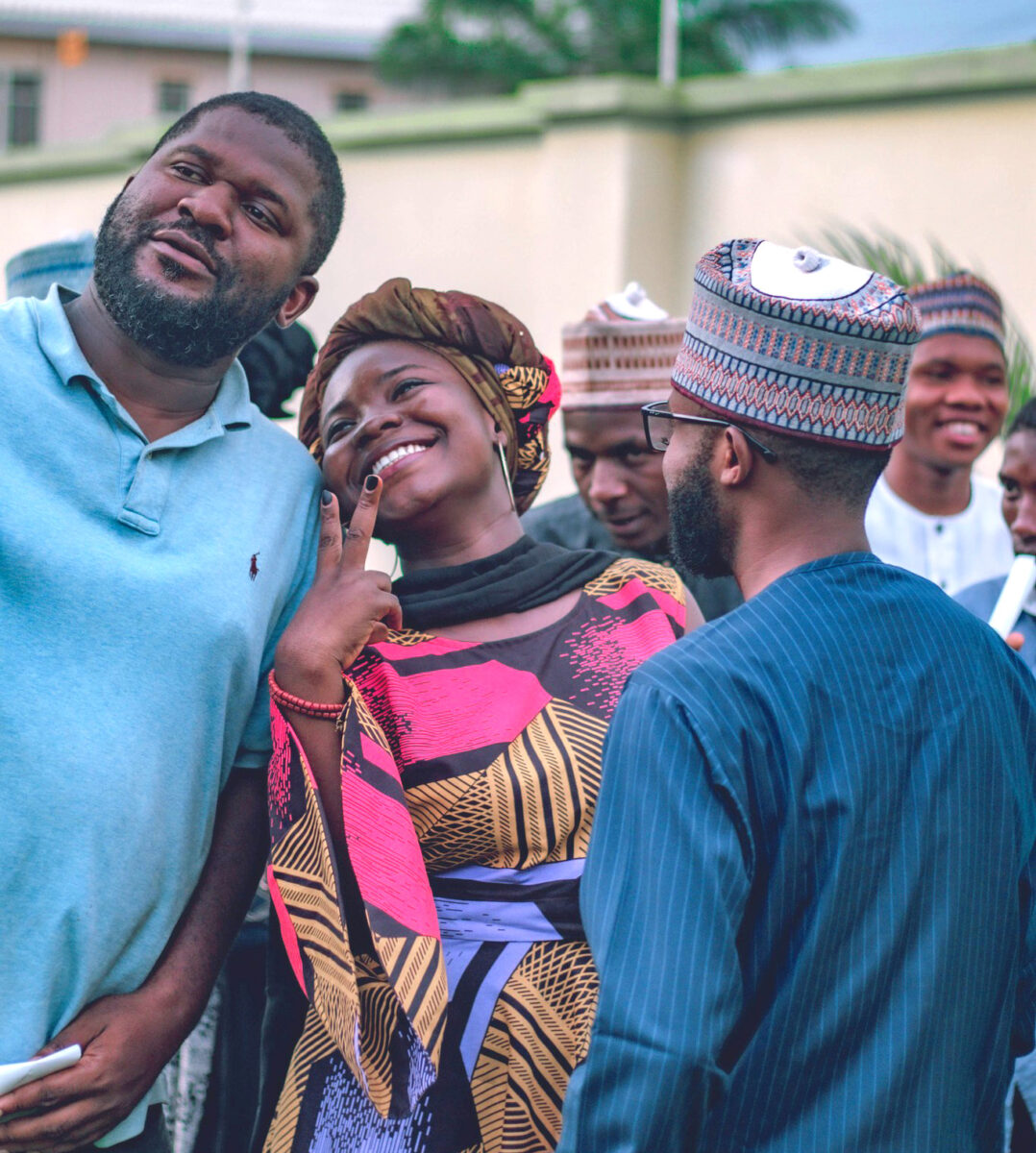 Nigeria's Yasmin El-Rufai Foundation Literary Project
"Northern Nigeria is made up of different strands and identities, which are constantly shifting, and the interaction process involves change for all involved, not just those from minority communities."
Nigeria's state of Kaduna sadly suffers from deep community division, which often erupts into violence. The Literary Evenings held by the Yasmin El-Rufai Foundation (YELF) attract a hugely diverse crowd. They provide a rare safe space for divided communities to enjoy the arts together and often spark difficult and sensitive conversations. How do they manage it?
Strategies include:
Balanced programming
YELF events carefully balance of artists from different religions, regions and ethnicities.
Spotlighting local artists
Literary Evenings include celebrity artists, as well as local creatives, often providing them with their first break, and an entry point for audiences.
Purposeful marketing
YELF reaches out personally to diverse and marginalised audiences, to overcome the perception that the arts are not for them.
Catalysing conversations
YELF does not shy away from controversial topics in its programming, believing the arts provide communities with tools for processing difficult issues.
Kaduna state in Nigeria is constantly in the news for violence arising from religious and ethnic conflicts that have led to deaths and the destruction of communities. The state largely does not have access to mainstream artists, books or the literary community.
The Yasmin El-Rufai Foundation (YELF) Literary Evening is working to change this with a monthly event when artists with cultural-themed bodies of work present to a diverse audience and conduct a workshop for students.
'YELF believes that cultural interaction enriches the arts in Northern Nigeria by offering opportunities for mutual sharing, learning, understanding, and change,' says. Eugene Yakubu, the project's Programmes Officer.
YELF has hosted writers, musicians, sculptors and similar artists presenting readings, exhibitions and musical performances. Talented young people from Kaduna present music and art as well.
YELF is an initiative of Architect Hadiza Isma El-Rufai, the wife of the Governor of Kaduna State, Nasir El-Rufai, and was launched in 2017. While it focuses on developing arts and culture, organisers also aim to bridge identity gaps and create a safe space where diversity is embraced and inclusion can be discussed.
'Northern Nigeria is made up of different strands and identities, which are constantly shifting, and the interaction process involves change for all involved, not just those from minority communities,' says Yakubu. 'Hence, the YELF Literary Evening seeks to engage with artists whose works would inspire an inclusive conversation that will be welcoming to all marginalised groups, including people with disabilities and gender and sexual minorities.'
It's located in a Hausa/Muslim–dominated environment, but 45% of the audience are from other religions and communities. The event appeals to people of different religions, beliefs, genders, sexualities and social classes. It has created a platform for local artists to be recognised and has used its networks to project their careers to new heights.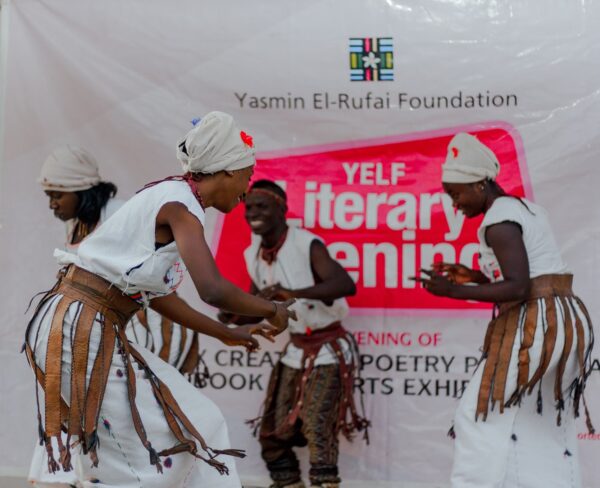 A Local Troupe Performing at the YELF Literary Evening (Photo courtesy YELF/Meshack Zamani)
Balanced programming
An intentional selection of guests creates a balance of creatives for each month's event. YELF ensures the program is a balance of diverse artists from varying religions and ethnicities.
For example, if the guest writer for the month is a Christian from the middle belt, the guest musician would be a northern Muslim. By doing this, they plainly show that they welcome people of other religions and ethnic groups and encourage the audience to do the same too.
Spotlighting local artists
YELF programming also balances local artists from the community with celebrity artists from outside the state. Audiences are attracted to both the celebrity status of the invited artists, and the familiarity of local artists they know well.
Yakubu notes, 'While selecting artists for our Literary Evening and Artist of the Month engagement, we select artists to represent both religions, ethnicities, our state and even outside. Thus, our inclusion policy increases diverse engagements between artists and audiences they are familiar with.'
Often local artists programmed have the opportunity, for the first time, to perform in front of a large diverse audience. Many artists have been motivated to start writing or performing poetry after the Literary Evening event. For example, local artist Oko Owi Ocho produced a well-received chapbook after accompanying a guest author, Su'eddie Agema. Unsurprisingly, Ocho has been invited to be a guest artist later in 2022.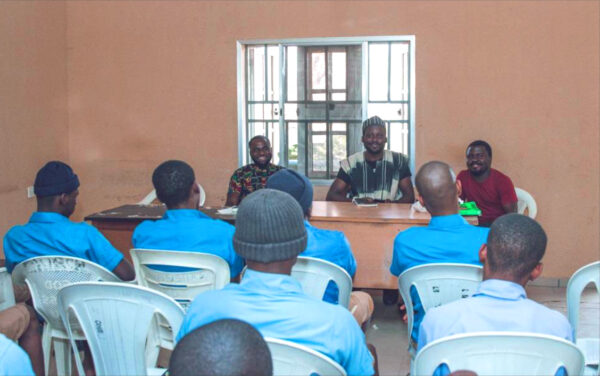 Eugene Yakubu, Su'eddie Agema and Oko Owi Ocho interacting with students in a segment of the YELF Literary evening (Photo courtesy YELF/Meshack Zamani)
In a polarised society like Kaduna, the arts are also often polarised. It is easy for the community to believe that certain arts events are reserved for certain people. The YELF Literary Evening understands this and reaches out to invite a diverse audience, including marginalised communities, women and children.
'Our audience is a contrasting community of Christians and Muslims, minority ethnic groups, and people from diverse backgrounds," said Yakubu.
By welcoming an unusually diverse audience an inclusive conversation is triggered, where different voices are heard. YELF purposely goes into communities and shares flyers for the event each month, while doing street marketing. The flyers often highlight the artists with whom the community members are conversant, thus encouraging attendance.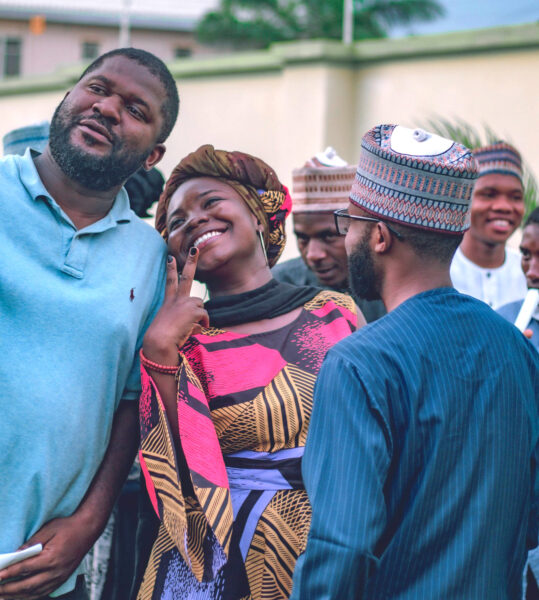 The YELF literary event is a rare safe space for debate and conversation for diverse communities. The organisers encourage debate on topics that audiences might find sensitive under the guise of literature, in such a way that does not hurt the sensibilities of the people. Sometimes, events focus on topical works or invite authors with works that relate to topical issues that encourage ethnic, cultural and religious inclusivity.
The event has also inspired similar art events around different communities in Kaduna. The Purplesilver Community, Open Arts and Open Space were inspired by YELF's literary event. And in their own way, these similar art events promote unity and inclusion by respecting and appreciating people of different religions and ethnicities through art, especially within Kaduna, the Northern Nigerian region and beyond.
Contrasts and banter at the end of an event featuring Hannefah Abdulrahman and Namse Udosen (Photo courtesy: YELF/Meshack Zamani/Su'eddie Agema/Hannefah Abdulrahman)
Su'ur Su'eddie Agema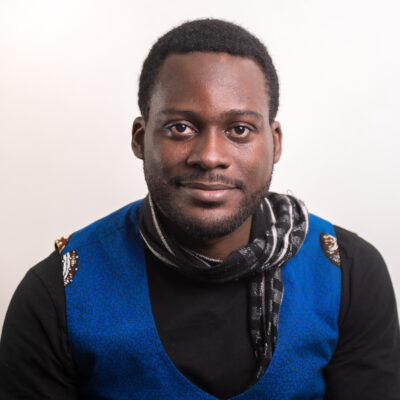 Read More
Su'ur Su'eddie Agema is a multiple-award-winning writer, poet, cultural activist, and development consultant. Su'eddie was previously the Black History Month/Project Curator and co-founder/president African Writers at the University of Sussex, where he earned an MA with distinction in International Education and Development as a Chevening Scholar. He is currently a David C. Pollock scholar of the Families in Global Transition. Su'eddie heads SEVHAGE Publishing and SEVHAGE Literary and Development Initiative, while being the convenor of the Benue Book and Arts International Festival. He blogs at http://sueddie.wordpress.com and http://sevhagereviews.wordpress.com @sueddieagema on Twitter. He lives in a couple of places with his wife, daughter, and members of their clan.
What is the Imagine Around the World Project?
A partnership with the British Council Australia, the Imagine Around The World Project aims to document case studies from numerous countries outside of US, UK, Canada, Australia and New Zealand to share best practice and leadership in cultural diversity, cultural equity and inclusion in the arts, screen and creative sectors. This project is managed by Diversity Arts Australia and supported by Creative Equity Toolkit partner, British Council Australia. To find out more click below – or read the other case studies as they go live here.
Find out more