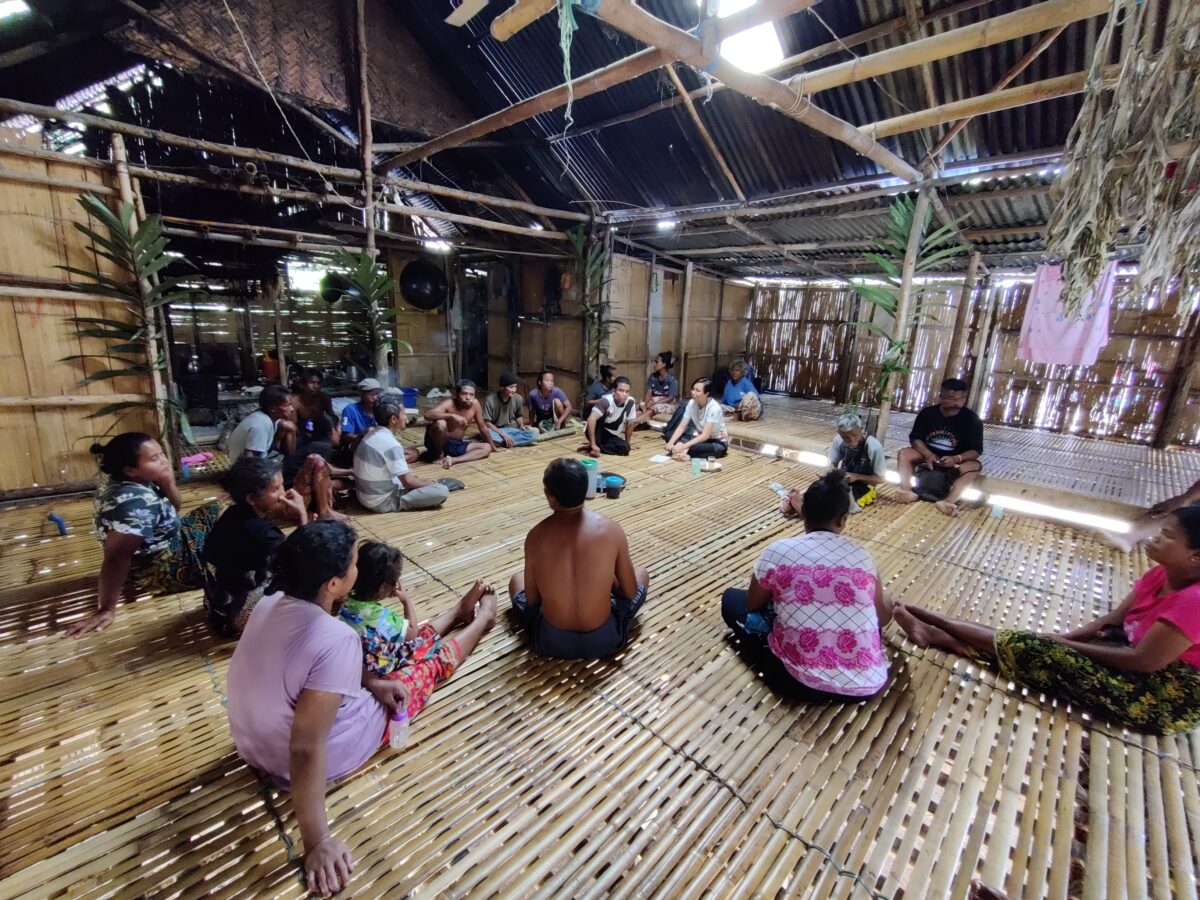 Adeline Chua, with Ronnie Bahari and Wendi Sia
"They come from a strong oral tradition where things said hold great weight. They will remember it forever!"
Gerimis works with Malaysia's indigenous Orang Asli communities to showcase their histories and traditions through the lens of arts and culture. As a collective of primarily non–Orang Asli members, Gerimis uses five principles as guideposts:
Building allyship




Gerimis members take time to build trust and observe without being intrusive or getting in the way of Orang Asli lives, long before potential collaborations are discussed

Free, prior and informed consent




Free, prior and informed consent is confirmed via culturally appropriate discussions.

Credit
Orang Asli community members are acknowledged and credited in all projects.
Compensation
Orang Asli community members are paid, in line with negotiated agreements.
Accuracy and respect
Consent is continually confirmed by cross-checking with other villages and referring to expert resources if necessary.
The indigenous communities of West Malaysia are known collectively as Orang Asli, representing 0.6% of the Malaysian population. Originally living mostly in the rainforests, mountainous and coastal areas, the Orang Asli share a strong relationship with the land. The forest is more than a physical resource, it is a part of their cultural and spiritual landscape. Although they are the earliest community to live in what is today called West Malaysia, the Orang Asli are rarely featured in the country's national narrative.
Their strained relationship with the government over land rights and deforestation has resulted in much mistrust. Although there is a guardedness when sharing their lives with those outside their communities, the Orang Asli also realise the urgency to share and record their culture.
The Gerimis collective was founded by non–Orang Asli creatives. Seeing their histories and traditions as an integral part of Malaysia's narrative, Gerimis aims to reconnect other Malaysians (and younger Orang Asli) to the stories, arts and culture of the Orang Asli. Gerimis does this through art showcases (exhibitions, performances, workshop, zine production) and Orang Asli–led ecotourism.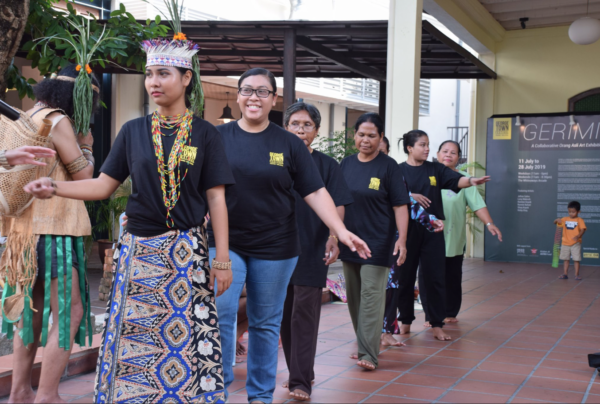 Gerimis group show: An interactive Sewang performance by Orang Asli dancers during George Town Festival 2019. Sewang is a traditional dance performed as a healing ritual or to celebrate the harvest season. (Photo credit: Harith Jamaludin)
According to Wendi Sia, a founding member of Gerimis, working with experienced Orang Asli artists is similar to working with any other professional artist. However, Gerimis' approach had to change when it began working with Orang Asli communities living in the interior.
To connect with the communities, Gerimis has engaged a consultant who has been working with them for over 20 years. Having a trusted person introduce them to the community has helped establish Gerimis as trustworthy as well.
Introductions are followed by a period of friendly, casual interactions. Only after multiple visits to get to know the community and the area does the collective start discussions about possible projects.
Ronnie Bahari, Orang Asli photographer and president of Persatuan Kebudayaan dan Kesenian Orang Asal Perak(Perak Indigenous Arts & Culture Association), says that today, core members of Gerimis are like friends and family to him. They earned the trust of his community by respecting their pantang larang (cultural taboos), embracing traditional accessories, and showing a long-term interest in creating impact for the Orang Asli.
Free, prior and informed consent
In line with Orang Asli protocols, Gerimis gains consent through discussion, not written contracts.
In the past, communities have had devastating experiences signing away their rights to highly coveted land in the name of development, with no access to legal counsel. For Gerimis, asking the communities to sign a document for consent was culturally inappropriate.
'They come from a strong oral tradition where things said hold great weight. They will remember it forever!' says Gerimis' Wendi Sia.
Thus, consent is gained verbally. Budget and pricing for any project that generates sales is discussed and agreed by those involved. This includes how revenue will be used (to cover costs) and how profits will be split.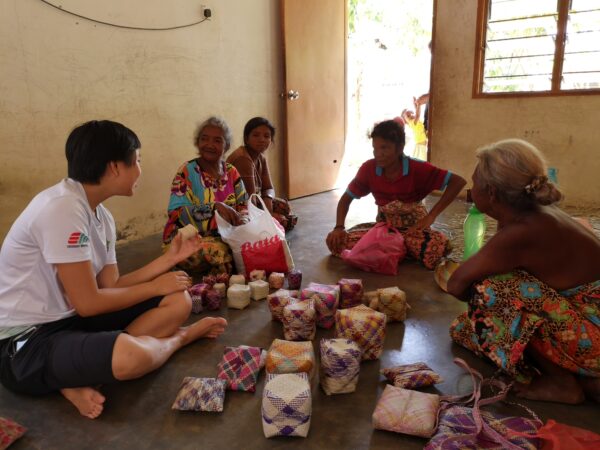 Gerimis in discussion with weavers from the Temiar tribe regarding sales of craftwork. (Photo credit: Sharon Yap)
Social media is used as an accountability tool as well. Orang Asli can access public responses to their work by following Gerimis' accounts. If Gerimis engages community members who aren't tech-savvy, they share photos and responses in person.
Ronnie says that Gerimis' efforts to communicate their intentions clearly and work towards 'a win-win situation' for all parties are strong reasons he works with them.
Credit
'For the George Town Festival show, all those who could be present were there. All exhibit descriptions featured their names. And we directed the press to interview the artists – shining the spotlight on them,' says Wendi.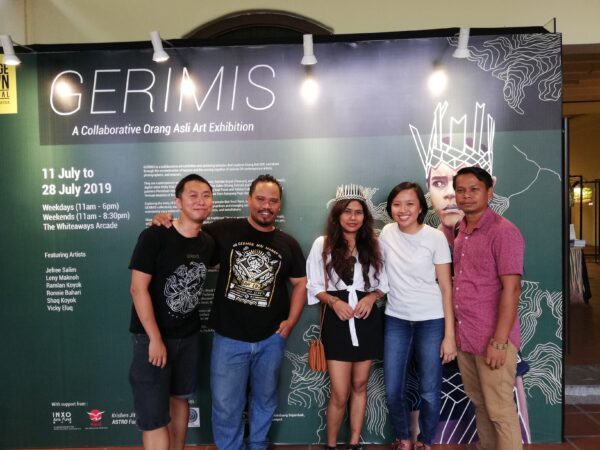 From left: Sebastian Heng, Ronnie Bahari, Leny Maknoh, Wendi Sia and Jefree Salim at the George Town Festival 2019.  (Photo credit: Wendi Sia)
However, Gerimis admits that there needs to be more support in this area. Some tribes are non-confrontational in nature, preferring not to be the frontperson. Some tribes have clearly defined gender roles, with males always being the spokesperson and females having less of an opportunity to take public roles. Anyone working with the Orang Asli must take these issues into consideration, and support the community with media training and interpretation aid, as appropriate.
Compensation
The core members of Gerimis state theywork pro-bono on these projects, while some projects are even funded personally by Gerimis members.
A full 100% of revenue from artwork sales goes to the artists. For everything else that generates sales, Wendi says it's a balance between three factors:
Rates the Orang Asli are happy earning
Project costs (including travel expenses for Orang Asli to travel from the interior to city centres)
Market-driven prices
Any depiction of Orang Asli culture, especially in zine production, goes through a review process with the relevant communities. Sketches and photographs are used during the consultation process, to ensure zine illustrations of traditional tools or cultural objects are depicted with accuracy..
Gerimis also makes it a practice to quote verbatim, not only for zines but in social media posts, too. If needed, Gerimis cross-checks with other Orang Asli villages and consults expert resources.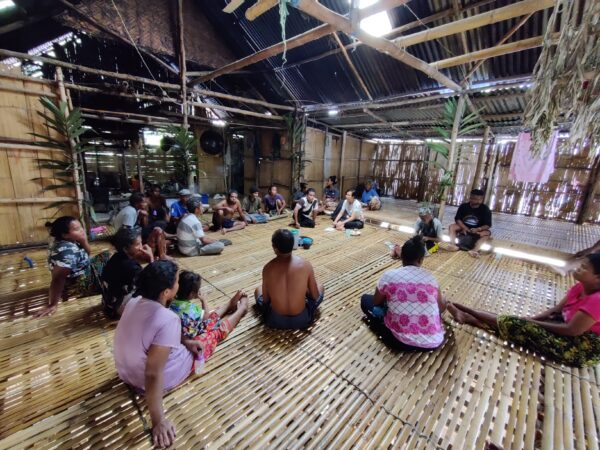 Consultation with the Semai tribe regarding future stage performances as part of festivals or one-off events.  (Photo credit: Wendi Sia)
During the Malayan Emergency (1948–1960), as the British fought against communists hiding in the forest, the Orang Asli were forced out of the forest to prevent any interactions with communists. The decades spent away from their original home considerably weakened the strong ties they had with the forest. This is what drives people like Ronnie to urgently document and promote Orang Asli culture.
'As with all oral traditions, there are always variations. Even if we can capture 60–40% accuracy in our stories, that's already enough for me,' he says.
Adeline Chua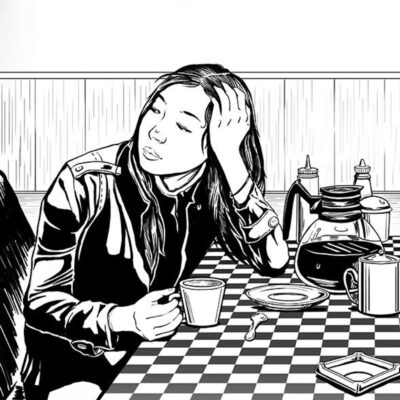 Read More
Adeline Chua spent 10 years as a community-driven educator, working with students, teachers, artists and cultural workers in arts & culture and place-based education. She went on to start ANTARA Lab, a placemaking consultancy aiming to activate human connection and ownership of the places we live, work, and play in. She is based in Kuala Lumpur, Malaysia.

 
What is the Imagine Around the World Project?
A partnership with the British Council Australia, the Imagine Around The World Project aims to document case studies from numerous countries outside of US, UK, Canada, Australia and New Zealand to share best practice and leadership in cultural diversity, cultural equity and inclusion in the arts, screen and creative sectors. This project is managed by Diversity Arts Australia and supported by Creative Equity Toolkit partner, British Council Australia. To find out more click below – or read the other case studies as they go live here.
Find out more