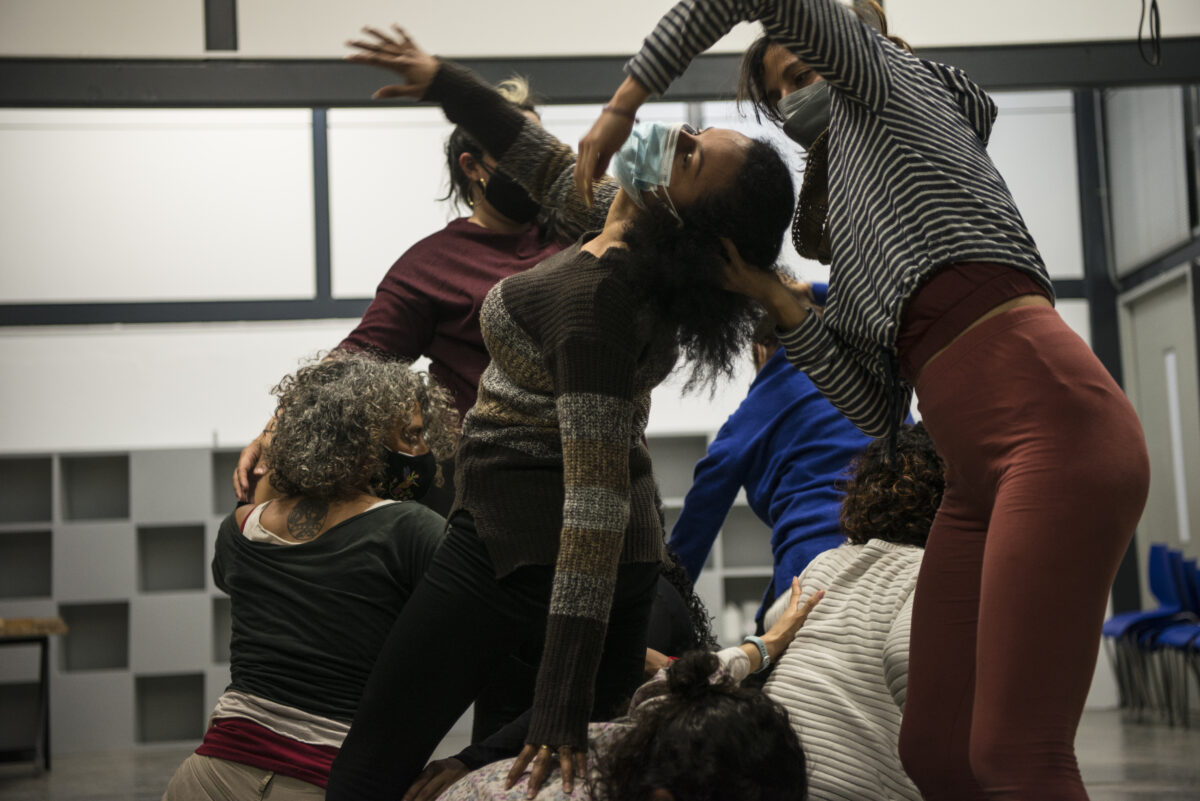 Peru's Tu Cuerpo/El Mío (Your Body/My Body) by Karin Elmore
"Tu cuerpo/El mío provides support and generates empathy through artistic exchange. The project stems from individual problems of exclusion, migration, poverty, machismo, racism and xenophobia. It responds by presenting society with collective artistic, collaboration and networks of support."
Tu cuerpo/El mío has attracted international support for its creative collaborations between migrant and non-migrant women.
Centring creativity
The human right to creative expression is centred in funding proposals and pitches.
The contested body
The work begins with each woman reflecting on her own body and the bodies of others – contested sites in debates around migration.
Collaborative process
The non-hierarchical process honours listening, reflection and discussion and each creative exercise is co-created by the group, not imposed.
Safe spaces for expression
The project creates safe spaces to process experiences of migration and discrimination.
Making migrants visible
In communities where migrant voices are silenced and suppressed, the project opens space for conversation.
Based in Lima, Peru, Tu cuerpo/El mío (Your Body/My Body) is a series of creative works featuring performance, action, texts and videos that are collaboratively created by women from migrant and non-migrant backgrounds.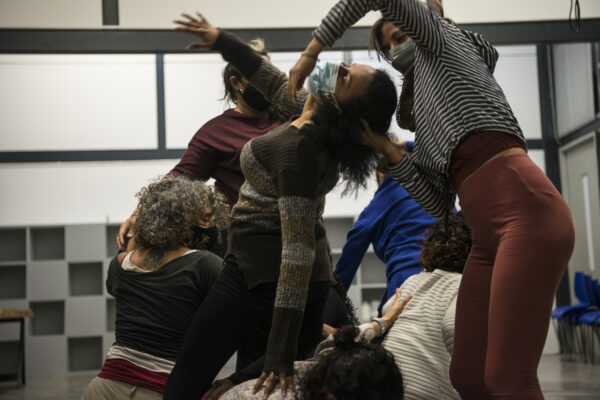 The project creates safe spaces to process experiences of migration and discrimination, Photo credit: Sandra Alias
'I came up with the idea 12 years ago, when I was an immigrant myself, sitting at a cafe in a European city, watching people pass by on the street and trying to figure out how to make my work talk about those issues that were radically changing society; the massive migration of people,' says project creator and Peruvian choreographer, Karin Elmore.
'The settlement of entire communities in foreign countries with sometimes radically different cultures, languages or customs from their own, and all because they had no other choice but to leave where they are from.'
According to official estimates, approximately 800,000 Venezuelans have recently migrated to Peruvian territory, where they face discrimination and human rights violations. Tu cuerpo/El mío uses dramatic and visual devices to integrate and value migrant women from an artistic and creative perspective.
In 2008, the performances were presented at the Reina Sofía Museum in Madrid, the Maison de l'Amérique Latine in Paris, La Caldera in Barcelona, the Cultural Center of Spain in Lima, and most recently in the MAC – Lima (Contemporary Art Museum of Lima). The project has worked with over 500 women from all over the world, creating works that respond to the specific experiences of women in each city.
'In the last 12 years the migration problem has become the great world problem – wars, famine, climate change and authoritarian regimes are causing millions of people to be forced to leave their places of origin, in spite of themselves, and in order to survive,' says Elmore.
Tu cuerpo/El mío has attracted international funding from renowned and diverse institutions such as the Prince Claus Foundation and the World Bank Organization. Central to its success is its one-of-a-kind methodology and pitch proposals, which originate in the very basic, but often forgotten, notion that true freedom and wellbeing must take into consideration the opportunity to create.
The work process of Tu cuerpo/El mío begins with a public open call to local migrant women to participate in a series of free workshops carried out in collaboration with local interdisciplinary women artists.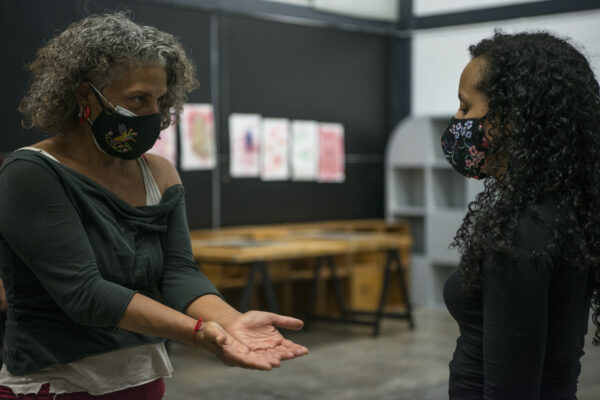 Dynamics of complicity between migrant women. Photo credit: Sandra Elías
Participants then work with different techniques that are defined collectively: improvisation work, recognition of one's own body, listening sessions, intense reflection and discussions, among others. All these exercises and actions are discussed, shared and directed into artistic pieces like dramatic performances, visual art pieces, dances and short films.
A crucial aspect of the project is that the migrant women themselves are co-creators of every artistic outcome, which is why the exercises are never imposed and all of the sessions are treated in a non-hierarchical way.
After the development period (often divided into three-hour sessions, two times a week for one to two months) the materialization of this experience is publicly performed, usually in a renowned local artistic institution to add value and a sense of closure to the experience.
Every performance demonstrates how much pride these women feel showcasing their work. They perform for loved ones and friends, and also for local citizens who, after watching them and hearing their stories, literally applaud them. It is a symbolic and powerful gesture of finally being welcomed.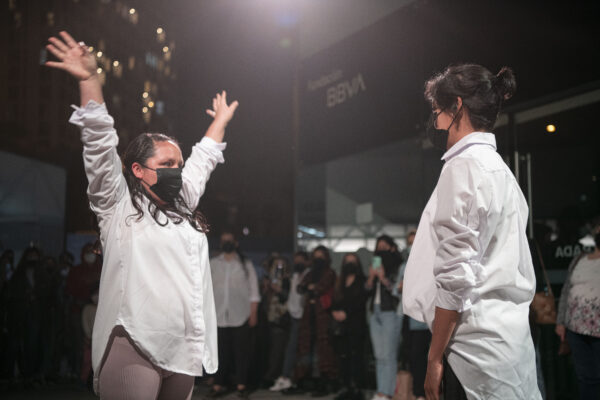 "Aquí va a pasar algo" final presentation at the Contemporary Art Museum of Lima.  Photo credit: Sandra Elías
Aurisnair, a 38-year-old actor from Venezuela, said, 'I appreciate this space that has allowed me to explore and understand myself, because I was able to see in others what in a mirror I could not see. It's been five years since I came to Peru and in my case I had not had the opportunity to participate in something artistic…and today in this foreign country I've finally been able to hear that applause again.'
In the midst of the unprecedented exodus of around 4.8 million Venezuelans, Colombia and Peru have emerged as the two countries receiving the largest numbers of this migratory flow.
Although it should be the government's responsibility to guarantee the rights migrants, Venezuelan migrants have been exposed to discriminatory practices and other violations of their human rights. Not only that, they  have absolutely no safe spaces for creative expression and exploration. This is critical to the process of acknowledging one's self-worth when joining and adapting to a new community.
Tu cuerpo/El mío provides support and generates empathy through artistic exchange. The project stems from individual problems of exclusion, migration, poverty, machismo, racism and xenophobia. It responds by presenting society with collective artistic, collaboration and networks of support.
In particular, it has the following specific objectives:
Promote exchange and integration between migrant women and local women through shared stories and artistic creation.
Make visible the problems that concern silenced populations, excluded from public circuits, especially cultural ones.
Allow access to populations to cultural projects by excluded communities.
Value the participants for their creative contribution, beyond commerce or economic success.
Continue promoting creativity and culture in Peru, despite the health crisis and its social and economic consequences.
Tu cuerpo/El mío is an open and poetic manifestation of a pressing social problem, but also a tangible concrete initiative for the integration of migrant women.
Jana Ugaz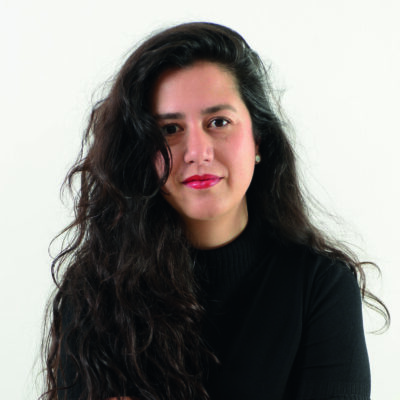 Read More
Jana Ugaz is an artist, curator, teacher and cultural manager, with over 10 years of experience in the production and curatorship of art exhibitions, festivals, literary meetings and other cultural events, both in Peru and abroad. Trained in visual arts at PUCP, with a master's degree in Cultural Management from the Universitat Internacional de Catalunya (Barcelona) and extension courses in international relations at the European Network on Cultural Management and Policy (Brussels), she has worked independently as cultural manager and producer in numerous projects with a particular focus on community, migration and feminism. She is currently the director and founder of "Maria", a cultural project aimed to visibilize peruvian women in the art field.

 
What is the Imagine Around the World Project?
A partnership with the British Council Australia, the Imagine Around The World Project aims to document case studies from numerous countries outside of US, UK, Canada, Australia and New Zealand to share best practice and leadership in cultural diversity, cultural equity and inclusion in the arts, screen and creative sectors. This project is managed by Diversity Arts Australia and supported by Creative Equity Toolkit partner, British Council Australia. To find out more click below – or read the other case studies as they go live here.
Find out more