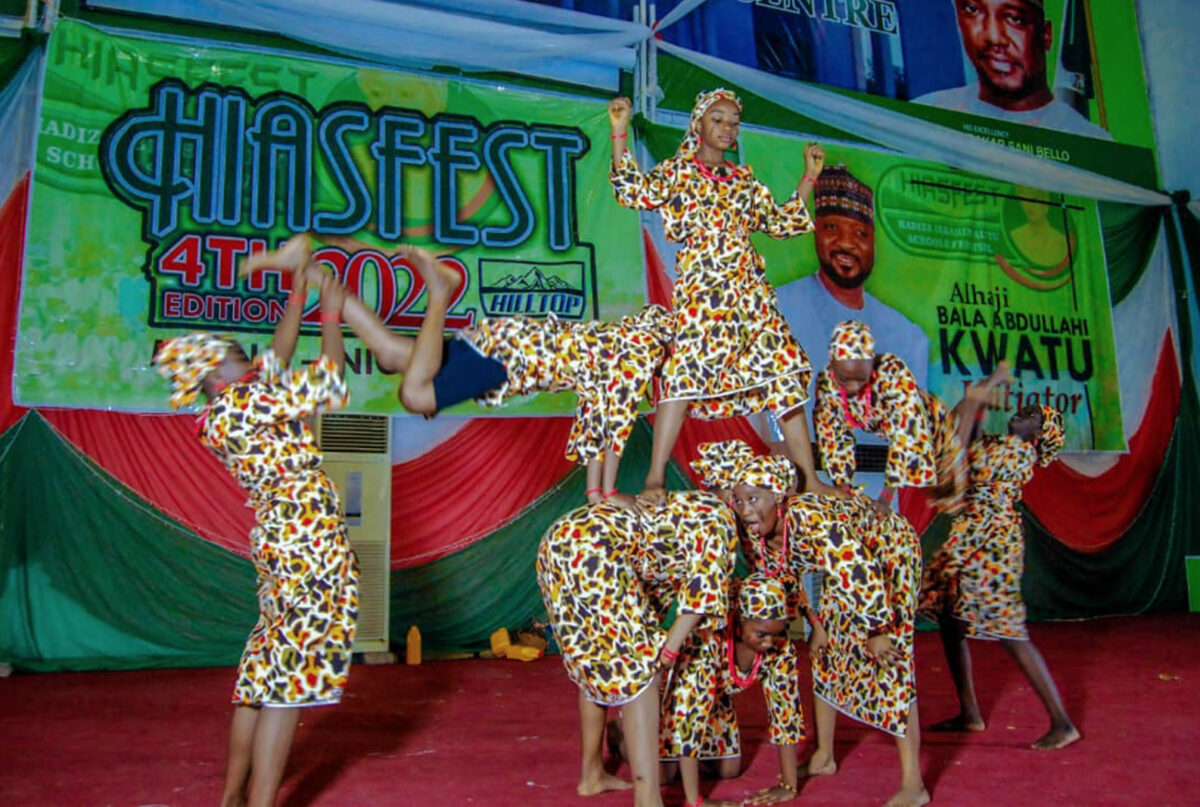 Nigeria's Hadiza Ibrahim Aliyu Schools Festival
"We want to accommodate these cultural and ethnic diversities and see how we can harness them for our growth and the unity of Nigeria"
Young performers at Nigeria's prestigious Hadiza Ibrahim Aliyu Schools Festival (HIASFEST) are required to present a dance from a different cultural group. The deep immersion in another cultural identity fosters engagement and understanding across the nation's 450-plus ethnicities.
Strategies include:
Cultural exchange
Young dancers must engage with another culture to learn its dances, a deep immersion through body movement that transcends language barriers and will, it is hoped, remain with them throughout their lives.
Multilayers immersion
More than just dances, students learn about the people and culture in a multilayered engagement which contributes to their performance.
Diverse judges
To ensure equity and fairness, judges are selected from different cultural groups.
Discounts for Public Schools
Public school are offered discounted competition entry fees to ensure they can participate.
Youth arts festival Hadiza Ibrahim Aliyu Schools Festival (HIASFEST) is one of Africa's most comprehensive art festivals. Over 25 categories in prizes, awards, honours and scholarships are presented. Organised by Nigeria's Hill-Top Creative Arts Foundation (HCAF), founded by B. M. Dzukogi, schools across the country's 36 states are invited to attend.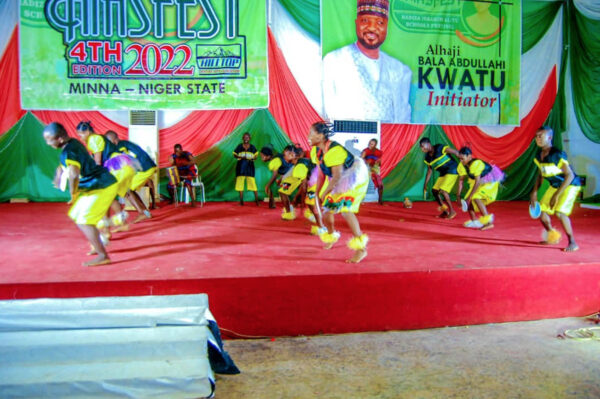 Digging and swaying: a school in performance! (Photo courtesy: HIASFEST/ Hill-Top Creative Arts Foundation/Makama Shekwo'aga)
HIASFEST's cultural dance competition category focuses on cultural identity. Nigeria has over 450 ethnic groups, and cultural interaction, appreciation and understanding are paramount in bringing together people who hold different values and ideals.
Cultural exchange
To foster intercultural exchange, in recent years schools have been required to perform a dance that is not native to their region. Students learn about a new culture and then learn its dance steps to present at the competition.
Through the competition process, young adults learn to appreciate other people's culture, language and beliefs. With three major ethnic groups, Yoruba, Hausa and Igbo, it is easy to forget about the remaining 400-plus minor ethnic groups. The competition forces participants to look outside their geopolitical region to select another ethnic group's dance.
According to the festival's curator, Makama Shekwo'aga, 'We want to accommodate these cultural and ethnic diversities and see how we can harness them for our growth and the unity of Nigeria. For example, Cultural Dance category stipulates that a school from a geopolitical zone shall not select any dance from his zone. This is to recognise and share in the existence and appreciation of other cultures in Nigeria by teenagers.'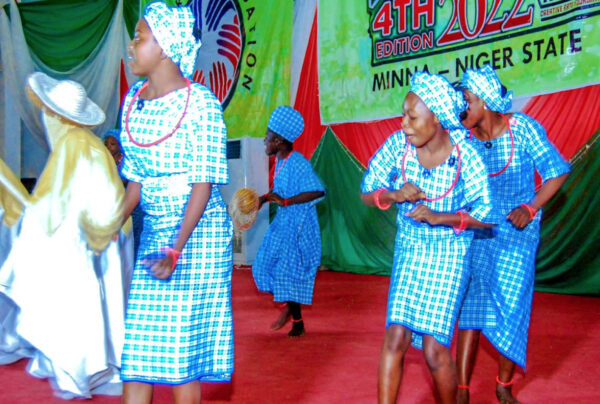 Different shades and stands (Photo Courtesy: Photo courtesy: HIASFEST/ Hill-Top Creative Arts Foundation/Makama Shekwo'aga)
For instance, a school located in the northern part of the country that mainly speaks Hausa may be mandated to perform the cultural dances of the Yoruba in the southwestern part, or may choose that of any other ethnic group outside their region.
For the young people involved, this deep immersion in another culture creates empathy and understanding even without a shared language. It is hoped this will stay with them throughout their lives.
While teaching the dances, participating schools also teach their students the history and culture of its people, giving students a deeper understanding of cultures they may not otherwise have encountered.
This additional cultural education is critical, and have led to superlative performances. The contestants often dance as if they were performing dances native to them. Students are also actively encouraged to make friends with young people from other regions and religions during the competition.
A Benue-based participant said the competition helped her understand other cultures. 'The competition helped me learn about another ethnic group and appreciate them more. I also made friends who I still keep in touch with.'
Judges –often professional dancers or academics from theatre arts – are selected from different ethnic groups to ensure a measure of equitable representation and fairness in the judging process.
Discounts for public schools
Interested schools are required to pay an entry fee. Knowing this may be difficult for public schools relying solely on the government for salaries and other monetary assistance, HIASFEST makes provision for a discounted entry fee for public schools.
At the end of the competition, each school nominates members of their troupe to come together to perform a unity dance that combines the cultural dances performed during the festival.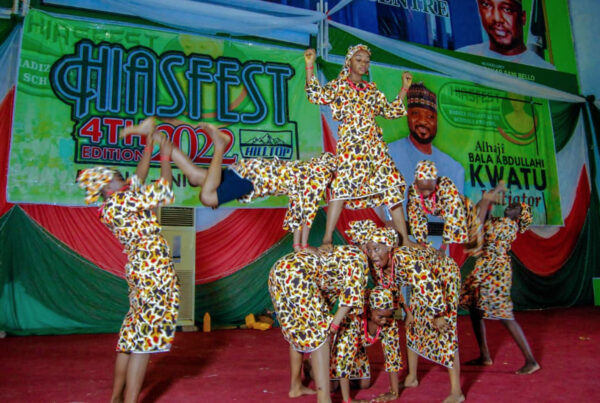 Pillars of Unity in Culture and Acrobatics (Photo courtesy: HIASFEST/ Hill-Top Creative Arts Foundation/Makama Shekwo'aga)
HCAF has about 22 branches across the country that help contribute to the festival's success and engender a sense of community among members. Going forward, the foundation plans to make participants of the competition cultural ambassadors in their various states. They will promote other people's cultures, and teach others about them too.
Su'ur Su'eddie Agema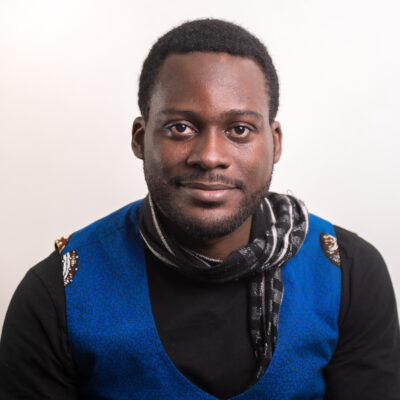 Read More
Su'ur Su'eddie Agema is a multiple-award-winning writer, poet, cultural activist, and development consultant. Su'eddie was previously the Black History Month/Project Curator and co-founder/president African Writers at the University of Sussex, where he earned an MA with distinction in International Education and Development as a Chevening Scholar. He is currently a David C. Pollock scholar of the Families in Global Transition. Su'eddie heads SEVHAGE Publishing and SEVHAGE Literary and Development Initiative, while being the convenor of the Benue Book and Arts International Festival. He blogs at http://sueddie.wordpress.com and http://sevhagereviews.wordpress.com @sueddieagema on Twitter. He lives in a couple of places with his wife, daughter, and members of their clan.
What is the Imagine Around the World Project?
A partnership with the British Council Australia, the Imagine Around The World Project aims to document case studies from numerous countries outside of US, UK, Canada, Australia and New Zealand to share best practice and leadership in cultural diversity, cultural equity and inclusion in the arts, screen and creative sectors. This project is managed by Diversity Arts Australia and supported by Creative Equity Toolkit partner, British Council Australia. To find out more click below – or read the other case studies as they go live here.
Find out more