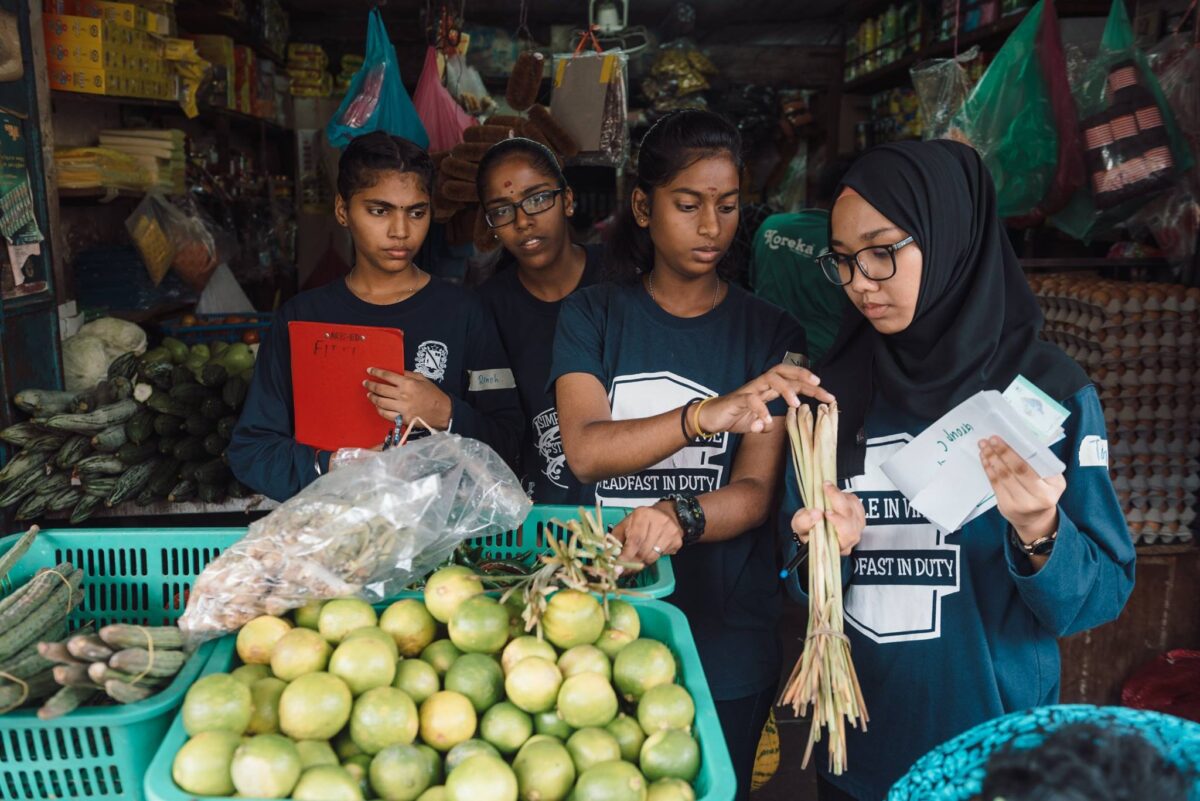 Malaysia's 

Arts-ED's 'You Think You Can Masak' Cultural Heritage Education Program
One of the program's main goals was to highlight the similarities, not just the differences, in the variety of dishes and cooking styles through shared ingredients.
In multicultural Malaysia, it is often taken for granted that there will be a variety of food choices available all day long, such as Malay, Chinese, Indian cuisine. It is this unique diversity that Arts-ED's 'You Think You Can Masak' ('Cook') program was embracing by bringing together young people to learn about their own, their friends' and their community's cultural beliefs and practices through food.
The program represented this diversity by incorporating these important aspects:
Community experts
Arts-ED enlisted the help of culturally diverse local chefs to consult in the program design and facilitate the running of the workshops.
Culturally rich heritage sites
Participants interviewed diverse vendors and visited local restaurants in heritage communities to gain valuable insight into what role particular foods have in different cultures and traditions.
Diverse participants
Arts-ED paired participants of different cultures and backgrounds from two secondary schools to work together in the program workshops.
Expanding the circle of inclusion
Participants interviewed family members for input on how a feature ingredient was used in family recipes. This highlighted how different cultures used the same ingredient in cooking, rituals and daily life.
A historical free port that saw an influx of tradesmen and migrants in the 1790s, George Town is now the second largest metropolitan city after Kuala Lumpur and listed as a UNESCO World Heritage Site. It was the perfect backdrop to host the 'You Think You Can Masak' (YTYCM) program.
The YTYCM program was one within a series of educational programs that encouraged participants from different secondary schools to work together and explore their cultural heritage by interacting with community experts and heritage sites through activities such as art and craft, games and cooking. Running an average of seven times a year from 2015 to 2018, the YTYCM program consisted of a two-day culinary experiential workshop which encouraged participants to learn about diversity through cooking—a process that enabled them to gain deeper cultural knowledge and examine their social identity more closely along the way.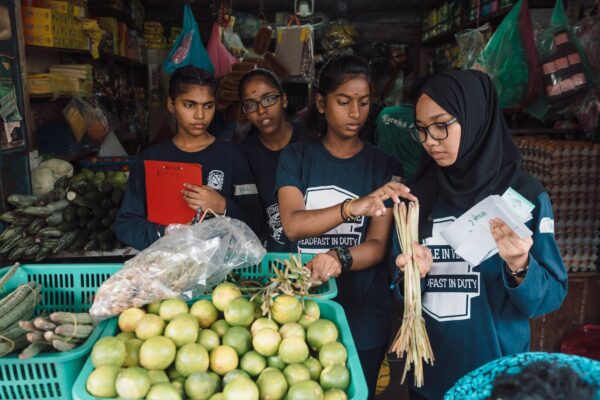 Many participants had to learn how to buy ingredients for the first time. Photo credit: Arts-ED.
The program was designed with diversity and cultural inclusivity in mind by including the ingredients and dishes from Malay, Chinese and Indian cuisines. One of the program's main goals was to highlight the similarities, not just the differences, in the variety of dishes and cooking styles through shared ingredients.
Local chefs with expertise in preparing traditional and modern cuisine contributed by consulting in the YTYCM program design and facilitating cooking sessions during the workshops. From 2015 to 2016, the program benefited from the knowledge of Malay chef and author Nazlina Hussin, who also led the cooking sessions alongside Arts-ED's facilitators. Then, from 2017 to 2018, Victor Soosay, a lecturer and chef from a local college took the lead, bringing his specialist skills in Indian and Western cuisine to the table as a program resource expert.
Culturally rich heritage sites
Prior to the commencement of the program, the Arts-ED team visited George Town's heritage sites—sites that have been serving local communities for decades, if not centuries. The team got to know the area and developed rapport with the local market vendors, shopkeepers and restaurant owners before engaging them as program resource experts.
These community experts proved to be invaluable assets to the participants who, when out buying ingredients for the cooking workshops, were able to interview them to gain in-depth cultural and practical knowledge about the role of particular ingredients in meal preparation, festivals, rituals and traditional remedies.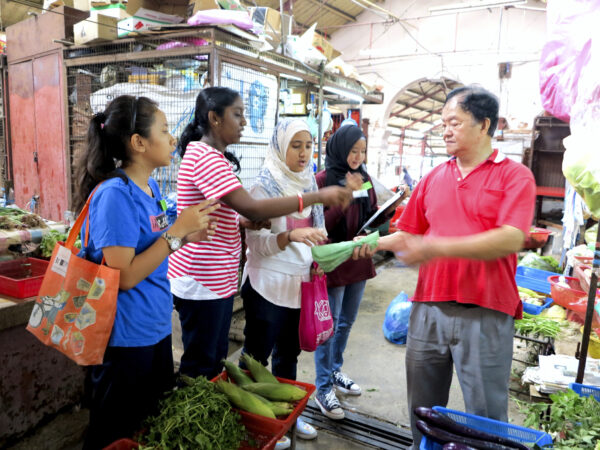 Participants interviewing a community expert about the usage and significance of their purchased ingredients. Photo credit: Arts-ED.
Diverse participants
The YTYCM program was opened to all public secondary schools and registration was done on a first-come-first-served basis.
When it came to the selection process, the Arts-ED team paired different schools together to reflect diverse cultures and backgrounds in the program. For example, an all-girl school would be paired with an all-boy one or a school with a largely Malay student body would be paired with a school with mostly Chinese students. Over the course of the two-day workshop, the participants from two different schools would work together to complete the set tasks and cooking sessions.
This provided participants with an opportunity to work closely with teammates from a variety of different backgrounds. It was an experience that not only enabled them to learn about different cultures and traditions but also allowed them to develop important interpersonal skills such as being communicative, a good listener, understanding and empathetic to navigate the needs and sensitivities of diverse cultural and gender groups.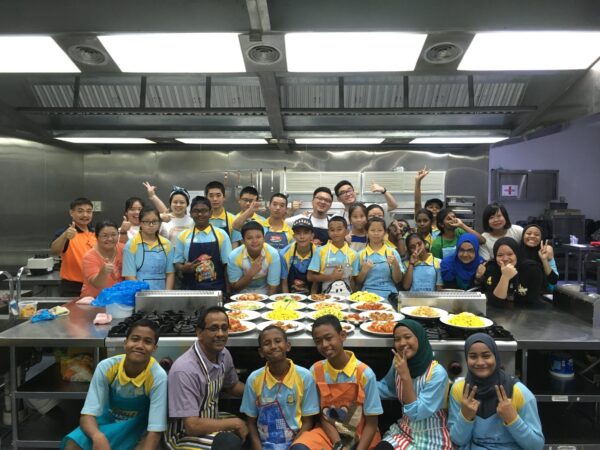 Participants and facilitators pose with their final dishes at the end of a cooking session. Photo credit: Arts-ED.
Expanding the circle of inclusion
The program extended beyond the workshops to include the input of family members of the diverse participants. The home assignments brought to the fore the varied cultural backgrounds of the participants' families when participants interviewed a family member or relative about a family recipe featuring a particular ingredient.
These interviews prompted the participants to reflect more deeply about previously unquestioned cultural practices of their own. When they shared their findings with fellow participants, they were also able to learn more about the practices of others. Some differences were brought to light when family recipes were found to be diverse even when participants were from the same ethnic group (for example, Chinese)—this being due to where their ancestors came from (for example, Fujian province versus Guangdong province in China). In turn, similarities were highlighted when family recipes from different ethnic groups provided insight into how different cultures used the same ingredient in cooking, rituals and daily life—both of these aspects reinforcing the program's goal of celebrating the differences and similarities of diverse dishes in multicultural Malaysia through the common thread of shared ingredients.
Adeline Chua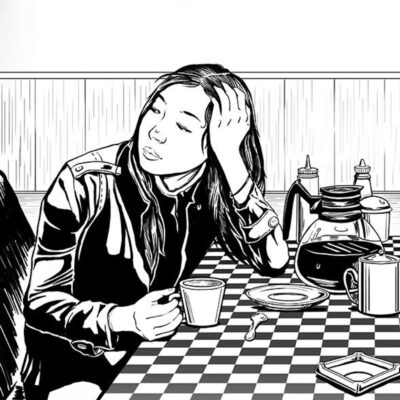 Read More
Adeline Chua spent 10 years as a community-driven educator, working with students, teachers, artists and cultural workers in arts & culture and place-based education. She went on to start ANTARA Lab, a placemaking consultancy aiming to activate human connection and ownership of the places we live, work, and play in. She is based in Kuala Lumpur, Malaysia.

 
What is the Imagine Around the World Project?
A partnership with the British Council Australia, the Imagine Around The World Project aims to document case studies from numerous countries outside of US, UK, Canada, Australia and New Zealand to share best practice and leadership in cultural diversity, cultural equity and inclusion in the arts, screen and creative sectors. This project is managed by Diversity Arts Australia and supported by Creative Equity Toolkit partner, British Council Australia. To find out more click below – or read the other case studies as they go live here.
Find out more