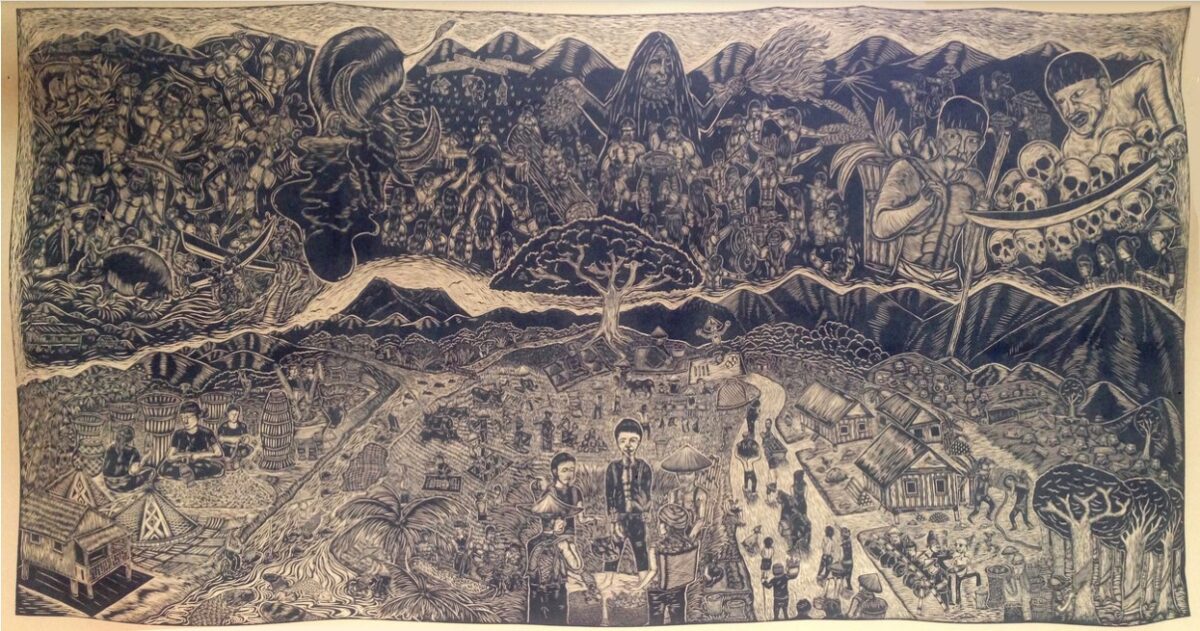 The art-ivism of Malaysia's Pangrok Sulap
"Any attempt to silence Pangrok Sulap's work only served to further ignite their passion in producing 'provocative' art that sends a strong message to the powers that be."
Pangrok Sulap is an art collective which engages with a diverse range of performers, civil society organisations (CSOs) and the public in their art-ivism. This group is famously known for creating woodcut prints to tell the unknown stories of Sabah's rural community, helping to preserve rural culture and traditions as well as amplifying calls for environmental protection, democracy and human rights. For every project they are involved in, Pangrok Sulap's objective is to use art to empower their community partners and document their histories.
The collective does this in several phases:
Identifying rural communities to work with
Recommendations are given by other CSOs on villages that are interested in working with Pangrok Sulap.
Building strong relationships
Pangrok Sulap takes time to develop rapport with the communities they are working with in order to understand the issues they are affected by.
Collaborating through art
Pangrok Sulap runs woodcut printmaking workshops in each community to bring villagers together to create art.
Giving back to the community
The finished woodcut prints are taken to exhibitions for sale to raise funds as well as awareness about the social issues facing the community. The proceeds from the sale is invested back into the community to improve village infrastructures.
Founded in 2010, Pangrok Sulap is based out of the Malaysian Borneo island of Sabah. The collective conduct workshops and do woodcut demonstrations in various venues and communities and also take part in local and international exhibitions. Their artwork—printed on t-shirts, tote bags, posters and iron-on patches—have carved a permanent spot not only in the hearts of Malaysia's anti-establishment crowds but also in those of the discerning art community. Conversely, their craft has also been dubbed 'controversial' and was even once removed from an exhibition at Kuala Lumpur's National Visual Arts Gallery in 2017. But any attempt to silence Pangrok Sulap's work only served to further ignite their passion in producing 'provocative' art that sends a strong message to the powers that be.
In 2018, Pangrok Sulap started their long-term project with villagers in Kieyep, located in Sabah's interior district of Ranau. The goals were to empower the Kieyep community to become self-sustaining through art and raise funds to build a handicraft house for villagers to create art comfortably.
Identifying rural communities to work with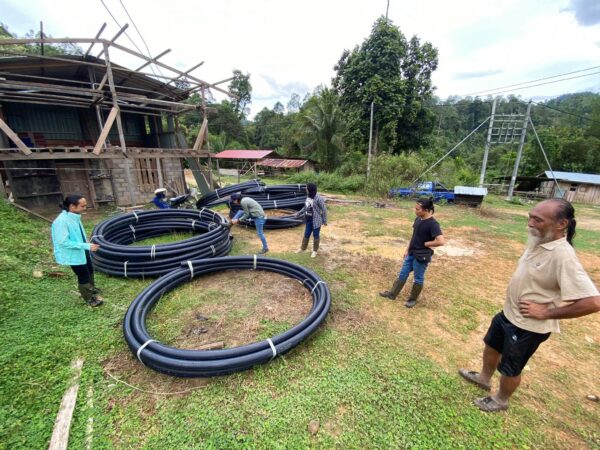 The Kieyep project was inspired by Pangrok Sulap's time volunteering with Lightup Borneo to provide rural folk with electricity using a mini-hydro system. Photo credit: Pangrok Sulap.
Kieyep was initially brought to the attention of Pangrok Sulap while the collective was participating in a project by Lightup Borneo, a CSO that promoted access to electricity and lighting in Borneo's vast interior. Their artmaking project was an offshoot of Lightup Borneo's hydro installation initiative. Pangrok Sulap met with the villagers of Kieyep and an agreement to work together to produce an artwork titled Tinagas Kieyep was established, with the finished artwork to be sold to galleries and collectors for the purpose of generating funds to develop the handicraft industry in the village.
Building strong relationships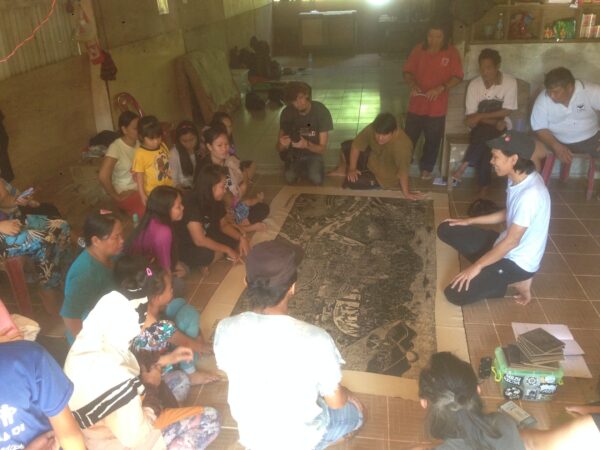 Before beginning any project, Pangrok Sulap builds rapport with the community to make connections and understand their issues. Photo credit: Pangrok Sulap.
For their project in Kieyep, members of the collective stayed in the community and interacted with the villagers to gain an understanding of the issues that were important to them. In doing so, they also learnt about the shared myths that were passed down from generation to generation about Kieyep. For example, one story was about a civil war that had happened in the past between two tribes: Dusun Tinagas and Dusun Kogosingan. This is just one myth, among many, that became the source of inspiration for the artwork.
Collaborating through art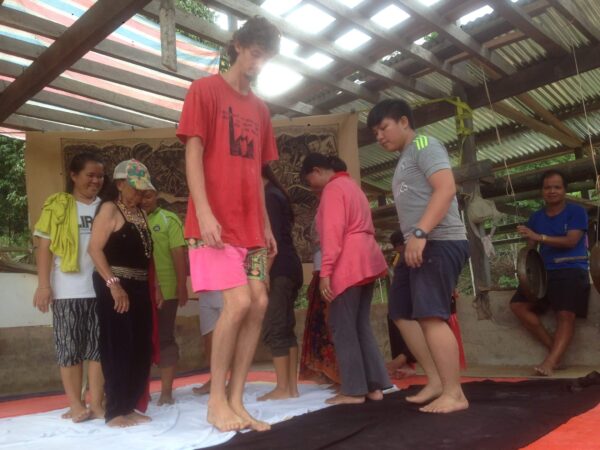 Community participation is an important part of Pangrok Sulap's artistic process. Photo credit: Pangrok Sulap.
The workshop was met with much enthusiasm by the whole Kieyep community. Participants, young and old, brought out their shirts and even blankets to be used as materials for the woodcut printmaking process.
Pangrok Sulap's participatory printing process is unique, insofar that community members are encouraged to engage in the traditional Sumazau folk dance on the woodcut accompanied by original and contemporary folk music played by members of Pangrok Sulap. As the dance progressed, the weight of the dancing crowd would transfer the ink from the woodcut onto the chosen material, then the woodcut would be removed to reveal the finished print.
The finished Kieyep artwork not only documented the village's shared myths but also the traditional musical instruments that were almost extinct, such as the tongkungon, sundatang and tagung.
Giving back to the community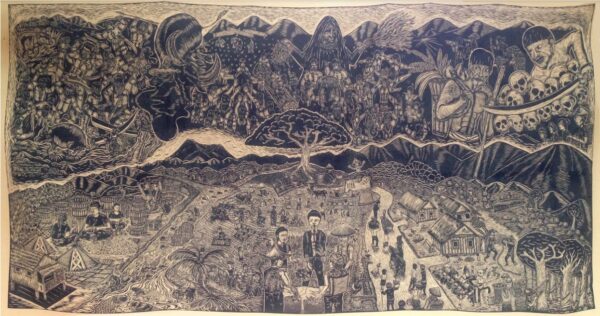 Tinagas Kieyep is an example of how Pangrok Sulap facilitates the preservation of history through art. Photo credit: Pangrok Sulap.
The finished artwork titled Tinagas Kieyep was exhibited in several venues; "Tinagas" referring to a subtribe belonging to the larger Dusun tribe. The proceeds from the sale was invested back into the community to source materials and manpower to build a handicraft house in Kieyep.
The handicraft house not only provides the community with a comfortable space to make art, but it also helps equip them with skills to be self-sustaining. Ultimately, this contributes towards preserving Sabah's dying handicraft industry, along with the history and cultural traditions that come with it.
Natasha Joibi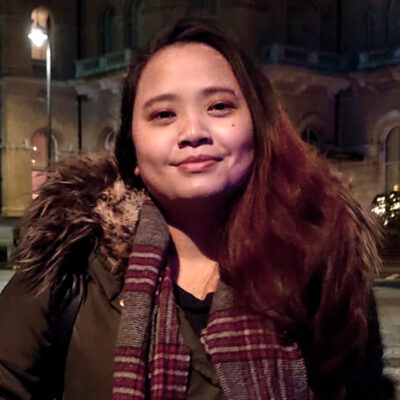 Read More
Natasha Joibi is a communications strategist, public writer and human rights advocate. Born and raised in Malaysian Borneo, her worldview is coloured by her experience as an indigenous person. Whilst she herself is not artistically trained, Natasha gravitates towards political art that makes a strong statement about the society we live in. She has worn many hats – from journalism, to civic activism and now conservation. Natasha is also a 2019/20 Chevening scholar and co-founder of Suara Justice Warriors (SJW) – a group that aims to provide a safe space for Malaysians to discuss social issues that affect them.

 
What is the Imagine Around the World Project?
A partnership with the British Council Australia, the Imagine Around The World Project aims to document case studies from numerous countries outside of US, UK, Canada, Australia and New Zealand to share best practice and leadership in cultural diversity, cultural equity and inclusion in the arts, screen and creative sectors. This project is managed by Diversity Arts Australia and supported by Creative Equity Toolkit partner, British Council Australia. To find out more click below – or read the other case studies as they go live here.
Find out more