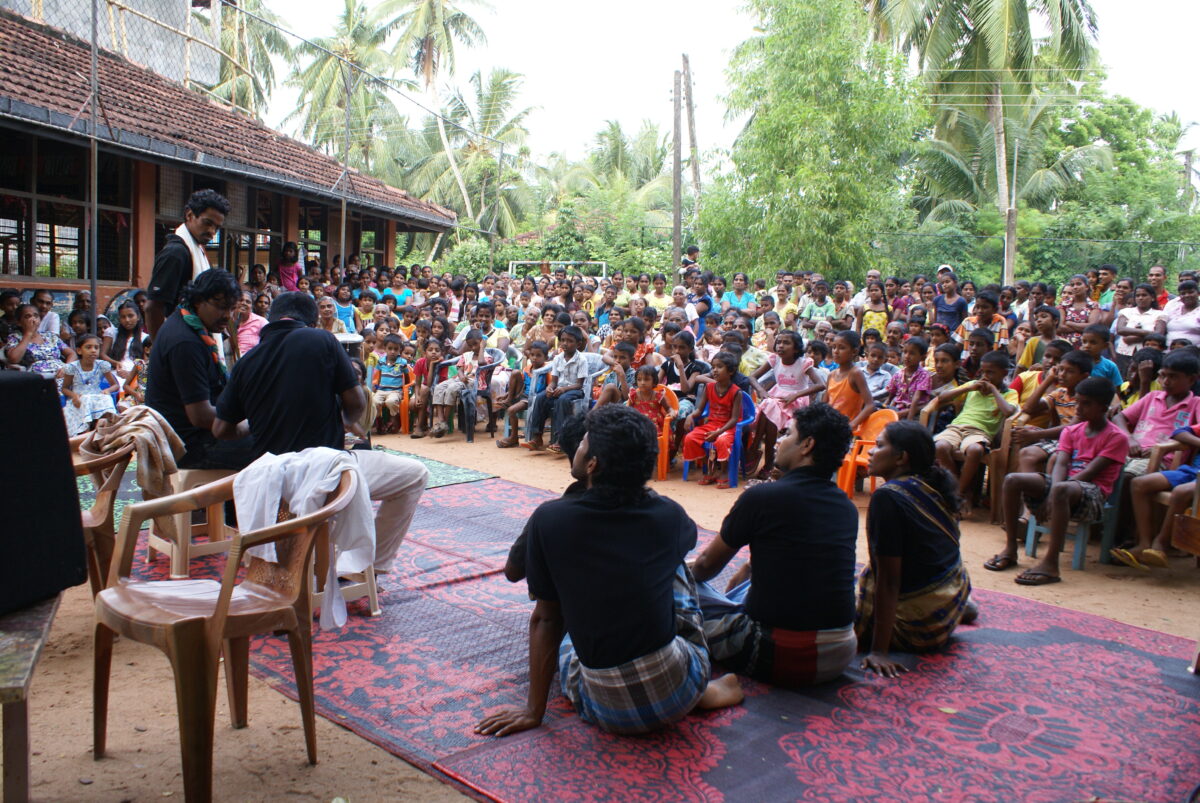 Sri Lanka's Janakaraliya ensemble
"Collaborating with rural communities, Janakaraliya had conducted forum theatre performances to tackle the various challenging problems in the rural communities such as child marriages, domestic violence and chronic debt problems. On some occasions, the troupe was able to make a lasting impact in the communities."
'Janakaraliya' ('Theatre of the People') comprised a group of Sinhala and Tamil bilingual artists who travelled around Sri Lanka to present theatre performances in multiple settings through professional stage plays, forum theatre and street theatre. Formed in 2004, Janakaraliya provided a space of interaction for Sinhalese and Tamil people who were divided and distanced by the successive waves of the ethnic conflict.
Janakaraliya has received national and international accolades for its contribution to theatre arts, peace and reconciliation in Sri Lanka by using the following strategies:
Taking theatre to the people
Janakaraliya made high quality theatre productions accessible and affordable for rural communities.
Peace building without peace-preaching
The troupe focused on creating a space to unite members of the conflicting ethnic groups, instead of marketing peace in abstract form. Audience members could witness, first-hand, Sinhala and Tamil artists collaborating in the plays.
Hands-on experience for the artists
The initiative provided invaluable professional development opportunities for young artists to learn and practise all aspects of professional theatre, while also encouraging them to develop important life skills during long stays in rural locations.
Building rural arts communities
Through workshops and collaboration, the troupe would form new relationships with the local communities, teaching theatre arts skills to the rural youth to nurture their interest in theatre, sometimes even inspiring participants to set up their own theatre groups.
Artists in the theatre, music and film industries who came from all ethnic and linguistic backgrounds slowly drifted apart from each other as ethnic tensions simmered following a number of dangerous policy decisions taken by the successive post-colonial governments of Sri Lanka. These decisions badly affected the language rights, education and employment opportunities of minority communities, and subsequent civil unrest caused by the minority grievances started the Sinhalese-Tamil ethnic war which continued for nearly three decades. The atrocities drove the Tamils away from the Sinhalese dominant areas, while pockets of Tamil communities lived side-by-side with the Sinhalese in constant suspicion of an imminent attack. Conversely, Sinhalese and Muslims were chased away by the Tamil militants from the Tamil dominant areas of the north and provinces. As the war passed from one generation to another, children of both communities grew up in most cases having no contact with the other ethnic group. However, a few individuals and organisations wanted to change these hostilities by building peace between the communities. It is during this dark period that veteran theatre and film artist Parakrama Niriella came forward with the idea of setting up a bilingual theatre troupe.
Taking theatre to the people
Professional and amateur theatre groups tend to perform original plays and adaptations of foreign plays mainly in Colombo and other urban centres in a handful of purpose-built theatres or assembly halls, while people in rural areas have almost no opportunity to receive a similar theatre experience. To address this imbalance, Janakaraliya brought professional theatre productions to the rural communities by setting up an arena-style stage surrounded by seating for the audience, in a large tent-theatre equipped with professional theatre lighting and sound systems. Unlike the traditional proscenium theatre setting, this performance space encouraged interactions between the audience and the performers, which was crucial in facilitating discussions with the audience after the show.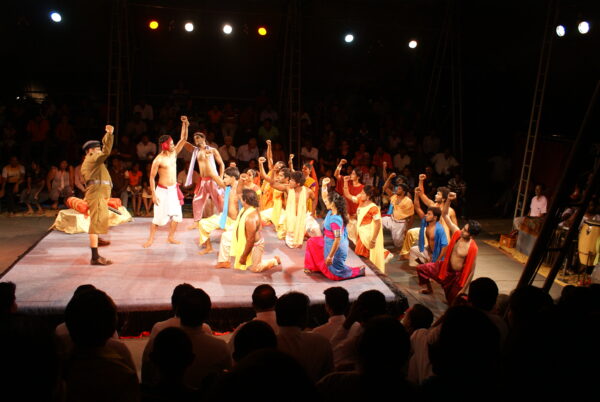 Janakaraliya puts on a professional theatre show for a rural community. Photo credit: Janakaraliya.
The theatre troupe consisted of about 25 members, youth mostly from rural areas themselves, who had the capacity to perform about six plays in Sinhalese or Tamil languages in each season. The troupe would perform between two to four shows per day during a 15-day season at a selected rural location where they set up their tent-theatre. The nominal entrance fee encouraged the locals in that location to attend the shows for the entire season, with some schools bringing their whole student-teacher community to the theatre.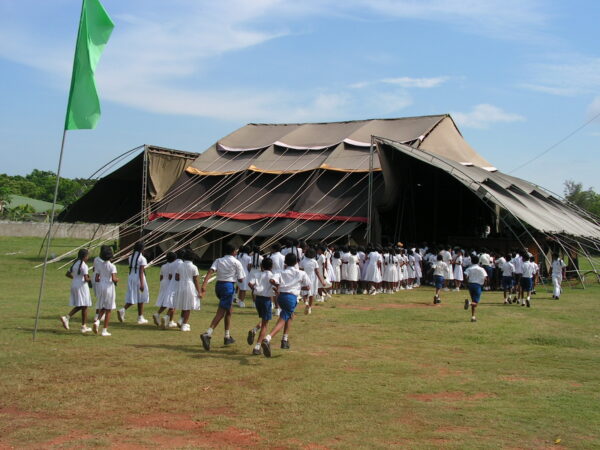 Schoolchildren getting ready for a life-changing theatre experience. Photo credit: Janakaraliya.
Peace building without peace-preaching
The theatre troupe did not always perform plays with peace building themes, although many would have expected so; instead, they performed renowned local and foreign plays like The Dragon by Yevgeny Schwartz, Charandas Chor by Habib Tanvir and Sekkuwa by Parakrama Niriella. At the end of each show, the director would introduce the performers to the audience by announcing their names which clearly revealed the performers' ethnic identity. At this point, most audience members would come to realise that the play they had been watching was, in fact, developed through a collaborative effort of Tamil and Sinhala artists and this sent a very strong peace message indeed, often initiating a dialogue between the audience and the performers. The troupe also performed several original plays which overtly featured themes of peace and justice; for example, Thiththa Kahata, which poignantly presented the stories of poverty and suffering of the Tamil workers in the hill-country tea plantations.
Hands-on experience for the artists
Each time the troupe visited a particular township, they would spend more than two months in the area, setting up the theatre, rehearsing plays, advertising the shows—mostly by doing mini performances in public spaces such as markets—then performing the plays in the tent-theatre. During their long stay, the members of the troupe also had to manage their own accommodation in makeshift dormitories and prepare their own meals; they truly had to be all-rounders who were able to multi-task at any given time. The members of the troupe were rewarded for their efforts in their egalitarian work environment by an equitable remuneration package. To further reward the troupe and help them to develop their performance skills, the members would receive theatre training by local and international experts as well as invitations to national and international theatre events.
Building rural arts communities
It would be unfair to portray Janakaraliya as a mere travelling theatre troupe because they had, in fact, done more than perform plays for rural communities. Each time the troupe had set up their base in a rural location, they would build relationships with the local communities and visit schools, government agencies and places of worship to build networks. Collaborating with rural communities, Janakaraliya had conducted forum theatre performances to tackle the various challenging problems in the rural communities such as child marriages, domestic violence and chronic debt problems. On some occasions, the troupe was able to make a lasting impact in the communities. For example, for the first time, some traditional Muslim communities had allowed their women to go out and watch the plays because Janakaraliya had organised women-only shows and adopted culturally safe practices. The troupe had also conducted theatre workshops for the local children and youth to inspire an interest in theatre and teach them theatre arts skills. New talent was often found in these workshops, with some participants being recruited as new members of the troupe, while other participants were inspired to set up their own local theatre groups.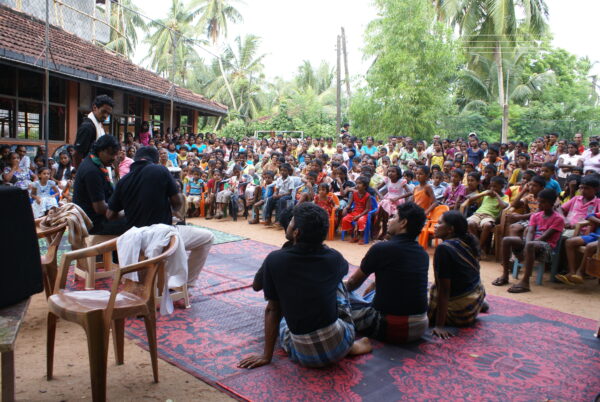 Janakaraliya's performers discussing social issues with the audience in the street theatre performances. Photo credit: Janakaraliya.
The legacy of Janakaraliya
Janakaraliya continued to function even after the war ended in 2009 in the vacuum of opportunities for reconciliation between the Sinhalese and Tamil communities. However, the group could not operate on the same scale with their tent-theatre beyond 2017 as the international funding slowly dwindled. Since then, some of the Janakaraliya's former members have become professional theatre artists, while others now operate on a project-by-project basis, that is, to develop and perform theatre pieces when they receive invitations from other agencies.
The legacy of Janakaraliya still remains in the memories of the troupe members as much as in the hearts and minds of those in the rural communities, many of whose lives were changed after their experiences in the tent-theatre. Some of the children and youth who had been trained in the rural theatre workshops have gone on to set up their own amateur theatre groups, a few of which are still in operation.
Dr Visakesa Chandrasekaram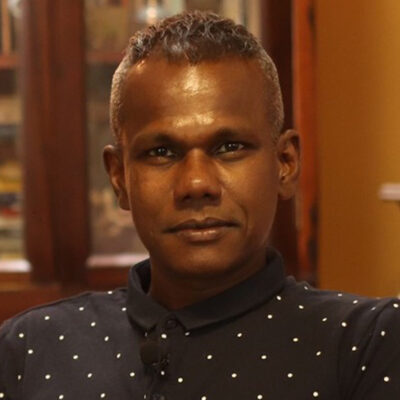 Read More
Dr Visakesa Chandrasekaram is a lawyer, academic and an artist. He has made two feature films – 'Sayapethi Kusuma' (Frangipani) and 'Paangshu' (Earth) which won many international awards. He has published two novels – 'Tigers Don't Confess' and 'The King and the Assassin'. He has written and directed several stage plays including 'Forbidden Area', which won the Gratiean Prize. Visakesa has worked in Sri Lanka as a human rights lawyer and in Australia as a diversity consultant to the NSW Government. He currently works as a senior lecturer in the Faculty of Law in University of Colombo.

 
What is the Imagine Around the World Project?
A partnership with the British Council Australia, the Imagine Around The World Project aims to document case studies from numerous countries outside of US, UK, Canada, Australia and New Zealand to share best practice and leadership in cultural diversity, cultural equity and inclusion in the arts, screen and creative sectors. This project is managed by Diversity Arts Australia and supported by Creative Equity Toolkit partner, British Council Australia. To find out more click below – or read the other case studies as they go live here.
Find out more