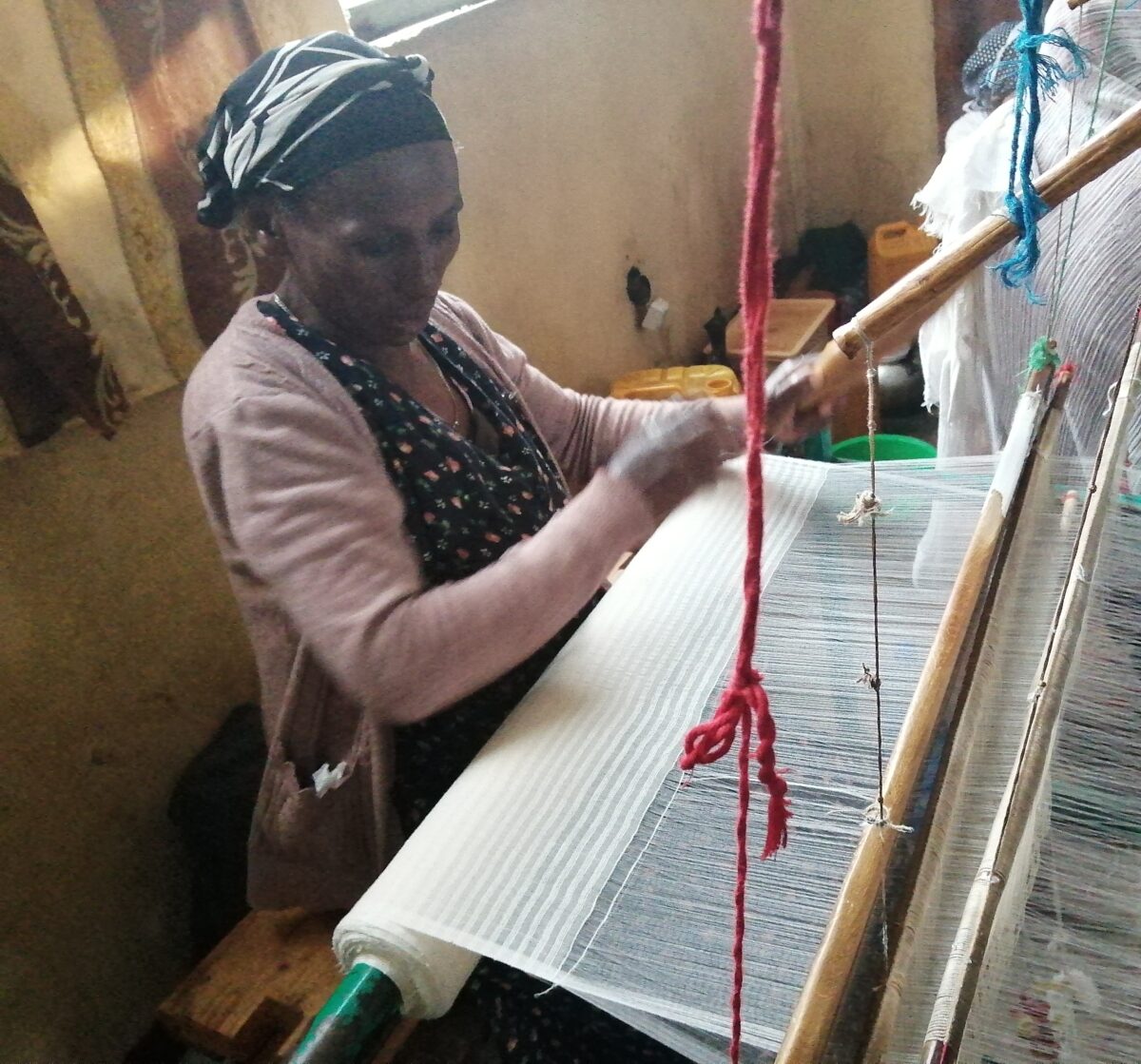 Ethiopia's Gamo weavers
Selamawit Tafesse
"…being in an association has allowed them to share experiences with other weavers, created job opportunities for them and provided them with a child-friendly work environment, something that is not common in most workplaces in Ethiopia."
Shiro Meda in Addis Ababa is known as the epicentre of weavers, with many from the Gamo community in Southern Ethiopia. It is a home away from home for the Gamo people who make their way from the highlands to the capital in search of a better life. Once they arrive, many seek work in the Gundesh Meda Textile Production and Sales Centre, the government-built buildings that have brought hundreds of weavers, Gamos and others alike, together. Here, the Gamo weavers learn from and support one another.
The Gamo weavers follow these principles in their work:
Making indigenous products using indigenous

Using the traditional techniques of weaving that have been passed down through the generations, the Gamo weavers make textiles and garments that are unique to and symbolic of Ethiopian culture.

Accessing better job opportunities and 

workplaces

Being in an association means weavers have access to better employment opportunities in a safe and clean government-owned workplace with affordable rent options.

Producing high quality products to meet market needs

The 

Gamo weavers work hard to make clothing according to high standards and quality to meet the needs of the market, being accountable and taking onboard feedback for their work to continuously improve their products.
Ethiopia is a country with over 80 ethnic groups with differing cultural traditions and religious 
beliefs, all of which are defined by the uniqueness and diversity of their artistry in handmade crafts and objects. One of these groups is the Gamo community which is based in the highlands of Southern Ethiopia. The Gamo people have been weaving traditional clothing for their community for many generations. Although there are weavers from many different ethnic groups, the Gamo weavers are renowned for their work due to their impressive skills in producing the most exquisite textiles and garments.
Making indigenous products using indigenous knowledge
The Gundesh Meda Textile Production and Sales Centre in Shiro Meda consists of nine G+4 buildings that were built by the government in 2009 and have accommodated hundreds of weavers since 2010. It is a centre that consists of Gamo weavers and other weavers from various parts of Ethiopia who have come together under different weaver associations. The weavers in these associations make and sell habesha clothes, usually to shop owners who later go on to sell what they have bought to customers.
The making of habesha clothes—the word 'habesha' refers to people from Eritrea and the north of Ethiopia who speak Semitic languages—is something that requires a team effort that involves cotton and mag spinners, weavers, tailors and embroiderers. Like some professions in Ethiopia such as pottery making, weaving also seems to be divided along ethnic and gender lines. Boys and men from the Gamo community and other communities are usually the ones who are taught how to weave, while women usually perform the hand spinning of cotton and spinning mag, a weft usually spun by women. Their artisanal skills, knowledge and traditions of textiles and garment making has been passed down to them from generation to generation.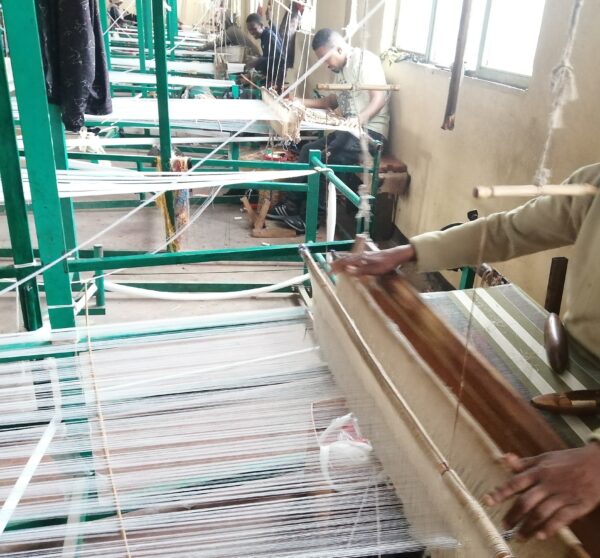 Gamo weavers at work in the Gundesh Meda Textile Production Centre in Shiro Meda, Addis Ababa. Photo credit: Selamawit Tafesse.
The weavers make the material for clothes from dir (a factory-produced warp), mag, (a weft usually spun by women) and tilet (a factory-produced coloured thread). After they finish making the material, which may or may not include tibeb (a decoration or pattern that is woven into border of the cloth made by using tilet), weavers then take it to the tailor to be made into clothing such as a habesha kemis (a traditional Ethiopian dress), a gabi (a cloth worn during the cold season, at night or during mourning), a netela (a shawl worn over a habesha kemis, in church ceremonies or during mourning) or a jano (a colourful gabi-like shawl for men).
According to Mitiku Wegese, one of 42 members of the Tibeb Leedget Association (an association made up of Gamos and found in one of the Gundesh Meda buildings), there are two ways to make a tibeb. One is for weavers to make it by hand and the other is by using a sewing machine. When the cloth is decorated using embroidery by embroiderers or tailors, the work is called tilf. Tilf is made after the cloth is sewn into a dress or shirt.
Accessing better job opportunities and workplaces
The gathering of people of similar backgrounds at Gundesh Meda has made it easier for fellow weavers to learn from and support one another, but like any workplace, it is not without its challenges. Many weavers have found that being in an association can help them access better workplaces and conditions. Some weavers say that they still have difficulty reaching buyers directly since brokers are involved. Other weavers have said they have not seen a change in their income, while some have stated that the rising prices of raw materials have made their work difficult.
When weavers complete work that has come to them through their association, their work is registered and they get paid for the work they have done. The weavers usually produce products individually and sell their products every week. They do not share the money they have earned from the products they have produced individually but they are expected to contribute a certain amount from their sales to their associations respectively to cover different expenses including rent and the cost of tilet. There is no set time for work. The weavers' work hours are usually determined by the weavers themselves depending on the amount of work they have and the urgency of the work.
Tewabech Teka is one of the members of the Belaynesh, Amarechena Guadegnochachew Shimena Mahber Association which was established in 2011 and is one of the very few associations largely made up of female weavers, predominantly from the Gamo community, consisting of 18 female and nine male members. She says being in an association has allowed them to share experiences with other weavers, created job opportunities for them and provided them with a child-friendly work environment, something that is not common in most workplaces in Ethiopia.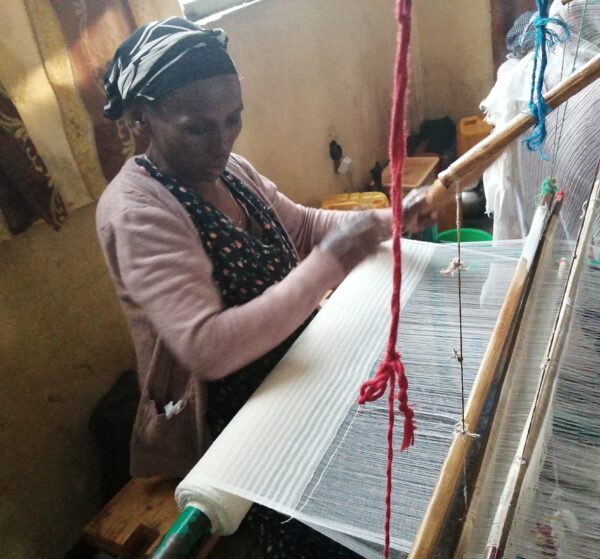 Tewabech Teka demonstrates her skills of making a netela – a shawl which is usually worn over a habesha kemis, in church ceremonies or during mourning. Photo credit: Selamawit Tafesse.
According to Mitiku Wegese, being in an association has also provided the weavers in their group with access to a clean and well-lit working environment for a very affordable price, for less than 200 birr a month from the government. This is a positive arrangement for the weavers since rent prices in Addis Ababa are very high, especially in places close to the heart of the city. A lot of weavers traditionally used to work in not very well-lit places, usually their home or a place they have rented. Anja Assefa, a member of the Edget Behibret Association, says he has experienced this and adds that since joining an association he is motivated to work even harder when he sees other weavers around him working hard.
Being in an association has also allowed for members to save their earnings and help each other out during tough times such as the COVID-19 pandemic and mourning periods as well as happy occasions such as weddings and graduations.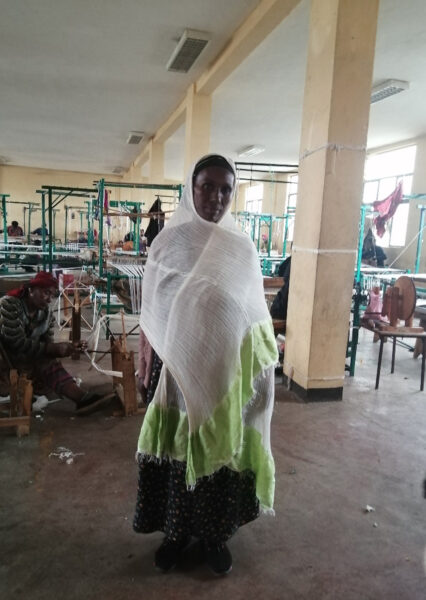 Tewabech Teka wearing a netela made by members of her association. Photo credit Selamawit Tafesse.
Producing high quality products to meet market needs
The weavers sell habesha clothes that they have custom-made according to the orders they receive, usually from shop owners or buyers, for a cheaper price and better quality than they make at shops. Though this does not apply to all associations, some associations have certain requirements to meet, such as the width of their clothes. Others follow the requirements provided by their buyers. Being in an association also means that there is a bit more accountability for the products the weavers produce for their customers, so feedback is often taken onboard to improve the production of their clothing. If the products do not meet the desired quality or standard, there is a possibility that they may be returned to the weavers who made them. Another way the weavers ensure high quality of their work is by using better weaving equipment, which is now made of metal instead of wood. The looms are set at a certain height and width and are firmly attached to the floor to provide more stability and improved usability for weavers.
The Ethiopian New Year, 'Meskel' ('the finding of the true cross'), the celebration of Timket (Feast of the Epiphany) in January and weddings that take place right before the Ethiopian Orthodox fasting season begins in April are generally the busiest times for weavers. Weavers cater to seasonal needs in the market by producing tibeb designs based on customers' demands, which reflect the time of year or holiday they are made for. Habesha clothes, especially dresses made before or during the celebration of the New Year, usually feature designs of flowers called adey abeba, which grow in Ethiopia only during the New Year. Clothes made for Timket usually feature crosses on them, though crosses are a very common feature on habesha clothes. However, as more new designs are being created nowadays, it has become easier to find habesha dresses to meet the needs of different religious groups in Ethiopia.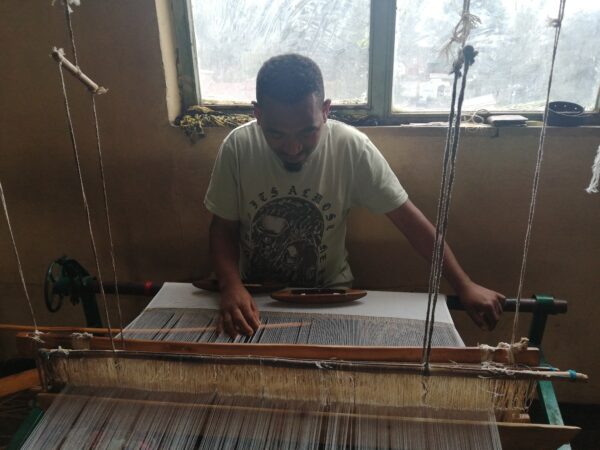 A weaver adjusts the threads on his loom to insert tilet. Photo credit: Selamawit Tafesse.
Selamawit Tafesse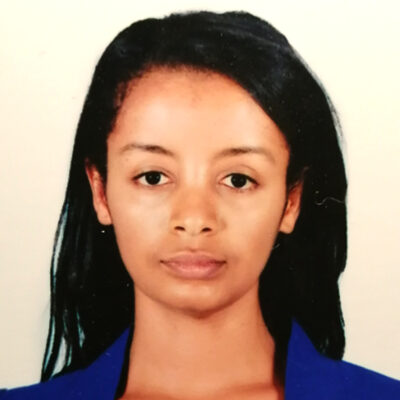 Read More
Selamawit Tafesse is a freelancer working in communications. She is a Chevening scholar who has

 

worked in the media and communications sector for over 6 years for various organisations including the Ethiopian Radio and Television Agency, the national Television and Radio station, the Ethiopian Ministry of Education and the National Associations of Persons with Disability. She received her Bachelor's degree, majoring in print journalism, and a Masters in Journalism and Communications from Addis Ababa University, Ethiopia. She got her second master's degree in Media Practice for Development and Social Change from Sussex University, UK.

 
What is the Imagine Around the World Project?
A partnership with the British Council Australia, the Imagine Around The World Project aims to document case studies from numerous countries outside of US, UK, Canada, Australia and New Zealand to share best practice and leadership in cultural diversity, cultural equity and inclusion in the arts, screen and creative sectors. This project is managed by Diversity Arts Australia and supported by Creative Equity Toolkit partner, British Council Australia. To find out more click below – or read the other case studies as they go live here.
Find out more