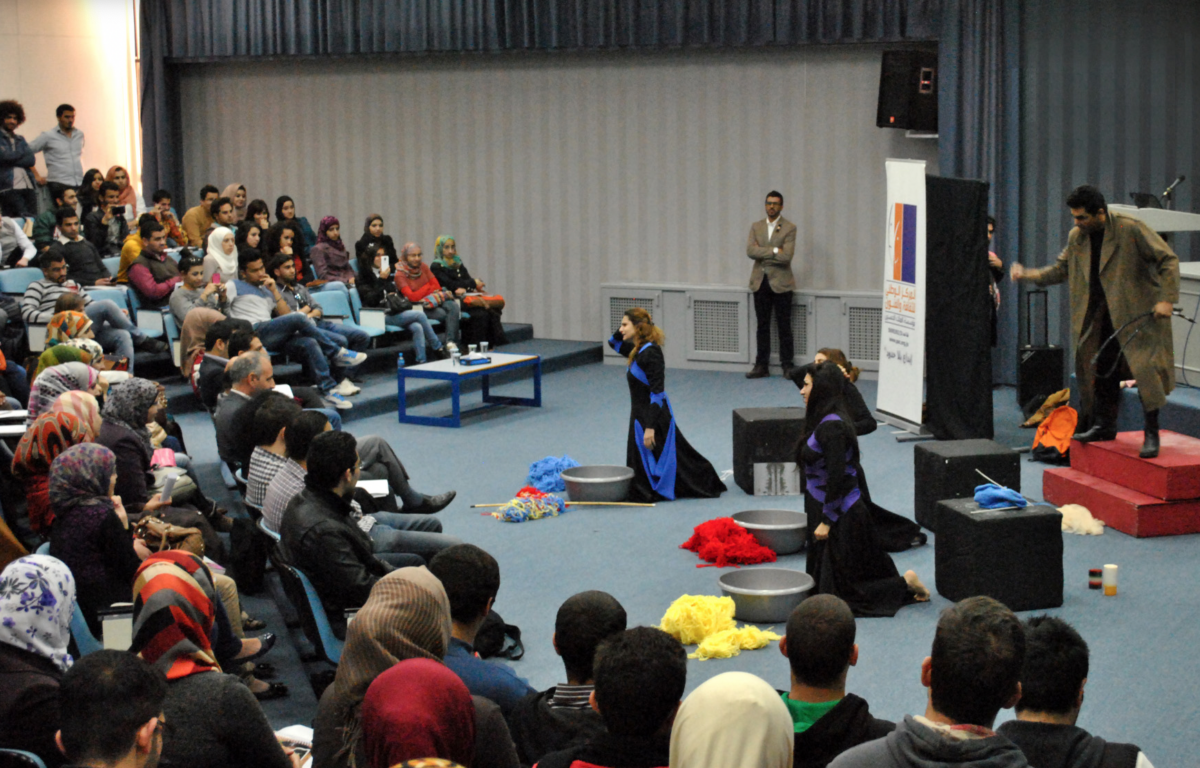 Jordan's National Centre for Culture and Arts
"The strength of NCCA is our projects are impactful and trailblazing. They impact the community, societal development, educational quality and changing perceptions."
The National Centre for Culture and Arts of King Hussein Foundation (NCCA) is a non-profit, non-governmental organisation which began in 1987 with the support of Her Majesty Queen Noor Al Hussein and was founded by an inspirational woman and artist, Lina Al Tal. The NCCA's objective is to incorporate performing arts in all levels of education, to encourage change in creativity and humanitarian values and cross-cultural understanding and to bring about social change. NCCA has been a pioneer in the development of dance and theatre in Jordan and in the region.
Strategies include:
National and international collaborations

NCCA collaborates with professional national and international artists to develop performance arts workshops and projects.

Providing academic curriculum in arts education

The centre has established dance and theatre schools to provide access to arts curriculum to students and educators.

Reaching out to diverse and marginalised audiences

In order to connect with diverse and marginalised groups, NCCA put on professional performances around the country

Maintaining good working relationships

NCCA's special relationship with the government and the Royal Family allows them to teach workshops and give performances at public schools. Their other partnerships mean more impactful opportunities are created for performing artists in Jordan.
On what the NCCA means to her, the society and culture, the founder, Lina Al Hal, had this to say, "This [centre] enables our donors to contribute to enhancing and expanding ambitious projects and help sustain them over years. When considering human development, we need sustainability and continuity, this is what the community depends on us to do. It is a ripple effect!"
National and international collaborations
NCCA has enabled many collaborations and co-productions nationally and internationally. For example, they have been part of the ASSITAJ network for many years. In addition, NCCA's trainers travel regionally to train theatre practitioners in Interactive Theatre. Most importantly, they are always keen to develop their theatre and dance programs and reach bigger audiences with their performances, while maintaining a strong relationship with the government. This helps to establish cultural and societal diversity and equity nationally and regionally. "The strength of NCCA is our projects are impactful and trailblazing. They impact the community, societal development, educational quality and changing perceptions," said Lina Al Tal.
NCCA collaborates with professional national and international artists to develop workshops and run projects in performance arts. Some of these include:
Workshops for teenagers (Theatre students in schools): In 2003, the NCCA collaborated with the late renowned international dancer, mime artist, choreographer and writer Adam Darius to create workshops for drama and theatre students in schools who are studying the IB and IGSCE programs which were held in their centre in Amman, Jordan, culminating in the co-production of the performance Death of a Scarecrow.
New experimental performance arts projects: In this program, the NCCA worked with national professional playwrights to train young adults from the ages of 15 to 20 years old in playwrighting in the summers of 2021 and 2022. These young adults usually come from vulnerable and marginalised communities, and through the program, they can build their capacities in writing for theatre or otherwise. These young people will later see their scripts realised into full musical performances on stage acted out by peers. The plays are directed by the core team members of the NCCA, with the scripts inspired by the young playwrights' lives and the environment they come from.
The NCCA produced three musical plays under this program in each city with 17 young adults participating in the production, performance and playwrighting. This year, the NCCA produced performances in Amman, Karak and Irbid with collaborations with community-based organisations (CBOs) in each city. The centre collaborated with the Jordanian Music Conservatory to enhance the quality of the musical aspect in the production, such as singing and playing instruments.
Last year, the project last year was funded by the US Embassy and this year, by the Norwegian Embassy.
Providing academic curriculum in arts education
The NCCA's objective to incorporate performing arts in all levels of education is being achieved via the following initiatives:
Dance programs: Rania Qamhawi, the Deputy Director of NCCA, met Lina Al Tal through a play that she was choreographing. After their successful collaboration, Qamhawi joined the NCCA to combine dance and theatre in many performances. 

In 1998, NCCA established a dance school in classical ballet and contemporary dance, which is still going strong. The NCCA also founded a professional dance company called

Misk

which performs all over the world. Misk showcases all sorts of dance styles, including folk dance, contemporary dance and other genres.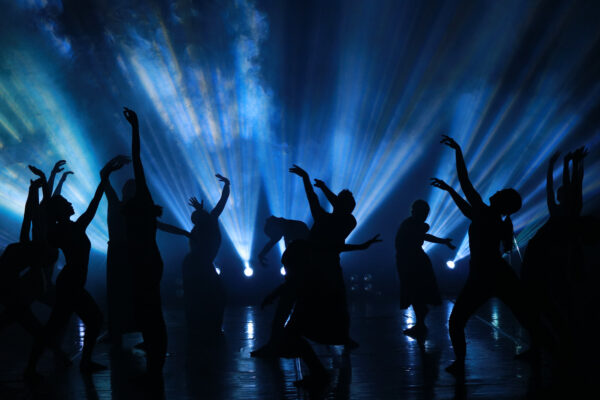 Misk dance company. Photo credit: NCCA.
Theatre school: The NCCA collaborated with the Kennedy Centre and established a theatre school in 1996 which was accredited by the Ministry of Education, where they provide professional training in acting for the youth. The actors that have graduated from the theatre school became some of the brightest and well-established actors in Jordan and in the region.
Drama-in-Education Training: In 2019, the NCCA started training teachers in Jordan to implement drama-in-education and their curriculum in various governates and cities. This training is fully supported by the Ministry of Education. The NCCA team wrote a curriculum and produced a DVD demonstrating the exercises and games for the teachers to use as a reference.
"This year, we are celebrating the 500 teachers that we trained in Karak, Amman, Zarqa and Irbid," said NCCA's Program Director of Arts and Culture, Mohannad Nawafleh, of this wonderful achievement.
The NCCA were able to secure funding from three NGOs: The Norwegian Embassy, the US Department of State and Droses.
Theatre-Based Techniques Training (TBT): This training is offered to young adults to train them in using theatre as a tool to break social and cultural taboos and bring about awareness of these issues. The NCCA offers both an introductory course and an advanced Training of Trainer (TOT) certification funded by the United Nations Population Fund (UNFPA).
The NCCA has also created a manual for the TBT that is accessible online for the public in Arabic and English.
Reaching out to diverse and marginalised audiences
The centre supports inclusivity and has put on professional performances to connect with those in marginalised communities and different groups within Jordanian and non-Jordanian society:
Interactive Theatre: This is one of the more unique programs in NCCA, it being hard to come by in the region. Mohannad Nawafleh, NCCA's Program Director of Arts and Culture, was one of the first people to establish it. The British theatre-maker and interactive theatre specialist Geof Gillham came to Jordan in the 90s and trained the NCCA team professionally, placing the cornerstone for the later establishment of a troupe for the interactive theatre.
"In our Interactive Theatre, we cover societal issues, such as honour killing and gender-based violence, education and oppressive laws in Jordan. We are able to mobilise a large number of audiences throughout this kind of theatre," said Nawafleh.
The NCCA tours this interactive theatre experience around different governances and cities in Jordan. The audience that attends this work is a tapestry of different classes and calibres of Jordanians and non-Jordanians, including those in rural and urban communities, teenagers living in refugee camps and women subjected to gender-based violence. All the plays cleverly handle controversial subjects through impactful dialogue and utilise costumes and changing dialects to make it as familiar as possible to various audience members. These professional performances often become a stimulus for thought-provoking audience discussions afterwards, creating greater awareness of the societal issues.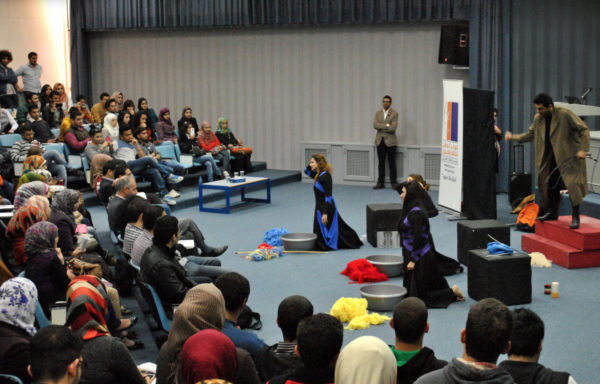 The performance of Cotton Candy – an interactive play that tackles the physical and psychological
abuse of women, touching on themes such as sexual violence during conflicts and forced marriages.
Photo credit: NCCA
Petra Rocks 2012: This was one of the biggest and most successful musical productions in the history of NCCA and was attended by a wide range of audiences. It was directed by Lina Al Tal herself and choreographed by the NCCA's Deputy Director, Rania Qamhawi, and featured many renowned Jordanian artists (dancers, opera singers, actors) to depict Jordanian's heritage and unique civilisation that has survived for almost 3,000 years.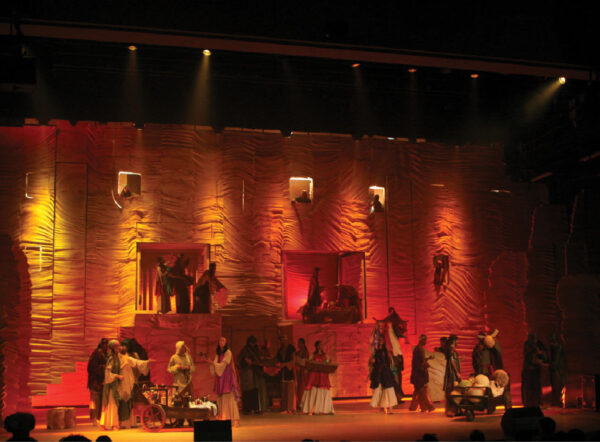 The Petra Rocks performance. Photo credit: NCCA.
Maintaining good working relationships
The NCCA continues to have a special relationship with the government and with the Ministry of Culture and Education in particular. They continuously work together in every program that the NCCA runs and allows the centre full access to schools to teach workshops and give performances during school hours.
The NCCA has also formed partnerships with the UNFPA, UNICEF, USAID, EU, Norwegian Embassy, British Embassy, The Jordanian National Commission for Women and The National Council for Family Affairs which in conjunction with the Ministry of Education and Culture, has created impactful opportunities for performing artists in Jordan.
The paramount support that Lina Al Tal has received from the Royal Family and HRM Queen Noor as she founded the NCCA has empowered it to shape and nourish arts education in public schools and universities such as University of Jordan, Mutah University and German Jordanian University in Jordan. This has enabled NCCA to effectively become a beacon of diversity and a force of change for all, with arts education no longer only reserved to the upper echelons of Jordanian society.
Shereen Zoumot (she/her)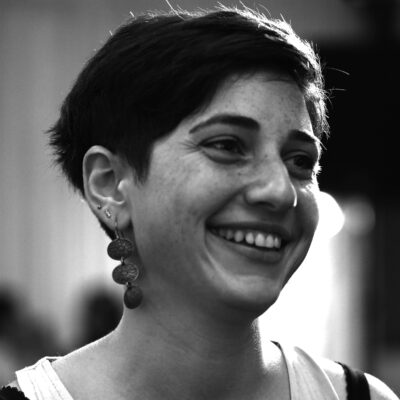 Read More
Shereen Zoumot (she/her) is a Jordanian theatre-maker, performer, facilitator, and researcher. Shereen is a Chevening Scholar and obtained her MA in Performance Making at Goldsmiths University of London. Shereen has worked on international and regional projects, as a performer, director, and facilitator. Such as Egypt, Lebanon, UK, and Denmark. Her career took a big shift when she was the associate director for the international performance, "Queens of Syria," which toured the UK in many cities. Her recent work revolves around queer, refugees, and women's rights themes. She creates private performances in Jordan covering some of the taboos and sensitive themes in the MENA region.

 
What is the Imagine Around the World Project?
A partnership with the British Council Australia, the Imagine Around The World Project aims to document case studies from numerous countries outside of US, UK, Canada, Australia and New Zealand to share best practice and leadership in cultural diversity, cultural equity and inclusion in the arts, screen and creative sectors. This project is managed by Diversity Arts Australia and supported by Creative Equity Toolkit partner, British Council Australia. To find out more click below – or read the other case studies as they go live here.
Find out more