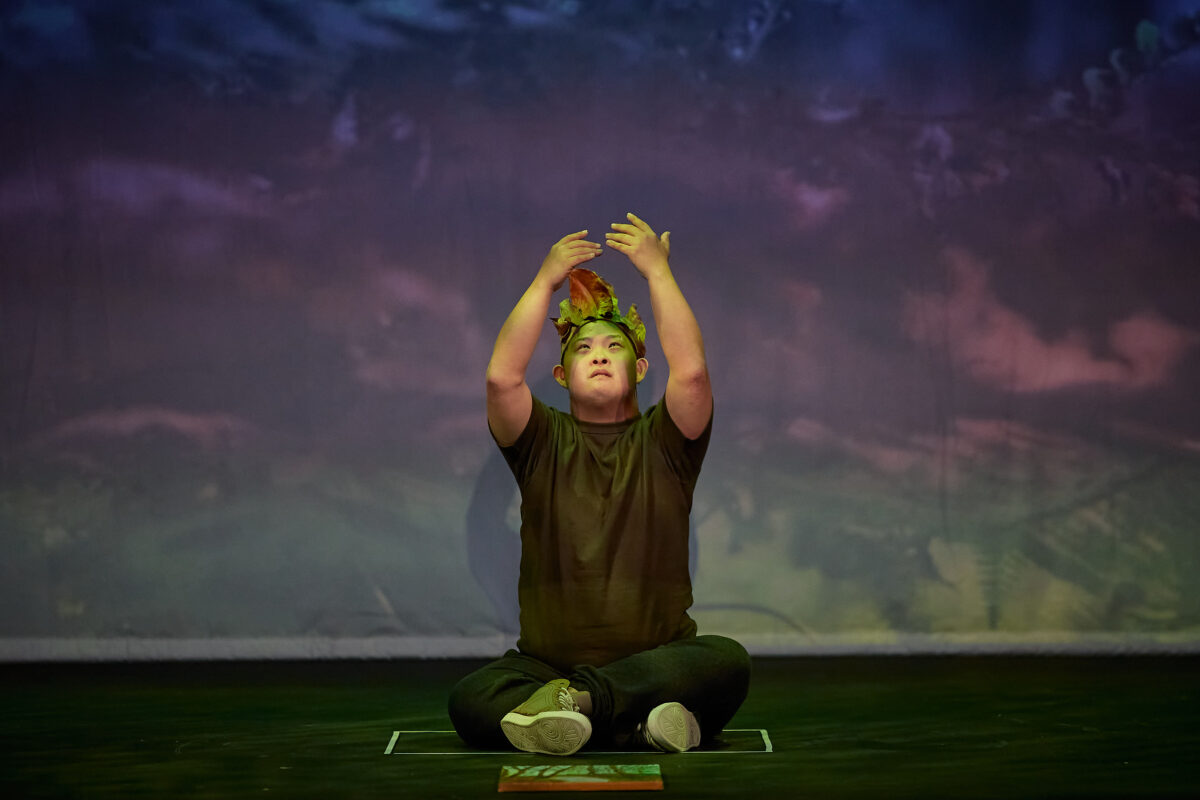 Singapore Repertory Theatre's Inclusive Young Company program
"

The long-term goal of iYC is to not only have artists with disabilities in the performance making, but also to take on and contribute to the industry via leadership roles. Learning how to work with others with different capabilities and building a professional career for themselves is also an important element of the program.

"
Although there is an abundance of theatre training programs in Singapore, the Inclusive Young Company (iYC) program from the Singapore Repertory Theatre (SRT) especially focuses on nurturing and showcasing the talent of young people and adults aged 16 to 35, who identify as persons with disabilities. Since its launch in the first semester of 2021, the iYC program is supported by the Chua Foundation and has challenged the social barrier that theatre is only made for non-disabled artists by offering a holistic training program in partnership with Access Path Productions, an organisation with extensive practical experiences in facilitating disability-led programs. In masterclasses led by international artist Grace Lee-Khoo, iYC participants are mentored to thrive as a performer and as a professional in theatre making.
iYC is successful in building an inclusive curriculum and contributes to capacity building of individuals with disabilities by using the following strategies:
In-depth research and consultation for the iYC Pilot Program (2022)

The team at iYC dedicated months of research and consultation to the program design to devise effective methods of engagement based on the personalities, capabilities and strengths of the participants. These methods are continually reviewed and refined during rehearsals and post-performances to improve the decision-making processes in theatre making and training

.

 

Active recruitment strategies




Potential candidates are recruited via participant advocacy, caregiver outreach and open house events. iYC also promotes the program with their docufilms which highlights the benefits of joining the program.

Practical training and mentorship




Participants learn the program's module content which covers the main theatre training topics. They are mentored by creative enablers and Platform Artists who also share valuable industry knowledge with them.




Professional career development




Through the program's encouragement and guidance, participants learn valuable strategies on how to work with other disabled artists with diverse capabilities and collaborate with each other, making it possible to co-create projects together and work on international stages.
The inaccessibility to theatre making is rooted in the power imbalance between stakeholders, participants and audiences, where the focus is often on highlighting the individual's disability rather than providing accessible solutions that break down the barrier to entry for talented artists with disabilities. As a result, both SRT and Access Path Productions aim to level the playing field by working closely with iYC participants to develop and hone their diverse capabilities and to represent their personal experiences in the final theatre production. Altogether, it expands the boundaries of inclusivity within the performing arts sector in Singapore.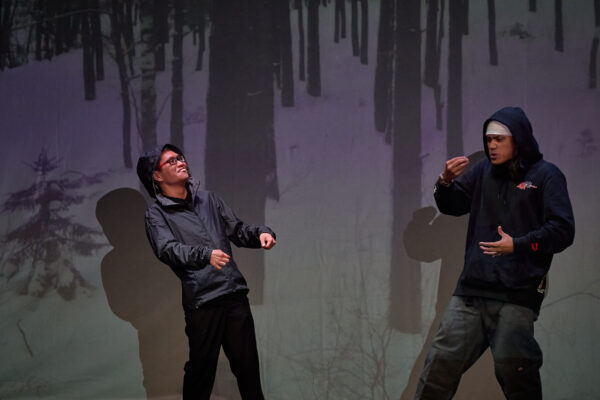 iYC production in progress. Photo credit: Singapore Repertory Theatre.
In-depth research and consultation for the iYC Pilot Program (2022)
Intensive research and consultation were deployed in the development of the iYC program. As theatre making theories and curriculum have long been associated with the non-disabled, the lack of artistic development options and safe spaces for people with disabilities had prompted iYC to shift away from a one-size-fits-all approach when researching for participant engagement methods. By avoiding focus groups, which generalises and overlooks the diversity in skill sets and capabilities among participants, the iYC team focused on personalised consultations with participants to highlight their needs and wants during the theatre-training process. This means understanding and fulfilling access requirements, such as providing wheelchair friendly spaces, sign language interpretations, audio description and Braille text, and visual friendly journals and learning materials.
Over a period of nine months in the pilot year, the iYC team trialled, adapted and devised various ways of participant engagement and collated the most effective methods to be used during the subsequent launch of new iYC semesters. The focus was on customising the methods to the individual profiles of the participants to account for each participant's personality, capabilities, motivations and strengths. Throughout the pilot year, rehearsal feedback was gathered from the participants, mentors and audiences to continuously refine and improve the decision-making processes in theatre making.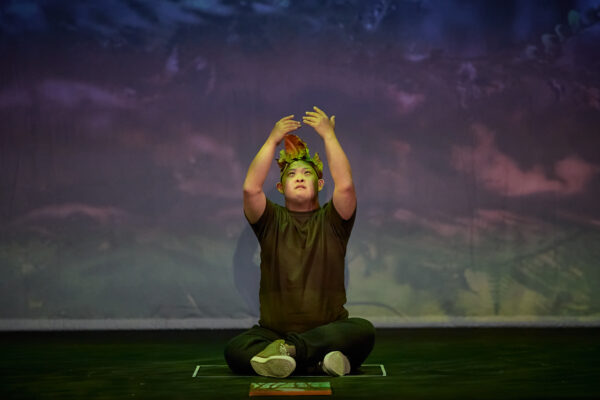 iYC production in progress. Photo credit: Singapore Repertory Theatre.
Active recruitment strategies
iYC's recruitment strategy is dependent on participant advocacy, caregiver outreach and open house events. The biggest hurdle in attracting talent is often the lack of awareness that programs such as iYC exist to support the artistic pursuits of persons with disabilities. Recruitment consultants for the program work to champion iYC by creating docufilms to highlight past participant experiences and the benefits of joining the program. iYC also reaches out to the caregivers' community within social service agencies (SADeaf, SG Enable, Access Arts Hub), who are best placed to connect potential participants to the iYC program and support them in the process; for example, helping participants to physically register for open auditions and assisting them with transport to rehearsal spaces. The ripple effect of word-of-mouth marketing further extends the program's reach to special education teachers within international schools, who can then collaborate with iYC to explore possible opportunities for their students. Open house events allow for potential applicants to sit in on the masterclasses and performance rehearsals to get a sense of what the iYC program is about and gives caregivers a chance speak to SRT directly – all of which helps to build relationships and trust between the participants and their caregivers and the iYC.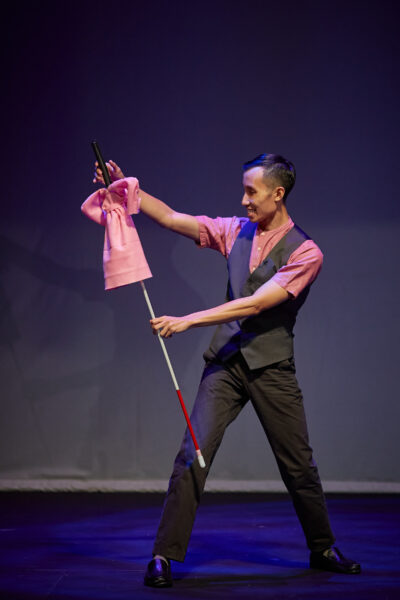 iYC production in progress. Photo credit: Singapore Repertory Theatre.
Practical training and mentorship
Potential applicants of the iYC program are invited to attend an open audition, with different access options made available to them, such as wayfinding from subway stations to audition rooms or remote Zoom meetings for those with mobility challenges. Successful applicants who have been selected go on to attend regular workshops to receive theatre training in a structured program of module content covering voiceworks, physical theatre, directing and improvisation throughout the year to give them exposure to the different ways of theatre making.
The participants are mentored by creative enablers who not only provide practical theatre training but also share valuable industry knowledge about the audition processes for commercials and how to collaborate with directors and producers. Shared knowledge is also exchanged between participants to further enhance skill sets in different areas and strengthen relationships. Participants can also attend Platform Artist showcases from award-winning performers in the field. One such platform artist was award-winning deaf performer Ramesh Meyyappan, who was invited to speak to participants and is living proof that it is possible to venture into the arts world as a deaf artist.
Professional career development
The long-term goal of iYC is to not only have artists with disabilities in the performance making, but also to take on and contribute to the industry via leadership roles. Learning how to work with others with different capabilities and building a professional career for themselves is also an important element of the program. Despite modes of communication that may range from verbal cues, body gestures and musical skills, creative enablers were effective in facilitating discussions that highlighted the shared lived experiences of persons with disabilities, and through consultations with those present with diverse needs, strengths and capacities, participants were provided with strategies to navigate through the differences and collaborate with each other. At iYC, differences are celebrated and the program is not a device to theatre making but works as an ensemble of pooling together diverse strengths.
Overall, the iYC program demonstrates the practical steps to opening up the world of theatre for persons with disabilities. It emphasises collaboration and a way to adapt and listen to a wide range of personalities and unpack the umbrella term of "disabilities" into spectrums beyond physical mobility (such as medical, learning and neurodivergent). This program is testament to the fact that new processes can be devised in rehearsals and challenge what has been the norm in theatre making that caters to the non-disabled. iYC's inclusive efforts have led participants to initiate their own projects with other iYC participants, to contribute to international productions by collaborating with the British Council in standup shows and to perform with other companies and build platforms for themselves. By not portraying disability as a social stigma or a major barrier to participation, persons with disabilities can finally gain the confidence to tell their stories and shine in front of audiences.
Wennie Yang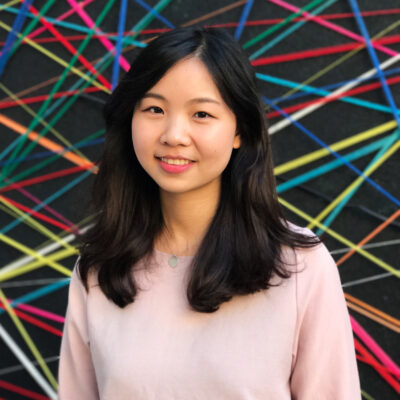 Read More
Wennie Yang is a finance administrator and cultural worker originating from Toronto, Canada with arts management experiences in organisations spanning from Toronto and to Singapore (Luminato Festival, Writers Guild of Canada, Toronto International Film Festival, Chan + Hori Contemporary, Singapore International Film Festival). After graduating with a Bachelor of Accounting & Financial Management at University of Waterloo, she further completed her MA in Arts and Cultural Leadership at LASALLE College of the Arts. Now based in Singapore, Wennie actively pursued opportunities in optimising not-for-profit processes through pro-bono skills volunteering, as well as documenting regional events in Southeast Asia as a Freelance Contributor to ArtsEquator

 
What is the Imagine Around the World Project?
A partnership with the British Council Australia, the Imagine Around The World Project aims to document case studies from numerous countries outside of US, UK, Canada, Australia and New Zealand to share best practice and leadership in cultural diversity, cultural equity and inclusion in the arts, screen and creative sectors. This project is managed by Diversity Arts Australia and supported by Creative Equity Toolkit partner, British Council Australia. To find out more click below – or read the other case studies as they go live here.
Find out more