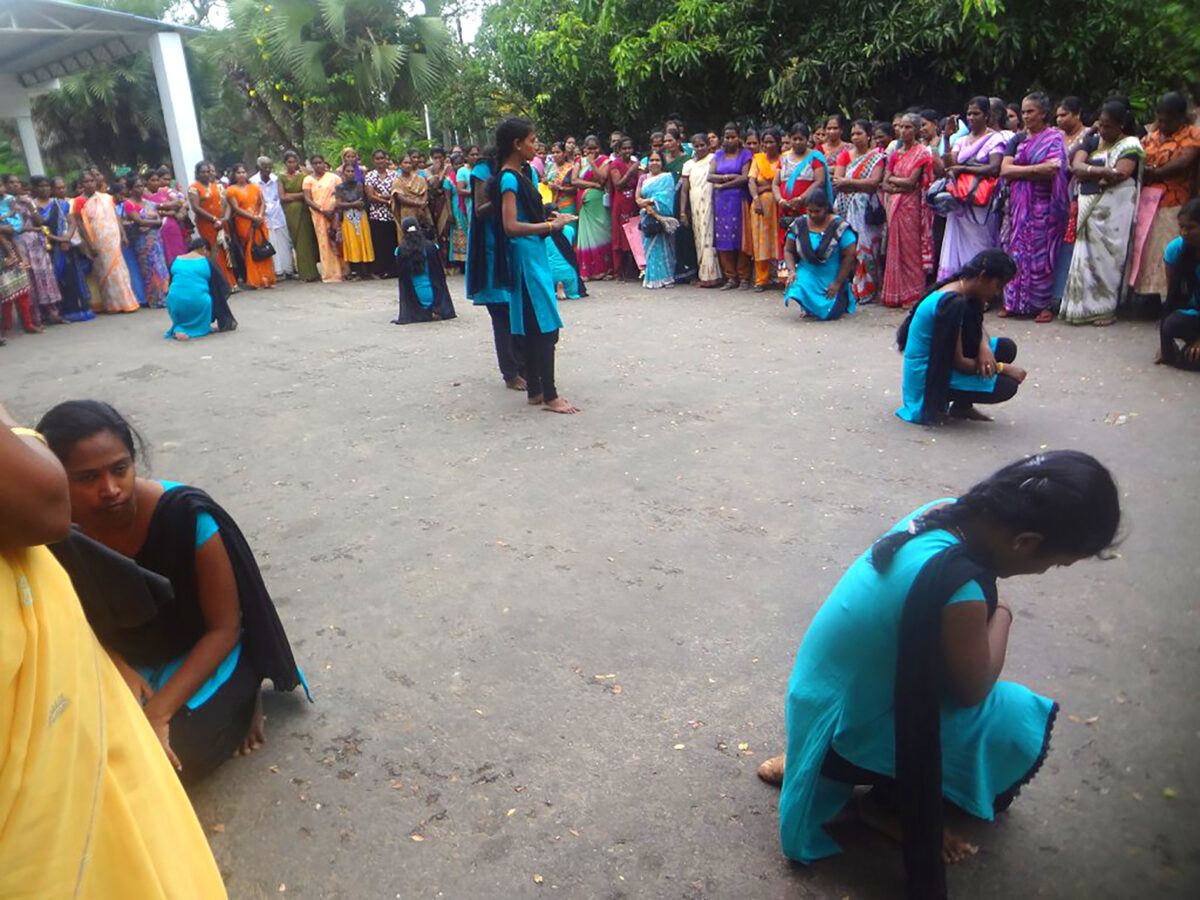 Sri Lanka's Suriya Women's Development Centre
"These conversations serve to empower women to speak out about gender inequality, while also educating female and male members of the local communities about preventing violence and discrimination against women."
Suriya Women's Development Centre has been working with women in Sri Lanka since 1990 with the aim to create an equitable and peaceful society which treats women with dignity. One of the highlights of Suriya Women's Development Centre is its all-women cultural group which conducts public performances, applying traditional and contemporary theatre tools to disseminate messaging on the rights and dignity of women. The Cultural Group has become the voice of women in the Eastern Province who are constantly challenged by the externally imposed semi-militarised state administration and the internally validated conservative cultural traditions, which continue to supress women's rights.
The key attributes of Suriya's cultural activism are:
Integrating cultural activism into programs
Suriya's Cultural Group uses theatre activities to empower and educate women in local communities and support them in overcoming the challenging issues they face such as violence, discrimination and gender inequality.
Applying culturally appropriate methods
A combination of traditional and contemporary theatre arts techniques is implemented in the Cultural Group's theatre productions which present important themes to educate audience members and encourage discussion.
Adopting a collaborative creative development process
Artists from the Cultural Group work with a diverse range of external stakeholders to take their messages out to the communities.
Building a resilient community arts practice
Through the unceasing efforts of the Cultural Group via their groundbreaking theatre activities, disadvantaged women in society now have a voice and a platform to rise up against gender inequality and discriminatory indigenous cultural practices.
The Eastern Province of Sri Lanka, where Suriya Women's Development Centre operates, was severely affected by the many decades of civil war which had placed women in desperate situations where many experienced a loss of assets and loss of family members due to conflict, arrests and disappearances as well as displacement and refugeehood. The Suriya Women's Development Centre was originally set up to assist displaced women and children affected by the war to help women deal with their loss of family and their livelihoods by offering various activities such as aid, workshops and clinics. Although the war had ended in 2009, nearly a quarter of households are still headed by women, with many of them suffering from abject poverty, underage marriages, child pregnancies and violence. This means the need for Suriya's intervention and support for women has never diminished after the war, so the Centre remains active as one of the important access points for women at risk. Currently, Suriya runs a number of programs on preventing violence against women, legal support and education, among other things. Suriya's all-women Cultural Group adds value to these programs by utilising arts, mainly via theatre performances, to raise awareness among women in different communities as well as advocate for gender equality.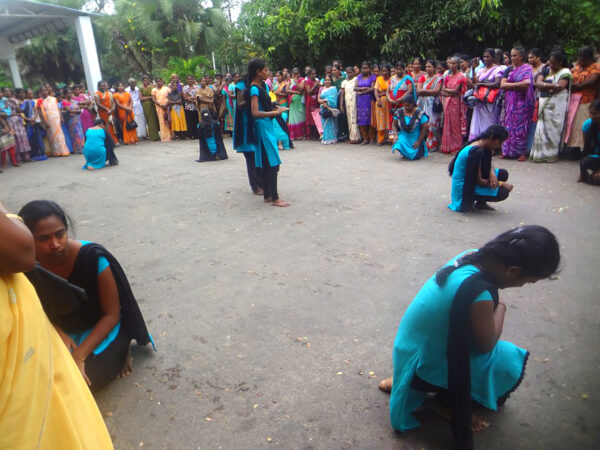 Suriya's all-women Cultural Group performing for women in different communities. Photo credit: Suriya Women's Development Centre.
Integrating cultural activism into programs
The Cultural Group's theatre productions are designed to educate and empower women to overcome the violence and inequality they experience on multiple levels, and their works cover a range of themes such as domestic violence, women's consent to marriage, women's economic rights and dealing with loss and grief associated with death or disappearances of their loved ones. The creative development process adopted by the Cultural Group is organically integrated into all of Suriya's other programs. The staff of Suriya closely engage with women in different communities on a grassroots level by running in-house services and community outreach. Through these activities, the staff of Suriya constantly receive information on the problems women are facing at multiple levels—in their own households, in their local communities and in their interactions with government authorities. Suriya then uses this insightful information to continually design, modify and refine their programs to make them more effective and impactful in their efforts to empower and support women. As a result of this, the Cultural Group can identify themes for their performances and stories for their plays through this grassroots level of engagement with women in the different communities within the Eastern Province to create greater awareness.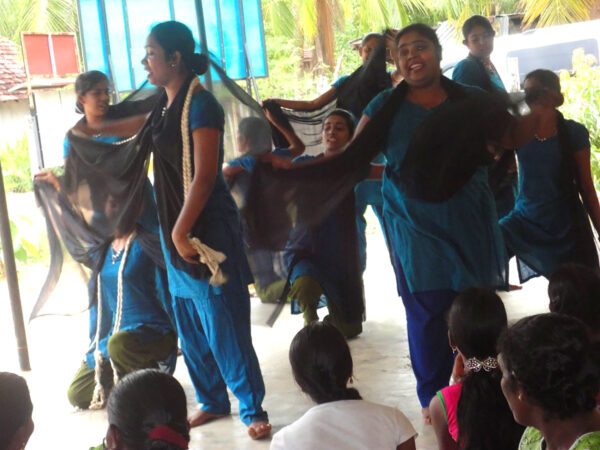 Dancing and singing are integral parts of Suriya's performances to create awareness about important themes and issues for women. Photo credit: Suriya Women's Development Centre.
Applying culturally appropriate methods
Education and awareness programs designed to address some of the problems affecting women in the Eastern Province communities are complimented by theatre activities developed by the Cultural Group; on some occasions, through a collaborative process engaging the women who are experiencing such problems. The Cultural Group do this successfully by incorporating the tools and methods of local arts traditions such as 'Naattakkoothu' folk theatre or 'Villappattu' folk song-based performances in combination with contemporary theatre arts techniques in their theatre productions. The performances are presented in enclosed premises as well as public spaces such as markets or temple festivals. Most of the time, the performances are followed by formal or informal discussions, where the Cultural Group engages in conversations with the audience members concerning the issues presented in the theatre pieces. These conversations serve to empower women to speak out about gender inequality, while also educating female and male members of the local communities about preventing violence and discrimination against women.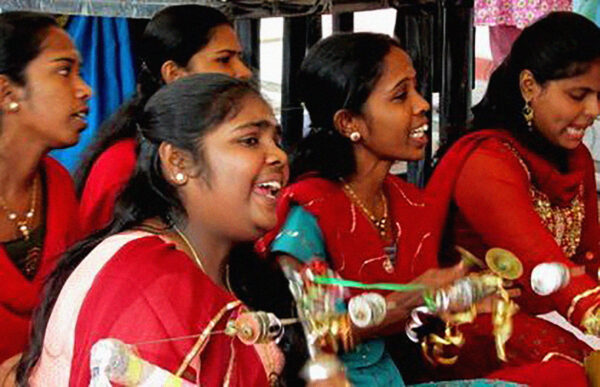 Traditional 'Villappattu' folk song-based performances are combined with contemporary arts techniques in the Cultural Group's theatre productions. Photo credit: Suriya Women's Development Centre.
Adopting a collaborative creative development process
In addition to creating in-house theatre pieces, the artists from the Cultural Group also collaborates with academics, theatre practitioners and government or non-government agencies. For example, in 2021, the Suriya performers collaborated with a local theatre group to present a series of performances to promote the nutritional benefits of indigenous culinary traditions by incorporating traditional folk songs in the performances. In the same year, the Cultural Group also collaborated with a university research team using theatre-based research tools to investigate conflict-related violence experienced by women.
The Cultural Group has always been quick to respond to the most pressing issues affecting women through their theatre activities. For example, during the pandemic lockdown, the members of the theatre group documented and shared stories of gender inequality remotely by using telephones and online tools and developed a play which was performed soon after the lockdown was lifted. Through their work, the Cultural Group was able to unite women of all backgrounds in the theatre space. Suriya only has some interaction with Sinhalese women since just a few Sinhalese families live in their catchment areas, but many Muslim women benefit from their services. As a result of this, some Muslim women occasionally perform with the Cultural Group and their stories are presented in the theatre pieces.
Building a resilient community arts practice
For nearly three decades, Suriya's Cultural Group has operated determinedly despite facing numerous challenges created by the civil war, followed by the restrictions instituted by semi-militarised administrative systems. Women's security has been always a major concern for Suriya and they continue to voice their concerns through theatre activities, which, during the civil war, had been censored or controlled. Other major concerns have come from within the local communities to highlight and address the indigenous cultural practices which are still discriminating or degrading women, particularly for those who are widowed or disabled, those who have experienced sexual violence or those who had been former militants during the war. Suriya has opened its doors for thousands of such disadvantaged women and continue to share the memories of those women and many more in the present day through the Cultural Group's collaborative and life-changing theatre activities, to unswervingly dispel gender bias and cultural myths and demand equality for women in Sri Lankan society.
Dr Visakesa Chandrasekaram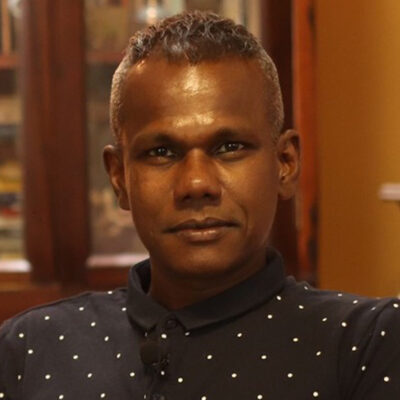 Read More
Dr Visakesa Chandrasekaram is a lawyer, academic and an artist. He has made two feature films – 'Sayapethi Kusuma' (Frangipani) and 'Paangshu' (Earth) which won many international awards. He has published two novels – 'Tigers Don't Confess' and 'The King and the Assassin'. He has written and directed several stage plays including 'Forbidden Area', which won the Gratiean Prize. Visakesa has worked in Sri Lanka as a human rights lawyer and in Australia as a diversity consultant to the NSW Government. He currently works as a senior lecturer in the Faculty of Law in University of Colombo.

 
What is the Imagine Around the World Project?
A partnership with the British Council Australia, the Imagine Around The World Project aims to document case studies from numerous countries outside of US, UK, Canada, Australia and New Zealand to share best practice and leadership in cultural diversity, cultural equity and inclusion in the arts, screen and creative sectors. This project is managed by Diversity Arts Australia and supported by Creative Equity Toolkit partner, British Council Australia. To find out more click below – or read the other case studies as they go live here.
Find out more