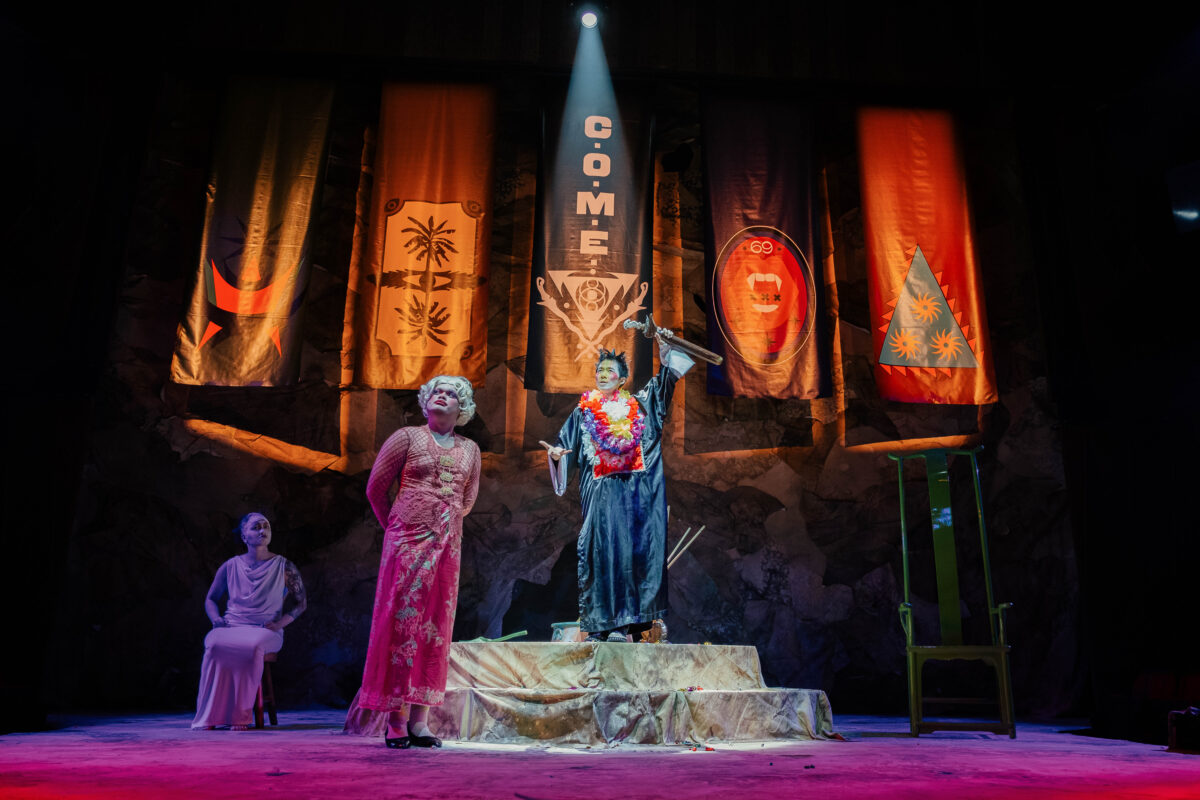 Singapore's Teater Ekamatra
"

Teater Ekamatra has a bigger role in the community and it is to support talent in ethnic minority communities who otherwise would struggle in producing and making works to represent their voices. At times, these voices may refer to sensitive, difficult or taboo topics, such as gender issues, suicide and racial inequality which some audiences in the Malay community may find controversial.

"
Teater Ekamatra ('First Measurement or Only Amount Theatre') originally began in 1988 as a Malay theatre company in Singapore that focused on productions with Malay socio-political themes. It has since evolved into an arts company that champions intercultural collaboration and puts the spotlight on other diverse ethnicities and global issues. As the macro-environment in Singapore has changed, Teater Ekamatra recognised that the organisation should not operate in silo and has actively staged daring works to prompt further introspection of urgent and less explored themes. Under the leadership of Artistic Director Mohd Fared Jainal and a group of dedicated associate artists and collaborators, Teater Ekamatra has produced award-winning productions that has won theatre awards, including the Best Original Script, throughout the years as well as developed robust education and outreach programs to nurture emerging talents in the areas of acting, directing and playwriting.
Teater Ekamatra has demonstrated how diversity in the arts can be promoted in the following ways:
Adapting to the changing macro environment 

Teater Ekamatra strives to stay relevant to the audiences by adapting to the larger socio-political backdrop and identifying gaps where artists are displaced due to company closure.

 

Creating a sense of belonging among artists and collaborators 


Operating the company without an exclusive membership or audition model enables many aspiring artists from different backgrounds to develop their careers in theatre-making.
Training new talent


New talent is nurtured in both acting and technical skills through education and outreach programs as well as mentorship from local theatre expertise.

Negotiating barriers 


The company is prepared with plan Bs should artistic integrity be challenged, leaving room for negotiation without having to compromise between their goals and external demands.
Since the 2000s, the ecology of Teater Ekamatra has included non-Malay actors and collaborators (e.g., arts managers, set and lighting designers, directors) from the rest of the arts sector in order to widen the talent horizon and push new projects that enrich the company's programming.
Adapting to the changing macro environment
While Teater Ekamatra had originally started operating with a focus on Malay artists and talent, the company has reviewed the arts landscape and recognised that the socio-political environment has changed in Singapore and it was not beneficial to work in silo. It was also important not to stage production after production without building and enriching the ecosystem that Teater Ekamatra resided in. Looking introspectively, the idea of "being Malay" encompasses many different meanings, subcultures and diverse origin and history of communities within the Malay Archipelago.
The larger question of "how Malay is an individual" has no set answer and Teater Ekamatra has strived to spotlight topics that resonate and represent ethnic minorities in productions. The position of Teater Ekamatra has shifted from the superficial level of merely performance-making year after year to finding purpose to exist in the arts community at large. Teater Ekamatra has a bigger role in the community and it is to support talent in ethnic minority communities who otherwise would struggle in producing and making works to represent their voices. At times, these voices may refer to sensitive, difficult or taboo topics, such as gender issues, suicide and racial inequality which some audiences in the Malay community may find controversial.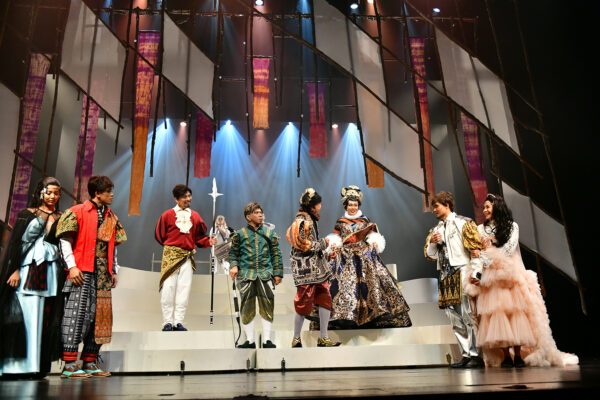 A performance of Bangsawan Gemala Malam (a transcreation of A Midsummer Night's Dream by William Shakespeare). Photo credit: Akbar Syadiq, Teater Ekamatra.
Creating a sense of belonging among artists and collaborators
Unlike the majority of theatre spaces in Singapore, Teater Ekamatra does not operate in a membership model or audition model, meaning that anyone can work directly or indirectly with the company, especially those from diverse groups and backgrounds who are keen to develop a career on theatre-making. For example, dancer and choreographer Ruby Jayaseelan may have a portfolio of brilliant works, but she may not be directly involved as an actor. Instead, Jayaseelan has played an instrumental role in most of the Teater Ekamatra's productions, which included laying out groundworks and offering advice from her forte of body and conditioning work. Teater Ekamatra has also provided support for Jayaseelan's career and helped her to grow and develop into an associate artist in the company.
Creating a safe space is also a priority for Teater Ekamatra and they have supported other theatre friends whose companies have had to close. The closure of the Ravindran Drama Group (RDG), a Tamil theatre company which focused on presenting socially relevant plays, has meant that their artists would be displaced without a proper platform. Teater Ekamatra had invited the former artists from RDG to join in their productions in order to keep the momentum going and to preserve the representation of Tamil theatre. Many supporters of Teater Ekamatra often identify themselves as a part of the company, despite having no official titles in the organisation. The sense of belonging to Teater Ekamatra has led to successful fundraising campaigns, such as AMBOI!, which achieved and even exceeded their donation targets.
Training new talent
In order to constantly produce and stage unique works that highlight the diversity in Singapore's arts sector, Teater Ekamatra had recognised the importance of nurturing new talents, both in acting and technical aspects. Through education and outreach programs such as the Playwright Mentorship Programme (PMP), it provides a platform for trainees to develop their skills in directing, playwriting, and showcasing their scripts in table readings and black-box productions as well as include them in productions through internships and volunteer jobs.
The platform also offers mentorship from local theatre expertise, such as acclaimed playwright Zulfadli "Big" Rashid, who had an extensive collaboration history with local and international theatre-makers and is generous in sharing his 15 years of practice to the new generation of mentees. Altogether, the new talents combine their passion for theatre and comprehensive training to pave their own paths of becoming Teater Ekamatra's associate artists. Some move on to become nominees and winners for the Best Original Script award at the annual Life! Theatre Awards that honour the best stage productions, actors/actresses, directors and playwrights from Singapore.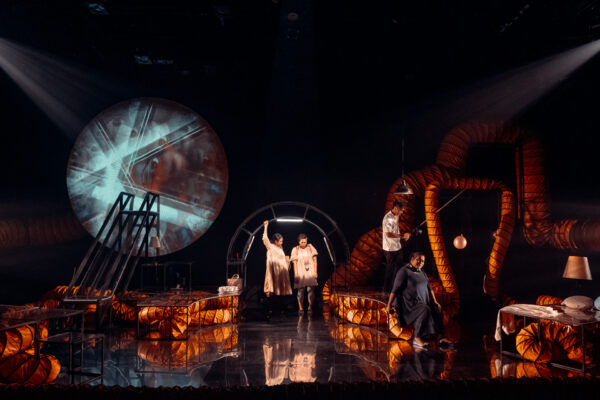 A performance of Berak, a play about suicide. Photo credit: Akbar Syadiq, Teater Ekamatra.
Negotiating barriers
Teater Ekamatra, being who they are, often faces barriers that need to be negotiated. Rather than compromising to external demands, the company always challenges the system in creative ways. There were times when productions were forced to be cancelled due to the COVID-19 pandemic; difficult conversations were had with government regulatory bodies; and negotiations with internal facilities security at venues were needed. The company has persisted by coming up with plan Bs such as switching over to virtual theatres via Zoom in the face of cancellations and working with a network of social workers, educators and lawmakers to ensure sensitive topics are presented fairly and within what is permissible in licensing for productions. A comprehensive network of non-theatre collaborators was invited to have talks and workshops before the scriptwriting began and add value to the creative process.
Teater Ekamatra has showcased diverse talent in the Malay and ethnic minority communities in Singapore by constantly realigning themselves with the changing arts ecosystem they reside in and with global stages. Teater Ekamatra emphasises that it is important not to forget one's roots and the community that one wishes to serve. Currently and into the near future, the company will keep on pushing boundaries to not just feed stories to the population of Malay and non-Malay people, but also focus on representing difficult issues creatively.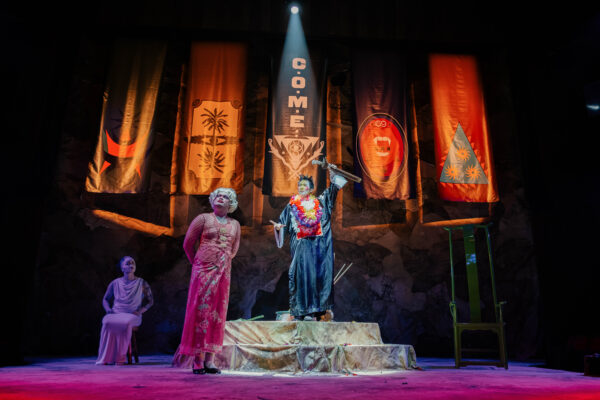 A performance of Make Hantus Great Again, a supernatural and political comedy. Photo credit: Akbar Syadiq, Teater Ekamatra.
Wennie Yang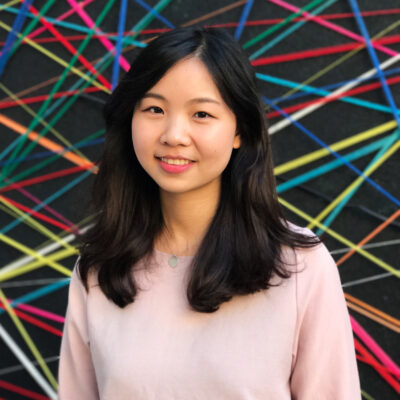 Read More
Wennie Yang is a finance administrator and cultural worker originating from Toronto, Canada with arts management experiences in organisations spanning from Toronto and to Singapore (Luminato Festival, Writers Guild of Canada, Toronto International Film Festival, Chan + Hori Contemporary, Singapore International Film Festival). After graduating with a Bachelor of Accounting & Financial Management at University of Waterloo, she further completed her MA in Arts and Cultural Leadership at LASALLE College of the Arts. Now based in Singapore, Wennie actively pursued opportunities in optimising not-for-profit processes through pro-bono skills volunteering, as well as documenting regional events in Southeast Asia as a Freelance Contributor to ArtsEquator

 
What is the Imagine Around the World Project?
A partnership with the British Council Australia, the Imagine Around The World Project aims to document case studies from numerous countries outside of US, UK, Canada, Australia and New Zealand to share best practice and leadership in cultural diversity, cultural equity and inclusion in the arts, screen and creative sectors. This project is managed by Diversity Arts Australia and supported by Creative Equity Toolkit partner, British Council Australia. To find out more click below – or read the other case studies as they go live here.
Find out more