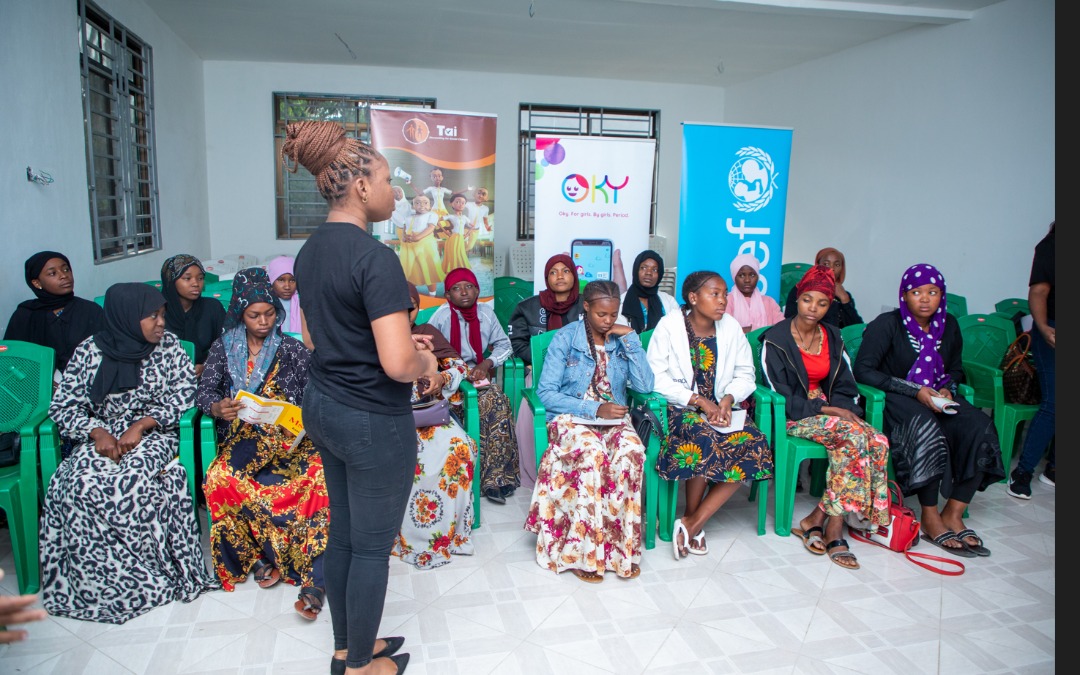 "A turning point was to start thinking about how we can, together, do something bigger than ourselves."
Founded in 2013, Tai Tanzania uses storytelling tools such as 3D animation, radio dramas and short comics to influence positive behavioural change in adolescents by raising awareness about critical social community issues.
This non-profit organisation follows these three key principles:
Creating with beneficiaries, for beneficiaries




Tai Tanzania uses a human-centred design approach in their creative process to ensure its content begins and ends with the beneficiaries they are creating for. This means that everyone is involved, from those in the community to stakeholders and experts in the field.

Ensuring reach and engagement




To

 cater for those who do not have digital access to their content, Tai Tanzania works with local partners to set up "mobile theatres", radio stations to broadcast radio dramas and schools to display posters of comic strips on their bulletin boards so young people still have the opportunity to enjoy and engage with the content.

Building great team spirit




Tai Tanzania provides job opportunities to those in the community by employing a youth-led team, who are valued for their collective creative input to produce relevant and meaningful content. Skill building and development across different areas of interest are encouraged, and the organisation also places an emphasis on the health and well-being of its staff.
The beginning of this journey was far from easy when Tai Tanzania was first formed. Many young people in Tanzania were not interested in having 'serious' conversations about the challenging social issues affecting the community. After many years of volunteering in secondary schools, the founder, Ian Tarimo, knew something different had to be done when speaking about and addressing critical issues to young people. "A turning point was to start thinking about how we can, together, do something bigger than ourselves," Ian recalls. Through the introduction of animation as a tool to create meaningful content based on these social issues, there was a noticeable increase in those participating in these conversations and higher attendance rates in the after-school secondary clubs.
Tai Tanzania has initiated numerous projects to advocate for non-mainstream topics that are difficult to talk about, such as key issues around sexual reproductive health, menstrual health management and gender-based violence. Through impactful storytelling, they are also challenging community perceptions on educating the girl child to promote equal access to education, people living with disability, albinism, female genital mutilation, child marriages and the many more problems that marginalised groups in Tanzania face. Their animation films also cover common health issues or illnesses, such as malaria in Mbuland, which won the Best East African Animated Film award at the 2022 Kwetu International Animation Film Festival.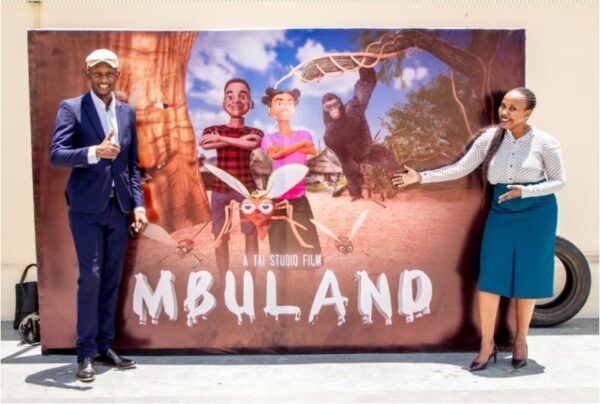 Tai Tanzania's founder Ian Tarimo and Head of Operations and Programs Deborah Maboya at the premiere of their animation film, Mbuland. Photo credit: Tai Tanzania.
Creating with beneficiaries, for beneficiaries
"Moments of success are when viewers get to see themselves in these characters," says Ian. One of the key learnings has been looking at storytelling as an ecosystem where everyone has to be involved, from the characters they were trying to bring out to the stakeholders that play a role. In order to relay the story, they need to get to the root cause of the issue.
As storytellers, when doing research to create the stories, it is important to remove biases and stereotypes by creating tools and guidelines and reaching out to experts who regularly work in the field. Ian recalls when creating the animation based on albinism, the first thought was to talk about "the effects of the killings that had been happening to children living with albinism caused by outdated beliefs"; however, after much engagement with different community members, the children themselves mentioned being overprotected as their main challenge as they felt overly shielded by their guardians. Therefore, the story had to change regardless of the initial idea and intention.
Ensuring reach and engagement
It is one thing to create the content and another to deliver it. "How do we reach out to schoolchildren and how do we engage adults in these conversations?" were the important questions the team at Tai Tanzania were asking themselves. The use of technology, social media and digital channels enables Tai Tanzania's mass reach; however, Tanzania's internet penetration rate stood at only 25% of the total population at the start of 2022. The majority of adolescents still do not have frequent access to internet-enabled phones or television, therefore posing a challenge when it comes to delivering the content.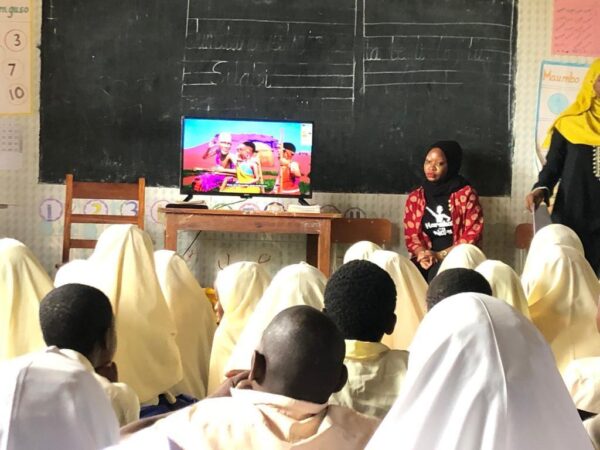 A Tai Tanzania staff member showcasing an animation film in a rural school in Tanzania. Photo credit: Tai Tanzania.
To ensure their content reaches the intended audience, Tai Tanzania taps into existing organisations that have networks and provides their animations free of charge along with a user manual on how facilitators can engage audiences and spark conversations about the themes and issues presented in the content. Tai Tanzania has also used other innovative approaches such as mobile theatre set-ups powered by generators as well as breaking down the 3D animations into easier-to-access content, such as radio dramas that can be listened to on community radio programs and short comics that can be used as posters on school bulletin boards.
The right partnerships and stakeholder involvement is key to achieving this. Tai seeks to collaborate with other organizations with similar missions of empowering young people from marginalized communities. They are partnering with local & international organizations such as Girl Effect, Msichana Initiative, C-sema, UNICEF, UNFPA, UNESCO and more. Recently, they have extended the partnership to a national media house, where the animation films and radio drama will be aired for a wider audience.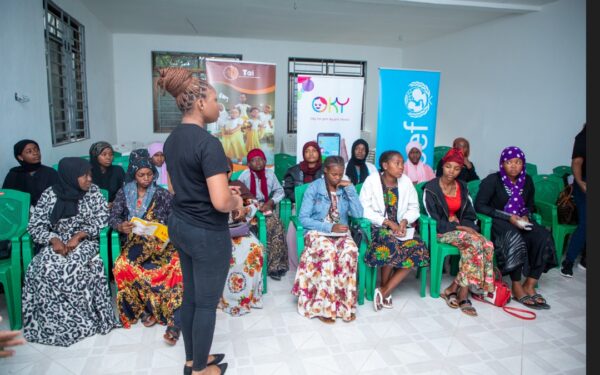 Tai Tanzania conducts a human-centred design co-creation activity with girls from the community for the Oky Period app in partnership with the Mingati Company, Rlabs and UNICEF. Photo credit Tai Tanzania.
Building great team spirit
In support of its mission to provide young people with opportunities, the heart of Tai Tanzania's operations is run by a youth-led team, which results in even greater impact in the creation of current, relevant and meaningful content. The organisation's working culture can be described as fun, mission-driven and most importantly, creative.
Many of the staff who are in key positions at Tai Tanzania began as volunteers. Ian highlights this as an important aspect as it always connects individuals to a higher purpose which is one of the organisation's values. The team is highly agile and adaptive to the changing projects the organisation has had over the years. Everyone is involved in the projects created in one way or another, which not only allows for greater creative input but also increases skill-building and development across different areas of interest.
The COVID-19 pandemic was a pivotal moment for the team at Tai Tanzania to recognise the value of taking care of one's well-being. Now, employees are supported with mandatory leave, and health insurance benefits and attend regular well-being meetings. This has resulted in better team spirit and a better quality of work.
Brenda Jerome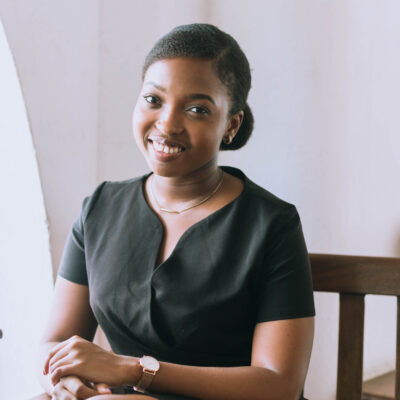 Read More
Brenda Jerome is a creative storyteller from Tanzania, with an incredible passion to use media and technology to contribute to building a better Africa. Her work involves writing, designing and creating innovative content that speaks and resonates across multiple media channels. As a youth changemaker who has worked alongside various development organisations, she advocates to solve global challenges around poverty, gender equality and good health.

 
What is the Imagine Around the World Project?
A partnership with the British Council Australia, the Imagine Around The World Project aims to document case studies from numerous countries outside of US, UK, Canada, Australia and New Zealand to share best practice and leadership in cultural diversity, cultural equity and inclusion in the arts, screen and creative sectors. This project is managed by Diversity Arts Australia and supported by Creative Equity Toolkit partner, British Council Australia. To find out more click below – or read the other case studies as they go live here.
Find out more