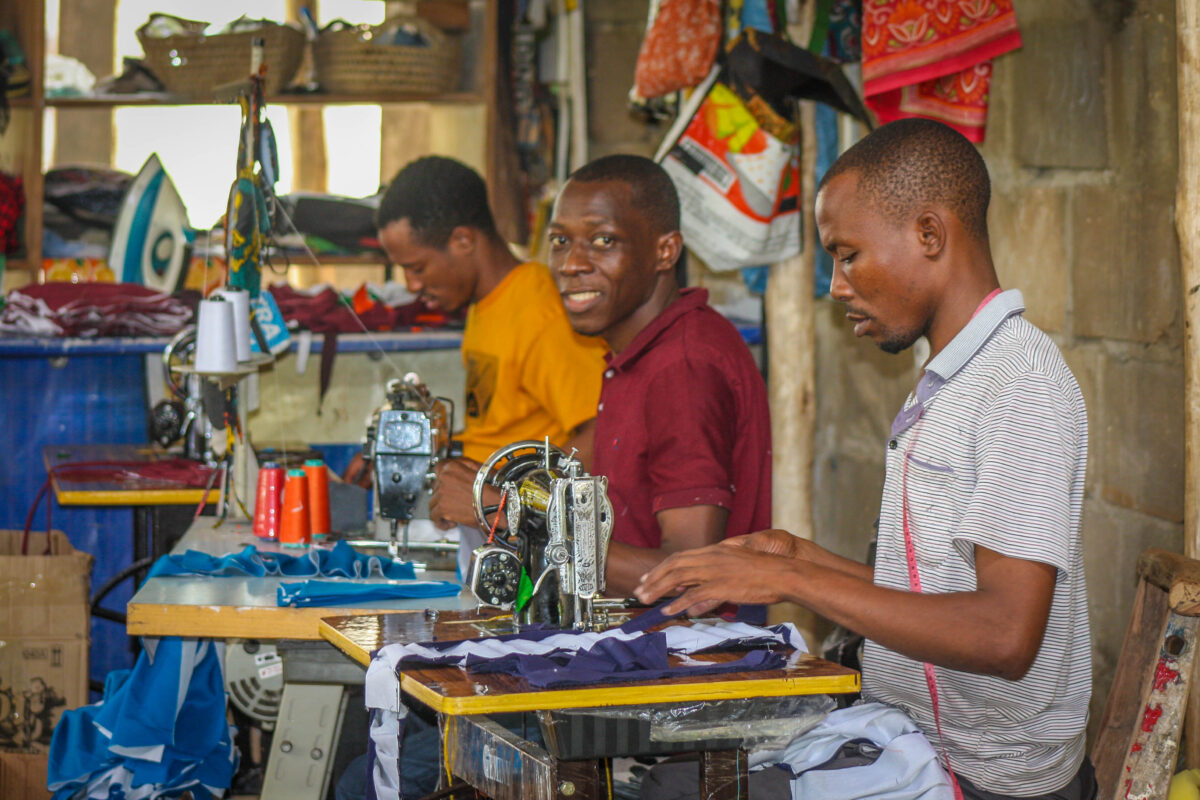 Tanzania's AfriCraft Fair Trade Organisation
"You may find that there are times that we hit low moments. When those moments come, we collectively sit together and talk about the reality and because we have established trust with our team, they understand us."
AfriCraft is a member of the World Fair Trade Organization which creates unique handmade, upcycled products from recycled waste materials to generate employment opportunities and income for its employees as well as support various community initiatives through the AfriCraft NGO for Tanzania's less fortunate communities.
They do this by embodying the following principles:
Inclusive recruitment




AfriCraft supports inclusivity, diversity and equality in the workplace by employing staff from different backgrounds, religions, ages and genders. Contrary to what one would expect from an organisation which specialises in craftsmanship, AfriCraft values efficiency as much as the skills of an individual and welcomes both skilled and unskilled workers to come work for them in order to improve their way of life.

Open door communication




Literally speaking, the management team's door is always open to staff to freely express their concerns, suggestions and needs for consideration. AfriCraft's open-door policy ensures that no one feels isolated or unheard.

Employee benefits and community initiatives




AfriCraft supports their workers' personal development and well-being by providing employee benefits and learning opportunities. They also support various community initiatives via the AfriCraft NGO.
What others would consider the trash, AfriCraft regards it as treasure. Since 2004, AfriCraft has been an upcycling waste to create unique crafts, jewellery, homewares and more and, in doing so, has opened up employment opportunities and a means to generate income for those who are less fortunate in the community.
The organisation is based in the beautiful coastal city of Dar es Salaam in Tanzania, where many young people from other parts of Africa have relocated in order to start a new life. However, this increase in population also brings with it an increase in housing and employment demands as well as pollution. With adolescents making up over 12 million of the overall population of nearly 60 million, unemployment and the lack of higher education (resulting in a lack of skilled workers) are prominent challenges in the country. The heart of AfriCraft's cause lies in its care for the environment and the people that live in it. Through the organisation's efforts in waste collection and upcycling, new job opportunities have been created, bringing in new income streams for less fortunate communities and empowering the youth of Dar es Salaam as they learn new skills to support themselves and others. Since its inception, AfriCraft has developed its networks and has since worked with over 200 artisans across different parts of Tanzania. AfriCraft not only sells their products locally and to other parts of Africa but on a global scale too to generate income for the community and raise funds for the initiatives run by the AfriCraft NGO.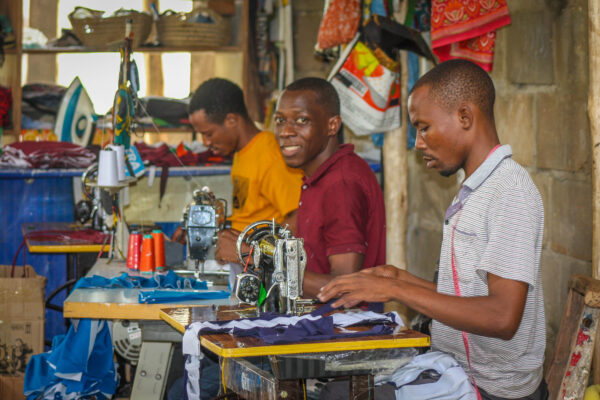 Africraft staff members working in the tailoring section Photo credit: Africraft
AfriCraft employs skilled and unskilled individuals from diverse backgrounds, religions, ages and genders to work for them. "We don't judge on religion, age, first impressions or anything like that," says Africraft NGO CEO, Kelvin Nicholaus.
Employee Enoch Elias is an example of how AfriCraft supports inclusivity in the workplace regardless of background or skill levels. Since 2013, Enoch has been working in the glass-making department at AfriCraft as a finisher. He moved to Dar es Salaam in 2007 after completing his fourth year at secondary school. Being blind, Enoch has faced many challenges in society, including securing employment.  Since joining AfriCraft, Enoch has improved his way of life. "I've gotten new tools and a lot of support from management, I've even moved to a better home", he says. The income he generates from his employment now motivates him to have even bigger dreams of starting his own business one day.
"When we move things around the compound, we make sure we keep Enoch in mind and take him around and explain the changes," says the General Manager Leonard Mtamya.
One of the ways AfriCraft ensures individuals have the chance to apply for a job opening is through the channels they post online and offline such as on social media, television, word of mouth via existing employees and in women's groups from low-income communities.
Open-door communication
AfriCraft believes in having an open-door policy so that staff can freely communicate their concerns, suggestions and needs to the management team for consideration. Employees are made to feel heard and included/accepted.
"I don't feel different from management," says Danford Kilimila, the longest-standing employee at AfriCraft who works as a carpenter in the furniture upcycling department. Danford moved from Iringa in central Tanzania to Dar es Salaam and has been working at AfriCraft since 2004. One of the reasons he feels that he doesn't need to leave is that there is no discrimination compared to other places where his friends work where there is a difference between those that are from underprivileged and privileged backgrounds.
"You may find that there are times that we hit low moments. When those moments come, we collectively sit together and talk about the reality and because we have established trust with our team, they understand us", says Africraft NGO CEO, Kelvin Nicholaus.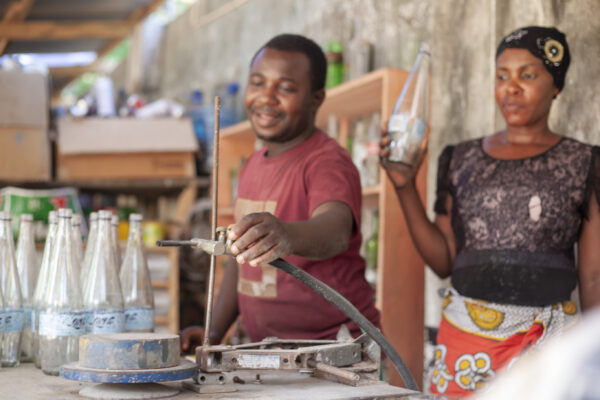 Staff members working in the glass upcycling section. Photo credit: Africraft
Employee benefits and community initiatives
Many companies in Tanzania go under the radar and do not provide all the legal requirements needed to care for their employees.
As a member of the World Fair Trade Organization (WFTO), AfriCraft supports its employees' personal development and well-being. Its full-time staff receive health insurance and retirement benefits as well as access to personal development benefits such as English classes, marriage contributions and more. "When one of us loses a family member, we show up for them 100% and cover some of the funeral costs," says Africraft NGO CEO Kelvin Nicholaus.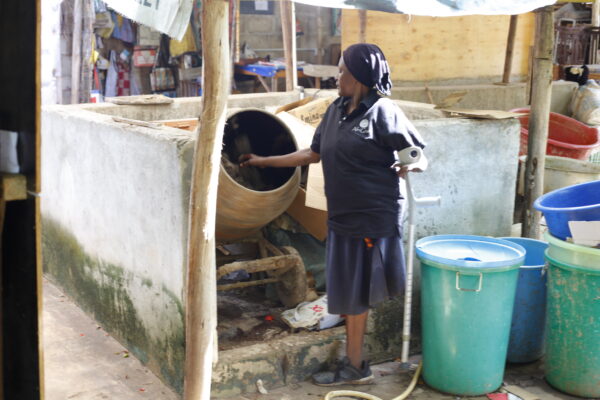 Staff member, Magdalena doing a paper recycling activity. Photo credit: Africraft
Beyond its staff, AfriCraft understands and acknowledges the community's contribution to its work. They are socially responsible via various initiatives and programs through the AfriCraft NGO that supports low-income generating communities, such as the Coco Beach Waste Management Centre which has trained vulnerable young people in upcycling and craft-making through waste. As you walk through one of their outlets, you will find a special corner with handmade jewellery and crafts supplied by women from a local community, which AfriCraft will buy for a very reasonable price. The proceeds derived from 10% of its sales will go to the NGO to support other initiatives to improve women's health and transport options to access education and sustainable environmental practices.
This social enterprise is certainly an inspiration to many.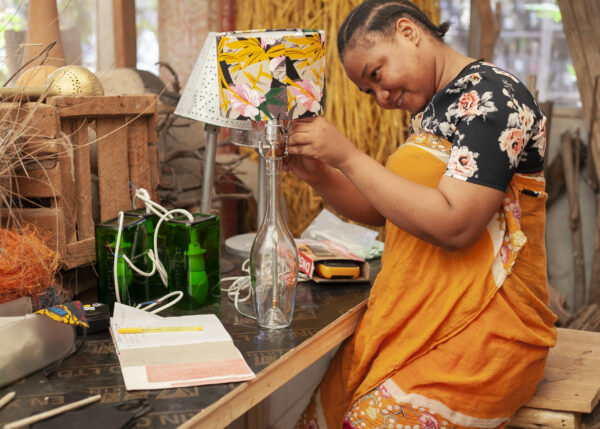 A staff member creating a lamp with recycled materials. Photo credit: AfriCraft.
Brenda Jerome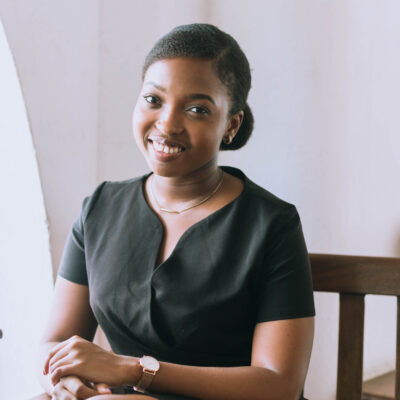 Read More
Brenda Jerome is a creative storyteller from Tanzania, with an incredible passion to use media and technology to contribute to building a better Africa. Her work involves writing, designing and creating innovative content that speaks and resonates across multiple media channels. As a youth changemaker who has worked alongside various development organisations, she advocates to solve global challenges around poverty, gender equality and good health.

 
What is the Imagine Around the World Project?
A partnership with the British Council Australia, the Imagine Around The World Project aims to document case studies from numerous countries outside of US, UK, Canada, Australia and New Zealand to share best practice and leadership in cultural diversity, cultural equity and inclusion in the arts, screen and creative sectors. This project is managed by Diversity Arts Australia and supported by Creative Equity Toolkit partner, British Council Australia. To find out more click below – or read the other case studies as they go live here.
Find out more