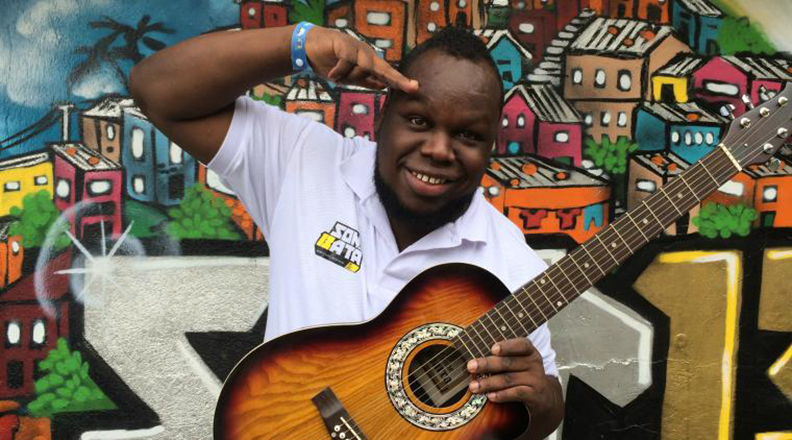 Colombia's 
Corporación Afrocolombiana Son Batá
"Although violence and poverty persist in the commune, the cultural space of Son Batá has been configured into a safe territory for children and young people in Comuna 13, transforming their environment and life experiences into something positive and full of interaction with arts and learning about their roots and Afro identity."
The Corporación Afrocolombiana Son Batá ('Son Batá Afro-Colombian Corporation'), located in the well-known Comuna 13 of Medellín, is an organisation that offers artistic training. Through arts and Afro-Colombian culture, it aims to inspire the young people of this territory in the construction of their life projects and identity. Son Batá has music and dance workshops of Afro-Colombian origin but also urban rhythms such as hip hop, rap, salsa music and others which seek to strengthen the cultural identity of the Afro population in Colombia (Medellín) where racism and systematic discrimination are high.
The organisation does this by using these strategies:
Son Batá provides engaging and educational music and dance workshops in their school to the youth of Comuna 13 as a means for them to escape the violence and poverty around them.

Connecting with their cultural identity

In the beginning, the three young founders of Son Batá had travelled to the villages of the department of Chocó and the Colombian Pacific Coast (areas populated mainly by Afro populations) and discovered their roots through the music and traditional dances of these areas. Currently, Son Batá teaches these Afro-Colombian rhythms and dances in its school to encourage the youth of Comuna 13 (the commune with the largest Afro population in Medellín) to recognise and connect with their past and origins to build their own identity as an Afro community of Medellín.

Working towards a life goal

The

 Son Batá Corporation 

school is a space that provides tools and provides a safe environment for children and young people of Comuna 13 to build and consolidate their life projects through the arts and culture.

Impactful projects to facilitate lasting change

Son Batá 

develops strategic projects with governmental and non-governmental organisations to promote participation and inclusion in the arts and national cultural life of the different local and national Afro communities. It develops cultural exchanges between different regions and designs tours in its territory (Comuna 13) to enrich and position Medellín as a cultural destination for the world.
Son Batá was formed in 2002 by Jhon Fredy "Sprint" Asprilla, Jhon Jaime "Capitan J" Sánchez and Carlos Alberto Sánchez who lived in Comuna 13 of Medellín, a territory hit by violence and the noise of bullets. These three young men wanted to replace the deafening sound of the war that struck Comuna 13 with the sound of the drum after the devastating "Operation Orion" (2002), the largest and most violent military and paramilitary operation organised by the Colombian State to regain control of Commune 13 from the urban guerrilla group, "Fuerzas Armadas Revolucionarias de Colombia (FARC)". Son Batá currently has four independent musical an a dance projects: Son Batá, Bata Orquesta, Bombi, Bantú and Kilombo Crew.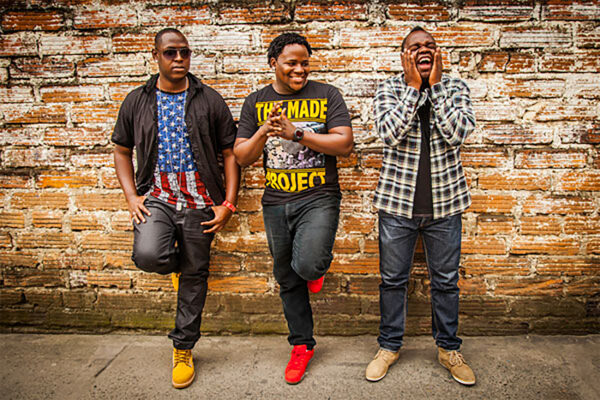 The 3 founders of Son Batá (from left to right): Carlos Alberto Sánchez, Jhon Fredy "Sprint" Asprilla and Jhon Jaime "Capitán J" Sánchez. Photo credit: El Mundo.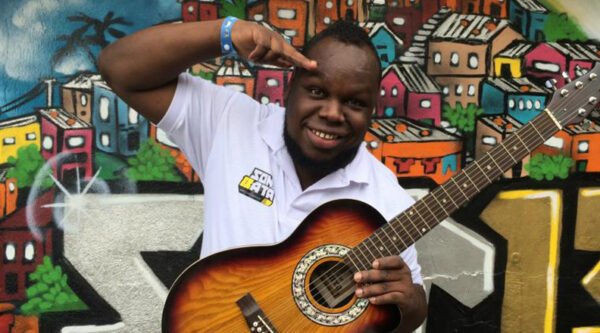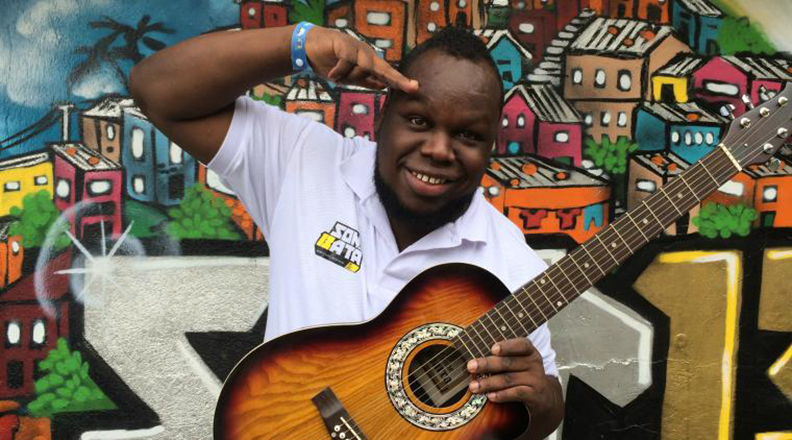 Jhon Jaime "Capitán J" Sánchez, one of the founders of Son Batá. Photo credit: Radionica Radio.
Providing arts education
Son Batá is a remarkable example of resistance and resilience through arts and culture. Through music and dance, Son Batá has promoted equality and access to quality arts education, creating opportunities and diversifying life options for young people in Comuna 13 (the commune with the highest rate of Afro population in Medellín). During the past 20 years, the Son Batá has transformed entire generations through artistic processes, impacting more than 4,000 children not only from Comuna 13, but also from other regions and cities of Colombia.
Although violence and poverty persist in the commune, the cultural space of Son Batá has been configured into a safe territory for children and young people in Comuna 13, transforming their environment and life experiences into something positive and full of interaction with arts and learning about their roots and Afro identity. More than 600 children from 13 to 18 years of age have passed through the school of Son Batá learning the music and dances of the Pacific and Colombian Chocó regions, the territories of their ancestors.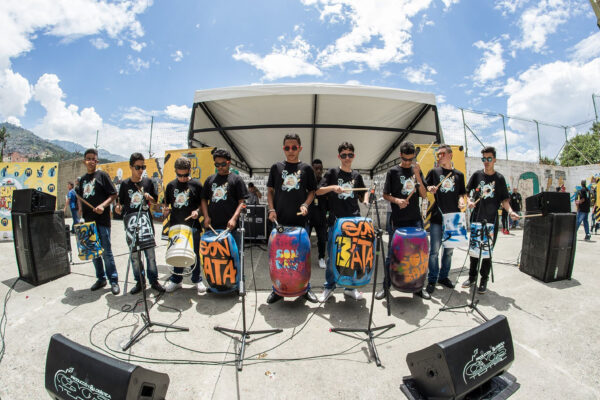 Kids of Son Batá's arts school, 2021. Photo credit: Son Batá.
Connecting
with their cultural identity
The founders of Son Batá were familiar with the rap and hip hop produced by black musicians of the US, and felt attracted to and represented by these rhythms, which is how they began to create their own rap and hip hop. Despite having the same racial origin and feeling represented by American artists, their rhythms and lyrics soon recognised that they were not part of the African American community, but citizens of Medellín. This encouraged them to seek their own cultural identity in a city that has historically treated them as foreigners, as migrants who did not belong to this territory. Which was why they decided to travel to the territories where their parents and grandparents were originally from, the Chocó department and the Colombian Pacific Coast. During this trip, they learnt about their origins, history and Afro-Colombian culture.
This journey transformed them, allowing them to reach not only a new artistic level but also a social consciousness. Upon returning to their hometown, they not only began to grow musically, creating new rhythms by fusing different genres of traditional Colombian Pacific music with more urban rhythms such as hip hop and rap, but also consolidating their social project for the transformation of Comuna 13 that we know today.
During this time, they also opened the first workshops for children and young people from the Afro community of Comuna 13 to learn to interpret the traditional music and dances of the Colombian Pacific and connect with their origins and cultural identity, contributing to the visibility and consolidation of Afro-Antioquia culture in Medellín. The contribution that Son Batá has had to the City has been so remarkable, to the point that it has managed to incorporate and adapt some traditions and Afro palenques of the Colombian Pacific Coast in the territory and everyday life of the Comuna 13; contributing to the remarkable transformation and metamorphosis of the "territory of violence" (that this commune has suffered during the past 20 years) into the "territory of art and culture".
Working towards a life goal
One of Son Batá's all-important principles is to encourage the youth attending their workshops to have a life goal, to work towards achieving it and to reach their full potential.
Son Batá has won awards for their music and dancing and has even been the opening act for international musicians at festivals. Their success demonstrates to the youth of Comuna 13 that it is possible to dream big and achieve their life goals via the transformative power of the arts.
Impactful projects to facilitate lasting change
Besides running a music and dance school, Son Batá also runs four strategic projects which not only positively impact the local community of Comuna 13 but also over 20 other cities in the country.
These include:
Territorio de Sueños (Territory of Dreams):
As part of the Massive Actions of High Social Impact (AMAS Strategy), the ICBF (Instituto Colombiano de Bienestar Familiar) and Son Batá have developed the project Territory of Dreams in Medellín, Turbo, Apartadó, Bojayá and Vigía del Fuerte where more than 1,000 children and adolescents can participate in percussion workshops, dance, rap and graffiti. With so much engagement in the arts, the children and adolescents are able to learn about their fundamental rights and these opportunities importantly contribute to the prevention of recruitment by illegal armed groups. As a result of this project, a musical work was conceived to reflect what was achieved during the months of learning in the Territory of Dreams.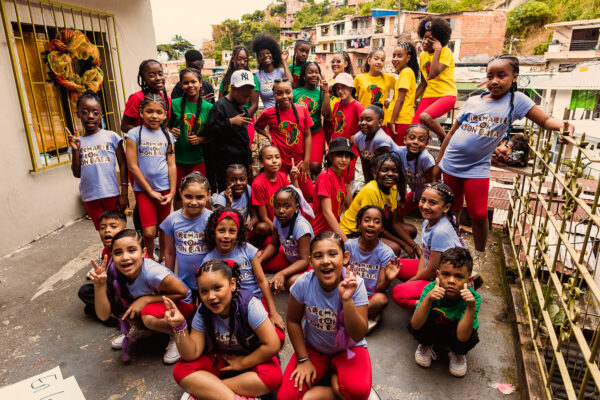 Kids of Son Batá's arts school, 2021. Photo credit: Son Batá.
Cultural exchanges:

A project-oriented to make national and international intercultural exchanges with other Afro communities to enrich the local Afro identity in the urban context of Comuna 13 in Medellín. Through this strategy, the "invisible frontiers" – the borders between different Comuna 13 neighbourhoods which nobody could cross without being shot – were finally opened up. Thanks to the creation of the

Fiesta of the "Noche Negra"

, inspired by the traditional Afro fair of "Fiesta de San Basilio de Palenque" (Bolivar department of Colombia), it was possible on one night for a parade of 500 people to cross the dangerous borders between neighbourhoods that were previously blocked for more than five years

 .

Celebration of "Noche Negra", 2021. Photo credit: Son Batá. 

Territorio de Artistas (Territory of Artists): This is the brand of Comuna 13 that Son Batá has created with other artistic collectives of the territory to establish Comuna 13 as a compulsory destination of art and culture in the city of Medellín. This project aims to convert Comuna 13 into the most important reference of art and culture in Latin America and a compulsory place for national and international artists to visit by 2025.

Afro Tour: Son Batá has created a tour about Comuna 13 from the afro perspective of its culture represented in dance, graffiti and music experiences. The tour outlines the experience of the afro community living in this territory. 

Son Batá's Afro Tour. Photo credit: Impulse Travel.
Camila Assad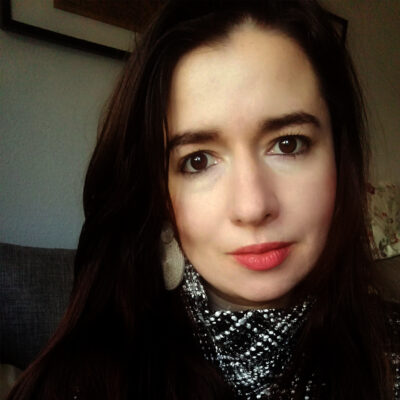 Read More
Camila Assad is a cultural manager at the Universitat Internacional de Catalunya, Barcelona, Spain where she manages special projects at the Metropolitan Theatre of Medellín. With more than eleven years of experience working within the cultural and educational sector in Colombia, Camila has worked as an adviser for cultural projects for the Municipality of Medellín including developing cultural audiences as well as designing, planning and executing cultural programs for the creative and cultural economy of Medellín.

 
What is the Imagine Around the World Project?
A partnership with the British Council Australia, the Imagine Around The World Project aims to document case studies from numerous countries outside of US, UK, Canada, Australia and New Zealand to share best practice and leadership in cultural diversity, cultural equity and inclusion in the arts, screen and creative sectors. This project is managed by Diversity Arts Australia and supported by Creative Equity Toolkit partner, British Council Australia. To find out more click below – or read the other case studies as they go live here.
Find out more