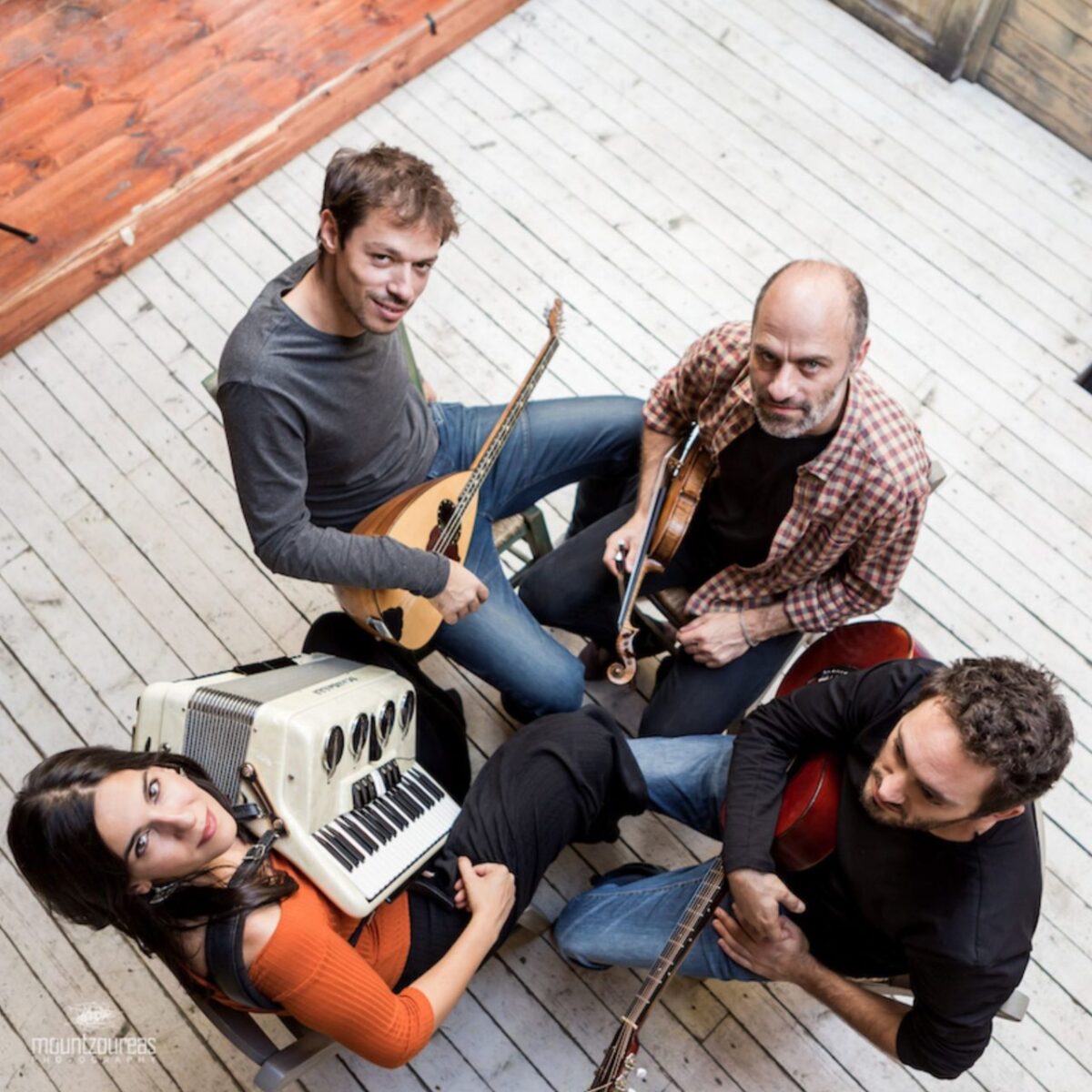 Melbourne Rebetiko Festival
Fotis Kapetopoulos
The surge of the underground
It's not easy to attract a huge mainstream crowd to a festival dedicated to a culturally specific music style. But the Melbourne Rebetiko Festival has done just that – selling around 800 tickets for its full-day events dedicated to the 'Greek blues', including an estimated 25% non-Greek audience.
How did they do it? The festival had a natural audience in Melbourne's 300,000-strong Greek community. But as rebel music, the organisers knew rebetiko would also have appeal among the city's alternative, progressive and youth music scenes.
Key Takeaways
Their strategy relied on three key areas:
Edgy Branding

– Avoiding the national colours of Greece (blue and white) also avoided creating a 'nationalistic' feel. Instead, the branding played up the underground and bohemian roots of the music to attract a progressive, alternative audience.

Power Partnerships

– Collaborating with Greek community heavyweights, as well as mainstream arts and media organisations (and accessing their networks) ensured messaging travelled far and wide.

Clicky Content

– The festival team recorded pop-up gigs to release on social media, via festival and partner channels.
Rebetika in Melbourne
The Melbourne Rebetiko Festival presented a contemporary and high-quality program of rebetika (Greek blues) in 2018 and 2019 at the Melbourne Recital Centre (MRC). Featuring international and local acts, the festival aimed to engage a diverse and intergenerational audience and not just Greek Australians. 
Though the producers were all working part-time on the festival, with a shoestring budget, they had an ace up their sleeve. All three – artistic director Con Kalamaras, producer Kon Karamoutzos and marketer Fotis Kapetopoulos – work in media, arts, and marketing.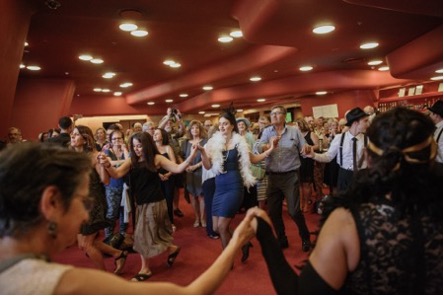 They set their sights on bringing in a wide range of audience segments, including first- and second-generation Greek Australians, progressive music fans, left-leaning political activists, and Jewish, Turkish, Armenian and Arab Australians who viewed rebetiko as part of their own musical traditions. 
Branding
"Make it as though anyone from Fitzroy or Collingwood can see the poster and know that it is a really hip music gig, and at the same time ensure that any Greek of any age can relate to it as their own."

~ Fotis Kapetopoulos, Design Brief
The festival producers briefed designers on the anti-authoritarian nature of rebetiko music, and its DNA as a music of resistance. 
Rebetiko came to life in the Greek communities of Turkey, around the turn of the 20th century. It's informed by the trauma and bloodshed experienced by Greek communities expelled from Turkey, as well as the struggles of refugee life in crowded inner-city ghettos in Greece, New York City, Chicago and, later, Melbourne. Like Flamenco and African American Blues, it takes up themes of love, loss, poverty, migration, drug use, and oppression. It's always been a bohemian voice from the underground.
In terms of branding and colour, the festival producers wanted to move away from the national colours of Greece. They felt blue and white would have a nationalist tinge running counter to the ethos of rebetiko music. Instead, the branding and visual imaging reflected the ancient colours of Greece – ceramic, tans, yellows, and burnt orange.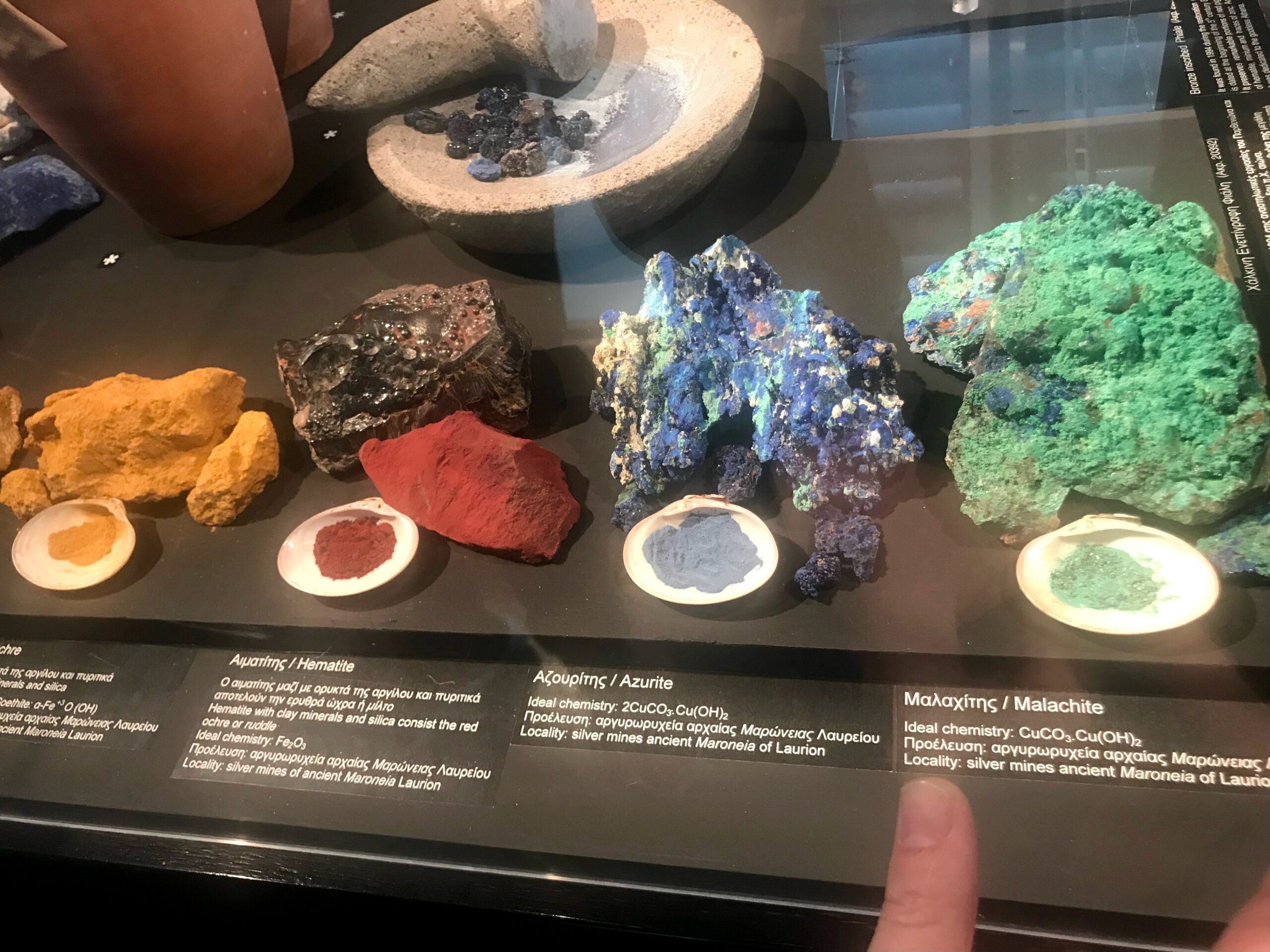 Designer Greg Foster was given references from the ancient Greek colour palette, material on Greece's Financial Crisis of 2008-2017 and the protests against economic austerity, as well as images of the cultural renaissance in post-crisis Athens.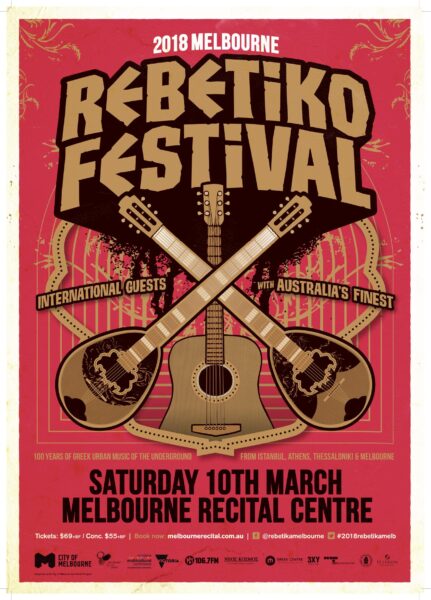 The 2018 poster featured the neck of a bouzouki, guitar, and the tagline '100 years of Greek Urban music of the Underground from Istanbul, Athens, Thessaloniki and Melbourne'. The 2019 festival used the 'memento mori' skull icon, which reflects the ever-present reality of death in rebetiko. The design was used on T-Shirts, social media, media releases, posters, and flyers.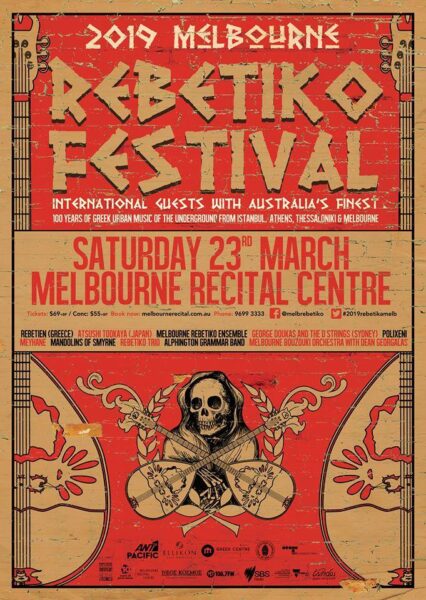 Partnerships 
The Melbourne Recital Centre (MRC) came on board as the key festival partner with generous support. MRC's desire to engage new diverse audiences, as well as their charter to present diverse world music was at the centre of their decision. MRC offered a 60/40 split and provided public relations support, direct marketing through their extensive mailouts, inclusion in their 30,000 programs and paid display advertising in the Age.
The Greek Cultural Centre (GCC) in Melbourne provided underwriting against losses, legal, administrative support and free use of its venues, including for the festival launch. It also promoted the festival through its extensive database of Greek community members, and via social media, and assisted in negotiations with partners and artists. 
The Victorian Multicultural Commission (VMC) and the City of Melbourne became funding partners, and other partners included the Sydney Greek Festival, Port Fairy Folk Festival, WOMAdelaide, and WOMAD New Zealand, which provided extra performance opportunities for international performers, and income for the festival. 
The festival partnered with Neos Kosmos, Australia's leading Greek Australian media, in Greek and English, SBS Greek Radio, and PBS 106.7FM. Each of the media outlets provided pop-up gig opportunities for artists that were broadcast on their radio, social and digital media channels.
Collateral, media, and promotions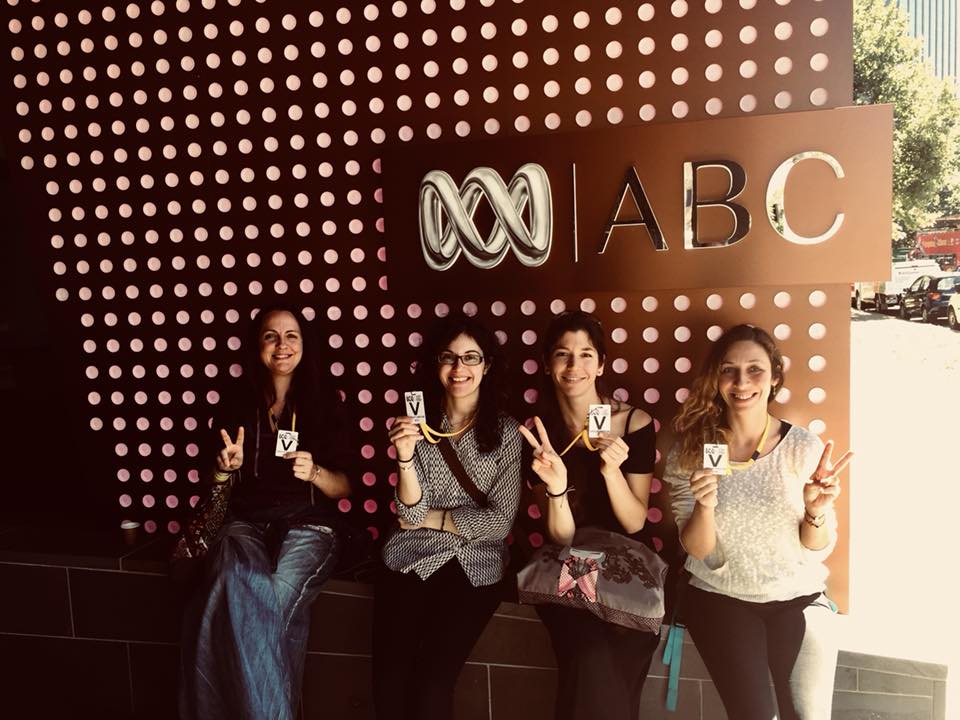 Around 10,000 flyers were produced, 2000 were professionally distributed to areas with higher Greek populations like Oakleigh, Malvern, Preston, Northcote and Reservoir and inner-city creative clusters of Melbourne like Fitzroy, St Kilda, Footscray and Collingwood. A publicity team was hired to assist the organisers – the strategy included targeting mainstream media as well Greek and other ethnic community media and alternative and indie radio stations.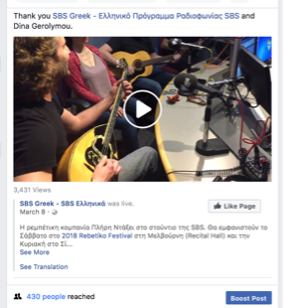 Regular social media posts were released of the musicians playing live, as well as highly targeted ads on Facebook and Instagram. Pop-up gigs at places like Neos Kosmos, Herald Sun, 3PBS, ABC RN and SBS Radio were recorded and streamed. The Herald Sun pop-up gig was played live on YouTube and on the Herald Sun site, it was viewed by hundreds of thousands mainstream audiences, while ABC RN targeted audiences who listen to Jazz, World Music and Classical. 
Fotis Kapetopoulos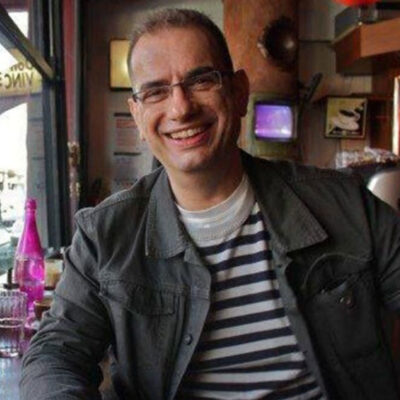 Read More
Fotis Kapetopoulos heads Kape Communications and is an adviser for Neos Kosmos, Australia's leading Greek Australian media outlet. He is an expert in multicultural communications and audience development. He was a director of Multicultural Arts Victoria, Development Manager for the Melbourne International Jazz Festival, Editor for English Edition of Neos Kosmos, and Multicultural Media Adviser to Former Victorian Premier, Ted Baillieu. Recently he co-produced the Melbourne Rebetiko Festival and ran Bite the Big Apple! New York City Arts Management and Athens Burns Bright! Cultural Ecology tours. He was awarded a Smithsonian Institution Internship and an Asialink Arts Management residency.
What is the Imagine Project?
We're publishing case studies and documenting Australia's best work in advancing cultural diversity and racial equity and inclusion in the arts  through the Imagine Australia Project, managed by Diversity Arts Australia (DARTS) and funded via the Australia Council's Re-Imagine project and supported by Creative Equity Toolkit partner, British Council Australia. To find out more click below – or read the other case studies as they go live here.
Find out more