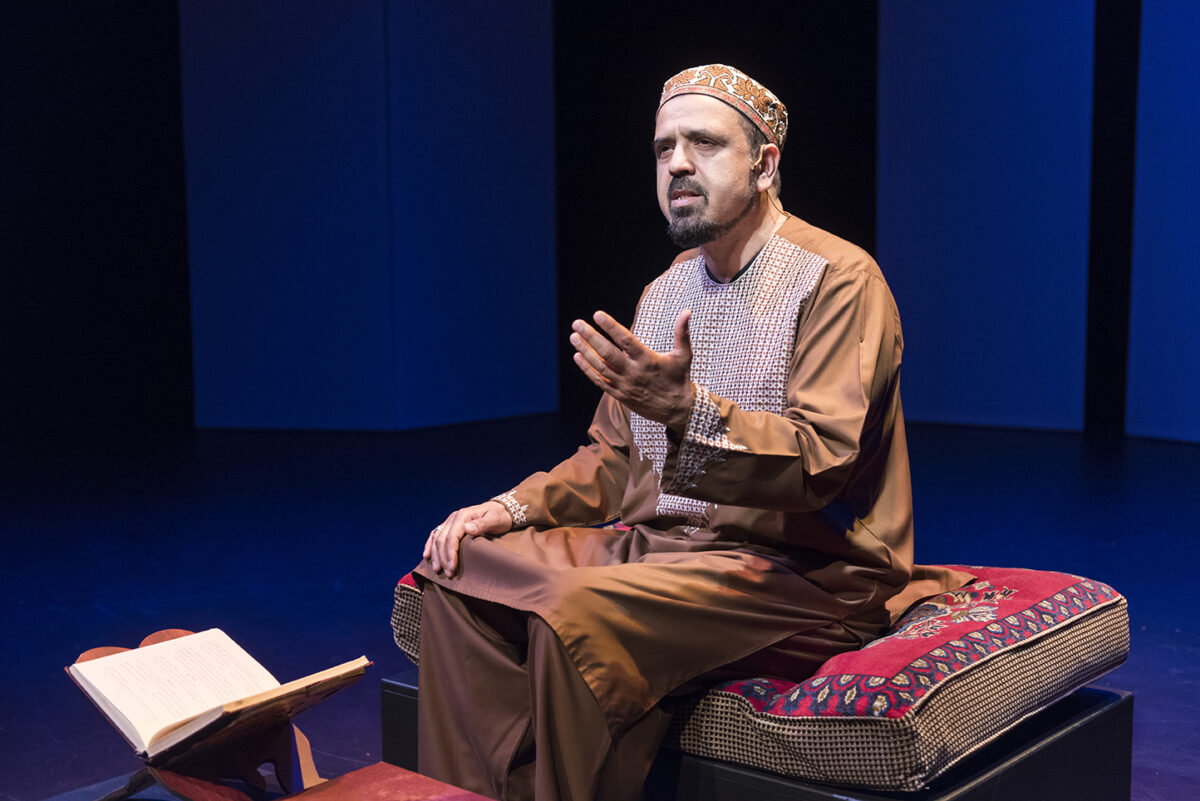 Embracing community in the greatest love story ever told 
Zelmarie Cantillon & Sukhmani Khorana – Western Sydney University
Find out how Performing Lines WA fostered and built the capacity of behind-the-scenes culturally and linguistically diverse talent
Key Takeaways
Bring diverse voices to the table.

Actively seeking out and hiring staff from diverse backgrounds is key to challenging taken-for-granted practices, forging networks with new communities and bringing more inclusive stories to the stage. 

Engage in reciprocal mentorship.

Leaders should cultivate a working environment that allows space for more junior staff to develop the skills necessary to succeed in a career in the arts. At the same time, leaders should be willing to learn from the cultural knowledges and worldviews of their team.

Invest in culturally and linguistically diverse talent.

Institutions need to support behind-the-scenes culturally and linguistically diverse talent to build their skill sets and expand their networks. This should be viewed as an ongoing investment that helps develop new leaders in the broader industry.

Use culturally-appropriate strategies to engage audiences.

Taking a multi-layered, long-term approach to community engagement is crucial for transforming audiences into ambassadors and creating a welcoming, safe space in the theatre.
Layla Majnun highlights how the hiring of even one culturally diverse staff member can completely transform an organisation, and make arts spaces safe and inviting for communities not accustomed to seeing themselves on, off or behind the stage.
Background
Fiona de Garis, former senior producer at Performing Lines WA, was 'fed up with … looking at white faces telling white stories'. Inspired by the key principles of Performing Lines WA's founder, former senior producer Rachael Whitworth endeavoured to enact 'change through practice'. With an eye to better represent the diverse communities of Perth, Performing Lines WA's first step was to hire a culturally and linguistically diverse producer: Zainab Syed, who was originally a performance poet rather than a trained producer.
Whitworth explained that Syed was not employed with a directive to 'represent culturally and linguistically diverse communities' or produce diverse content. Nonetheless, Syed observed that 'when you have representation on the table, some things just come into focus, and one was that there really were no artists that we were working with from a culturally diverse background'.
Within months of starting her job, Syed pitched the idea for Layla Majnun – a performance that would resonate with Muslim communities in Perth. Sometimes simplified as 'the Romeo and Juliet of the East' or perhaps Romeo and Juliet is the 'Layla Majnun of the West', Syed describes Layla Majnun as 'a spiritual allegory for our relationship with God, but told through a love story between two lovers'.  The show, created by illUMENate, and produced by and presented by Performing Lines WA in 2019. In it, scholar and writer Ustadh Feraidoon Mojadedi fused Persian poetry and English storytelling to reimagine the tale of Layla Majnun.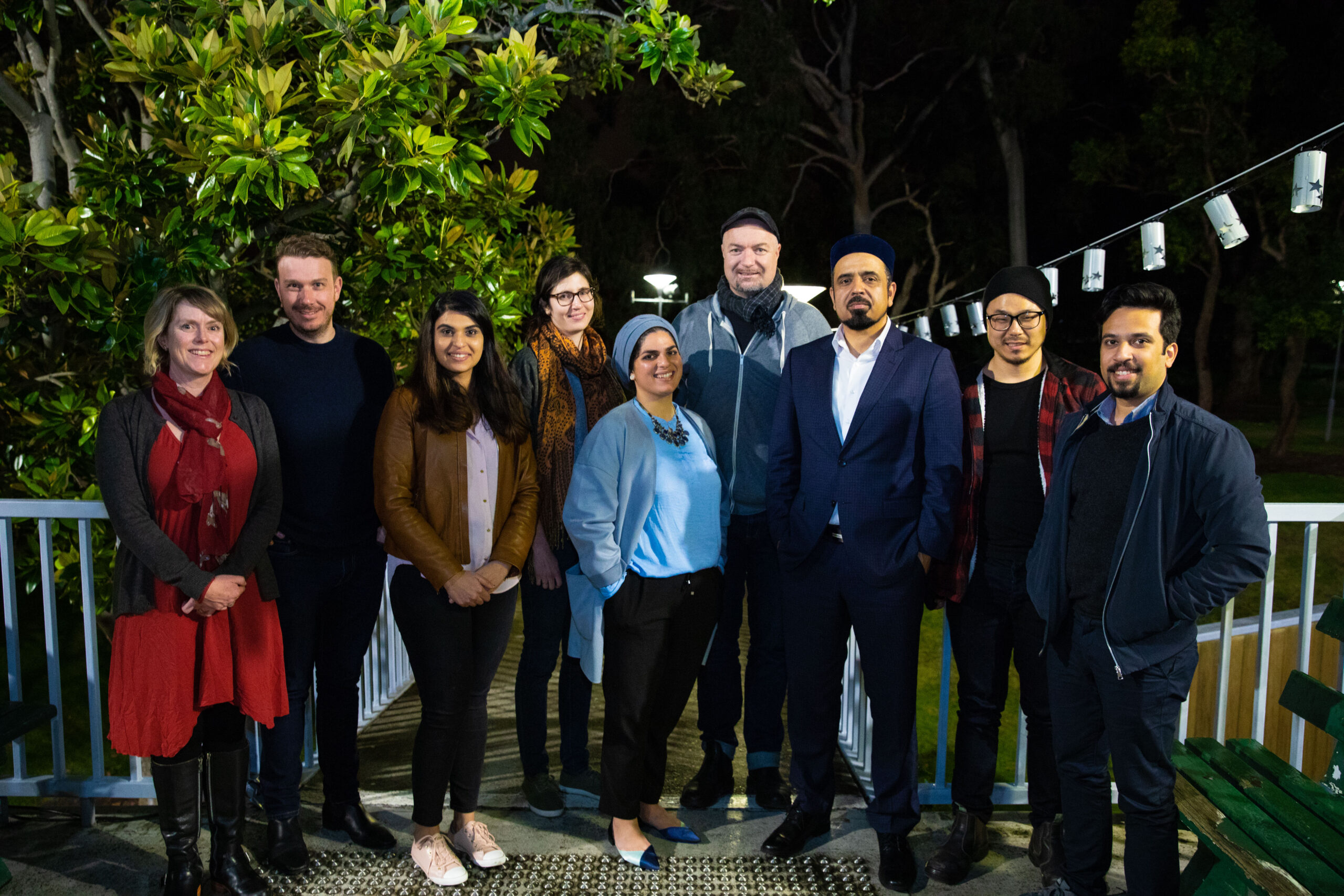 Mentorship and capacity-building
During Layla Majnun's three-year production process, much of the initial work was around professional development. 'Because I was from the community that this story came from', Syed said, 'there was a lot of work around cultural sensitivities and also specificities that I could troubleshoot' rather than relying on cultural consultants. 
At the same time, Syed described herself as a 'beneficiary' of the 'expertise', 'knowledge' and 'mentorship' of de Garis and Whitworth. They provided Syed 'the right scaffolding' for her to succeed: 'they put absolutely no pressure around me and just created so much space for me to learn … I was really empowered and had a lot of agency within the institution to kind of just listen to my gut instinct'.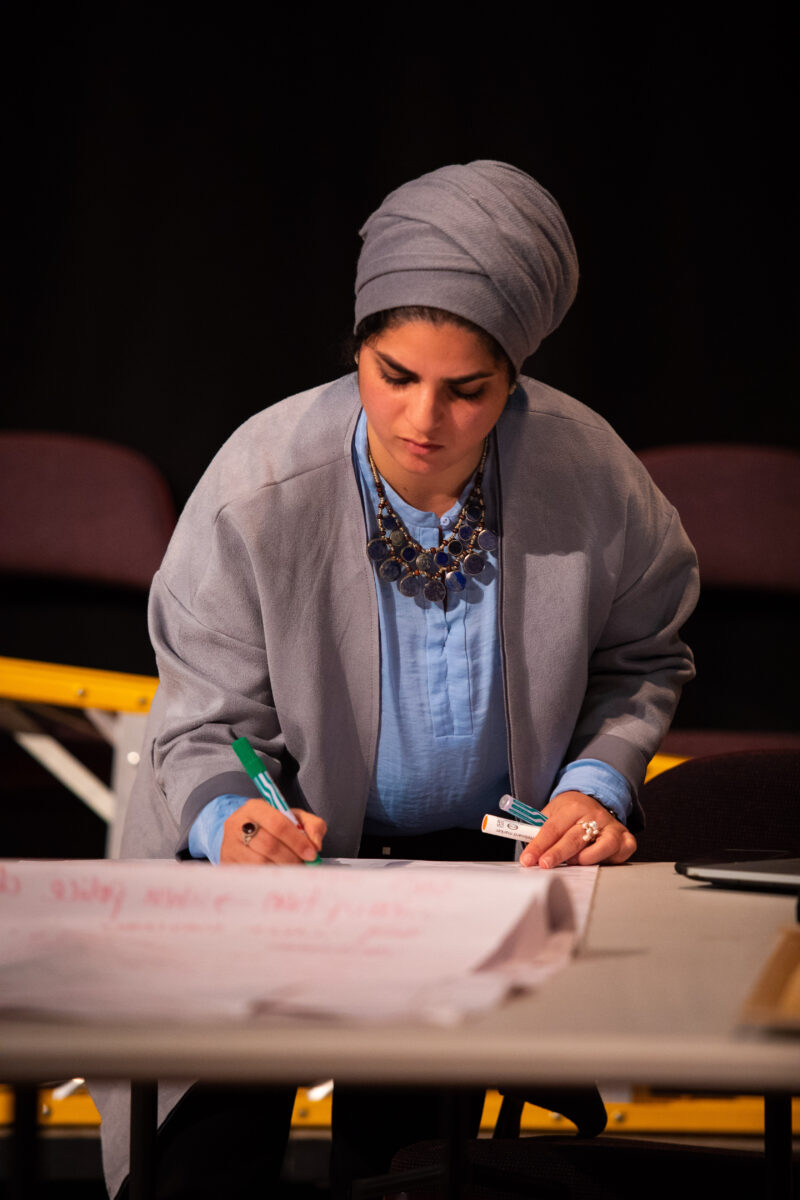 This reciprocal capacity-building extended to the artists involved. Performing Lines WA paired culturally and linguistically diverse creatives behind-the-scenes with art form mentors who were already well established. This strategy helped to connect mentees with networks and opportunities that may not have otherwise been available to them. Syed stressed, however, that the mentor–mentee relationships were 'about equal receiving and giving': 'The artists were being upskilled in really technical skills and knowledge, whereas the mentors were being upskilled in the cultural knowledge that all these artists had such as the use instruments and cultural norms from the specific traditions and regions'.
Community outreach and audience engagement strategies
In terms of engaging diverse audiences, Syed said the goal was to 'not just have them come to this one show', but to 'build an audience for the long term that follows you'. In the year leading up to Layla Majnun, Performing Lines WA hosted two successful poetry nights to build relationships between US-based Mojadedi and the local Muslim community. 
Focus groups were held with segments of the community to gather information on their interests, ticket prices, where they source information, pre- and post-show behaviours and marketing. Syed noted that many participants in the focus groups 'became our ambassadors'. To engage lower socio-economic communities, PLWA partnered with local councils to host a special event for refugee women. Syed explained the aim was to 'involve people from the beginning of the process so we can build a deep relationship with them, and by becoming a part of the making of the show, they become invested in its success.'
With this knowledge about what the audience wanted, Syed engaged creatives from the community to cultivate a 'mini-festival vibe' in the venue that was 'really homey and friendly'. This entailed transforming the foyer to give it a Middle Eastern feel, what Syed described as a 'vibrant sensory space that a lot of the diverse communities would be very familiar with'.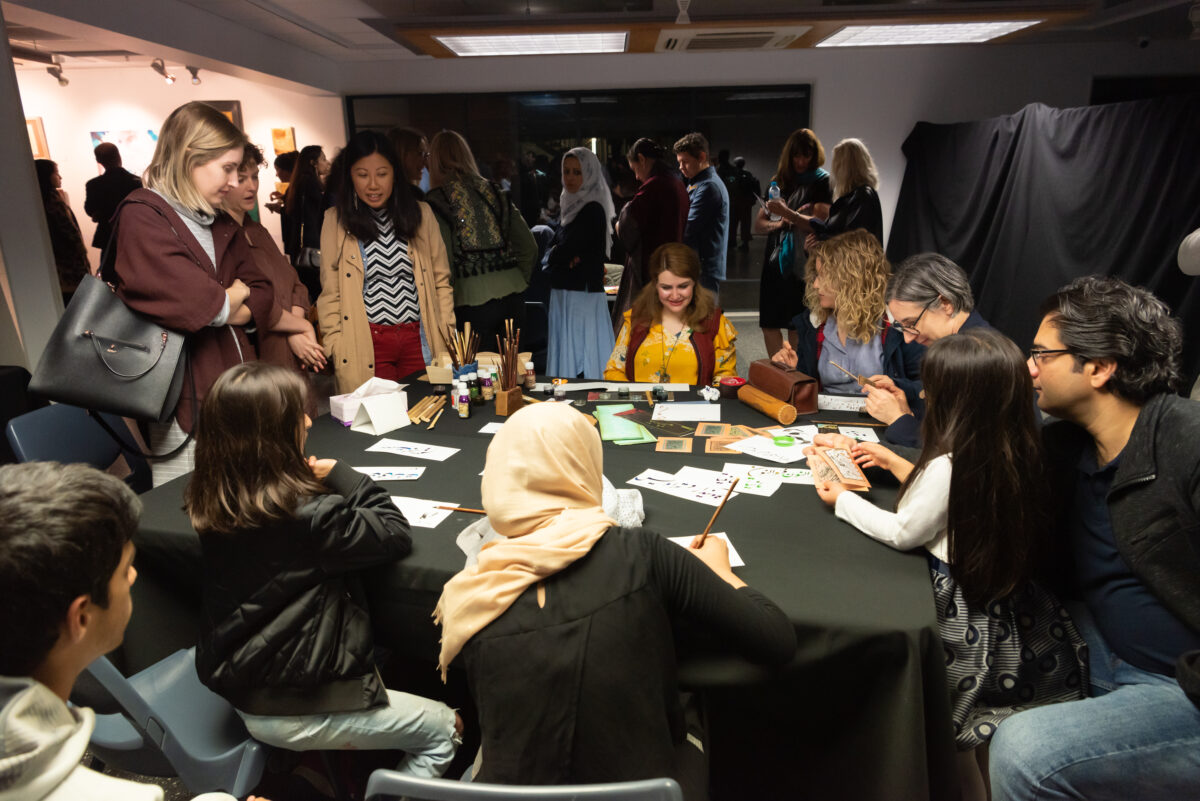 Pre- and post-show activities included Eastern and Moroccan food trucks, Persian calligraphy workshops, a tea tasting station, henna tattooing, storytelling for children, and live dutar and santur performances. To accommodate the target audience's preferences and routines, Syed made sure the bar was closed,, a prayer room was available and that the show's schedule didn't conflict with prayer timings: 'Because I'm from the community and knew that a large part of the community would be concerned about that, I catered to that'.
Project outcomes
As a result of these efforts, Layla Majnun attracted a significantly more diverse audience than was typical for Performing Lines WA. As Syed explained, 'that, for us, was a huge success because those people never come to the theatre. And since then, I've watched those audiences that weren't familiar with the theatre come to shows that we've done after.' Performing Lines Executive Producer Marion Potts said that key to this outcome was 'creating an environment that was welcoming and safe'. 
Syed noted that 'the real success, I'd say, of Layla Majnun was the impact it had on our own organisation'. Whitworth stressed how 'having people from different viewpoints sitting within a room changes how an organisation will work' and 'immediately shifts how a group thinks about the world'. Even though Syed, de Garis and Whitworth have moved on to other organisations, Performing Lines WA has maintained its commitment to diversity among staff.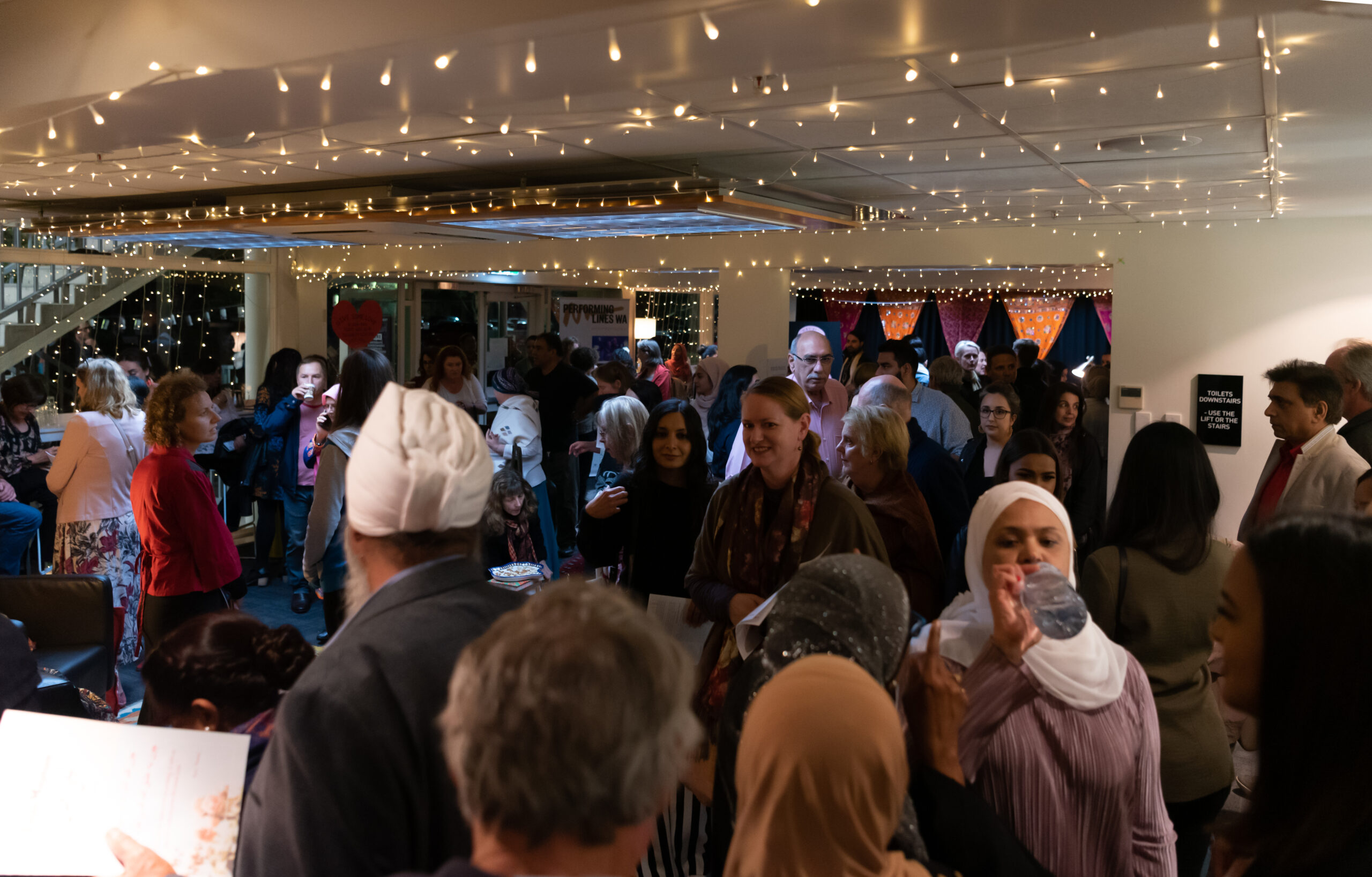 Potts said that the success of Layla Majnun 'allowed us the confidence' to continue prioritising diversity and inclusion in programming. Audience engagement and outreach strategies developed for Layla Majnun provided a blueprint for subsequent Performing Lines WA productions, including Black Brass, Children of the Sea, and Galup. Senior Producer Jeremy Smith commented that of the six shows that premiered in 2021, half were focused on 'demonstrating the depth of cultural diversity in our community'. 
Layla Majnun highlights how the hiring of even one culturally diverse staff member can completely transform an organisation, and make arts spaces safe and inviting for communities not accustomed to seeing themselves on, off or behind the stage.
This case study was created in partnership with Western Sydney University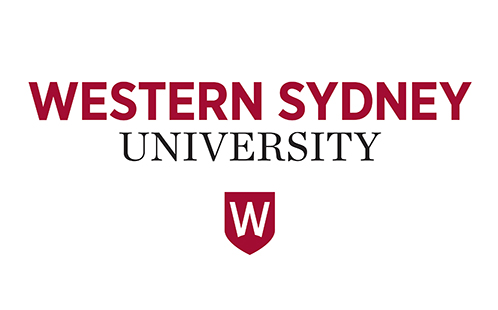 What is the Imagine Project?
We're publishing case studies and documenting Australia's best work in advancing cultural diversity and racial equity and inclusion in the arts  through the Imagine Australia Project, managed by Diversity Arts Australia (DARTS) and funded via the Australia Council's Re-Imagine project and supported by Creative Equity Toolkit partner, British Council Australia. To find out more click below – or read the other case studies as they go live here.
Find out more