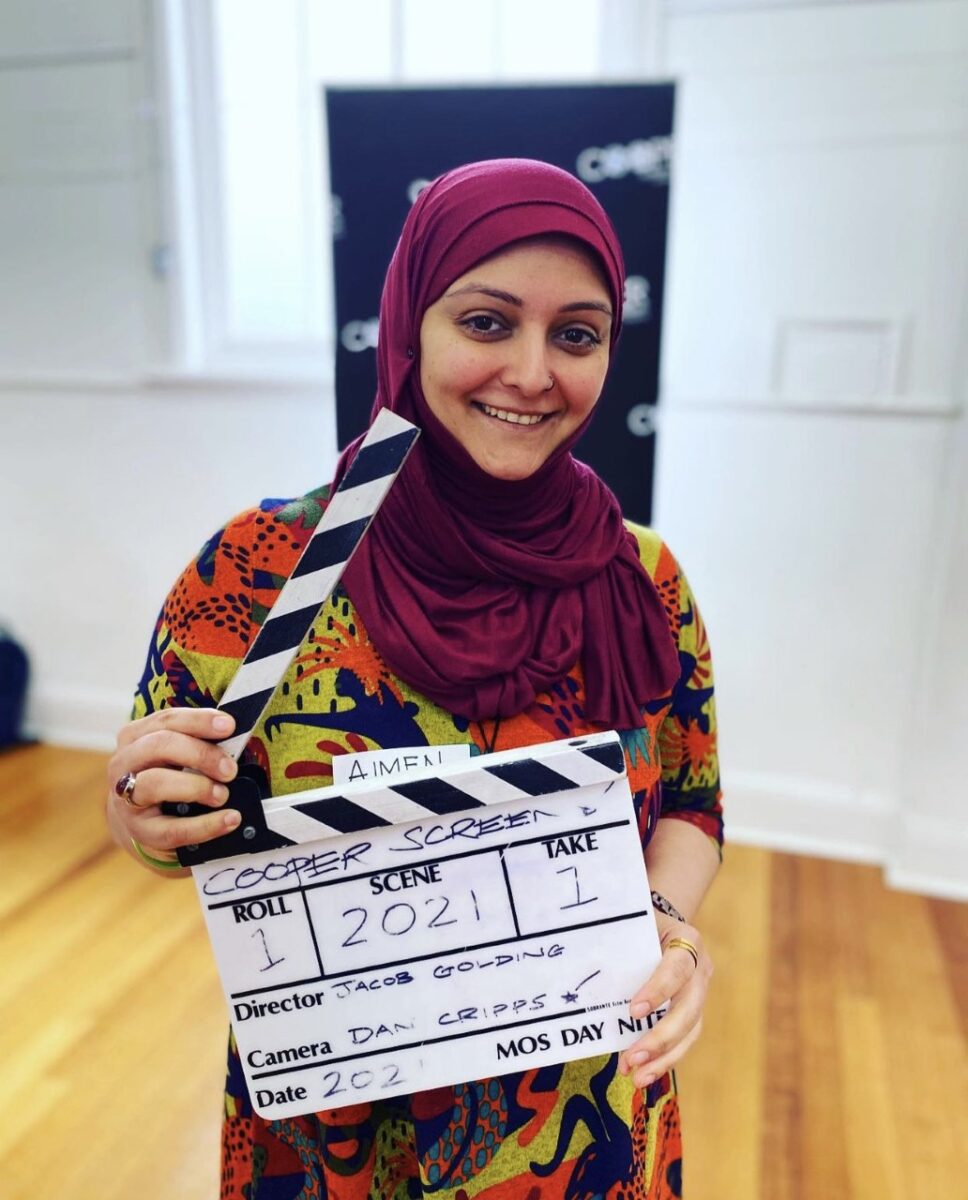 Expanding the pool of diverse acting talent for the screen industries
Mounira Almenoar 
"Participating with Aboriginal community members in a positive space enhanced the safety for me where we felt encouraged to explore and express our creativity,"
The Diversity Project began in 2021 and provides an opportunity for people from culturally and linguistically diverse backgrounds and people with disability or who are d/Deaf to learn to act for free. The project was initiated by Sarah Cooper of Cooper Screen Academy and TV production company Guesswork Television in Tasmania, Australia, with the aim of creating an increased pool of diverse talent for casting. It provides comprehensive training in "acting for the screen" and is open to participants from age 10 to adult.
The project connects with people in its target categories via First Nations, racially marginalised, disability and migrant community groups. The initial pilot in 2021 was supported by Screen Tasmania.
Sara Cooper defines the project's key strategies for success:
Key takeaways here
Extensive initial outreach: Allocate time and resources to finding the right grassroots organisations to work with from the outset.
Offering training free of charge: The cost barrier must be removed to be genuinely accessible.
Cultural safety and a supportive environment: Collaborating with community organisations at all stages of the project and attentiveness to the needs and comfort of younger participants.
Professional pathway continuity: Creating a supportive pathway into the industry. The work needs allies who are well-connected and highly experienced leaders, who offer their support and resources to safeguard professional pathways for marginalised people.
Getting the curriculum right: Tailoring content with the needs of diverse communities and the screen industries in mind.
What's in the program?
The 6-7 week program is divided into three stages. Stage one covers the basics of screen acting. In stage two, the students begin acting out scenes in a mock set environment. They experience what it's like to be on a busy set surrounded by crew and equipment. They gain a practical understanding of screen production methods such as continuity and shooting at different angles.
In stage three, students hone their skills and become audition ready. Here, five blocks of screen acting are undertaken (15 hours in total) which are then reviewed by the whole group.
The project came together when Guesswork Television were commissioned to produce the new series Deadloch for Amazon Prime (shot in Tasmania in early 2022) and this prompted them to join forces with Cooper Screen Academy. Later, Guesswork producers and Deadloch actors sat on the judging panels and tutored the participants, resulting in 12 students from stage three of The Diversity Project being successful in securing auditions for the series.
The proximity to a big budget, international TV production and known industry figures was inspiring for the project's students. Aimen Jafri, one of the participants, says it allowed her to 'see what was possible', adding that she gained confidence and felt comfortable in the multicultural environment enabled by the project. It is her hope that more Muslim actors in the business will eventually break stereotypes around the wearing of the hijab and improve screen representation of Muslims: "If you can't see it, you can't be it" she says.
Extensive outreach at the outset  
Sara Cooper emphasises the fundamental importance of this step in making the project successful. A lot of work was put into informing relevant communities of the project, finding the right organisations to work with and getting them on board. It was essential to find groups that were representative of culturally and linguistically diverse, Muslim, disabled, migrant, ethnically diverse and First Nation populations to collaborate with.
Without them, creating a culturally safe space would not have been possible. Community groups provided cultural consultation but were also integral to the project, participating at every step, being present at the workshops and spreading the word about the project via their networks.
The groups involved were:
The Tasmanian Aboriginal Centre, the Multicultural Council of Tasmania, The Migrant Resource Centre Youth Program, Second Echo Ensemble and M.A.D.E. (Mature Age Dance Ensemble).
Offering training free of charge 
For Cooper, it is essential that the screen acting courses offered by the project should be free. Cost is just one of the barriers to accessibility for marginalised groups, but it is an important one. To charge a fee would mean excluding potential participants from the opportunities on offer.
Funding for The Diversity Project was provided by Screen Tasmania, a department of the Australian government that is responsible for supporting and developing the state's film, television and multimedia industries.
Cultural safety and a supportive environment 
Essential to this was creating an inclusive space where everyone could flourish – and one that was sensitive to cultural differences. To create one that is safer for marginal and ethnically diverse groups means that there is 'no assault, challenge or denial of identity and experience'.
Having identified a number of groups that could establish a supportive and culturally safe environment, the project leaders involved them in shaping the course, and the group representatives worked collaboratively alongside the delivery team. They helped to develop the curriculum, provided assistance during the application process and were on the selection panels. Their presence signals that participants are in a supportive space, and allows for language support where needed.
Jodi Haines is one of the project participants who benefitted from The Diversity Project's collaboration with the Tasmanian Aboriginal Centre.
"Participating with Aboriginal community members in a positive space enhanced the safety for me where we felt encouraged to explore and express our creativity," she said.
From the point of view as a participant, she believes that the Diversity Project model is an exemplar of how to engage the Aboriginal community and involve them in the co-design through grass roots organisations (such as the Tasmanian Aboriginal Centre).
Professional pathway continuity 
Cooper's industry connections, particularly in production companies, means the project is aware of what's new in the industry and what screen producers might be looking for. She believes in providing training that is industry-linked, helping young people to forge a path into the profession (aided by Cooper's many years of professional experience and support from production insiders). The project offers additional support such as advice regarding applications and auditions.
Getting the curriculum right
Keen to fill the gaps where few opportunities exist (school education in Tasmania teaches theatre acting but not acting for the screen), Cooper explains that The Diversity Project provides a service to would-be actors as well as fulfilling unmet demand from TV and film producers.
Generally speaking, by involving and collaborating with community groups, training can be tailored to the needs of target communities and better allow for organisations to be sensitive to specific cultural understandings. This could help create more inclusive, safer and more comfortable places. This sense of collaboration and the involvement with organisations that have close ties with industry can help prepare participants for what to expect in 'real life' TV and film production environments.
The Diversity Project is securing funding and expects to continue into 2023.
What is the Imagine Project?
We're publishing case studies and documenting Australia's best work in advancing cultural diversity and racial equity and inclusion in the arts  through the Imagine Australia Project, managed by Diversity Arts Australia (DARTS) and funded via the Australia Council's Re-Imagine project and supported by Creative Equity Toolkit partner, British Council Australia. To find out more click below – or read the other case studies as they go live here.
Find out more