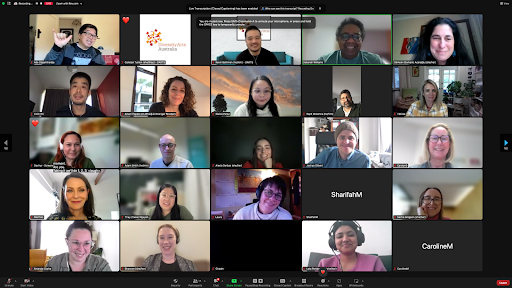 What people said about the program:

"Thank you for providing these learning opportunities for industry professionals as a way of building capability; as a way of demonstrating the need for systemic change, and as a way of strengthening communities of advocacy and practice to collectively challenge power and influence intentional inclusive change across the sector."
On Friday 2 September, Diversity Arts held our final event in the "Fair Play On Screen" Masterclass series.
The program delivered 13 masterclasses over three-months that engaged more than 280 participants. Our specialist educators presented on antiracism, accessibility, cultural safety, inclusive leadership, inclusive directing and more within a screen and arts context.
What people said about the program:

"A solid reminder of the benefits both creatively and for the business side of supporting diversity in the arts."

"I really appreciate the thought and care you have all put in to create spaces for these important discussions in the industry… It isn't just the content, but the conversations in the chat or break outs between those in the online room. It helps in my own resistance when I know that people in certain organisations have foundational knowledge in areas of universal design, social model of disability, cultural safety, anti-racism etc. It means I have a known starting point in any future engagement."
Thank you to our wonderful presenters for sharing their insights, research and experiences with us – and a special thank you to presenter and training consultant, Dr Gorkem Acaroglu for her hard work.
Diversity Arts extends our appreciation to all participants who attended the series and contributed to the discussions. Your contributions made these masterclasses all the more relevant and engaging for all.
We also extend our thanks to Screenrights for their support of this program. You can find out more about the Screenrights Cultural Fund here.