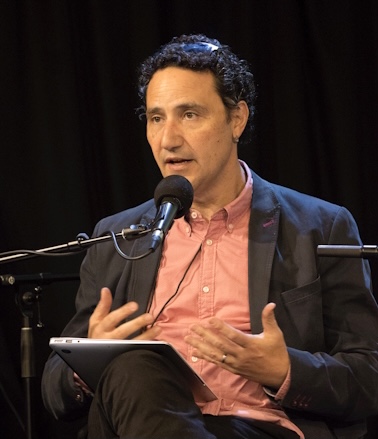 We are pleased to announce that Diversity Arts' inaugural patron will be James Arvanitakis and to commend James for his support and leadership in the area of cultural diversity and the creative sector.

— Debbie Lee, Chairperson, Diversity Arts Australia
Diversity Arts Australia would like to say a huge thank you to our first patron James Arvanitakis, who will leverage his considerable profile to promote and sustain our work. His continued support means everything to us, and with it we will continue to influence the Australian creative and cultural landscapes. James explains his motivations below.
What does it mean to you (to be patron)?
I have long been a supporter of the wonderful work of Diversity Arts Australia – originally I joined the Board, then became the Chair. I have also been involved with the research and growing the relationships with some of our partners. Not only is DARTS closely aligned with my political outlook, but also my ethical and moral positions. 
I feel that as a patron I can continue to support this amazing organisation and the work they do.  On a personal note, I will say it also feels like an incredible honour to be recognised in this way.
What do you hope to bring to the table in this new role?
I hope to continue to support DARTS publicly in any way I can: through my research, media and connections with the broader artist communities across Australia and internationally. As a champion of DARTS, I would also like to be able to promote the work, mission and goals to decision-makers across sectors. 
Why do you support the work of DARTS?
The arts are a mirror of society: they capture our history, reflect on who we are and portray our hopes and aspirations. They also remind us of things that sometimes we wish to forget. The arts cross politics in an apolitical way but are also deeply political. 
The work of DARTS is to ensure that we have incluse and vibrant communities across Australia: one fundamental vehicle in achieving this is through the arts. As we navigate the complexities of the twenty-first century, the arts offer us a way to communicate across social, political and cultural gaps. It is work I am proud to be associated with.
Join James in supporting Diversity Arts
Our community only works when we work together to support each other. We would value your donations and put them to work!
Donate now