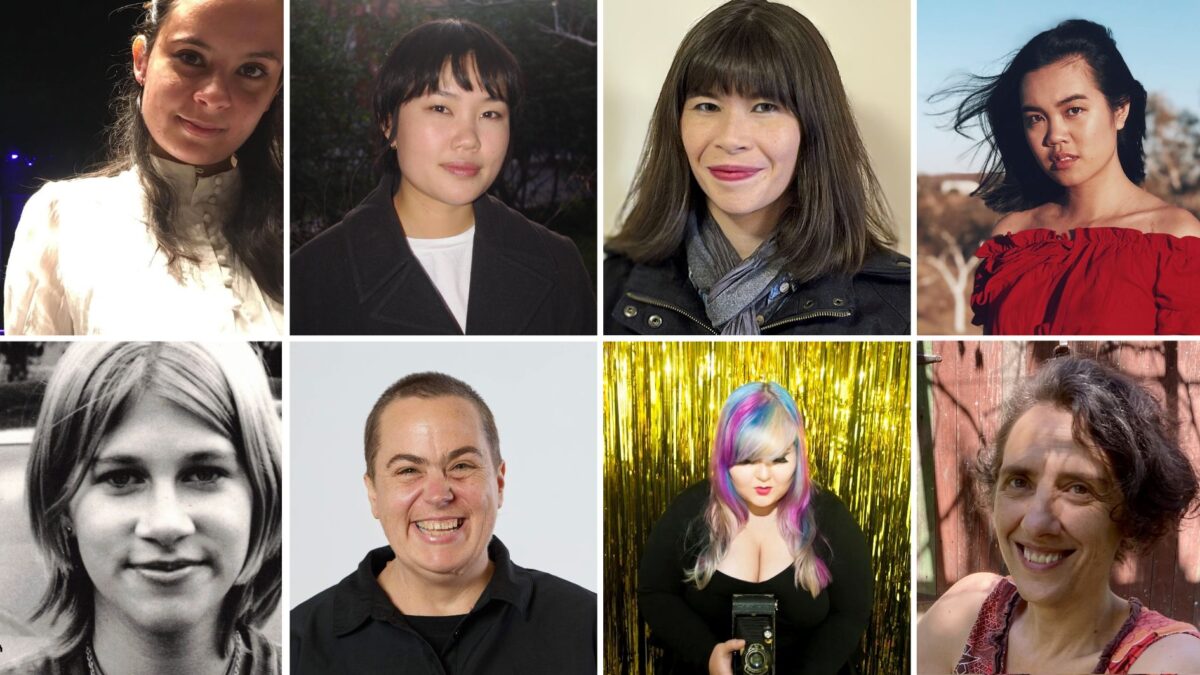 We're excited to announce the eight successful applicants who will be undertaking paid internships as part of Ripple, the Disability and Culturally Diverse Internship Program led by Accessible Arts and run in partnership with Diversity Arts Australia and a range of arts, cultural and screen organisations across NSW and the ACT.
Congratulations to Phoebe Lupton, Cassandra Li, Monique Moate, Thuy Diem Mây Trần, Faye Chamberlain, Fi Peel, M. Sunflower and Marianthe Loucataris on being selected. They will each be undertaking an exciting internship at one of our partnering cultural organisations, including the Art Gallery of NSW, UTP, Brand X, Lismore Regional Gallery, 4A Centre for Contemporary Asian Art, APRA AMCOS, and the National Portrait Gallery.  
"This is an exciting opportunity to gain valuable insights into the kinds of organisations and work available in the arts and cultural sector, whilst forming connections as emerging creative sector workers," says Liz Martin, CEO of Accessible Arts.  
Thanks to everyone who applied for this competitive program and congratulations again to the selected interns.
Culturally and Linguistically Diverse Internship Participants:
M. Sunflower – Internship at UTP
M. Sunflower is a culturally diverse First Nations Australian with disability. A descendant of the Aboriginal Warmuli people of the Dharug Nation, Lebanese post-war migrants, Chinese gold rush immigrants and UK convicts, M. Sunflower embodies the diverse ancestral legacy of Australia's painful and complex colonial past. She holds a Bachelor of Visual Arts (Photomedia) from Sydney College of the Arts, University of Sydney, and is currently Co-Director of the Board at Firstdraft. Her interdisciplinary practice encompasses photography, video, painting, sculpture, fashion design and installation; raising visibility of issues related to identity, trauma and disability. A strong believer in art as activism, she works actively to advocate for human rights, and create opportunities and support for marginalised peoples of all identities.  
Thuy Diem Mây Trần – Internship at Brand X
Mây Trần is a Vietnamese-Australian performer, theatre-maker, and exhausted person based in Western Sydney. Their work explores the cultural perception of neurodivergence with intersections of race, gender, sexuality and class. With a background largely in theatre, some of their credits include 'Cleansed' (Old Fitz Theatre, 2022), 'Hot Mess' (KXT, 2021), 'R+J RMX' (Opera House, 2021) and 'PLAYLIST '(PYT, Opera House, 2019).  Currently, they are creating a solo work about their experiences as a late diagnosed autistic with ADHD. Their work reflects their passion for the radicalisation and celebration of queer, POC and disabled communities, of which they are proudly a member of.
Faye Chamberlain – Internship at Art Gallery of NSW
Faye is a profoundly Deaf woman who grew up with a mixture of two different languages – Signed English and speaking/lip reading. She learnt Auslan later in life. She is half Polish and half Australian. She has always loved the arts and is particularly passionate about illustration and writing and how these artforms allow you to be anything you want to be – you can reshape yourself into any character, landscape or object. Faye describes her illustration style as a little bit cartoony and eclectic. Her writing spans both fiction and non-fiction.
Cass Li – Internship at Art Gallery of NSW
Cass Li is an emerging writer and filmmaker with an experimental personal documentary practice. Raised in Western Sydney, Dharawal country, her essayistic work explores her lived experience as a second generation Australian with Timorese Chinese heritage. She recently graduated with Honours in Media Arts at UTS. Her research and practice in first person documentary filmmaking explores Asian Australian identity, hybrid realities and the representation of self. Her first film, 'the sign of a frog' (2022), was screened at Antenna Documentary Film Festival as part of the Best Australian Shorts competition and she attended AIDC (Australian International Documentary Conference) 2023 as a Leading Lights screen creative. Cass is passionate about experimental, compassionate and collaborative modes of working and developing inclusivity and accessibility in the arts.
Monique Moate – Internship at 4A Centre for Contemporary Asian Art
Monique is passionate about mental health destigmatisation and awareness, as she has a long history of mental illness. She also cares about racial and social equity, environmental sustainability, and accessibility for those with disability. Monique enjoys creativity and communications of all kinds and has a postgraduate certificate in digital publishing. As a freelance writer, editor, and proofreader, she has worked on a wide range of content, including web material, academic writing, copywriting, and marketing collateral for diverse clients.
Marianthe Loucataris – Internship at Lismore Regional Gallery
Marianthe is a musician, composer, sound designer, performer, new media artist, creative producer, theatre practitioner, educator, arts administrator, community arts activator and arts sector consultant. With an enduring interest in the processes needed for generative collaboration, recent work nourishes creative connections and collaboration between humans, ecologies, technology and cultural practices, with a focus on how to navigate difference and the tension that often accompanies it. Multi-modal creative communication can shift – widen – how we intra-act with each other and our non-human kin. Marianthe explores how 'ableism' defines what it means to be 'an ideal human' and how improvising with the other-than-human can shift our sense of 'self' and 'other' at this precarious moment-dripping with individual and collective trouble.
Fi Peel – Internship at APRA AMCOS
Fi is a production manager and playwright for Just Hearing and a Playback Company member with Rebus Theatre. They are front of house manager for The Mill Theatre at Dairy Road, and executive producer and host of the Communities of Collaboration podcast. They have undertaken production roles with Lakespeare, The Cooperative, Keystone 1889's Christmas Spectacular and This Is My Brave Australia; have been published by Independent Australia, Sync Leadership, Riot Act, Red Room Poetry, Mad In America and A Zine by US; have played devised, revolutionary and Shakespearean characters in Systems and Sanity (Rebus), Tosca (The Cooperative), Romeo and Juliet (Bathurst Shakespeare Players) and have sung with Eric Whitacre's Virtual Choir 6, Bearfoot Theatre, Oriana Chorale and The Song Company.
Phoebe Lupton – Internship at the National Portrait Gallery 
Phoebe is an Anglo-Celtic and Sinhalese person who writes poetry and prose, and haphazardly makes art. She is neurodivegent and queer. Phoebe works, dreams, and self-advocates on unceded Ngunnawal land. Their writing has been published in Cicerone Journal, Antithesis Journal, Archer Magazine and Overland, and has been shortlisted for the Catalyse Nonfiction Prize. Artistically speaking, Phoebe is interested in dreams, emotions, and(inter)personal histories.
This program is supported by the Commonwealth Government Department of Social Services.