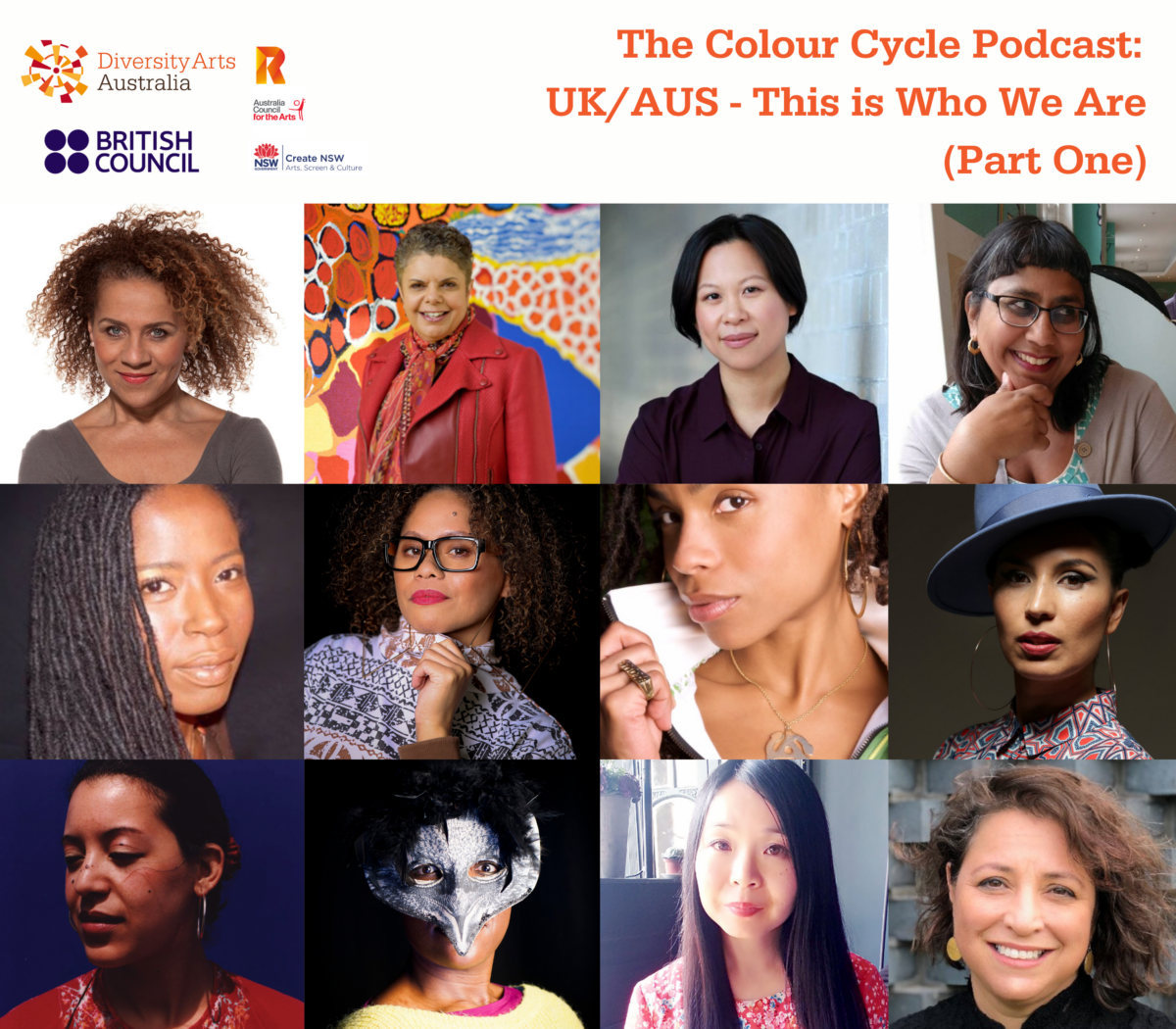 LISTEN NOW
This season is available via the link below or on all good listening platforms: Spotify, Apple Podcasts, Anchor, Castbox, Castro, Deezer, Google Podcasts, iHeartRadio, Listen Notes, Overcast, Playerfm, Pocket Casts, Podcast Addict, RadioPublic, SimpleCast, Soundcloud, Stitcher, and TuneIn.
Support Diversity Arts on Patreon to help us continue to deliver our Colour Cycle podcast series.
LISTEN HERE
As part of British Council's UK/AUS Season, Diversity Arts Australia (DARTS) is proud to present a new season of The Colour Cycle podcast spotlighting synergy between trailblazing female creatives in the UK and Australia!
Four insightful episodes—titled UK/AUS – This is Who We Are (Part One)—emphasise the experiences of women of colour and Indigenous women working in the arts and creative industries in the UK and Australia. The guests share cross-cultural knowledge, unpack the differences between regions, the notion of resilience, existing as women in artistic spaces and what they've learned throughout their careers.
Colour Cycle host and CEO of Diversity Arts Lena Nahlous said, 'After a difficult few years for artists, these conversations were so uplifting. The sense of solidarity and connection, of shared and parallel experiences was truly energising. The wealth of knowledge from the guests, and their invaluable strategies and insights, are empowering for us all.' 
UK-based independent producer Melanie Abrahams, helped to shape many of the themes for this series.  Melanie states 'the lived experiences of women of colour are often invisible, downplayed or pushed aside for the more 'exotic' stories that reinforce stereotypes. These podcast sessions are speciala and come from a place of care.  They are our stories of life and of sisterhood. In the telling of them we've been able to connect and to resonate with each other which is special' 
This Colour Cycle podcast season is a joint UK/AUS initiative by the British Council and the Australian Government's Department of Foreign Affairs and Trade to strengthen cultural exchange. DARTS produced it in collaboration with Renaissance One and This Is Who We Are,  a UK-Australian movement of intergenerational & intersectional women artists, producers and creatives of colour who are transforming sectors, thinking and spaces.
Guest Bios
Chi-chi Nwanoku OBE is Founder, Artistic and Executive director of the Chineke! Foundation, which supports, inspires and encourages Black, Asian and ethnically diverse classical musicians working in the UK and Europe. Chi-chi was a founder member of the Orchestra of the Age of Enlightenment and held the position of Principal double bass there for 30 years. She is Professor of Double Bass Historical Studies at the Royal Academy of Music, where she was made a Fellow in 1998. She is also an accomplished broadcaster, having presented several programmes for the BBC. http://www.chi-chinwanoku.com/
Deborah Cheetham AO is a Yorta Yorta woman, soprano, composer and educator has been a leader and pioneer in the Australian arts landscape for more than 25 years. In the 2014 Queen's Birthday Honours List, Cheetham was appointed as an Officer of the Order of Australia (AO), for "distinguished service to the performing arts as an opera singer, composer and artistic director, to the development of Indigenous artists, and to innovation in performance". Cheetham established Short Black Opera as a national not-for-profit opera company devoted to the development of Indigenous singers. She produced Pecan Summer, Australia's landmark first Indigenous opera. In 2021 Deborah Cheetham began a five year appointed as First Nations Chair of Melbourne Symphony orchestra. https://www.shortblackopera.org.au/
Pearl Tan is a filmmaker and founder of Pearly Productions, creating independent films with a focus on diversity. Pearl co-founded the Equity Diversity Committee and held the position of Co-Chair for two years. She sits on board for the Media Entertainment and Arts Alliance (MEAA) and on the National Performers Committee for Actors Equity. She is currently the Senior Lecturer in Directing and Subject Leader, Character & Performance at the Australian Film Television and Radio School (AFTRS) and is completing her PhD, where her research focus is on the experience of Diversity Workers in the Australian screen industry. https://www.pearltan.com/
Sharmilla Beezmohun is a freelancer, editor and novelist. She co-founded the independent literature organisation Speaking Volumes, and has worked in the publishing industry for almost 25 years. Her work has been published in various journals and translated into Finnish. Sharmilla is a Trustee of Carcanet Publishers, Modern Poetry in Translation magazine and the George Padmore Institute as well as being on the international organising committee of AfroEuropes, a cross-continent academic and cultural network.
MC Trey is a pioneer in the world of hip hop whose legacy spans 20 years of music about everyday life, love and her Pacific community. Known as one of the first female hip hop artists in Australia, Trey has performed locally and internationally, has released 4 albums and has been nominated for ARIA, Urban Music, 3D and Jack Music Awards. https://treymusic.wordpress.com/
DJ Sarah Love has performed in over 30 countries across five continents at world famous clubs, festivals and arenas in a solo career spanning more than 20 years. She has shared stages with DJ icons such as Grandmaster Flash and Jazzy Jeff, and supported music stars including Mary J Blige, Wu-Tang Clan and The Roots — to name just a few. As one of the UK's busiest DJs, Sarah was headhunted by BBC Radio to present the '1Xtra Friday Night Hip Hop Mix Show' and the 'Weekend Wake-Up Show', receiving global prestige transmitting to millions as one of the few female specialists in worldwide broadcasting. https://ra.co/dj/djsarahlove
Maya Jupiter was born in La Paz to a Mexican father and Turkish mother. She grew up in Australia where she fell in love with Hip Hop, later hosting music shows on TV and radio.  She's released three albums, and is working on a new EP. Maya has run songwriting workshops in juvenile detention centres in Los Angeles and Sydney, and believes music can be transformative. She's the recipient of four social justice and humanitarian awards and supports several social justice organisations. https://www.instagram.com/mayajupiter/?hl=en
Melanie Abrahams is a curator and producer who has channeled her love of words and books into gatherings, festivals and initiatives. She's founder of independent organisation Renaissance One which for over 20 years has been making space and creating opportunities for diverse voices in literature through tours, an artist's agency and commissions.  She's worked variously, from partnershipswith Miami Book Fair, Chris Ofili, Museum of Colour and the BBC, to projects in universities, care homes and community centres. She's the initiator of This Is Who We Are project in collaboration with artists, curators, organisations and partners in the UK and Australia.  melanieabrahams.net / .co.uk
Chérie Taylor Battiste is a poet, playwright and a former TV researcher and actress. Early in her career she won a Norman Beaton Fellowship and project managed the embedding of creative learning in schools with CapeUK. Finding herself a lone parent of two, and as austerity hit, she returned to poetry, which she pursues as freedom, to share her experiences and as a rare opportunity to have an uncensored cultural voice. Her first collection Lioness was published by Valley Press in 2019.
Aleasha Chaunte is an artist who works primarily on audiences: finding ways to cue, gain consent and encourage authentic, public intimacy. Her primary interests are ritual, the wisdom contained within fairy/folk/mythic tales, handmade crafting and social justice. All of these themes tend to be mixed up in everything she does. Her most recent work is "Out of the Narrow Place: a ritual for black descendants of slaves" which was the result of several years exploration of the lived experience of human rights. www.aleashachaunte.com www.oneseptember.co.uk
Jennifer Lee Tsai is a British-Chinese poet. She was born in Bebington and grew up in Liverpool. Jennifer is a fellow of The Complete Works and a Ledbury Poetry Critic. Jennifer's debut poetry pamphlet is Kismet (ignitionpress, 2019). She won a Northern Writers Award for Poetry in 2020.