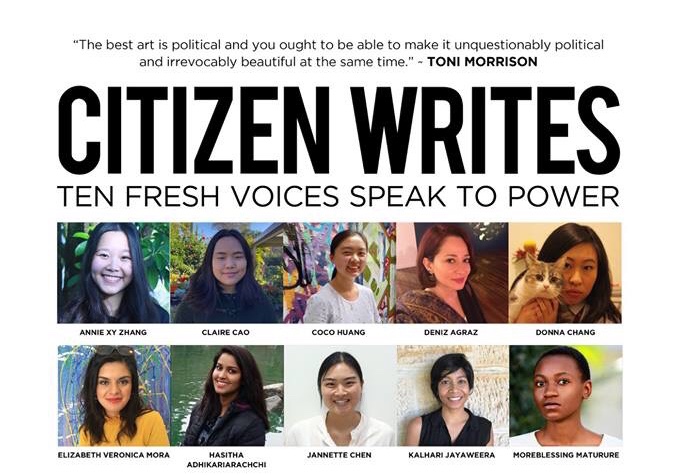 You want the truth? You can't handle the truth! A sound bite from the film "A few good men". But the truth is we are influenced by just that, a singular lens; a mono-cultural, male skewed Eurocentric approach. This lens produces similar narratives over and over again with a different, disguising filter. So how do we unmask this disguise and give people the full story? Maybe a dash of multicultural and gender inclusion could be a first step? Well here is a slice of truth, an authentic start to a very complex issue about who is allowed to hold life's microphones.
On a sunny Sunday afternoon, a group of Sydneysiders gathers at 107 in Redfern to listen to the writers of Citizen Writes, an initiative by the Carnival of the Bold and supported by City of Sydney and Diversity Arts Australia. Citizen Writes brings a wave of women surging ahead onto the sandy shores of Sydney and shines light on these ten voices. This initiative showcases female writers of colour, by bringing together their unique writing styles and empowering them through their mentor, Dr. RoannaGonsalves, during a month-long program last February 2018. At the launch in April, an intimate, responsive and packed house listened eagerly as the women shared snippets of their writing. This was just a little 'piece of paradise' compared to what is in store for the future of these young women writers.
The green-ness in the air didn't distract from the overwhelming joy of having a group of culturally diverse women take the stage. The voices that rarely receive lightnow have an opportunity to be heard. Did the audience listen intently, with a desire to support them in any way possible? Hell yes! Even with my own personal intentions of finding a great, experienced comedic writer for my web series, it didn't matter – I still wanted to have them in my writers' room for CHIKAS season 2.
When a single dominant narrative rains across our airways, it can amplify cultural stereotypes, gender bias and polarised political views of diverse cultural and religious groups. In consequence, significant harm is caused to the mental health of cultural minorities, and hate crimes increase. Some recent examples include the prevalent racial attacks towards Indian students, or the attacks on Mosques, and the recent increase in suicide rates in the South Sudanese youth community.
If we were able to measure the influence and power of an individual's word through a business case, then we would be financially able to measure the cost of the voices excluded in history. Empowered by the statistics, our community would see faster progress in diverse storytelling. So what do we do? How do we change the game and alter the likelihood of who gets the microphone? I'm initiating this conversation in order to bolster further research, so that we can have a more equitable community.
Carnival of the Bold allowed a group of bright, young andhopeful women of colour to have the microphone for a moment in time, starting a new cycle that could calm the cognitive bias that doesn't serve us. Their power to influence can reshape the narrative, since they highlight the bits that have been left out, rendered invisible or been forgotten. We have so much to learn from this initiative in terms of how we expand the platform, and our own responsibility to push past content we are comfortable with and widen our own lens.
But for now, Citizen Writes has championed the voices of women of colour and allowed the boundaries to be pushed into alternative spaces. I believe that we have regained a sense of agency, as well as the confidence to resist the dominant power hierarchy and challenge ones' concept of self. Ultimately our human conditions carry more similarity than difference. So, let's celebrate these 10 women as they sail out onto the writing waves of the deep unknown with a course towards courage and hope. I have no doubt they will transform culture, shape this Australian identity, and calm the seas of cognitive biases in cultural stereotypes.
Carnival of the Bold has injected women writers, philosophers, and visionary artists into the history books,making possible the idea that school kids will one day read an equal proportion of female writers to male writers. Thank you Diversity Arts Australia for your efforts and contribution. Let's share this ride and see where we end up on this rollercoaster of storytelling.
Peace out,
Genevieve Craig