It's here! The Colour Cycle podcast SEASON 2!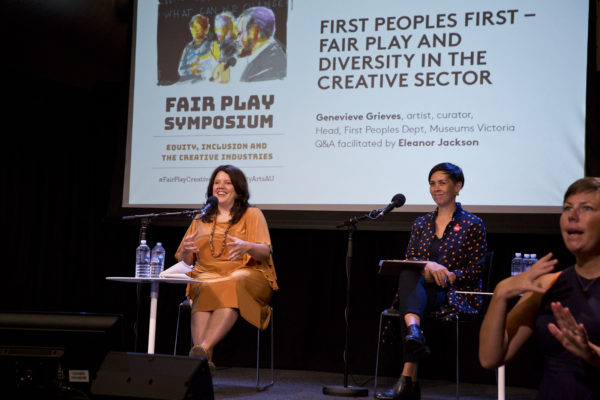 The Colour Cycle Podcast is packed with important ideas, strategies and insights from leading thinkers in the arts. If you're committed to equity in the creative sectors, then you don't want to miss this. This season features a special recording of Fair Play season live at the Diversity Arts Symposium, Wheeler Centre in Melbourne.
We're sharing these thought-provoking and courageous conversations far and wide. Conversations and experiences from First Nations trail blazers Genevieve Grieves and Tony Briggs, international guests like Deborah Williams from the UK's Creative Diversity Network, Disability leader, artist Caroline Bowditch, Aseel Tayah, Paula Abood, and many more.
The Colour Cycle Podcast is on all good listening platforms: Spotify, Apple Podcasts, Anchor, Castbox, Castro, Deezer, Google Podcasts, iHeartRadio, Listen Notes, Overcast, Playerfm, Pocket Casts, Podcast Addict, RadioPublic, SimpleCast, Soundcloud, Stitcher, and TuneIn.
Thanks to all of our Fair Play symposium partners: co-presenter The Wheeler Centre, core funder Creative Victoria, sponsors Ai-Media, British Council, Screen Australia.
Koorie Heritage Trust Inc, Arts Access Victoria, Multicultural Arts Victoria, Arts Front, Feral Arts, Regional Arts Victoria, Abbotsford Convent, Footscray Community Arts Centre.
Support Diversity Arts
Support Diversity Arts on Patreon to help us continue to deliver our Colour Cycle podcast series, sharing knowledge, experience and insight from artists and creative workers from across the country.
Support us on Patreon