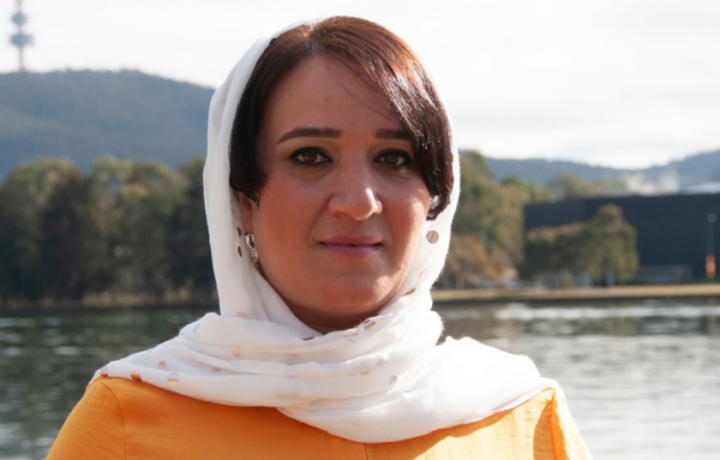 Between news of the Taliban seizing control of her homeland months ago and COVID-19 lockdowns in Canberra, Afghan refugee Hangama Obaidullah has felt jittery, to say the least.
The visual artist, writer and poet, who arrived in Australia in 2003, says her life came to a halt when the pandemic reached Australia last year.
"I've found staying at home during lockdowns to be traumatising since they remind me of the difficult times I had in Afghanistan before I escaped," says Obaidullah, whose art often draws on her heritage and personal experiences.
"When the Taliban took control of my city in 1995, I was a young girl. I remember waking up one morning and hearing that women and girls were not allowed to leave home. That was the most difficult time in my life. I used to be a very active child and hated being away from school.
"Last year, when I saw how a virus took control of the world and stopped everything, I panicked. I thought the world was coming to an end."
As a creative sole trader, Obaidullah has experienced significant economic setbacks from COVID-19.
"Before the pandemic, I was a busy artist. I used to take part in numerous community projects and had a very busy schedule. Then, all of my projects, conferences and events were suddenly cancelled," says Obaidullah. These cancellations caused her a significant loss of income and further stress, she adds.
"Because of this, I had to go on a government benefit. On top of that, I am a single mother with a nine-year-old son. He's at home throughout the lockdowns, giving me extra responsibilities and very little time to get creative. Not having facilities and proper equipment at home makes it almost impossible for me to create any new artwork".
Being in isolation may remind Obaidullah of past traumas and stop her from creating visual art, but it has inspired her to try something new: short fiction.
"I'm constantly at home so I've used this time to focus on writing. I finished a short story about a young girl in Afghanistan who's stuck at home and being forced into marriage by her family members," she describes. "My character tries to get out of an unfortunate situation without hurting anybody."
During a period last year when lockdown was lifted in the ACT, Obaidullah started a series of art classes for immigrant women at a local community centre.
"This pandemic has made me realise how connected we are as human beings and how much we need each other and to look after each other in order to survive," says Obaidullah. "It really made me appreciate the idea of community more."
Obaidullah's art classes provide creative skills and community connections for recently arrived immigrant and refugee women in Australia. When Canberra life resumes as 'normal', she hopes to collaborate with other women artists from diverse backgrounds to create artworks depicting the ways their communities were affected by the pandemic.
This interview article was commissioned by Diversity Arts Australia as part of the Creative Lives During Covid series, with support from Create NSW. First published in Her Canberra, 19 October 2021.
Dive into the Creative Lives During COVID series
Welcome to Creative Lives, a treasure trove of intimate conversations, original articles, all-inclusive reviews, inspirational case studies and cultural understanding drawing on the professional practice of Australia's diverse creative and artistic talent. The individuals and organisations featured are creating an impact across filmmaking and TV, visual arts, music, performance, literature, and multimedia.
Suzy Wrong interviews Shauntelle Benjamin, Lisa Fa'alafi, Eugyeene Teh, Catherine Van-Davies and Darren Yap.
Simone Amelia Jordan interviews Hoodzy, Hooks, Joe Nemer, Milly Petriella and Mariam Sawires.
Deniz Agraz interviews Avan Anwar, Yolla Baker, Vivian Nguyen, Hangama Obaidullah, Christian Bong Ramilo and Doug Williams.
Tanya Ali interviews A.Girl, Allara, GLO, Strict Face and Natesha Somasundaram.
Hawanatu Bangura interviews Richmond Kobla Dido, Evelyn Duprai, Abu Kebe and Lucky Lartey.
Read Now