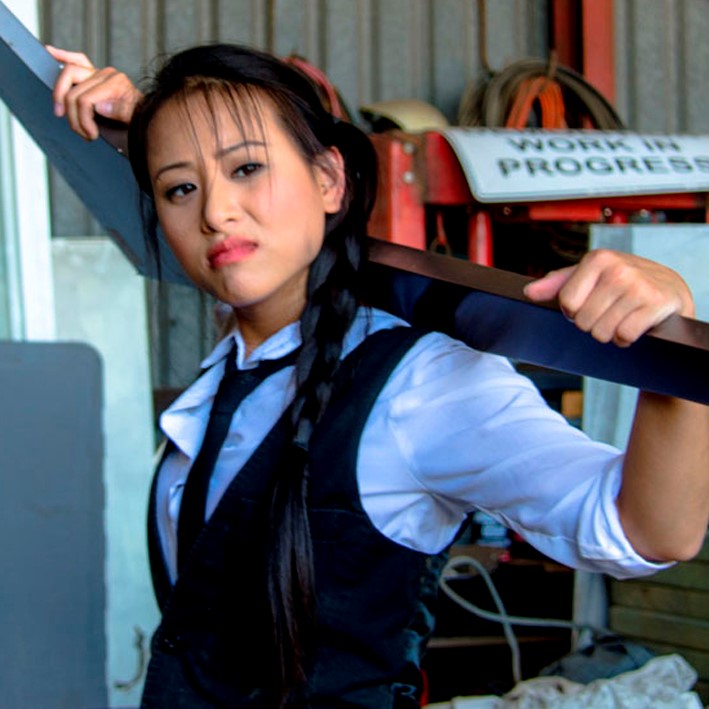 Diverse Screens filmmaker Maria Tran
Maximum Choppage and Tracer star Maria Tran is an actor, director and martial-arts specialist, credited with playing a lead role in the creative development of the Australian Vietnamese film movement. The Sydney Morning Herald's Andrew Taylor said 'Watching Maria Tran rain punches down on adversaries or scissor-kick across the cinema screen, it is hard to imagine anyone foolish enough to mess with her.'
We're thrilled to have her creating a film for Diverse Screens and she took time out to tell us a little about the project.
What drew you to this project?
​I was always compelled to the action genre and this was the first time I used the superhero context ​to explore themes of filmmaking practices and their inclusion of cultural diversity in Australia.
What ideas did you explore in your film?
I got to raise the issues of whitewashing, cultural appropriation and tokenism in a momentarily subtle undertone of the making of the fictional movie The Subtractor. These topics are often avoided in the screen industry and often raised in the aftermath of film projects once they have been completed such as Ghost in the Shell, Avatar: Last Airbender and Dragonball Z.
Did the experience of working on this project change how you thought about your subject matter?
I knew about the subject matter and have had first hand experiences of it on various projects in Australia and I was always left feeling a void in me that I did the right thing for speaking out about the issues but time and time again felt the pressure of being an "outsider" and that speaking out meant that I was not a team player. This film project allowed me to channel a lot of my experiences into this fictional piece of work which gave me the opportunity to re-enact and dramatize the subtlety and variations of experiences in the industry that are often not told.
What is you filmmaking background?
My career has been crafted by numerous experiences working on film projects; from indie to mainstream and both in Australia and across Asia. I'm an all-rounder, acting, directing, producing, editing and have taught at AFTRS, Sydney Film School and various organisations and local councils. My speciality is the martial arts action genre and crafting various short form content around this.
---
About the film
Tran's mockumentary The Subtractor beings when a Hollywood superhero movie arrives in Western Sydney, but questions are soon raised about assumptions of the movie-makers. 'Things become questionable as the director, Ridley Whyte execute decisions that leave the lead actor ever more confused about his identity,' says Tran. 'In the meantime, a local activist is protesting on the production's cultural appropriation practices.
The Subtractor explores ingrained issues of appropriation and cultural stereotyping, and managing to throw in some laughs and kick-ass martial arts to boot. An inside look at an ugly side of an industry that prides itself on inclusion from an insider and a must-see for anyone interested in spotlighting barriers to inclusion in our creative sector.
---
Phoenix Eye
Maria's film production company Phoenix Eye frequently collaborates with DARTS. Maria told us a bit about her business.
What is Phoenix Eye and why was there a need to start company?
Phoenix Eye is a film, media & art collective based in Fairfield. We officially started off the NEIS Scheme; a government scheme that help people start their business and be sustainable. At that time, I'll admit, after working in Asia, being part of many film collectives in Western Sydney such as Rumble Pictures, Dong Thanh, Vietlish, and made numerous short films, I came to a point where I was broke, unemployed but still want to pursue my creative endeavors. Phoenix Eye started in my father's sun room/ garage and since then, PYT Fairfield has given us an office space to help us expand.
What is the importance of a company like PE?
Phoenix Eye is grassroots and female-led. I don't think I started out with the intention that it was "female-led" but saw how many diverse women joined and contributed to Phoenix Eye in the past 1.5 years. Some women how have completed their degrees in film & art felt that there was a real barrier in the industry for women from culturally diverse backgrounds. Not only that, but these women were also dealing with a set of their own issues such as mental health, disability, low socio-economic status, access to transport and services and Phoenix Eye addressed a lot of these issues. 
PE covered lunches and dinners, free martial arts training, mentorships and linked young women to other training to skill up. We have our own transportation vehicle to drive participants home etc…
 We have women in roles such as directing, producing, writing, editing etc… and constantly working their craft on smaller community film projects and video work to now creating their own projects. 
How many people are you training? 
We have around 30 freelancers connected to Phoenix Eye, I personally train about 5 core women who in turn train roughly 4 additional. We do more practical training and lots of field experience.
Can you tell me a bit about the kinds of support that have enabled your success?
My foundations of understanding CACD was being Youth Digital Cultural Project coordinator. Prior to that, I had no idea on the power of community art and digital media as well as how projects can be engaging and are vehicles of change. ICE referred me to working on SBS "Once Upon A Time in Cabramatta" which led me to appreciate documentary making which is now one of the big demands at Phoenix Eye.
Mentors such as Mouna Zaylah, Lena Nahlous, Tiffany Lee Shoy allowed me to get a broader picture of the politics in the arts. The Screen NSW attachment on Jackie Chan's film allowed me to gain a better picture of Australia's relationship with Asia when it comes to filmmaking as well as connecting with Jackie Chan (he took me on a family road trip to Canberra after the shoot).
What have been some of the hurdles you have faced in getting into the film industry? How long have you been working in the field? 
I started in 2007 working in a community film called "Maximum Choopage" and over the years, had many opportunities to develop myself as a filmmaker and had lots of "attachments" to learn about the Australian film industry. However, it does still sadden me that I'm seen as an "attachment" in most instances and currently as a web series/ online filmmaker. I feel like I have to work on having a bigger and louder presence to be heard in the industry and unfortunately I don't trust production companies that don't have culturally diverse key creatives anymore after having a project that was close to me reinterpret the way they felt the mainstream audiences would buy in.
Can you tell me more about your experiences of being asked to be "more Asian" or dress "more Asian" …
I've had experiences where to get a story covered for a project I'm making, the journalist would ask if I can bring a set of numchucks or sword for the shoot. It's like an Asian selling point to play amp up the stereotypes to be seen and heard. There's been a case where for a photoshoot I did, the editor made my eyes slightly slanted (I know hey?!?!) to make me more "Asian". My mother saw the TVC ad and even she couldn't recognise me.
Recently, I played a role of a mainstream TV series. It was a good experience but I have to say, I had difficulties keeping up the very, very thick Asian accent, thick enough so it was funny, but not to much that it didn't sound like English.
What are some of your "success stories"? 
I had a good time working in Asia, on Roger Corman's (Father of B Grade Cinema) "Fist of the Dragon", and in Vietnam on action blockbuster "Tracer". If I didn't get myself outside Australia, I think my career would be stifled or I just quit altogether in the creative industry.
Phoenix Eye is the biggest success story to date. The women and I are working to keep sustainable as well as creating all types of "Unicorn" projects to be made in future.
How do you sustain/ support the development of your work? Do you generate enough funding to be self-sustainable or do you depend on other work to sustain Phoenix Eye?
In all honesty, myself and a lot of the women of Phoenix Eye, in financial terms are hanging roughly around the poverty line. Phoenix Eye generates enough income to pay minimally to the freelancers and the rest is invested in film camera equipment, training & development etc… We started out with one camera and now have over 12 camera equipment, lighting, rigs, gimbals, audio to be fully sustainable in 2019.