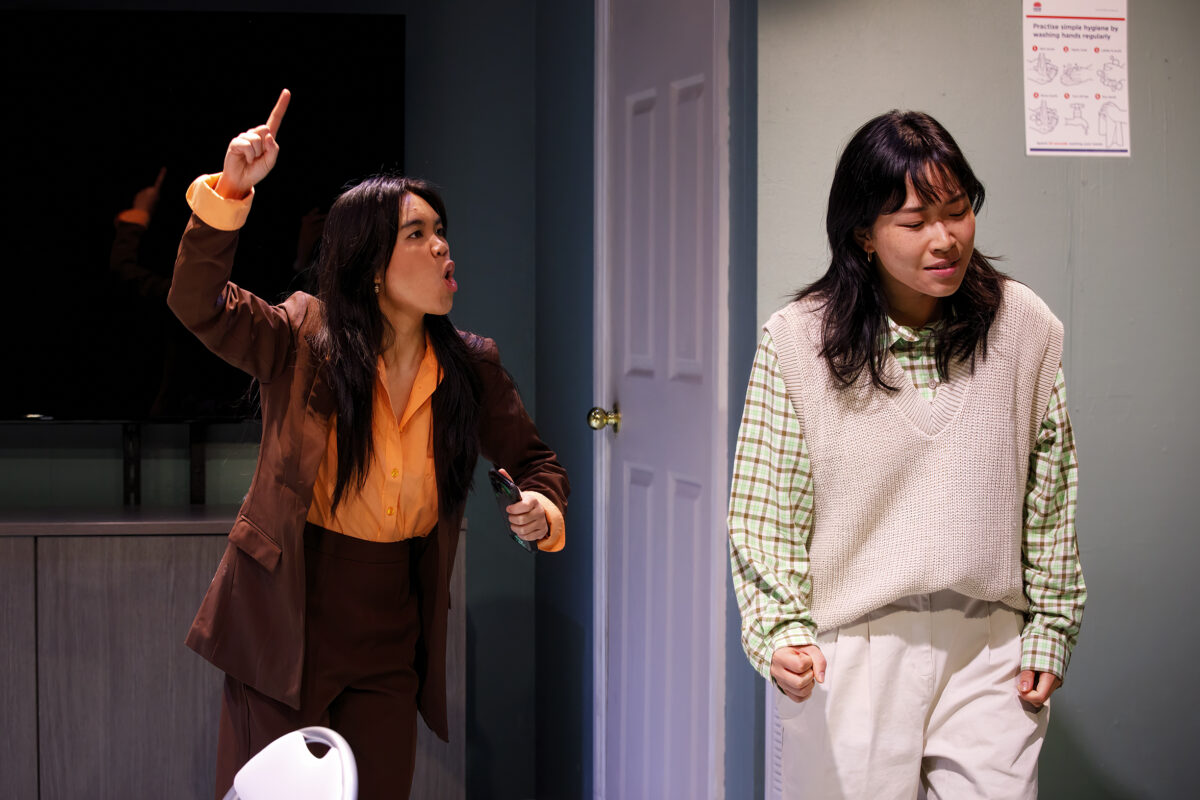 Finding a Gold Reef by Helen Nguyen
A review of The Great Australian Play by Kim Ho
After returning from the throes of the global pandemic, the iconic Old Fitz Theatre was transformed into a dull pastel-green conference room filled with COVID-related posters. Within the all-too-real set, five writers gathered to brainstorm ideas for a brand-new Australian film series. This statement on post-pandemic art in Australia was presented in Kim Ho's comedy-thriller tragic The Great Australian Play in partnership with Montague Basement. The premise for this new Australian show? The tale of Harry Lasseter, a man who claimed to have found a gold reef in central Australia in the early 1900s, thereafter known as the mythical Lasseter Reef.
Notably, the Ho's work received some unfairly low reviews, despite the Chinese-Australian having won the 2017 Patrick White Playwrights' Award. John Shand in The Sydney Morning Herald said, "Lasseter's Reef is not the only thing lost in this trippy comic drama." However, I would argue that being "lost" is not the fault of the director but rather the individual. In my opinion, it was clear that Shand refused to see past linearity in order to unpack Ho's multidimensional metaphors, some which rely heavily on Chinese migration history to and within Australia since the early 1800s. As a Vietnamese-Australian myself, I appreciated how Ho subverted romantic conventions of contemporary Australia by including a diverse cast, set in both a conference room and mystical dining room, riddling with the stereotypical concept of Australia as a "down-under" dessert. The performance was loopy, lights flashing from orange to alien blue to mystical white. The use of smoke machine created a hypnotic effect in the second act, as if the cast were ascending into heaven. In identifying the cultural complexities within the text and the technical skills showcased on the stage, The Great Australian Play certainly deserved more than a 2-star review.
The tale of "a fool's gold" could be a tired one, however, Ho gave this plot an unexpected twist, rejuvenating the classic "expedition for gold". Actors Kurt Pimblett (Lasseter), Idam Sondhi (Eli), Lucinda Howes (Geb) and Rachel Seto (Ash) pervaded the set boldly. Pimblett opened the scene with a well-performed monologue, microwaved in orange light on a dark stage. He spoke in a grand, manner, regularly opening his arms like Christ as his tongue curled over his upper lip. As an audience member, I was positioned to be suspicious of Lasseter, yet, I was drawn by his charisma as he trailed his recount of the lost gold reef.
The twist of the show came after intermission. Gothic undercurrents trailed the wooden table, candles, forest paintings and an Aztec-looking rug inspired set. A voice called through the door and Eli appeared in a bloodied shirt. Ash told Lasseter he was "speaking in riddles." The plot looped as the characters repeated their lines, as if trapped in their own television script, and Lasseter eerily said to Ash "you think you're the first one who tried to write their way out of the desert?" A remark at the frivolousness of art in attempting to de-stabilise deep colonial roots. The audience cracked a laugh when Ash realised this was all a hallucination, removing the forest and religious paintings on the wall to find COVID posters once more.
The Great Australian Play at first centred an artists' struggle to find their "gold." The tussle manifested to the point of mental decay – an allegory of how we become trapped in our own illusion, in the space between reality and creation, where we tried to write our dreams. At its core, Ho's work unpacked the hollowness of Australia and the nation's post-pandemic suspension, unable to move past its colonial history due to its continually colonial present, with no tangible or claimable identity for the future. "We don't look back, but we can't look forward." This was the words, captivatingly spoken by the character Eli, which left a haunting impression on me long after the curtains closed.
Visit the StoryCasters Website
To address the under-representation of young culturally diverse content producers and critics in the arts and creative sectors, Diversity Arts Australia developed StoryCasters. We aimed to address the lack of cultural diversity in the writing, screen, podcasting and music industries, and to form communities of practice for diverse content creators. Funded by Create NSW and Multicultural NSW over two and a half years, the project worked with 65 young people from across Western Sydney to develop new skills and career pathways, and to provide opportunities for industry experience.
Diversity Arts partnered with specialist companies and individuals to co-deliver programs. This also ensured greater continuity and mentorship, as well as industry connections. The full cohort met together for exchanges and collaborations, and were brought together for Mixer events and, during the Covid lockdown, for online events. This resulted in cross-pollinations, exchanges and collaborations that extended across more than 10 weeks of training in different disciplines:
Writing — 25 participants, mentored by Winnie Dunn and Shirley Le from Sweatshop Literary Movement
Screen — 15 participants, mentored by Maria Tran from Phoenix Eye
Podcasting — 15 participants, mentored by Podcast Producer Jennifer Macey
Sounds — 10 participants, mentored by Nicola Morton and Del Lumanta via Information and Cultural Exchange.
We rounded out the program with Masterclasses and Industry Talks from industry professionals like Oli Chang (of indie group Animal Feelings) and Anisha Thomas (film music composer, Sound-How).
Following the intensive training, the StoryCasters cohort were commissioned to create new content. While some commissions have been delayed due to Covid, many have been published or aired in literary and media platforms and radio.
Read Now