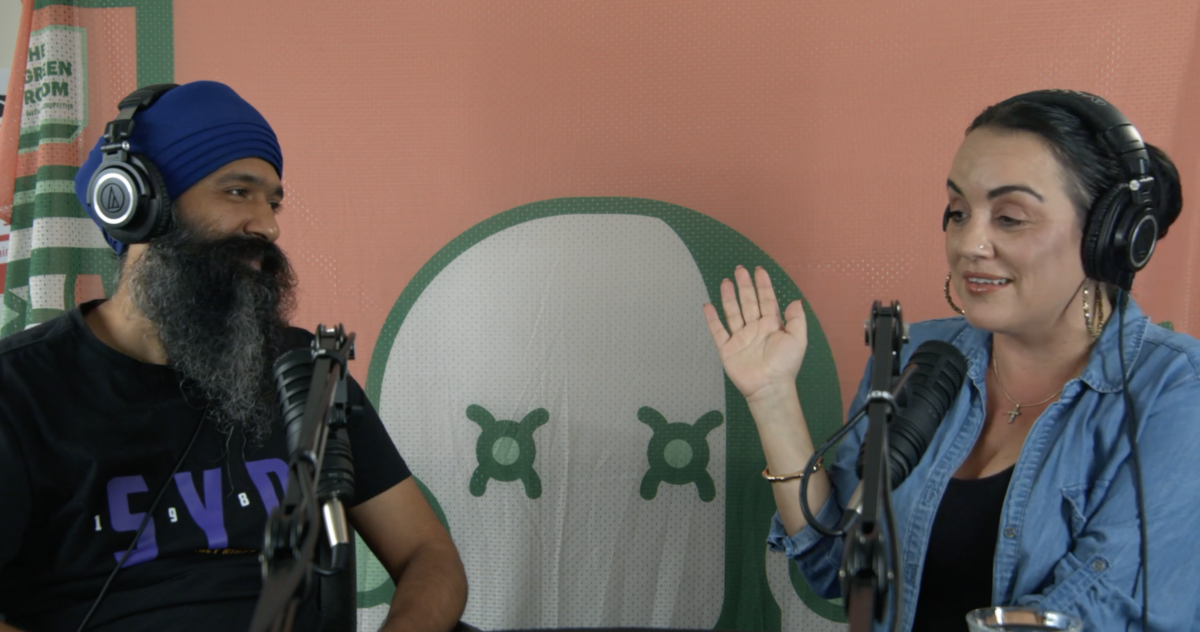 This interview was written by L-FRESH The Lion on the unceded lands of the Gadigal and Wallumedegal peoples of the Eora Nation.
Suppose you told a devoted hip-hop fan that at one point in time, the Content Director of the genre's New York City-based Bible, The Source Magazine, was a Lebanese-Greek Cypriot woman from Sydney, Australia. In that case, they'd probably stare back at you in disbelief. 
How did someone so far removed, geographically and culturally, from the birthplace of rap music land such a coveted gig at one of the culture's most revered publications? Why was an 'outsider' given this opportunity and responsibility? 
Simone Amelia Jordan may not have been born in the five boroughs or even the United States, but it was her destiny as a child of global hip-hop culture.
***
Twenty years ago, in July 2001, the late Aaliyah Dana Haughton was filming Queen Of The Damned in Melbourne. The 'Princess of R&B' was gearing up to release her self-titled third album while carving out a new career in Hollywood. At 22, Aaliyah was a household name in the United States and a musical and fashion icon for her international fanbase. 
So when a fresh-faced, first-year journalism student and newly appointed editorial assistant at Juice magazine in Sydney found out her first assignment was to interview Aaliyah by phone, she was beyond excited. Almost the same age as her interviewee and a massive fan since her critically acclaimed debut, Age Ain't Nothing But A Number, Simone was embarking on her dream career of being a music journalist by receiving a maiden opportunity most cadets rarely see. 
"Juice primarily covered rock music, and none of the writers cared about R&B," Simone recalls. "The editor casually mentioned we had been allocated some time with Aaliyah, and I remember being in shock when no one else raised their hand.
"We spoke for over half an hour. Aaliyah was sweet and gracious, even when I stumbled over my questions. She was truly enjoying her time in Australia," Simone recalls. 
What made the moment more monumental was that Aaliyah tragically passed in a plane crash only a month after their interview. 
"I would listen to our interview over the years and cry every time. I have no idea how but in recent years, I lost the audio files. That crushed me."
Simone Amelia Jordan was born in Sydney's Inner West and raised by a single mother who instilled unshakeable confidence in her two daughters. A determined heart, combined with a hustle mindset, gave Simone the perfect formula for consistently creating groundbreaking opportunities. There's no denying that in many regards, she was often the first—in her family, a woman of colour, hip-hop head, music journalist, Australian—to smash through barriers and supersede expectations, paving the way for others to follow. She inherited this legacy from her mother's Lebanese family, one of the first from their mountainous village to immigrate to Australia. 
Captured in a family photo album is a picture of a young Simone in the third grade, intently reading The Reporter. With her imagination running free, she set her sights on becoming a journalist. However, in that same year, her family packed up and left their safe, multicultural neighbourhood to settle in the unwelcoming, homogenous Central Coast for two years. A culture shock for this ambitious dreamer, Simone became insular during those years and found a sense of safety and salvation in hip-hop. 
Alongside her mother and sister, Simone experienced racism during that time. She can recall the slurs used to vilify her and her family at the drop of a dime. Yet, during a time when her environment made her feel foreign, hip-hop provided a home. The beats captured her attention, and the layers of meaning in the lyrics resonated deeply. Hip-hop spoke to her. It nurtured her. She developed a passion for listening to the kinds of stories in the songs comforting her in those challenging years.
Simone spent her time hanging out in the Inner and Greater West on her return to Sydney, proudly claiming Burwood as her stomping ground. She was part of a teenage generation in the early-mid 1990s who got the whole experience of rap and R&B fusing to create mesmerising music from acts like Heavy D and The Boyz, Mary J. Blige, Janet Jackson, Father MC and Jodeci. Gangsta rap then took over with Snoop Doggy Dogg and NWA, inevitably influencing the street culture she became part of in Burwood. 
Simone witnessed warring crews from different local areas negotiating their problems with violence—an experience passed down from generation to generation to present day, with Western Sydney adolescents still beefing with rivals from other area codes. Today's style, sounds, fashion and slang might differ, but the cultural backgrounds and socio-economic circumstances remain the same. Regardless of the era, these young people find comfort and hope in hip-hop. They saw people overseas who looked like them come from similar conditions to reach the pinnacles of success. Despite the apparent lack of Black and brown representation in Australia's entertainment industry, they felt so inspired by their overseas counterparts to participate in hip-hop culture anyway they could: through music, dance, graffiti or, as in Simone's case, writing. 
For her adolescent years, Simone remained resolute in her desire to become a journalist. The first in her immediate family to attend university, she enrolled in the University of Technology Sydney's Bachelor of Communications degree. She immediately recognised how much she stood out as a woman of colour. 
"It was the first time in my life I was mixing with people my age from an affluent background," Simone says. "My entire class was young people from the Eastern Suburbs and the North Shore, and I felt like an outlier. But, on the other hand, I also felt very proud, as I have through my career, to represent a certain segment of the population whose voices often go unheard."
Before starting her degree, Simone had attended a beginner's print journalism workshop at UTS hosted by then-Editor of Juice magazine, Lisa Anthony. Before the UTS lecture halls, hip-hop was Simone's teacher. So, after graduating from its hustle lessons, she approached Lisa with unwavering confidence to offer herself as the perfect candidate for the not-yet-created position of Editorial Assistant. Her fearlessness landed her this opportunity to work with Lisa, where she got serious, hands-on (and paid!) experience. At the same time, her peers were still volunteering for the school paper or making applications, hoping to land cadetships.
"Lisa threw me all the R&B and hip-hop reportage. So I interviewed Aaliyah; I interviewed Jennifer Lopez because no one else wanted to do it. So I did these incredible interviews to hone my skills because no one at the publication cared about the music I loved on a mainstream level."
Upon graduating from university and taking on board her experience working across several publications (including the now-defunct street press rags 3D World and Request), Simone founded Urban Hitz magazine. She pitched the concept of a national, on-sale hip-hop and R&B publication to Derwent Howard Publishing, who became her partners. She went from editorial assistant to editor-in-chief, teaching herself how to oversee photo shoots, create killer cover lines, assign feature stories covering relevant social issues and copy-edit every article. To this day, Urban Hitz is Australia's highest-selling hip-hop and R&B magazine.
"Urban Hitz is my greatest achievement," Simone says. "We were the little engine that could. I would often sleep under my desk at night when we were on deadline because I wanted local hip-hop and R&B fans to have a product we could truly be proud of."
After roughly three years editing Urban Hitz, Simone set her sights on making another dream come true. The Big Apple was calling, and Simone was more than ready to answer.
Manhattan-based apparel retailer DrJays.com had been Simone's client for several years, advertising in Urban Hitz to reach Australian customers wanting to wear the same brands as their American musical heroes. Simone had built a strong friendship with the company's Marketing Director, Casey Lee, and sent him a copy of her CV, hoping to share it with relevant contacts. The next thing she knew, Casey had arranged a phone interview for her with DrJays.com's then-CFO, Jean Patrick Charles. After impressing Jean with her achievements and ambitions, he booked her a ticket on the next flight to New York City to continue their chat. After a whirlwind trip to the other side of the world for only two nights, including a stopover at the company's San Diego warehouse, she returned home to Sydney, opened up her computer and found an email with a formal job offer as their first Content Director. She packed two suitcases, said a teary farewell to her family, and landed in New York in the freezing winter of January 2007.
"I knew I wanted to live in Harlem. I knew from a young age, and I had memorised the map," Simone laughs. "I never got lost in New York City, not once in 10 years. People would ask me for directions and be like, 'What is up with this girl?' I would say, 'No, I've loved it from afar for so long. I always knew this is where I wanted to be'."
Simone lived in New York for a decade. She had always lived and breathed hip-hop but was now at the epicentre of the culture. Whether it was doing on-camera interviews for the DrJays.com Live blog she created or on Sirius/XM Radio, where she co-hosted 'Invasion Radio' with the legendary DJ Green Lantern, she was rubbing shoulders with the industry's finest. She chatted with artists like Kendrick Lamar, J. Cole and the late Mac Miller, instructing them to freestyle rap on her show during the early stages of their career before they would go on to become music royalty. She shared early moments with acts like Nicki Minaj, Teyana Taylor, Nelly, and Drake, the latter phoning into Invasion Radio to casually say he was listening to her interview with a young Kreayshawn. 
Eventually, Simone's talents and drive caught the eye of L. Londell McMillan, publisher for The Source magazine. After a lengthy discussion about the evolution of hip-hop at one industry event, Londell, particularly interested in The Source's international expansion, invited Simone to an hours-long meeting over lunch. The significance of The Source for rap fans cannot be understated. It has been a go-to for hip-hop lovers worldwide for decades, and its Unsigned Hype column has helped launch the careers of some of hip-hop's biggest names like The Notorious B.I.G., Eminem, DMX and Common. In addition, The Source has shaped generations of fans by introducing them to new artists and giving them insights into the culture's lifestyle, fashion, and politics. Simone was one of these fans, and she says The Source significantly influenced her career.
"The brand's honest and fearless approach, whilst having a political slant in their content, resonated so much with me as a young woman experiencing the challenges of racial power dynamics in Australia," Simone says. 
After their meeting, Londell offered Simone the position of Content Director to oversee print and digital content for The Source. Hip-Hop is a culture founded by Black American and Latin communities. Its leading artists are of those same communities. So to have a Lebanese-Greek Cypriot woman in a senior editorial position at one of the culture's leading publications would bring the magazine some heat. 
"Londell said my appointment would cause a stir because I was a foreigner and, despite working in hip-hop my entire professional life, an outsider in many ways. In addition, he told me the magazine's staff had voiced concerns," Simone recalls. 
"I understood that going in. I'm aware of my place within the culture as an international fan. I revere and support the originators and use whatever platform I have as an advocate." 
Those who understand its nuances recognise Simone as a child of hip-hop. She treats it with love, admiration and respect, constantly asking what she can give to an art form that has provided her with so much. 
Now can we take a moment to pause and take in the magnitude of this achievement? I'm not sure how likely we are to see someone from Australia reach the same heights in the field of hip hop journalism again. It took a special kind of person combined with an unrelenting hustle and work ethic to break through the numerous barriers on her way. And make no mistake, Simone would still be in New York City, reaching even further heights but for the Crohn's Disease that rocked her world and forced her to return to Sydney in late 2016.
Presently, Simone is utilising her experience and expertise at Higher Ground Consulting Agency, which she created to give back to Australia's First Nations and culturally diverse artists. The next chapter is her story of dedication, commitment and passion to hip-hop culture, sharing what it has taught her to its newer adherents. 
Simone immersed herself entirely in hip-hop and related to it as a strong and determined woman of colour. She was not only so deserving of the opportunities that came her way, but she also made the most of them, creating everlasting memories that will continue to inspire generations of hip-hop and music fans. She is without a doubt a trailblazer, a pioneer in hip-hop and music journalism in Australia.
First published in RollingStone Magazine on 4 October, 2021. Article commissioned by Diversity Arts Australia for the Pacesetters Creative Archives project, which was funded through Create NSW.