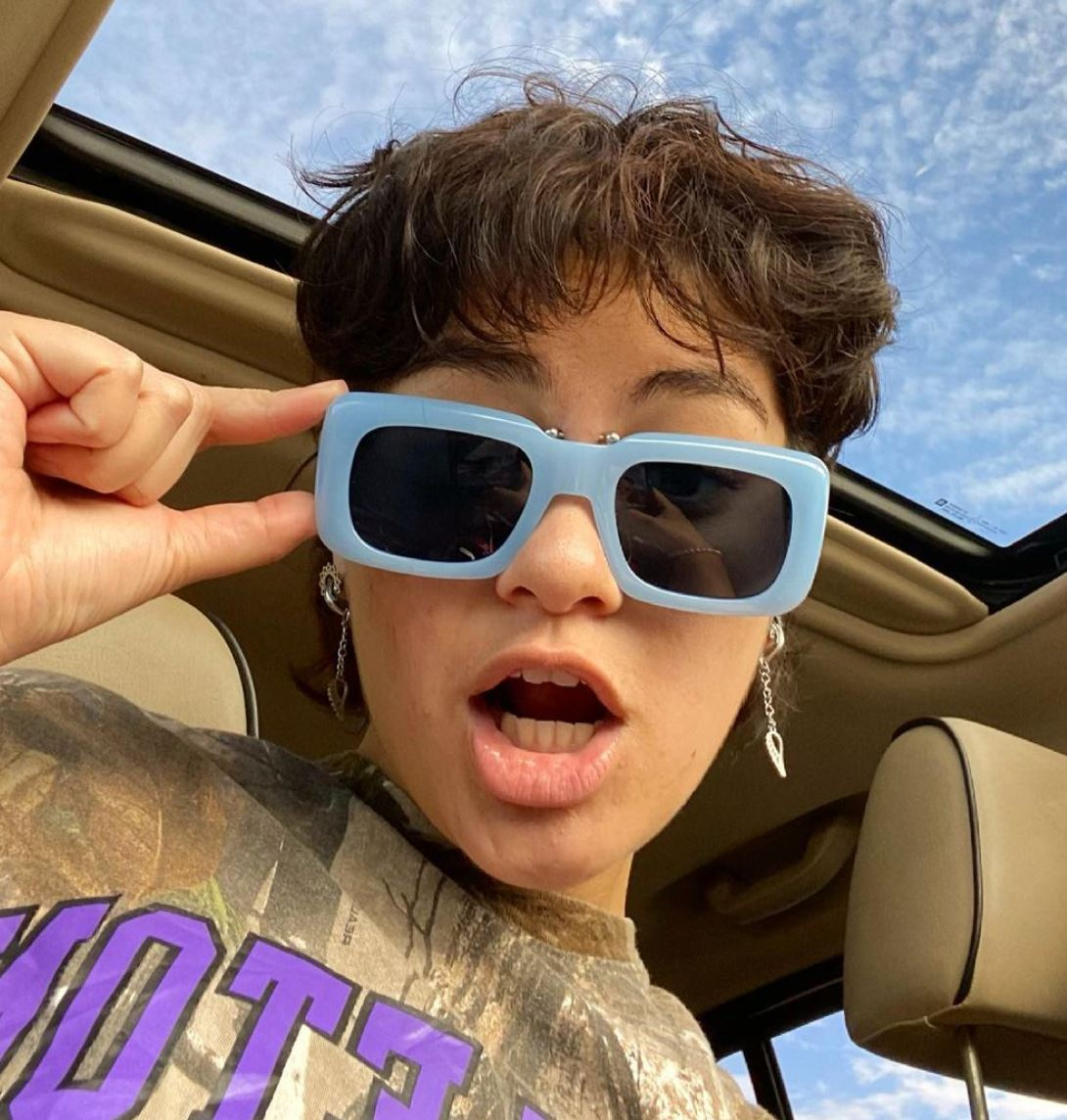 "Emerging as one of Australia's most exciting musical acts during a worldwide crisis means Michellie Pohutuhutu a.k.a. Hoodzy is surviving new twists at every turn"
Though COVID-19 has affected Australia's arts sector in irreversible ways, Hoodzy maintains her unflinching resolve as a brown, queer rapper can withstand such an unparalleled event.
"I can easily say I'm not the same person I was this time last year, even a few months ago," the Perth-born, Gold Coast-based teenager says. "I'm growing into the person I am today and overcoming the mental battles I was fighting."
Despite an almost total lack of gigs, loss of income and indiscriminate episodes of personal discord, the adept lyricist released three well-received singles in 2020: 'Hard Case', 'The Land' and 'Jumpy'. And amid a global pandemic, the striking Māori MC has learned to handle the uncertainties of life as a musician, especially in times of creative stagnation, with care.
"There was a point where I was really struggling. It was difficult for me to feel inspired, or even motivated to dig deep and get into it," Hoodzy says. "I felt as if I was chipping at the surface for like, forever." She continues, "Before the pandemic, I was surrounded by other creatives and able to feed off their energy. The biggest change for me was having to find my own motivation and energy to make magic."
Hau Latukefu, the owner of Hoodzy's record label Forever Ever, adds: "The pandemic stifled a lot of our plans. The inability for Hoodzy to travel to Sydney from the Gold Coast put a lot on hold, so we had to do what we could. That included a lot of writing and recording. She sent some amazing demos through, and I'm looking forward to putting them out for the world to enjoy."
COVID-19 didn't only encourage Hoodzy to slow down and explore her artistry, it granted her time to experiment sonically. An involuntary lull in touring and quite literally being stopped in her tracks has resulted in her more lucid creativity, plus collaborations with new producers.
"There's so much time to grow and find yourself. If you feel out of place or as if you aren't where you're meant to be, don't stress!" she says. "Keep moving and doing what you love. Everything will fall into place, pandemic or not.
A veteran of the local music scene, Latukefu — who acts as Hoodzy's boss, mentor and friend — says he finds the 18-year-old's "strong understanding that things take time" beyond her years.
"She doesn't feel the unnecessary urgency a lot of people her age possess. I came across her social media posts when she was sixteen and was impressed by her confidence," Hau recalls. "She's cool-headed and aware about her abilities, and what it takes to do well. Besides all that, she can rap her arse off."
This interview article was commissioned by Diversity Arts Australia as part of the Creative Lives During Covid series, with support from Create NSW. First published in POCC MAG 22 July 2021.
Dive into the Creative Lives During COVID series
Welcome to Creative Lives, a treasure trove of intimate conversations, original articles, all-inclusive reviews, inspirational case studies and cultural understanding drawing on the professional practice of Australia's diverse creative and artistic talent. The individuals and organisations featured are creating an impact across filmmaking and TV, visual arts, music, performance, literature, and multimedia.
Suzy Wrong interviews Shauntelle Benjamin, Lisa Fa'alafi, Eugyeene Teh, Catherine Van-Davies and Darren Yap.
Simone Amelia Jordan interviews Hoodzy, Hooks, Joe Nemer, Milly Petriella and Mariam Sawires.
Deniz Agraz interviews Avan Anwar, Yolla Baker, Vivian Nguyen, Hangama Obaidullah, Christian Bong Ramilo and Doug Williams.
Tanya Ali interviews A.Girl, Allara, GLO, Strict Face and Natesha Somasundaram.
Hawanatu Bangura interviews Richmond Kobla Dido, Evelyn Duprai, Abu Kebe and Lucky Lartey.
Read Now