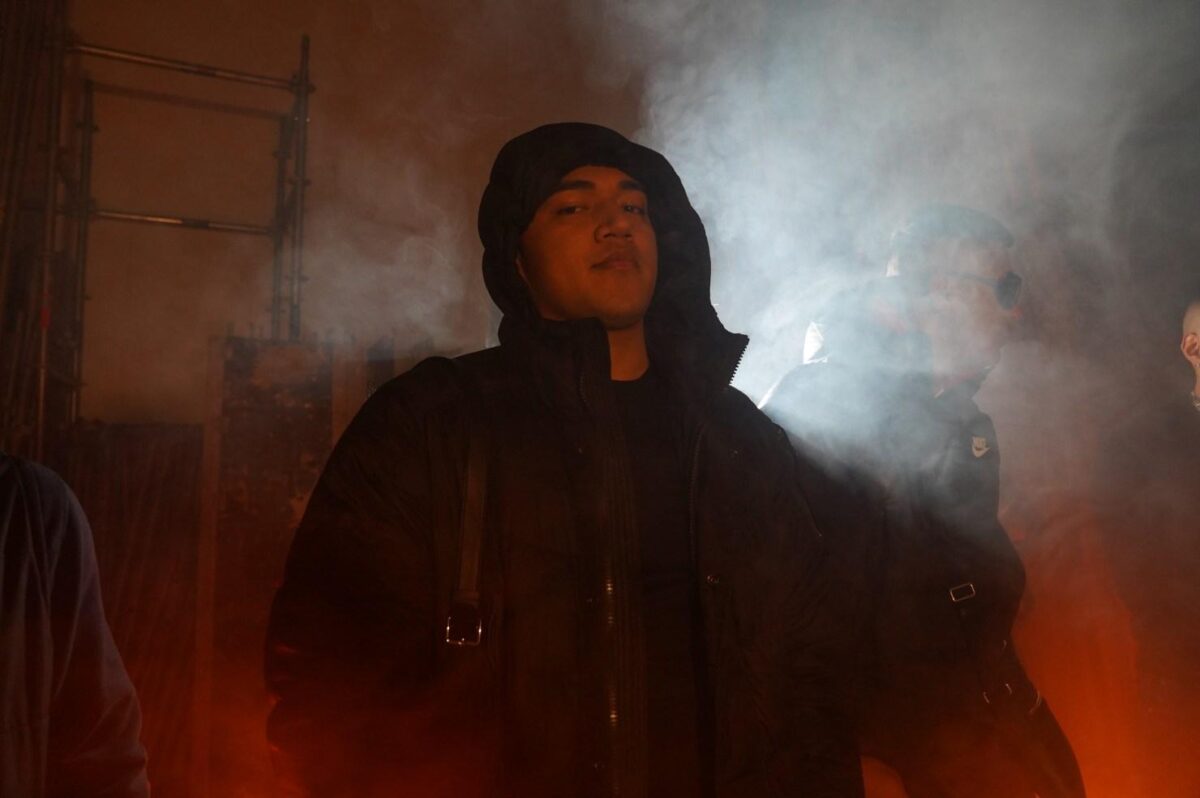 Quickly developing a reputation for flawlessly blending global sounds with local rap sensibilities, Hooks isn't allowing a pandemic to stop the show.
Juxtaposing a rising star profile with familial duties as father to a six-year-old son, Hooks is undeterred when it comes to leaving a legacy for future generations. Born Sosaia Tavai, the 25-year-old was raised in Western Sydney by a Cook Islander mother and Tongan-born father. Athletically gifted and an honour roll student, he picked up the mic as a hobby in high school but it wasn't till he viewed the infamous rap battle between local acts Kerser and 360 that he decided to take hip-hop seriously. After working on his craft for a number of years, Hooks released his debut track, 'Plug', in 2019. Over the past year, he's dropped a careful curation of singles and blistering guest features, which have racked up millions of streams on all platforms and YouTube. A joint track with his younger brother (and fellow MC) Hooligan Skinny called "Cowboys" is up next.
How have you experienced the COVID-19 pandemic?
"I've created more music, but released less. I suppose in the past year I had more time to sit back and listen to my music and lyrics. I'm about to start dropping project after project, so I'll be busy from here onwards."
Have you suffered a loss of income during COVID-19?
"I suffered a loss of income before COVID-19 hysteria was even a thing, because police were shutting down our live shows. There was a whole list of local hip-hop artists — mostly Polynesians — who weren't allowed to do shows in NSW, and I was on it. (Editor's note: In mid-2019, NSW Police announced Strike Force Imbala, a specialised task force of 20 detectives and analysis experts focused on gang-related violence in Western Sydney. Venues were repeatedly pressured by state authorities to cancel live shows for security reasons). Fortunately with state borders open now, I'm able to travel and do shows with my tokos Hooligan Skinny and Hooligan Hefs."
What are your general thoughts on the pandemic?
"Honestly, I've found this COVID-19 period crazy. Everyone has their own belief and conspiracy theory as to how and why, I guess. The only time I've really worn a mask was to get on a plane. Other than that, people in West Sydney don't really follow rules much (laughs)."
To what extent has your everyday life as an artist changed throughout the pandemic?
"As I said, I live in West Sydney. We don't do masks, we don't do lockdowns and we don't quarantine. Or is that just the people around me? (laughs)."
Did the pandemic influence your art at all?
"It hasn't influenced my art much. Other artists have rapped about it, or dropped words like coronavirus, quarantine, lockdown, etc in their lyrics. If anything, the craziness has made me just appreciate life more."
Are there any other activities you do to keep busy?
"Basketball! Plenty of street hoops with the boys. I make sure I go to the gym a few times a week, online gaming, and get out and watch the footy — but [NRL team] Wests Tigers have been terrible for a while, so it hasn't been easy (laughs)."
Has being a person of colour added to the struggles of being a performer during this period?
"Hip-hop in Australia is still pretty much a white genre. Growing up, my favourite local hip-hop acts were white. I guess they had access to the 'machine' at the time. Then Kerser showed everyone that any kid from the western suburbs of Sydney could do it. Being a person of colour certainly doesn't make things easier, but we kick on. There are bigger things happening around us, like this supposed pandemic."
What have you been working on, and what do you have coming up?
"I've been working on plenty of new music. It's all finished and ready to go. My next drop is a collaboration track with my brother Hooligan Skinny, a drill track called 'Cowboys'. There's a total of three or four projects dropping within the next two months."
What are you most proud of about yourself, through this year-long pandemic?
"I believe I've become a better father, brother, son, nephew and cousin. Ooooouuuaaa!"
This interview article was commissioned by Diversity Arts Australia as part of the Creative Lives During Covid series, with support from Create NSW. First published in POCC MAG 1 July 2021.
Dive into the Creative Lives During COVID series
Welcome to Creative Lives, a treasure trove of intimate conversations, original articles, all-inclusive reviews, inspirational case studies and cultural understanding drawing on the professional practice of Australia's diverse creative and artistic talent. The individuals and organisations featured are creating an impact across filmmaking and TV, visual arts, music, performance, literature, and multimedia.
Suzy Wrong interviews Shauntelle Benjamin, Lisa Fa'alafi, Eugyeene Teh, Catherine Van-Davies and Darren Yap.
Simone Amelia Jordan interviews Hoodzy, Hooks, Joe Nemer, Milly Petriella and Mariam Sawires.
Deniz Agraz interviews Avan Anwar, Yolla Baker, Vivian Nguyen, Hangama Obaidullah, Christian Bong Ramilo and Doug Williams.
Tanya Ali interviews A.Girl, Allara, GLO, Strict Face and Natesha Somasundaram.
Hawanatu Bangura interviews Richmond Kobla Dido, Evelyn Duprai, Abu Kebe and Lucky Lartey.
Read Now