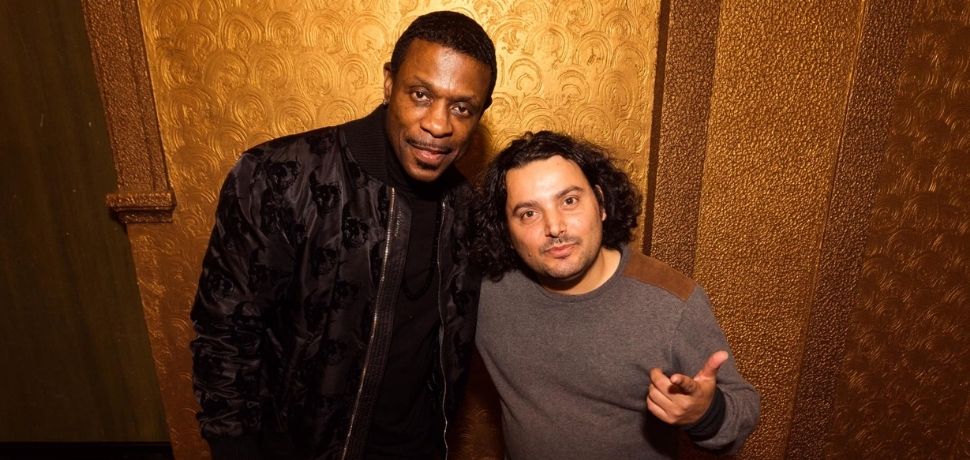 In the most challenging 365 days of his life, Joe Nemer lost his entire line of work, most of his income and his beloved boss, Michael Gudinski. The Melbourne-based concert promoter for Mushroom Group is ready to get things back on track.
Less than a week before music impresario Michael Gudinski died in his sleep on March 1, 2021, the founder and CEO of Mushroom Group, 68, sat down with one of his longest-serving employees, Joe Nemer, 42.
The backdrop to the conversation was grim: the global coronavirus pandemic had inflicted one of the toughest years on record for their industry, with Joe's role as national tour manager particularly affected. Despite an over 20-year age gap, Michael and Joe always enjoyed much in common.
They were both sons of immigrants: Michael's parents arrived in Australia from Russia in the late 1940s, while the Nemers had travelled from Lebanon in the early 1970s seeking a new life. Both men inherited the hard-working ethos of their parents, placing old-school values of trust, loyalty, and integrity in high regard. The concept of family kept them in tandem.
"Michael would always talk about family, and he did whatever he could to make sure not one Mushroom Group employee was let go during COVID-19," Joe says. "In our last meeting, I remember him saying 'Joe, you'll always be taken care of'. He taught me to always make sure people feel good, and worry about details later."
Joining Mushroom Group in 2000 to do part-time promotional work for sub-label, Liberation Music, then hopping over a few years later to their Hip-Hop/R&B imprint Illusive Presents (helmed by Michael's son, Matt Gudinski) in two decades Joe has become an accomplished promoter, contract negotiator and indispensable team player. Illusive Presents is one of the most respected touring companies in Australia and New Zealand, working with acts like Bruno Mars, Drake, The Roots, Snoop Dogg, A$AP Rocky, T-Pain, Lil Uzi Vert and more.
With international touring on hiatus for over a year since COVID-19 gripped the world, and Matt Gudinski unexpectedly thrust into the Mushroom Group's driver's seat after his father's sudden and tragic passing, Joe is ready to do what he's always done: hold down the family.
Touring has arguably been the hardest hit sector of the music industry. How has your personal experience been, navigating the COVID-19 pandemic?
"Usually I'm away six months of the year, so spending time at home has been great. However I've been missing the road quite a bit lately, and look forward to going back once borders have reopened. As for work, right now it's researching and planning and being prepared for when we can start going 100 percent again."
How has the pandemic affected your role with Illusive Presents/Mushroom Group?
"I did need to take a pay cut but the company has kept everyone on. Because we're like a family I've been looked after, even though I haven't done any tours. Loyalty of the people working for the company plus the company being loyal to its staff has kept me employed. I'm more determined than ever that once we get back on track, things will be good again."
What are some barriers that have prohibited you from cultivating, guiding and encouraging art as you normally would during this pandemic?
"The barriers would be planning and putting our tours together, then seeing them come to life. Going on the road and watching people interact. I miss seeing people's reactions at shows, doesn't matter if it's a club or stadium tour. Just seeing people was something we took for granted! In lockdown, everything was reduced to a screen. It was still good to see people like that, but nowhere near the level of enjoyment in real life.
"When the pandemic kicked in, everything stopped: that included me speaking to agents, managers and artists across the globe. It stopped for a very long time, and only now I'm starting to have that communication again with them."
To what extent has your everyday life changed in periods of quarantine?
"At the start my motivation was down, as I couldn't just not work. But there was no work, so we couldn't plan anything. No one knew when or where to schedule tours. These days, I'm more motivated. I've enrolled to study again, a Diploma in Project Management. Plus I've started going to a boxing gym, concentrating on my health. These days, I'm able to stay busy and motivated."
Did your work pivot more to a digital space since the pandemic? If so, how have you adapted to that change?
"Illusive Presents hasn't particularly pivoted into the digital space, but the other groups in our company moved more into TV. Michael was alway miles ahead of a lot of music industry people. He created (charitable concert) Music From The Home Front in 10 days. Then the album was released, and it went to number one on the ARIA charts.  He was always pushing for music to be on TV and accessible to the general public."
How did the sudden loss of Michael Gudinski affect you and your work?
"Right now I'm not too sure, to be honest. I do know Matt (Gudinski) is ready to take control and steer the company into the future. I've been working with Matt since 2003. I've seen the highs and lows. Matt is determined and will continue his dad's legacy."
In the midst of a pandemic, what message do you want to convey to fellow businesspeople and behind-the-scenes workers in the music industry like yourself?
"We're all in this together, so we all need to support each other during this tough time. Communicate with people! Once we reopen, we will be busy. Very busy."
What are you working on right now?
"I have our (Brooklyn rapper) Kota The Friend tour scheduled for November, so fingers crossed that still happens. It's great that so many people kept their tickets for the show. It was supposed to be in February 2020, but got pushed to May 2020. As the pandemic got worse, it then got pushed to December 2020, so fingers crossed it will happen in November this year. Just planning for 2022 tours now."
What are you most proud of about yourself, through this year-long pandemic?
"It would be looking after my health. Keeping my mind right."
This interview article was commissioned by Diversity Arts Australia as part of the Creative Lives During Covid series, with support from Create NSW.
This article originally appeared on The Industry Observer, which is now part of The Music Network published 15 June 2021 
Dive into the Creative Lives During COVID series
Welcome to Creative Lives, a treasure trove of intimate conversations, original articles, all-inclusive reviews, inspirational case studies and cultural understanding drawing on the professional practice of Australia's diverse creative and artistic talent. The individuals and organisations featured are creating an impact across filmmaking and TV, visual arts, music, performance, literature, and multimedia.
Suzy Wrong interviews Shauntelle Benjamin, Lisa Fa'alafi, Eugyeene Teh, Catherine Van-Davies and Darren Yap.
Simone Amelia Jordan interviews Hoodzy, Hooks, Joe Nemer, Milly Petriella and Mariam Sawires.
Deniz Agraz interviews Avan Anwar, Yolla Baker, Vivian Nguyen, Hangama Obaidullah, Christian Bong Ramilo and Doug Williams.
Tanya Ali interviews A.Girl, Allara, GLO, Strict Face and Natesha Somasundaram.
Hawanatu Bangura interviews Richmond Kobla Dido, Evelyn Duprai, Abu Kebe and Lucky Lartey.
Read Now