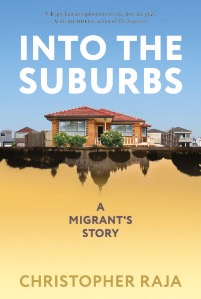 "As their ideal unravels, Raja's parents… realise that white Australia does not share the same community and family values that Indian culture upholds."
---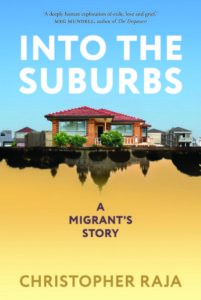 Christopher Raja's Into the Suburbs is the author's first foray into memoir, and documents his migration from Calcutta to Australia in the 80s. Drawn by the glamorous Australia of tourism commercials, Raja's parents envision the country as a 'clean' and 'classless' paradise. Yet upon arriving in Australia, their interactions expose the limitations and small-mindedness of their new society, especially its racism and classism. As their ideal unravels, Raja's parents also realise that white Australia does not share the same community and family values that Indian culture upholds. Raja is trapped, throughout his youth, somewhere between the austere serenity of suburban Melbourne, the dingy club scene of St Kilda and the urbane inner city.
The author plunges us into the depths of his father's disenchantment, using language that is both familiar and heartbreaking. 'The students … laughed. There is no respect. No, I can't take curries anymore,' his father tells his mother, refusing to take her aromatic meals to the prestigious private school where he works in East Melbourne. Amid the difficulties of adjusting to Australian life, Raja still offers pockets of joy—a close-knit family relishing new pleasures, the sense of longing which pulses in the quiet suburbs, the sweet nostalgia for a home left behind. This all culminates in a poignant story, widely accessible and skilfully told.
---
About Daniel Nour's StoryCasting
Throughout 2020, Daniel took to writing reviews for major Australian publishing platforms as an answer to Australia's monocultural review landscape. In his reviews, Daniel explores how writers of colour bring race, class, language and migration to Australian literature. His StoryCasters work has been published with Kill Your Darlings and Books+Publishing.
Why are book reviews important?
"Book reviews are fundamental to the cultural fabric of this country. They foster empathy and a willingness to imagine life beyond the strict confines of our own experience. They are not a mirror for us to see our own image reflected back to us, but a portal through which we can imagine enirely new worlds."
Why is it important for writers of colour to review them?
"With so many Australians born overseas or being the children of migrants, writers of colour are not a decorative addition to the mainstream arts scene in Australia but a reflection of Australian society itself. An open dialogue with writers of colour is foundational to the Australian literaary scene- how could it be any other way?"
My experience of StoryCasters…
"Was collaborative, invigorating, inspiring. This was genuine cultural immersion, discussion and creation, at the highest level and with heavyweights of Australian literature like Winnie Dunn, Shirley Le and Michael Mohammed Ahmed. StoryCasters has changed my life by offering me a community of CALD writers and opening the scope of my potential."