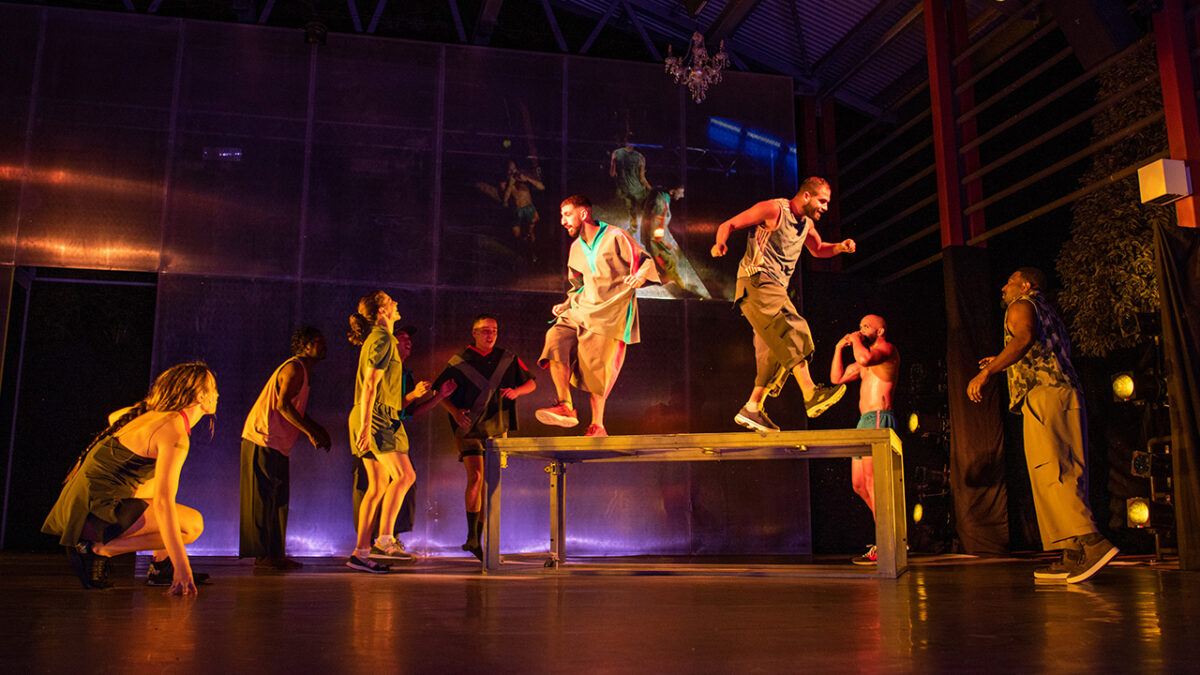 There's an artistry to a boycott. It's as much a political statement as it is an exercise in cohesion. The intercultural dance troupe Marrugeku know the power in resistance. In their latest show, Jurrungu Ngan-ga, it's the entire premise.
Inspired by horrific images and treatment out of the Don Dale Youth Detention Centre and the accounts of asylum seekers on Manus Island and Nauru – nine performers centre Indigenous incarceration, Trans murders, and immigration facilities in a blunt commentary, using contemporary dance and autobiographical monologues.
In the spirit of the show, the group, consisting of Czack (Ses) Bero, Emmanuel James Brown, Chandler Connell, Luke Currie-Richardson, Issa el Assaad, Zachary Lopez, Bhenji Ra, Feras Shaheen and Miranda Wheen has aligned themselves with the Palestinian-led decision to boycott Sydney Festival over a $20,000 donation from the Israel Embassy.
What's surprising is how the current Director and Board of Sydney Festival viewed Jurrungu Ngan-ga, a Yawru word for 'straight talking', and were seemingly blindsided by Marrugeku's decision to boycott.
To think Sydney Festival saw the jarring and often confronting show as nothing but a work of minstrel entertainment. How else to explain their surprise at the boycott when Jurrungu Ngan-ga is set behind the fence of a detention centre with the use of CCTV surveillance-like video work, coupled with themes of rebelling against colonialism, oppression and erasure.
In a similar vein, Marrugeku had no other choice but to boycott. To ignore the apartheid state Palestinians are forced to live under would be to deny their own show and the safety of their artists.
Jurrungu Ngan-ga, performed to sold-out crowds at Eveleigh's Carriageworks theatre, the audience became a part of the Boycott Divest and Sanction experience. The sounds of the zalghouta from the watching women during a joyful dabke that combines ball culture and traditional Indigenous dance is punctuated by performer Bhenji Ra's emphatic "I'm still here".
The mere entry to the theatre blurs the position of spectator and activist. Taking a seat elevates Jurrungu Ngan-ga to a group protest. Ordinarily the crowds of Carriageworks would not be where I would find comfort or solidarity as an Arab-Australian living in western Sydney. However, in the inner-city theatre the audience was a mix of culturally diverse people and allies, extending the work from the stage to the seats and beyond.
On its own, Jurrungu Ngan-ga is powerful in repositioning the narrative around some of Australia's greatest shames, but coupled with the strength of the boycott and credibility around the ideals, it is more than an explosive dance piece, it is a marker of truth in art without compromise.