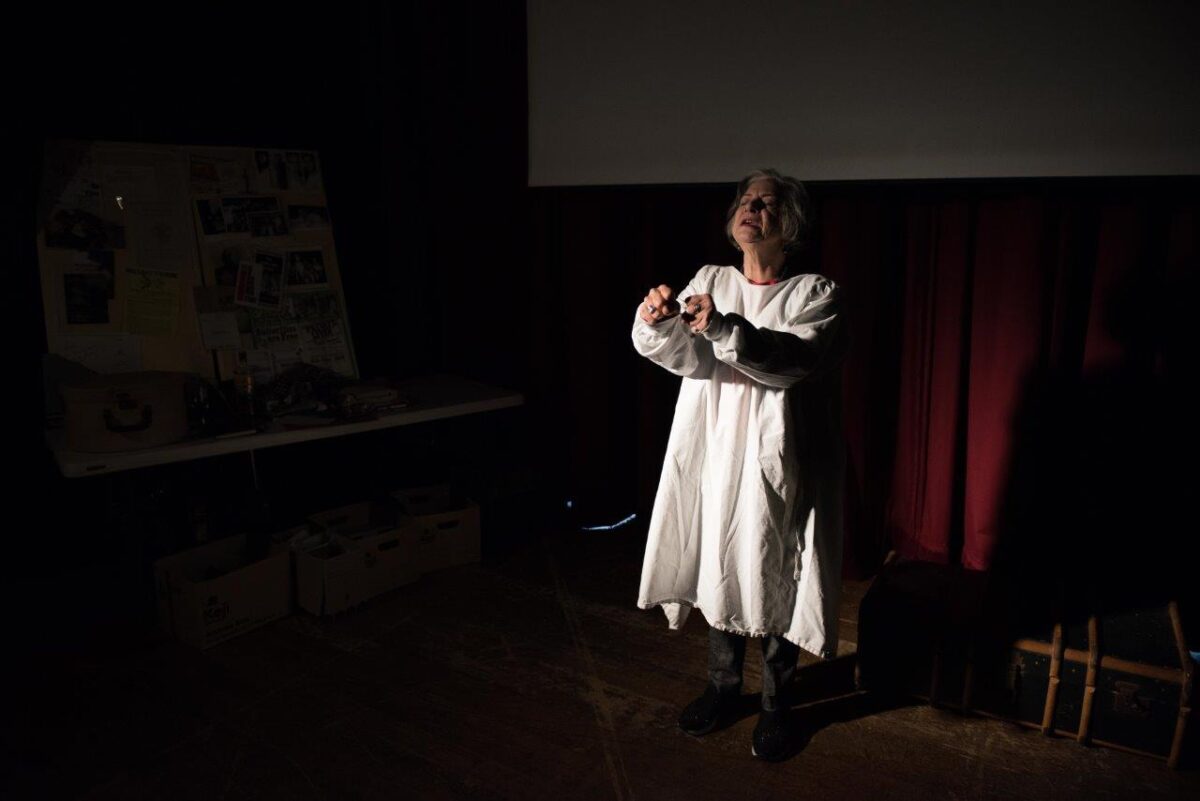 Who is Elaine Paton and why should you care about her story? She is you; she is me and she could be every woman. This is clear though her writing and performance of the one-woman autobiographical play, Through the Cracks. A powerfully interactive piece of theatre show, directed by Aarne Neeme with video artist Gail Kenning, was created for the Older Women's Network NSW. Through the Cracks weaves together a story of intrigue and family drama while exploring the impact of mental health and then segueing into the issue of homelessness.
When I enter, the stage of Leichhardt Town Hall was transformed into what initially looks like a haphazard pile of women's clothing, diaries, photographs and remnants of a past life. It reminded me of unpacking after moving house, and spending hours combing through old diaries and relics from my childhood. An attempt at rifling through my belongings to let go of what I no longer need with each move.
The main character, Welsh inspector 'Myfwany Tilly', leads the audience through an investigation into the alleged missing person's case of Elaine Paton, who is both the writer of the show and the missing person in question within the play.
Inspector Tilly slowly searches through Paton's belongings in an attempt to piece together a story about her purported disappearance, crime scene investigation style. Members of the audience and Tilly work together to uncover clues on the unsolved case by examining the available evidence, including letters, diary entries and old clothing.
At times it feels like it is difficult to separate Tilly's life from the victim. While narrating Elaine's story Tilly becomes all-consumed as she dons Elaine's clothing, piece by piece. It is confronting to think about how one day we could all end up in a situation where all that remains of our lives would be odd bits of paper and fabric. Especially when we discover how Elaine and Inspector Tilly's experience with homelessness makes those items all the more precious and meaningful.
Through the Cracks is an intense, detailed and slow build up to how one woman ends up becoming homeless and destitute in Sydney. In 2016, a total of 49,017 women were experiencing homelessness on Census night, which represented 42% of the total homelessness population in Australia. In 2019, the Older Women's Network of NSW identified that women over the age of fifty-five were the fastest growing group of homeless people in Australia.
When discussing her motivation for creating the play, Paton said: "Older women are rarely represented in theatre." She continued: "We are also the fastest growing cohort of homeless people, sleeping in cars… or worse. My story could be any women's story, it just happens to be mine."
Through the Cracks is a unique yet familiar story of suffering and displacement, bringing into the spotlight this country's unwillingness to confront the complex issues that older women, women of colour and women of the LGBTIQA+ community experience daily. Women deserve to be heard and Paton's play is a fantastic place for us to start.
Visit the StoryCasters Website
To address the under-representation of young culturally diverse content producers and critics in the arts and creative sectors, Diversity Arts Australia developed StoryCasters. We aimed to address the lack of cultural diversity in the writing, screen, podcasting and music industries, and to form communities of practice for diverse content creators. Funded by Create NSW and Multicultural NSW over two and a half years, the project worked with 65 young people from across Western Sydney to develop new skills and career pathways, and to provide opportunities for industry experience.
Diversity Arts partnered with specialist companies and individuals to co-deliver programs. This also ensured greater continuity and mentorship, as well as industry connections. The full cohort met together for exchanges and collaborations, and were brought together for Mixer events and, during the Covid lockdown, for online events. This resulted in cross-pollinations, exchanges and collaborations that extended across more than 10 weeks of training in different disciplines:
Writing — 25 participants, mentored by Winnie Dunn and Shirley Le from Sweatshop Literary Movement
Screen — 15 participants, mentored by Maria Tran from Phoenix Eye
Podcasting — 15 participants, mentored by Podcast Producer Jennifer Macey
Sounds — 10 participants, mentored by Nicola Morton and Del Lumanta via Information and Cultural Exchange.
We rounded out the program with Masterclasses and Industry Talks from industry professionals like Oli Chang (of indie group Animal Feelings) and Anisha Thomas (film music composer, Sound-How).
Following the intensive training, the StoryCasters cohort were commissioned to create new content. While some commissions have been delayed due to Covid, many have been published or aired in literary and media platforms and radio.
Read Now